Today, followers expect more from a company's social media communications than information about new products and personalized after-sales service. Users also aspire to establish a dialogue with brands: they want to be able to provide their opinion about products, as well as be engaged and feel seen. Customers want to be looked after, they want to feel like the brand is grateful for their loyalty and commitment.
One way to establish this connection between your brand and clients is by running promotions on social media. Promotions can be aimed at users that already are your customers or those that haven't made a purchase yet, exerting a call effect and encouraging participants to make their first buy. However, if exposing your brand to more users and collecting high-quality UGC are among your objectives, maybe it's time to launch a hashtag contest…
What is a UGC hashtag contest on Instagram and Twitter?
Instagram UGC hashtag contests have been gaining traction as brands look for ways to foster brand authenticity and customer trust. And user-generated content works wonders when it comes to generating positive brand perceptions and establishing strong customer relationships. Why's that? Online users are more likely to put their trust in the content generated by other customers rather than the promotional material produced by the brand.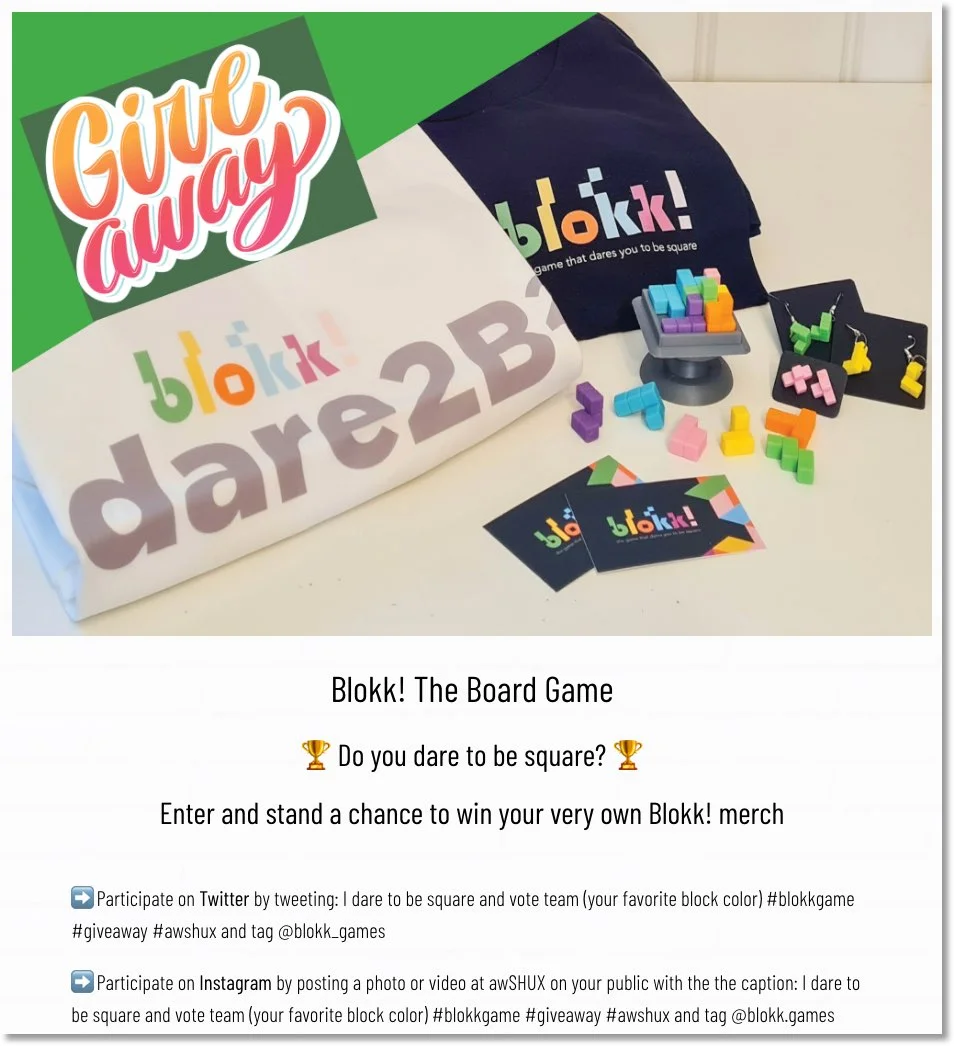 Hashtag contests allow brands to collect images, videos, and text published by social media users in a public gallery and use it for marketing purposes. Depending on the app that you choose you can also collect new sales leads. Take a look at the above image to see an example of a UGC hashtag contest app.
If you're planning to launch a hashtag promotion but you're not sure where to start our ready-made templates might be the right place to take a look at. Try our hashtag contest apps DEMOs and download one of the pre-configured templates to create a promotion for your brand.
UGC hashtag contest apps
There are two different applications that will allow you to launch an Instagram hashtag contest – or Twitter hashtag contest if that's your target audience's favorite social media channel. They're both pretty straightforward!
Mention + Hashtag app: Thinking of running a UGC campaign on Instagram, Twitter or both? Opt for the Mention + Hashtag app and you will boost brand engagement and visibility, while also exposing your brand to a wider audience. Users participate in your hashtag contest by uploading an image, videos or text on their Twitter or Instagram account and mention your brand and your campaign hashtag in the post description. The Easypromos UGC hashtag contest app automatically imports all entries and displays them in a public gallery.
Hashtag + Entry Form app: Do you want to collect leads apart from gathering UGC? Choose the Hashtag + Entry Form app if you wish to convert social media followers into qualified leads. Users accept terms and conditions, grating you permission to reuse their content for promotional purposes.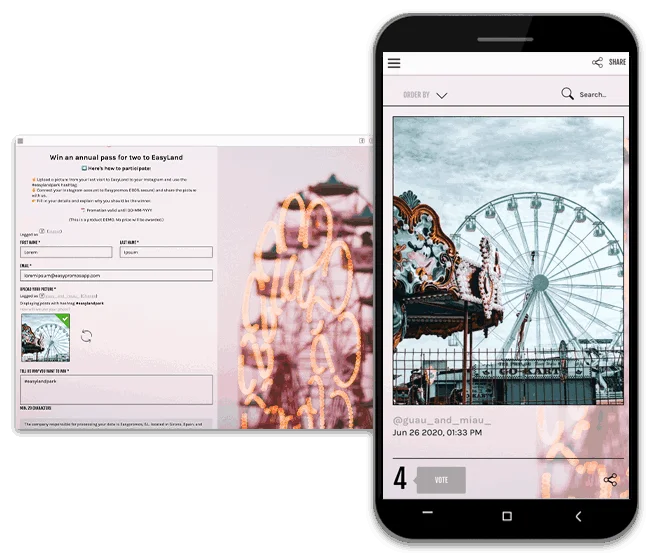 What are the benefits of UGC hashtag contests?
Enabling participation via Twitter and Instagram can bring a variety of different benefits for your brand, such as:
1. More organic reach. When someone participates in your hashtag contest with a tweet, photo, or video all of their followers can see it. By sharing content with your hashtag the users automatically become your brand ambassadors, as they contribute greatly to the visibility of your brand.
2. Quick and easy. Users can easily enter your promotion with a single tweet. And if the promotion is being held on Instagram, then all they have to do is share a picture, and mention you and your hashtag in the caption. By integrating your contest with Twitter and Instagram you are minimizing participation barriers.
3. Smartphone friendly. Bearing in mind that each month 500 million users access Facebook from a mobile device, that 50 million people have Instagram accounts and that 70% of the 250 million active Twitter users tweet from their smartphones… our apps are mobile-friendly!
4. Increase engagement. Taking pictures is fun. Using filters to make them look more professional makes the process even more enjoyable. This is the main reason for Instagram's success. Allowing your followers to take part in a creative process associated with your brand is a new experience in the field of engagement.
5. It enables users to choose their favorite social network and this increases participation. Not all users have Facebook accounts. Some only use Twitter and others prefer Instagram. By offering users several ways to participate in a contest you increase the level of participation.
6. Convert your followers into subscribers and clients. Running a giveaway or UGC hashtag contest for Instagram and Twitter users allows you to establish a dialogue with your audience.
Would you like to see a real example of a UGC hashtag contest? Find out how 2019 Netball World Cup organizers collected more than 45,000 images with our Mention + Hashtag app.
How to launch a UGC hashtag contest and best hashtag contest ideas
Hashtags are used as keywords, or more precisely, they highlight the keywords and important messages that brands want to convey. It's a way of placing emphasis on the relevant part of the message and classifying all the content that is published. The first step is to decide on a theme and in our modern world, your hashtag really needs to stand out. It could be something funny, topical, or that directly refers to your page. The key is to generate interest in your contest. Let's start by pointing out some ideas for running UGC hashtag contests:
Organize a contest using a hashtag linked to an event that is relevant to your community of followers. In other words, use a campaign hashtag that is connected to the event. For example, if you're planning on running a contest inspired by an event that you're organizing, ask users to share pictures of how their attending your event.
Launch promotions on days that mark an important anniversary or date in the calendar. Try to ensure that the date has some connection with your brand, and that the prize and promotion dynamic make sense in the context of the day being celebrated. For instance, you can organize a UGC hashtag contest to celebrate Mother's Day and ask users to share pictures with their moms and add your campaign hashtag to the description.
If a conversation is trending on social media why not take advantage of the opportunity to launch a linked promotion? Hop on the Trending Topic bandwagon by using a similar hashtag to join the conversation and benefit from the exposure that this will give you.
Be creative and come up with your own hashtag! Here are some points to keep in mind:
Keep the hashtag short.
Make sure it helps to identify the brand and the promotion.
Make it easy to remember.
If it consists of more than one word, use upper case for the first letter of each word.
Promote your hashtag contest to attract more participants
The key to a successful hashtag contest is its dissemination and promotion. This is why preparing various organic posts and social media ads is always a good idea – as good as using Stories and cross-promoting the contest on other social media platforms and communication channels. Here's an example from Odisseias – a Portuguese experience gifts provider. The brand occasionally organized hashtag contests for their audience as it's a great way to boost brand visibility and reinforce customer relationships. Here you can see how they promoted their hashtag contest on Instagram, in which they asked participants to share their favorite summer memories.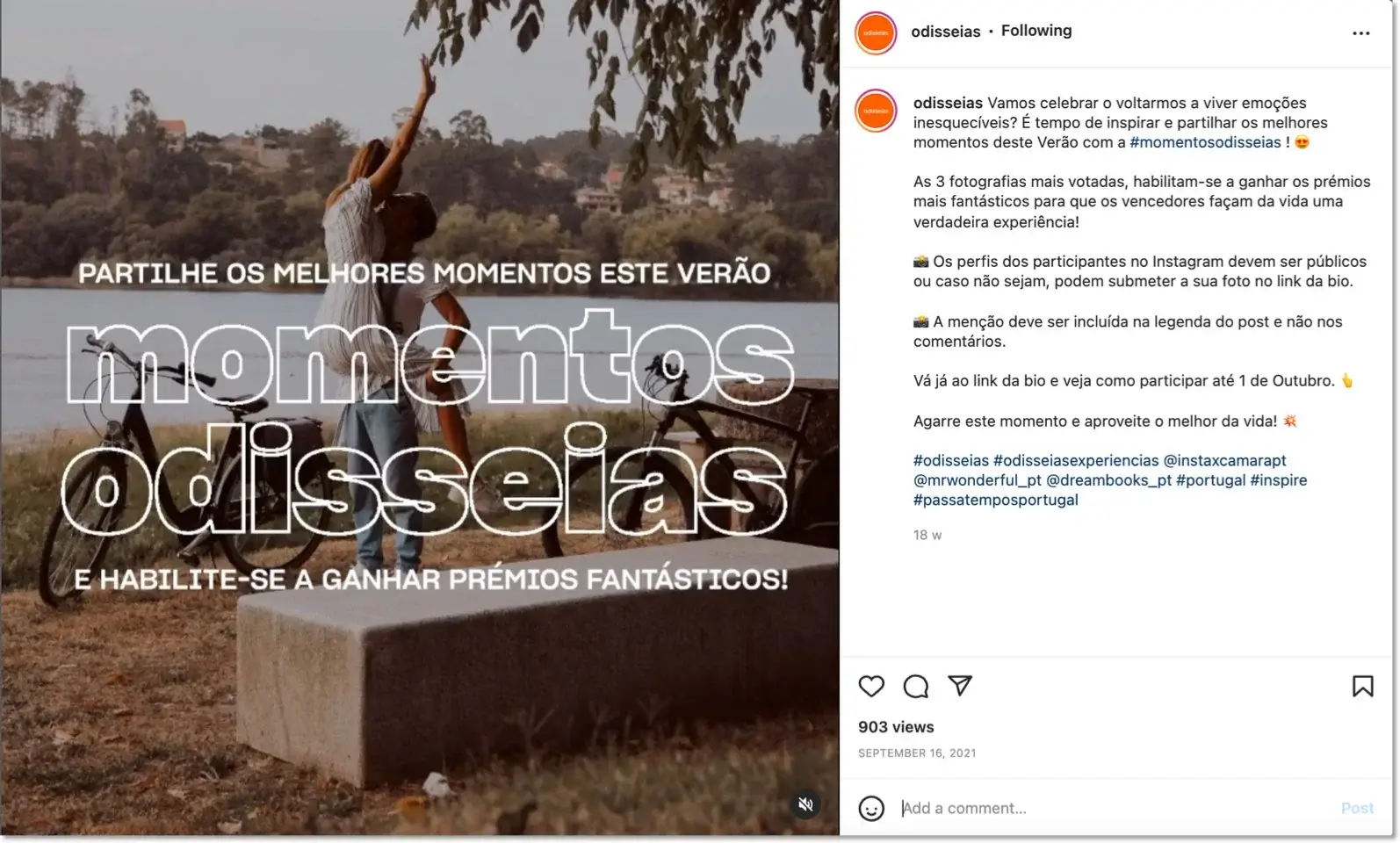 And another example comes from ISCBC and their Invasive Species hashtag contest organized for families, youth and school groups.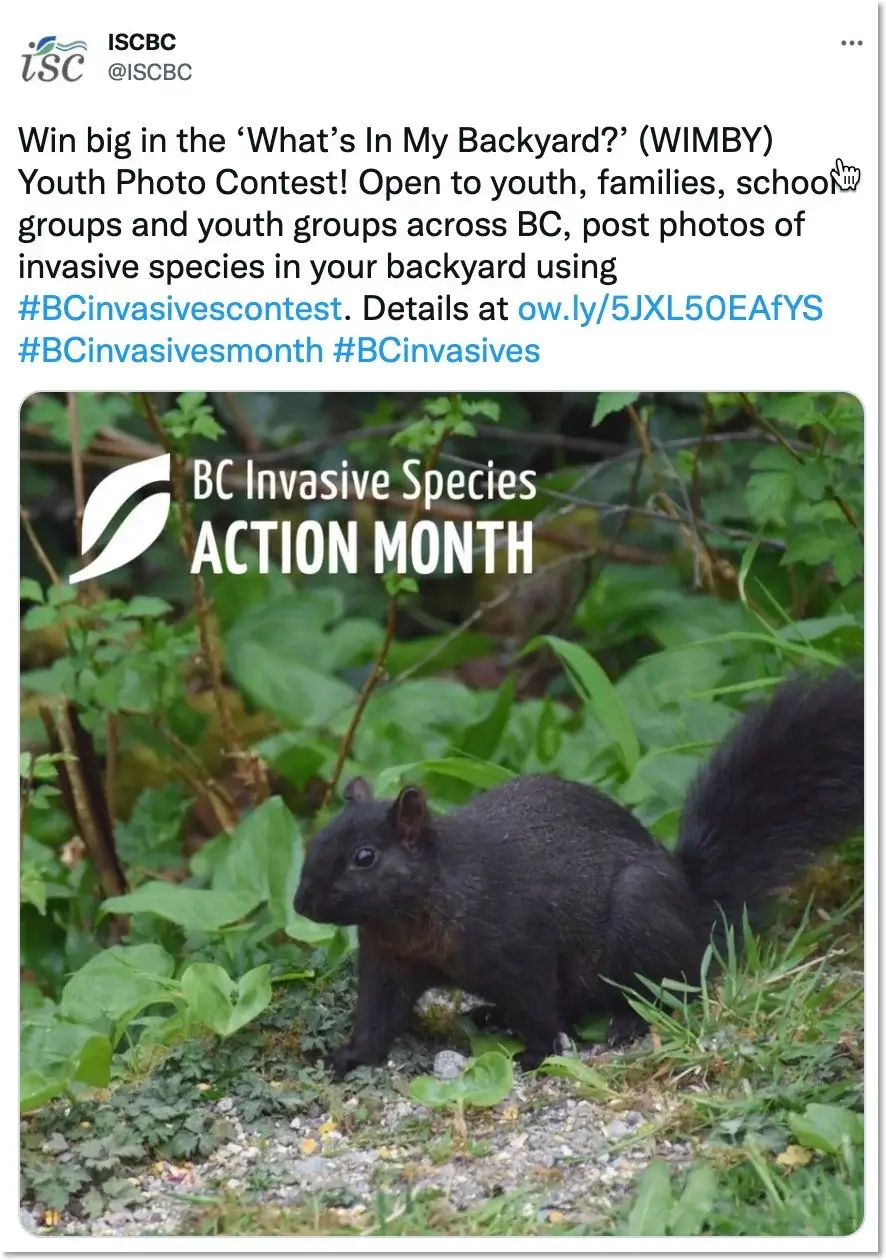 Don't forget to promote your campaign on other channels like Facebook, YouTube or TikTok. You can also invite your newsletter subscribers and website visitors to participate – the more the merrier!
Do you have more questions about setting up a hashtag contest on Instagram or Twitter? Check with our Customer Support Team!