Posted in: Digital marketing,Ideas for your websiteLast update: 28/04/22
Jewelry marketers face a unique set of challenges. Consumers see jewelry as high-value, meaningful, and a lifetime investment – so it takes more effort to make a sale than in other markets. Let's examine 3 solutions for specialist retailers and jewelry marketing.

In this article, we'll focus on trust and relationships as the keys to retail success. Then we'll turn that focus into specific ideas for marketing jewelry online. We'll look at how to:
How jewelry marketing is changing
There are two trends which affect retail marketing across the board:
The hard sell doesn't sell any more. Modern consumers, especially the Millennial generation, don't respond to aggressive sales tactics.
Trust is everything. Over 60% of consumers make retail choices based on their beliefs and values. If you want to make a profit, you have to show that your brand is ethical and trustworthy.
These trends have a big impact on ideas for marketing jewelry online. Jewelry purchases are expensive, so consumers need more time and trust to make decisions. Meanwhile, journalists have documented how the diamond industry is being changed by Millennial customers. So how can jewelry marketers respond?
It's time to build a brand relationship with potential customers. Forget old-school sales tactics: if you want to reach a modern audience, then you have to reach out personally, customize your tactics, and adjust to Millennial attitudes.
#1 Get jewelry marketing leads
Jewelry is a significant purchase. So you may need more than the average 7 retail "touches" before you can make a sale. Instead, you'll need to build a relationship with your leads over time.
The first step is collecting contact details so that you can stay in touch. Try offering a reward to motivate people to share, such as a discount or free gift.
The bigger the prize, the more you can ask. In this giveaway, Robert Cliff Master Jewellers offered an amazingly generous prize – but in return, only requested names and email addresses.
This was a great way to demonstrate brand value to future customers. Then, as an extra sweetener, everyone who signed up received a $100 voucher for their next purchase. So people had an incentive to follow up with the brand.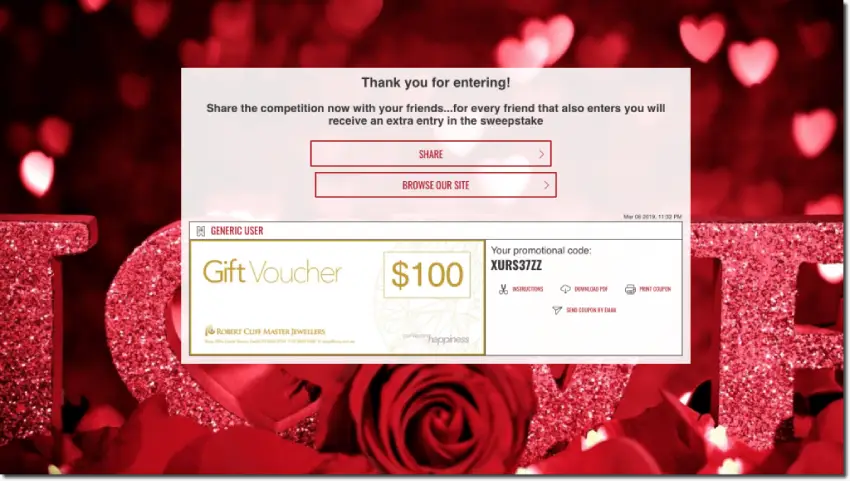 To collect even more leads, try a recruitment contest. Users earn extra entries when they refer a friend to the prize draw.
Your reward should be targeted to your audience. For Millennials, personalized or customizable prizes are the most popular.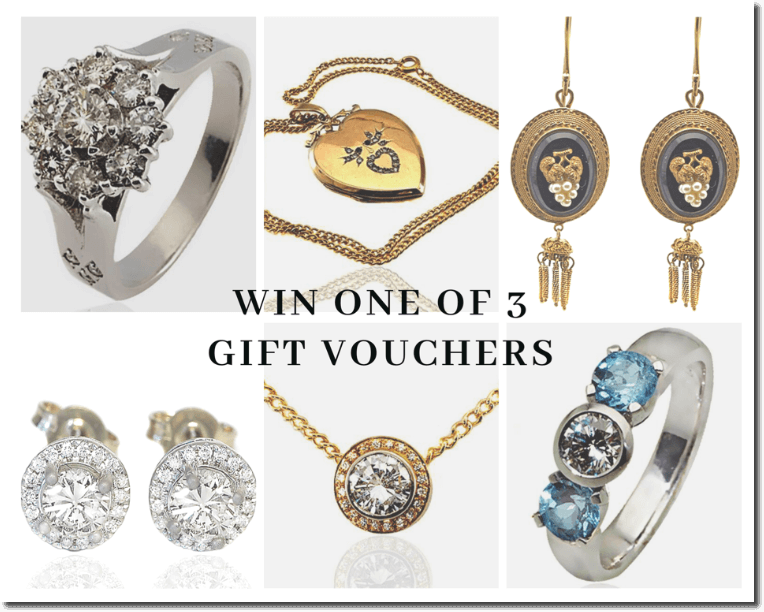 In this example, people who shared their contact details could win one of three gift vouchers. The vouchers had a clear value – $100, $150, and $250 – but shoppers could spend them on whatever they wanted.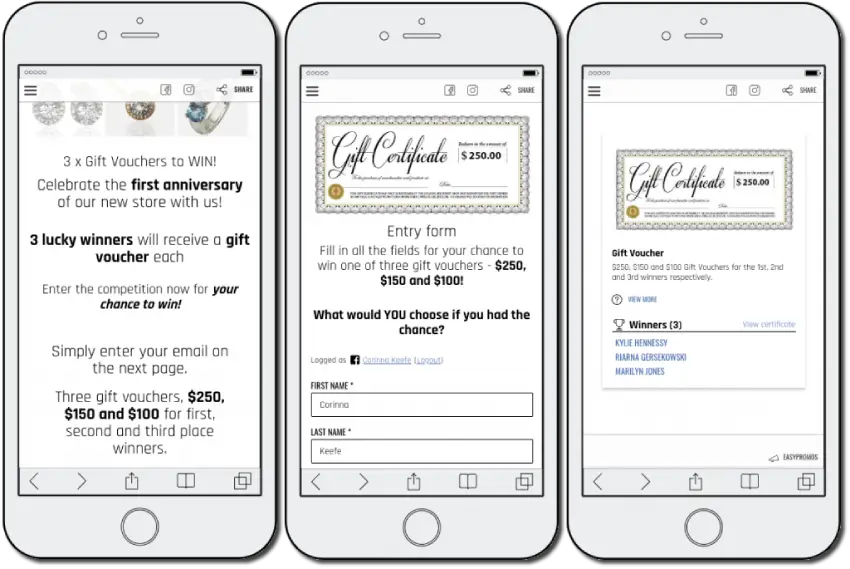 Share coupons and promotional codes via email, too. Send rewards in your regular newsletter – or send a surprise gift to delight new subscribers.
#2 Build the reputation of your jewelry brand
There are several good reasons to build your online reputation. As we've already mentioned, values are a key part of how Millennial consumers make decisions.
But it's also about reassuring customers. Jewelry is a significant purchase – and when people are shopping for wedding or engagement rings, it takes on even more importance. So you want to show that your brand listens to customers, is reliable, and has a good reputation.
One of our favorite ideas for marketing jewelry online is a brand collaboration. Team up with another retailer, charity, or big event to get your name heard. Take this example, from Diamonds Direct:
They offered a "dream proposal" at the Bryant-Denny football stadium, including an incredible diamond ring. They asked their followers to share their name, phone number, email address, and why they deserved to win.
The result? Over 10,000 page views. That's over 10,000 opportunities to build your brand online.
Another option is to sponsor events, or become a community leader. Take this example from the town of Cayucos, California.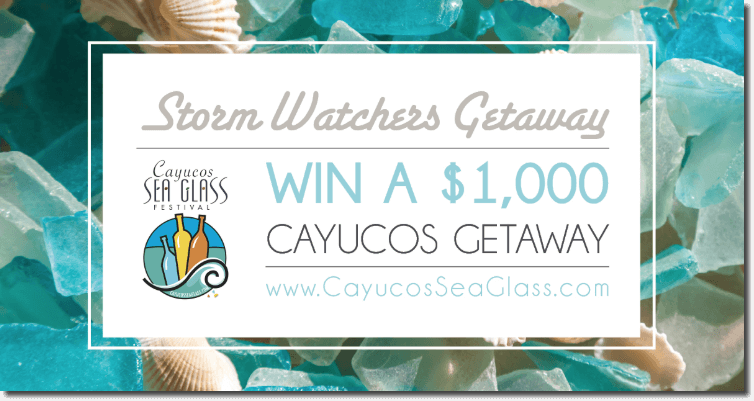 Retailers, artists, jewelers and restaurants got together to sponsor a grand prize at the annual Cayucos Sea Glass Festival. The festival has become an essential event in the town's local economy – and the brands which contribute will benefit from public recognition.
#3 Keep customers engaged with your brand
So you've collected some leads – ideally, with plenty of qualifying information so that you can share targeted, personalized promotions. And you've spent time building your name and reputation with consumers.
Now what?
Modern inbound marketing is about the long game. You want to keep shoppers engaged before, during, and after a purchase – so that they come back for more. You need ideas for marketing jewelry online which hold people's attention over time.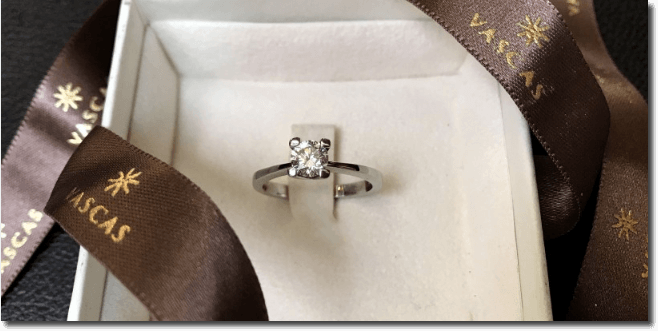 One way to keep people talking is regular promotions and contests. You can tie your promotions to seasonal events, like St Patrick's Day or Christmas. And you can create your own events, such as a monthly giveaway or weekend challenge.
Take a look at this Valentine's Day contest from Vascas Jewellers. They created a game that would entertain their social media followers, while drawing their attention to Vascas' selection of jewelry. The challenge: guess the carat of the diamond pictured above.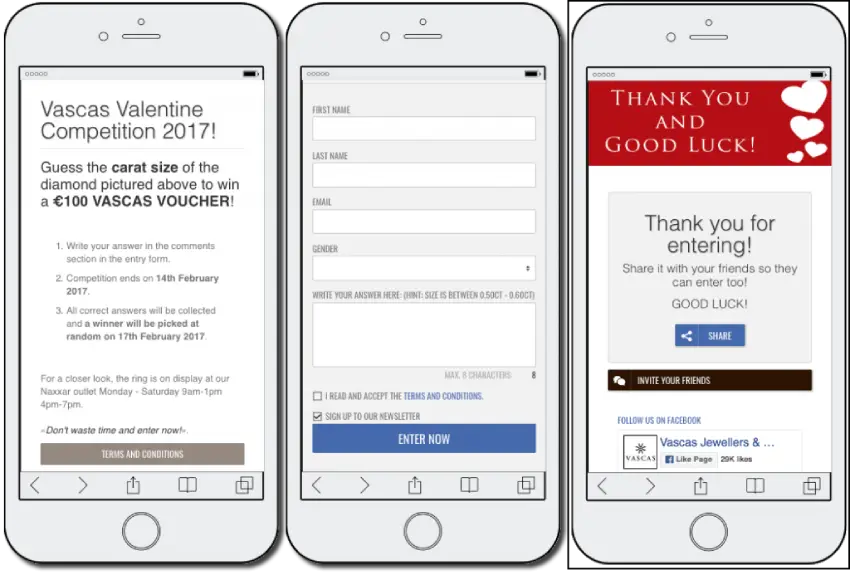 Another strategy – gaining in popularity right now – is to give your customers a peek behind the scenes of your business. Share some details from your day-to-day work, or give people the chance to get involved.
Check out this contest from James Ross Jewellery with A & H Ross Jewellers. They offered the chance to design a unique piece of jewelry. This promotion spoke perfectly to the Millennial desire for customization and personal attention.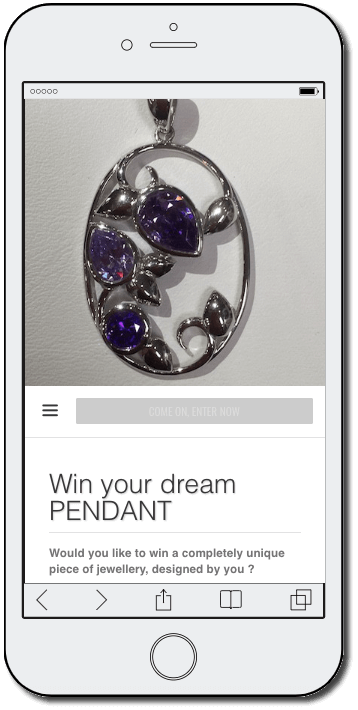 For a chance to win, people had to write a short explanation of what they wanted to create, and why. Of course, not everyone could win – so as a reward for their efforts, every participant got a 10% discount voucher to use in store.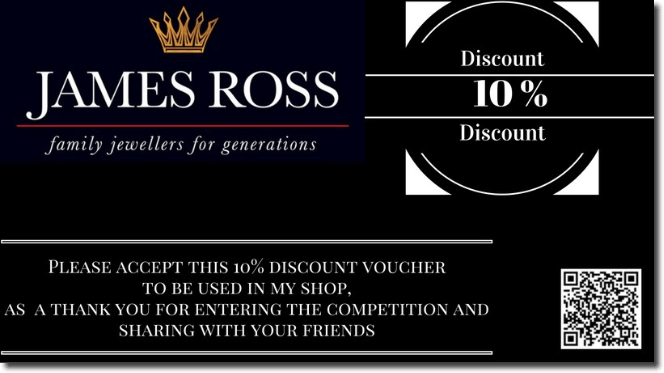 Teaming up with another brand is a good way to keep your promotion budget under control. Try and choose a brand which has a similar, but not identical, target market to yours.
Apply your ideas for marketing jewelry online
Ready to begin? Create your account and start designing promotions for free. And if you would like to discuss your marketing strategy or creative ideas for marketing jewelry online, you can chat live with the Easypromos support team.
Publication date: 2019-03-12