Posted in: Ideas for your websiteLast update: 13/04/17
If you manage communication and marketing for a shopping mall, please read on for some ideas and examples of how to create promotions, contests and sweepstakes which will help you dynamize publicity. Take advantage of our suggestions and put them in practice with Easypromos. They will help you attract customers, incentivize consumption and loyalize clients.

Whether or not a shopping mall is successful depends on many factors and variables which should be studied strategically before getting the project underway. These factors include access, location, services, variety of establishments, ease of parking, and so on. But the Online Marketing actions we carry out are also fundamental and play a huge part in attracting consumers or possible clients. Such actions incentivize consumption in the establishments – in terms of both frequency and value; loyalize customers; avoid excessive sales seasonality; encourage the public to try products and services; and develop branding.
Below, we provide some ideas and give you examples that will help you achieve the following objectives:
1. Photo contests
Photo contests are very effective in developing branding. It's always possible to organize a photocall, or even to improvise one, as long as the logo or name appears in the background.
Here's an idea:
Usually shopping malls are full of posters containing the logo and name of the mall, so it should be quite simple to propose a photo contest in which users have to upload a photo of themselves with the logo in order to qualify for the prize. As a prize you can raffle free workshops for children, allowing parents to shop more easily or enjoy an afternoon in the cinema.
Here's an example: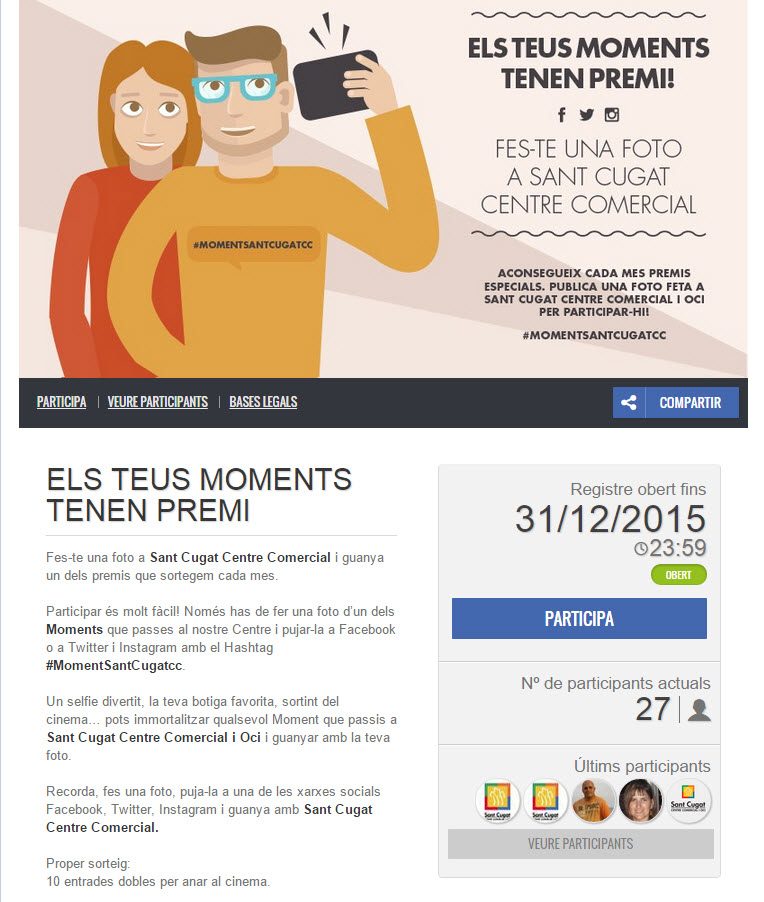 The San Cugat Shopping Mall proposed a photo contest in which visitors were encouraged to take a photo of themselves somewhere in the mall and enter it with the hashtag #momentssancugatcc. We suggest you enable participation from Facebook, Twitter and Instagram via hashtag. You will increase participation if you facilitate routes to entry.
Build now your first photo contest and engage with user generated content!
2. Promotions group combined with discount coupons
It's likely that various establishments in the shopping mall will have offers or promotions. It's a good idea to group these promotions together, so that before customers reach the mall they can find out if there are any interesting promotions on. You can create a promotions group, combined with discount coupons, promoting different types of establishment: cinemas, restaurants, entertainment stores and fashion stores.
Here's an example:
One example is the Heron City Coupons Campaign, in which customers were offered discounts.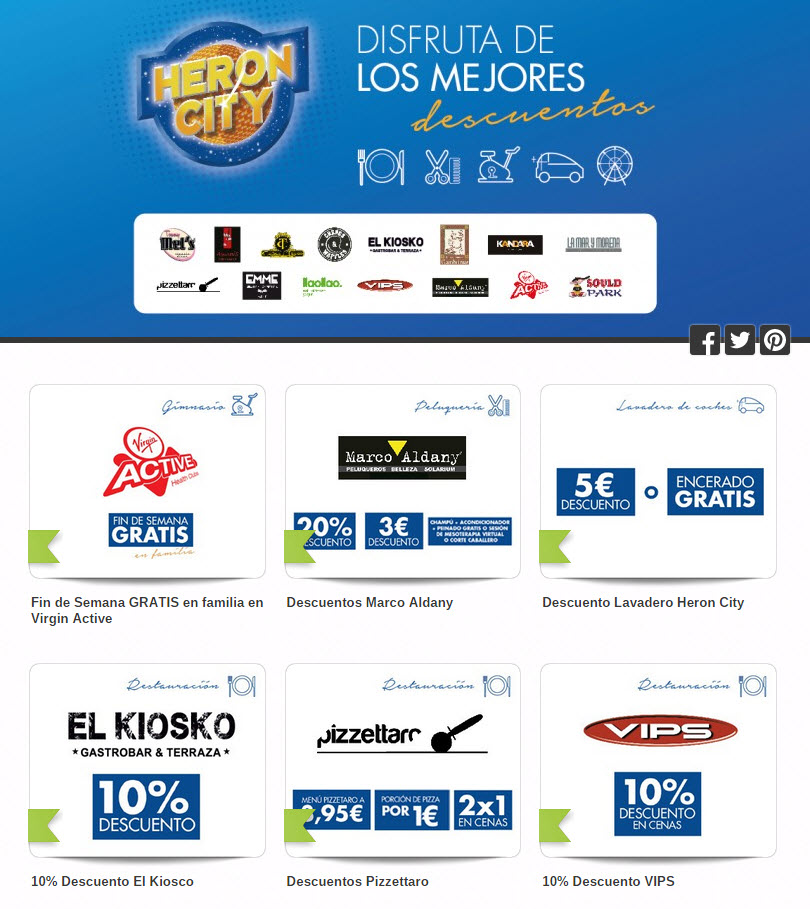 The more promotions, the better. If one of them happens to fit the needs of the client at that time, or if it is sufficiently attractive enough, it will bring that customer to the shopping mall.
Build now your first coupon contest and boost engagement with your fans!
3. Sweepstakes
Sweepstakes are a very useful tool for obtaining a customer database. By simply providing their details, participants will be entered into a sweepstake for a specific prize. Easypromos now also gives you the chance to ask your users to validate their email address.
We explain how to validate the email addresses of participants to obtain a database with high-quality leads.
Here's an idea:
Carry out a sweepstakes offering the chance to win an attractive prize to all customers who have visited the mall on a specific day and made a purchase. Inform all the establishments as they can be the ones to inform customers. In this way, you will obtain a comprehensive database with which to carry out a subsequent email marketing campaign with the aim of communicating future events or promotions. Winning customers will need to present proof of purchase when claiming their prize.
Here's an example: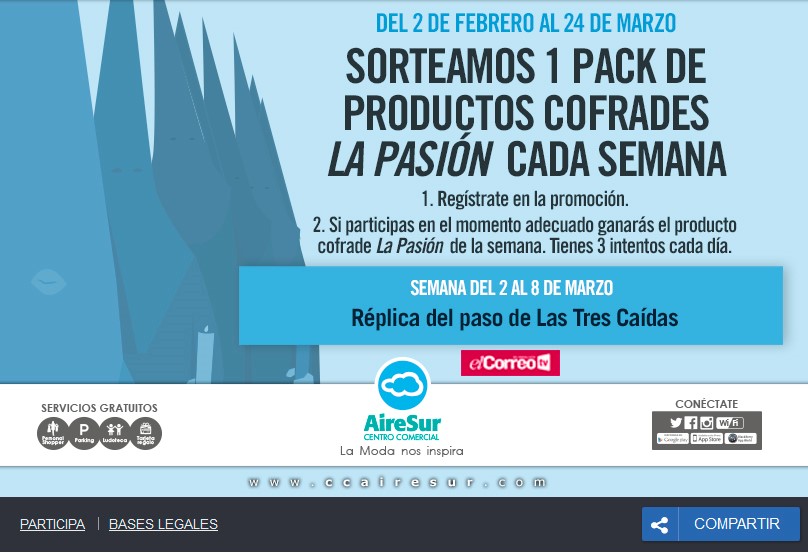 The shopping mall Airesur usually raffles products connected with coming events or special holidays. In this case it was Easter. Other examples could be tickets to upcoming soccer games.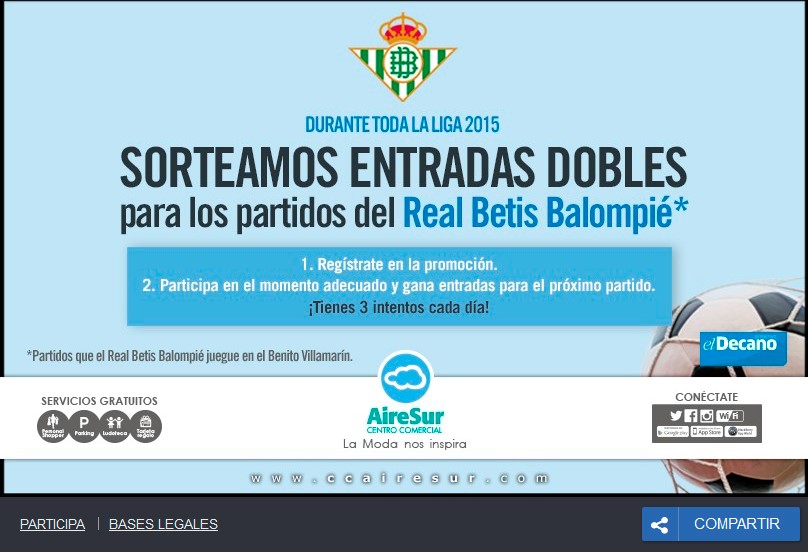 Create a sweepstakes on Facebook in 5min and see your fans grow!
4. Pick Your Favorite to go viral
The Pick Your Favorite application offers many possibilities and it's one of the easiest types of promotions to take part in. Users can participate with just one click.
Here's an idea:
If your objective is to sell more cinema tickets, we suggest you use the Pick Your Favorite application. Show a trailer with all the movies that will be onscreen soon and ask users to vote for the film they'd most like to see. As a prize you could award winners with free tickets to the movie of their choice.
Here's an example:

The Marina Shopping Mall encouraged customers to come to a photo wall that had been set up in the mall and have their photo taken with their partner. The shopping mall was responsible for uploading photos of participants and the most-voted couple won a gift card which they could redeem at any establishment in the mall. In this way they were able to combine two promotional actions – one online and one offline.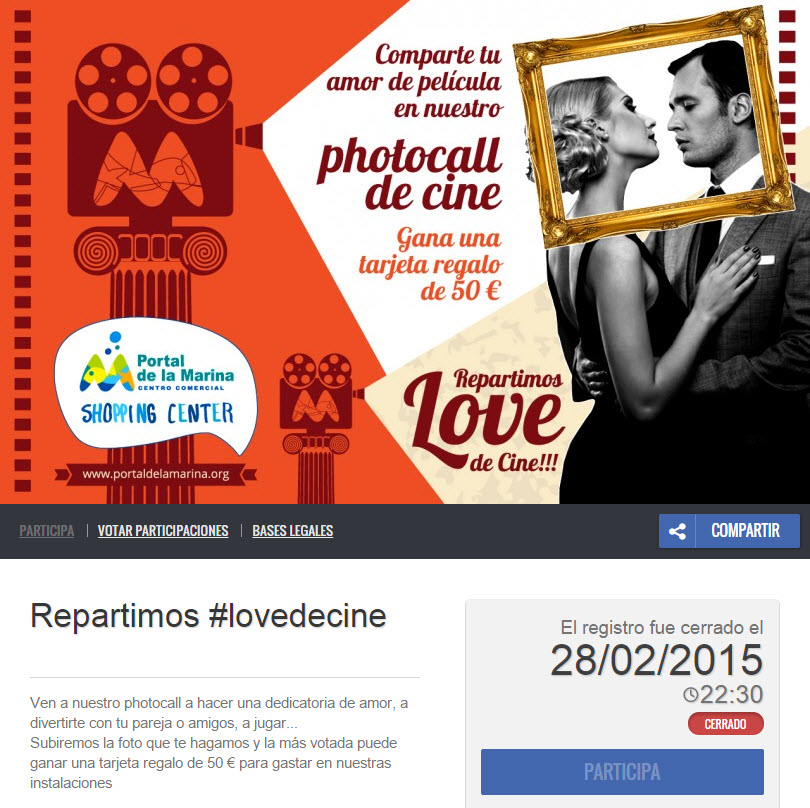 Build now the easiest contest for fans to join in!
5. Text contest
Text-based contests offer a simple dynamic that is usually very well received by users. It is simple to participate with a phrase from any mobile device, and if you also allow Facebook and Twitter participation you facilitate participation even further. Hold your text-based contest on an important day such as Father's Day.
Here's an idea:
Set up a text-based contest in which clients have to say what they most like or value about the mall using a single phrase. In this way you will collect a great deal of information about what it is your customers most value about your mall. You will be able to use this information later for future promotional actions, publicity or communication.

Here's an example:
The Madrid Sur shopping mall asked its customers to explain in which ways they and their children are "like father like son."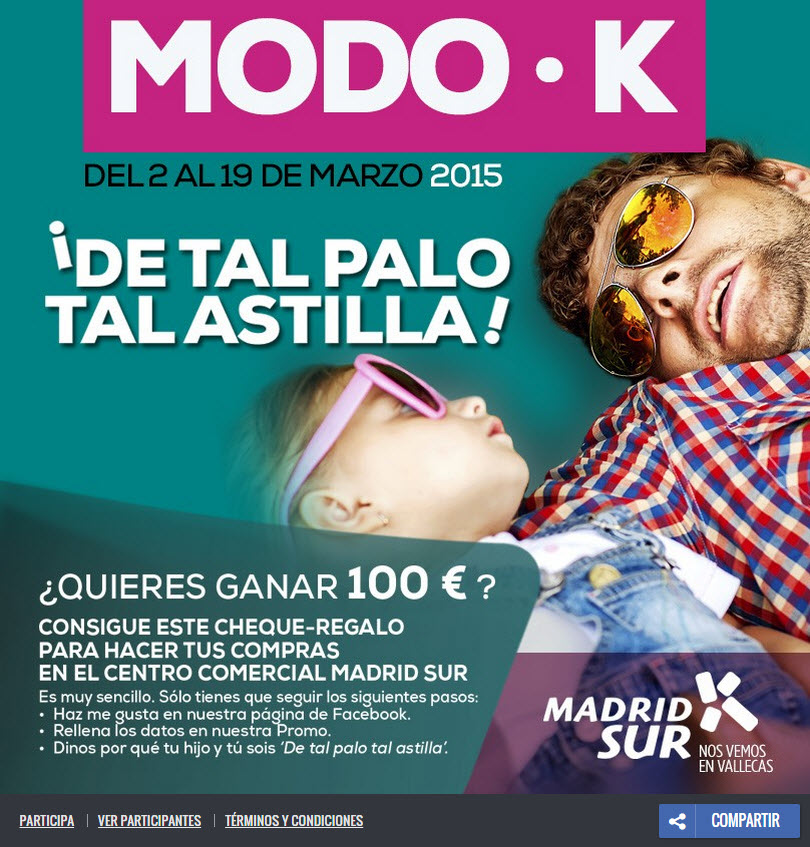 Build now your first text contest and engage with your fans!
The possibility for online promotions in shopping malls is infinite. In future posts we will continue to offer you ideas and examples of shopping malls that have counted on Easypromos, hopefully inspiring you to carry out your own promotions.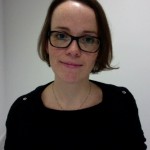 Randi Jensen
International Business Developer in Easypromos