Posted in: Ideas for your websiteLast update: 24/09/21
Digital marketing has become essential for retail, malls, shopping centres, and commercial centres. But what's the best way to generate leads, boost brand visibility and increase sales online? Read on for free ideas and resources to reward customers, increase ROI, and make a splash online.
The success of a shopping mall or retail center depends on a million different factors. What does the competition look like? How easily can people reach your location? Which brands and stores do you carry? How do you fit into the local economy? And how's your marketing strategy? In this blog post, we take a look at ideas and strategies for retail and shopping malls marketing. Let's take a look at how to boost your shopping mall thanks to creative online promotions.
What can you achieve with a good marketing strategy for shopping malls
Here are just some of the goals that you can achieve with a consistent marketing strategy and relationship marketing for retail malls and shopping centers:
Attract shoppers. With a bigger online presence, you can attract new customers through your doors.
Promote sales. Use promotions, deals, and online advertizing to make customers an offer they can't refuse.
Collect contact details. Target customers with more personalized communications.
Reward loyal customers. Attracting new shoppers was just the first step! Share exclusive rewards and treats for repeat customers.
Highlight brands and products. Run giveaways and promotions to show off your best brands and new product releases.
Manage periods of low consumption. If sales have been muted lately, then use deals and online campaigns to revive consumer interest.

Sounds good, right? But how can you make sure that your digital marketing for retail is effective? In this post, we'll share 5 easy online promotions, from real malls and shopping centers. Read all the way to the end to get your free ebook for retail and mall marketing, with even more ideas, tools, and examples.

1. Boost sales with coupons and promotional codes
Customers love a good deal, so coupon promotions never go out of fashion. In fact, we've written before about the power of coupons in digital marketing for retail. Even if you offer a discount, you'll see a great return on your investment from increasing sales.
There are lots of different ways to set up a promotion with coupons or discount codes. So start by thinking about the different brands you work with, and your ultimate marketing goals. Do you want to show off products from an exclusive brand? Encourage holiday spending? Reward customers for signing up for a newsletter?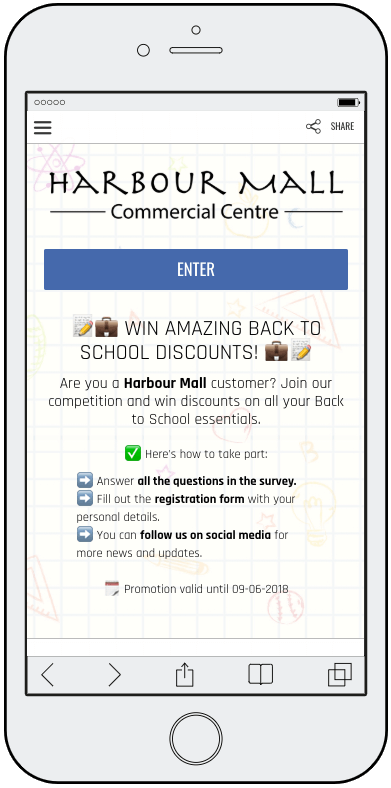 Harbor Mall Commercial Centre offered a special Back to School discount. They wanted to learn more about their customer feedback and shopping experiences. So they asked shoppers to fill in a survey, and in return, they invited users to download their discounts.
But what happens when a shopping mall decides to promote a variety of different stores to attract more visitors? What can marketing teams do to grow their mailing list and boost sales at the same time?
Here's an example of a digital coupon directory – a great opportunity to distribute discount codes and vouchers to various stores. Users register by leaving their contact details and download the coupons they're interested in. What does the organizer get out of it? Apart from converting social media followers into qualified leads, they drive traffic to the stores, boost sales, and promote the businesses. Let's not forget about reinforced customer relationships!
Interested in running a coupon campaign? Give a go to our coupon directory software and see how to creatively distribute discount codes and vouchers! You can also learn more about launching a coupon directory with Easypromos.
You can be really flexible with how you design and share coupons. Offer a range of discounts targeted at different customers, or share promotional codes in a seasonal countdown. Check that discounts are valid with numeric codes or barcodes and QR codes that can be scanned in-store. If you want to give exclusive rewards to loyal customers, then take a look at part 5 below, where we discuss Customer Loyalty Rewards.
2. Marketing ideas for shopping malls: entertain and engage with games
People turn to social media for creative content. So if you want to stay top of mind with customers and increase brand awareness, your content must be top-notch! Luckily, with the development of technology, there are now many ways to launch interactive and engaging promotions that online users don't mind seeing. Don't forget that customers no longer want to see hard-sell campaigns. We all prefer marketing campaigns that offer us something in return.
Branded mini-games are an example of such marketing solutions. Organize a mini-game with your shopping mall's logo and branding colors – and work on brand recognition and exposure why entertaining users with an interactive challenge.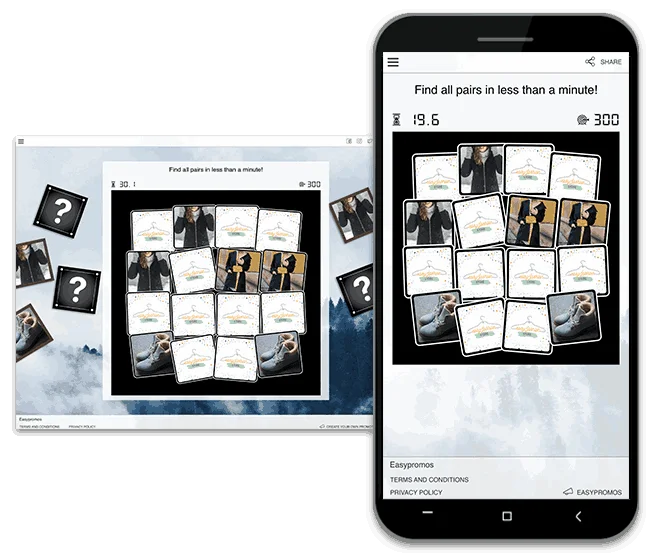 Here's an example of a Memory game that could be launched by a fashion brand to promote their new collection. Or by a shopping mall to attract more visitors to a new store. Note how the app showcases the brand's logo and products – wouldn't that be a great tactic for any shopping mall, too? Users play the game and then register their contact details for a chance to win – and your mall expands their database in the meantime!
3. Collect contact details with a giveaway with registration form
The secret to digital marketing for retail is simple. You want to leverage online technology, to build a relationship with your customers so they keep coming back. One of the most effective ways to stay in contact is with an email marketing list. But how do you collect those contact details in the first place?
You can't go wrong with an Entry Form Giveaway. It's very easy for customers to take part. They just fill in a registration form online, then wait to find out if they've won a prize. You can add an extra incentive by offering small discounts to all participants, in addition to the final grand prize.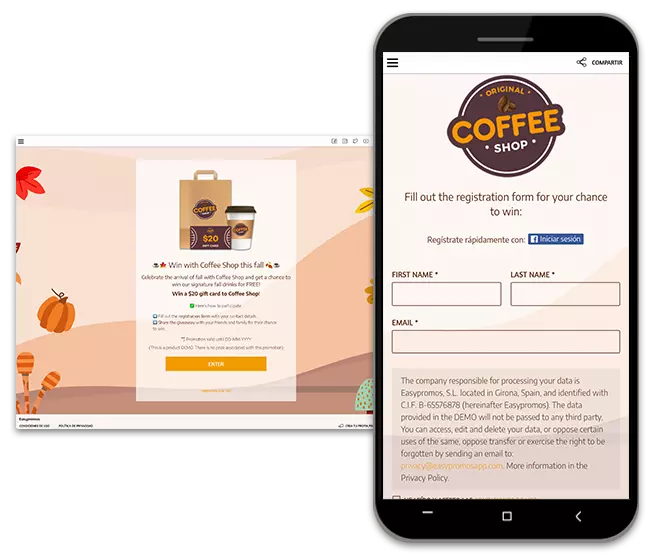 Take a look at the above example to see how your shopping mall could promote a new coffeehouse located in your center. This café offered an adequate prize: five $20 gift cards – because there's no better prize than free coffee! All they asked from shoppers was their name and an email address for their mailing list.
If you opt for a similar promotion, make sure you share the giveaway link on your social media channels – it's a great opportunity to convert followers into qualified sales leads. And if they participate in a giveaway for a free gift card to a coffeehouse… you can target them with future deals and bargains offered by the same brand!
Once you've developed your email marketing list, use it to supercharge other promotions. Share newsletters, product reveals, and exclusive deals with your email subscribers. Build excitement for big shopping events, such as Black Friday, Cyber Monday, or Christmas shopping.
4. Pick Your Favorite promotions as part of your mall's marketing strategy
Voting app promotions are a fun way to hear your customers' opinions, and show them that you value their contributions. Create a public gallery with photos, videos, or text, and ask your shoppers to choose their favorite. This is also a great option if you want to run a promotion that's easy to participate in.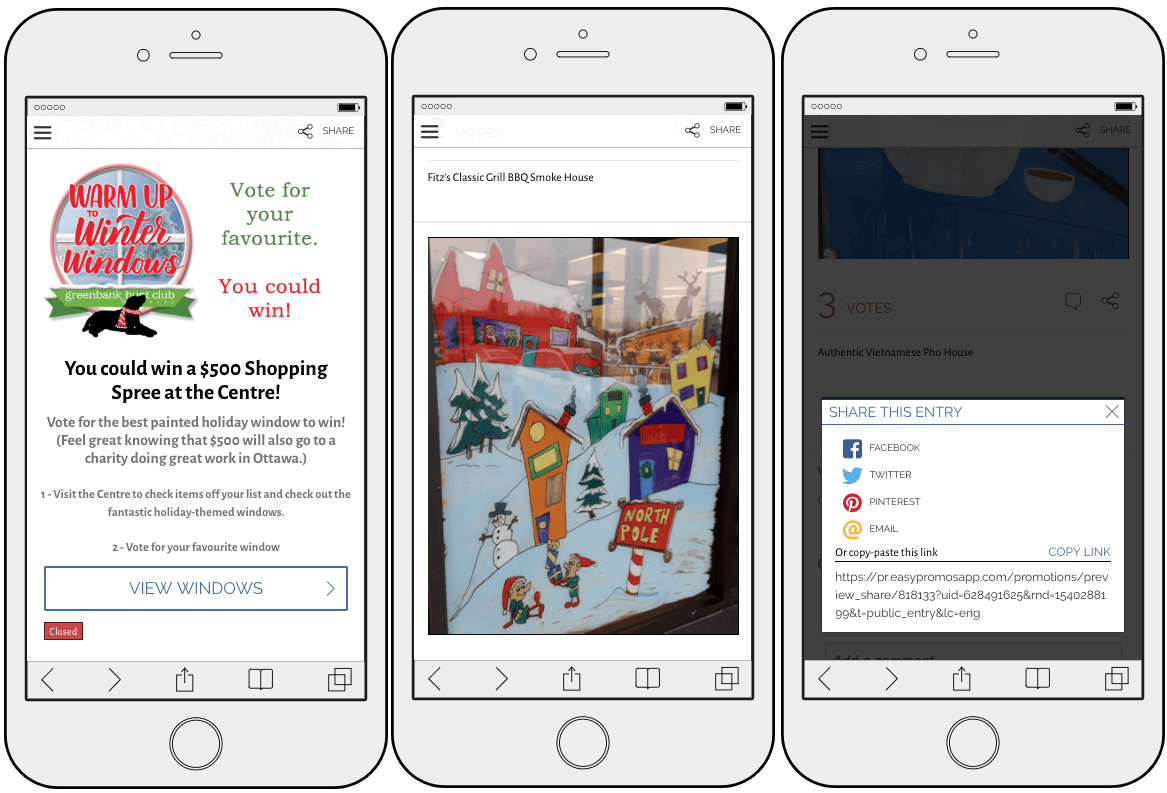 Here's a charming festive example from the Greenbank Hunt Club shopping center. Each store in the mall painted their windows with a Christmas theme. Then the mall shared photos of each shop online. Customers could view the photos on their mobile phones, and choose their favorite display. Finally, they could share their pick on social media.
And what was their incentive? Every customer who voted had the chance to win a generous $500 shopping spree. And because Christmas is the season of giving, the mall matched the prize with a $500 charity donation, too. This was a great way to highlight each store within the mall, and show how the Centre contributes to the local community at the same time.
5. Foster loyalty and trust with client-exclusive promotions
So far, we've discussed promotions that encourage sales: discount codes, giveaways, and so on. But you can also reward sales that have already been made. Use the Validate Receipts app to share exclusive rewards with paying customers and increase customer loyalty and trust. These two often lead to repeat purchases and life-long customer relationships!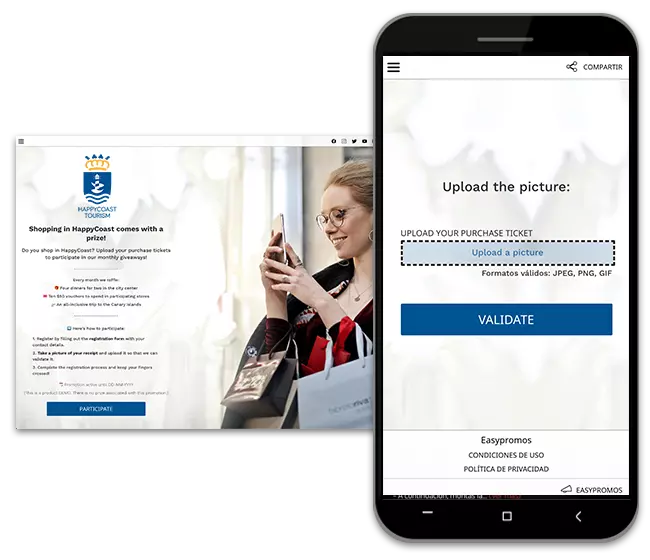 In this example, it was very easy for customers to take part. Every time they made a purchase in-store, they were invited to take a picture of their receipt and upload it to the online app. The promotion organizers then organized a random prize draw and manually validated if the winner uploaded a valid ticket.
Are you expecting a high number of participants? Or maybe you want to invite each user that uploads their receipt to spin a prize wheel? You can use our Validate Receipts app with automatic ticket validation that is possible thanks to the OCR technology. Find out more about the OCR system and try our Validate Receipts DEMO with automatic receipt validation.
Do you have questions? Or maybe you want to share with us an idea that our readers might be interested in? Make sure to contact us via our Live Chat!
Learn more with our free ebook

Feeling inspired? There's so much more you can achieve with digital marketing for retail. Download our ebook for more ideas, tips, and industry insider advice.
Publication date: 2015-03-30