Coupons have been around since 1887 when a small-time businessman called Asa Candler wanted to boost sales of his new soft drink. You might have heard of it: today, more than 8000 servings of Coca Cola are consumed every second. So after more than 130 years of success, why do so many brands see coupons as a high-risk strategy?
In 2011, coupons went through a major boom. This was fuelled by consumer attitudes following the global recession, and simultaneous advances in technology. Suddenly, it had become much easier to email, print and download coupons for use in-store and online. But there was a problem. Unfortunately, some brands went too far, offering too many coupons without a clear sales strategy. Coupons were still a valuable tool for marketing – but brands had forgotten how to use them well.
When it comes to inbound marketing, your aims depend on your audience.
It's time for coupons to make a comeback. There are a million different ways to design, target, and use coupons. And they're not just for budget brands! For example, you can make your brand seem desirable and exclusive with limited coupons and event invitations. (Take a look at our latest ebook for some ideas.) But in this post, we're going to focus on the basics. We'll talk about how to plan a coupon promotion by finding your target market.
Let's dive right in. Here are four basic points you should consider when you design your coupon promotions:
What are the marketing aims of this promotion?
What can we offer to our customers?
What can we ask from them in return?
Have we calculated the cost/benefit of this strategy? Can we improve it?
These four points will help you decide how to organize the promotion, what kind of coupons you offer, and how many you want to distribute. In the sections below, we've helped you to get started with the first point: your marketing aims. When it comes to inbound marketing, your aims depend on your audience. Once you know who, then you know what, how, where, when and why.
Who uses coupons?
Studies show that almost 95% of US consumers use coupons. That 95% contains hundreds of different consumer segments, and the segmentation that you use will be specific to your brand and industry area. However, every business will recognize the three broad groups we've decided to work with today: new customers, missed connections, and faithful fans.
Some businesses are more likely to use promotions than others. The sectors which use coupons most are grocery stores, personal care, dining out, fashion and pets – but other brands can use promotional codes too! Think creatively about who you're trying to attract. What do you want to show off about your service or products? What will nudge potential customers into choosing your brand?
Attract new customers with discounts
Online research is now a vital part of the shopping experience for most consumers. It's more and more common for potential customers to check offers and prices online before they buy. And their attention is rapidly shifting from desktop computers to tablets and mobiles, so make sure your online presence and marketing strategy are prepared.
When consumers search online, they tend to search for specific products, brands and locations. Your strategy needs to respond to this. Use coupons to tempt local customers to visit your brick-and-mortar stores. Raise brand awareness and make sure your brand name is connected with product searches. Highlight promotions with a banner on your website, so it's the first thing potential customers see. Don't let visitors leave your site, never to contact you again – collect qualifying information and email addresses so you can share relevant, desirable promotions with them. Track how your new customers access coupons, and use the intel to inform your marketing strategy.
Social networks offer some very useful features for attracting new customers. You can run a promotion with coupons in exchange for information. Ask followers to fill in a registration form to help you qualify those leads. You can segment the audience for the promotion post itself, too. You can even segment the promotion offer! For example, you could offer a choice between two discount coupons, based on how users respond to a question in the registration form.
Here's an example of how interactive coupon campaigns can help shopping malls in boosting sales, promoting their shops, growing mailing lists and attracting new customers.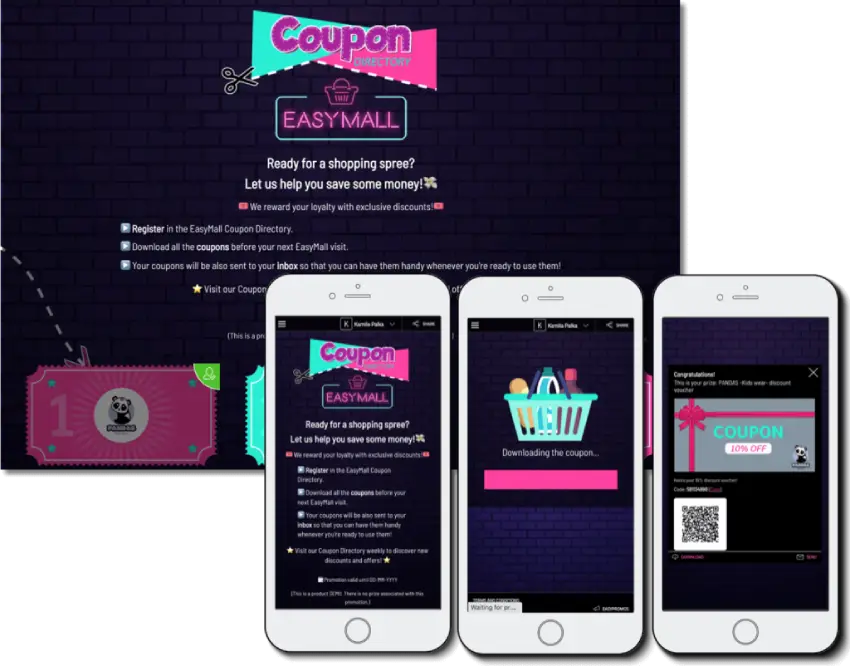 Interested participants register in the Coupon Directory app and download all the discounts that they're interested in. The vouchers are then sent to their inboxes so that the user can keep them handy and redeem them easily next time they visit the store.
Use coupons to retain customers
Customers who bought something once – and then never came back. Potential customers who made it to the online checkout, and then abandoned their cart. Customers who haven't visited your website in months. You still have a chance to get them back – and coupons are one way to do it.
Let's start with your most recent missed connections. Online checkout abandon rate can reach as high as 64.7%. That means almost two-thirds of potential customers may abandon their purchase! Customers who view products or fill their cart, and then abandon the page, are prime for retargeting. And coupons should be part of your retargeting strategy. Why? Because 65% of consumers said their final decision was affected by coupon availability. 63% said they'd reconsider abandoning their cart if they received a promotional code. Remember, coupons boost sales, so offering a discount will pay off in the long term.
Long-term missed connections are more difficult to manage. In the past, email was the best way to reach customers who'd stopped engaging with your brand. Now that GDPR is here, it's more complicated: you need explicit permission from consumers to contact them by email. So you need to make sure your email marketing is on point, in order to attract and retain subscribers.
Offer followers useful, timely information, rather than bombarding them with endless spam. Try to make your emails more dynamic and engaging. Some brands are starting to experiment with dynamic content: customer surveys, videos, quizzes, and more. Use game theory to tempt customers into clicking. You can use quizzes, surveys and competitions to award coupons too. In this way, customers don't just get the benefit of the promotion – they feel the thrill of being a winner, too.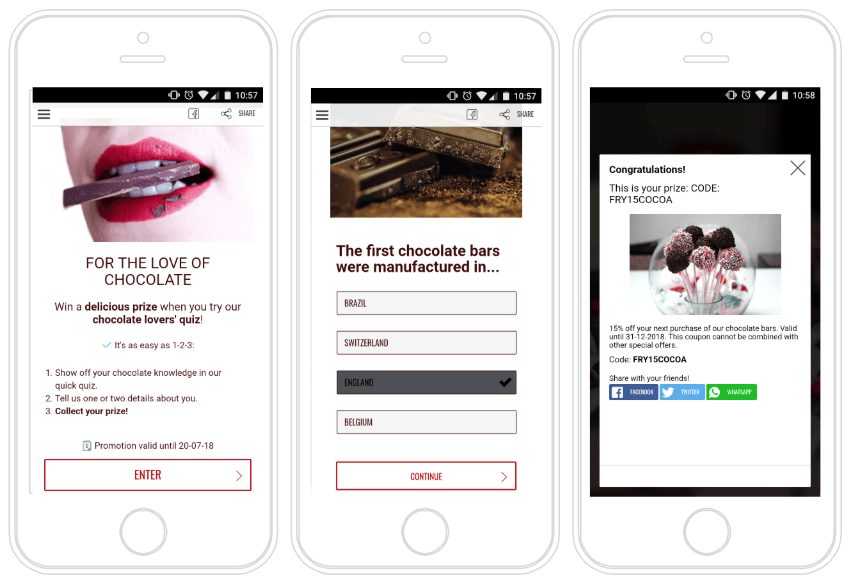 Reinforce customer loyalty with coupons
This group represents a vital part of your customer base. They follow your brand online, they keep coming back, and they make repeat purchases. So make sure you don't take them for granted!
Repeat customers are also the most likely to use coupons. Use promotions with vouchers and promotional codes to make them feel appreciated and reinforce brand loyalty. You can even target promotions so that customers support your marketing strategy. In the example below, a mail service business wanted to encourage customers to start using its app. They rewarded app users with a discount coupon for their next purchase, and in this way, encouraged both repeat business and a specific customer behaviour.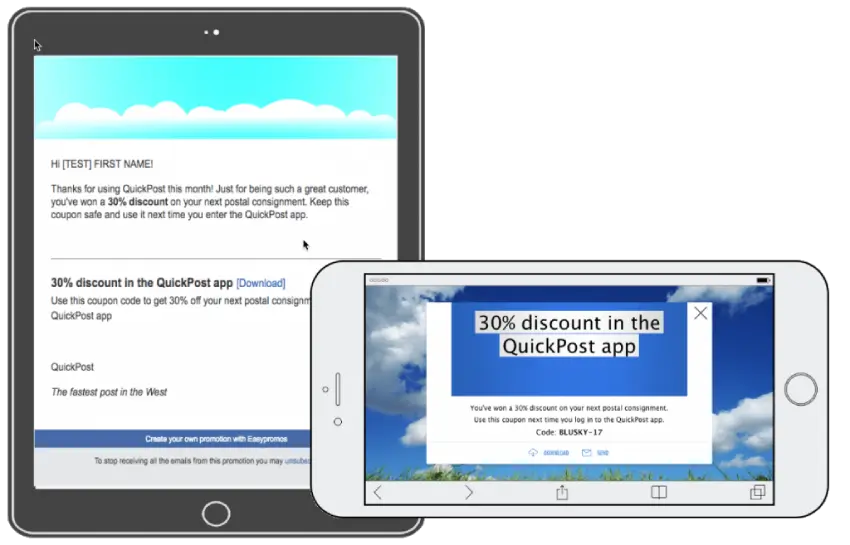 Remember that a core concept of inbound marketing is delighting your customers, and transforming them into promoters. Once you've established a relationship with a repeat customer, your strategy should change. You don't need to tempt them into making purchases – but you do want to tap the customer for feedback and word-of-mouth promotion. So consider offering coupons and promotional codes in exchange for customer surveys, social shares and more.
5 key takeaways
Think carefully about who your promotion is targeting.
Be creative about matching the promotion to your brand identity. Coupons can be used for any brand!
Offer coupons and promotional codes in a variety of formats: consumers like to receive coupons through mail, email, web, and mobile.
Make sure your promotions and coupons are accessible to mobile and tablet users.
Reward and reinforce customer behaviors that help your brand.
Need some more information? Why don't you contact the Easypromos Support Team via our Online Chat?