Posted in: Digital marketingLast update: 04/08/22
Online shopping is quick and easy – but 80% of customers say that physical stores are still essential. They're looking for interaction, assistance and entertainment from your brand. So let's take a look at how in-store experiential retail and digital promotions could transform your sales.

As online shopping started to take over the retail sector, a clear divide emerged: brick-and-mortar stores were for the conventional shopping experience, while online stores were for convenience. But with brick-and-mobile marketing, you no longer have to choose. Instead, you can offer retail promotions to your customers, combining online convenience and innovation with authentic, live interactions. Here are just a few ideas:
Create themed or pop-up stores for holidays, seasons, and special events
Speed up product search and payment
Offer exclusive discounts for visitors to your store
Create micro-communities for key products
Collect and reward instant customer feedback
Incentivize customers to share your store online
In this post, we'll examine why customers love experiential retail, and how to implement brick-and-mobile marketing so you can boost brand engagement and promote your product with fun retail promotion ideas. Let's take a look!
Benefits of experiential retail and retail promotions
Experiential retail is about letting your customers have it all. They want the convenience of online shopping, the excitement of new technology, and the authenticity of visiting your brand in person. A full, 360-degree retail experience might include personal recommendations from your staff, AI-informed product offers through your app, and a streamlined process to collect online orders. (We'll share some more specific examples later on.)
Experiential retail is also an opportunity to strengthen the relationship between your brand and your audience. When you create a multi-channel experience, you remind customers that they can find you anywhere: on their mobile, in-store, on social media, et cetera.
Finally – and most importantly – your customers are ready for experiential retail. Over 70% of customers already use their mobile phones in-store, and 60% have used and enjoyed AI product kiosks. In fact, 67% believe that retailers should make technology a priority. People expect a smart, dynamic retail experience. And you can't afford to disappoint them.
How to increase sales with in-store retail promotions
So what does experiential retail actually look like? That depends on you, your brand, and your budget. Brick-and-mobile marketing can be as simple as sharing an in-store coupon or inviting users to give a spin to an online prize wheel. Or you can go big, with artificial intelligence, interactive tech, and special events.
Dress your store for holidays, seasons, and special events
Let's start with a classic. Shopkeepers have dressed their windows with seasonal displays for as long as windows have existed. With modern technology, you can be more creative than ever before. In the 21st century, pop-up shops and internet references are a key part of the experience.
For example, the team behind Deadpool 2 decided to market the movie with a little experiential retail. They created a retro Blockbuster pop-up, in a nod to online nostalgia.
They added an element of competition for extra spice. Anyone with an original Blockbuster membership card (remember that blue and yellow plastic?) could get one of 1989 free copies. Or they could win by demonstrating their "superpower" to staff in-store. Given that this was a Deadpool promotion, we didn't ask exactly what those superpowers were…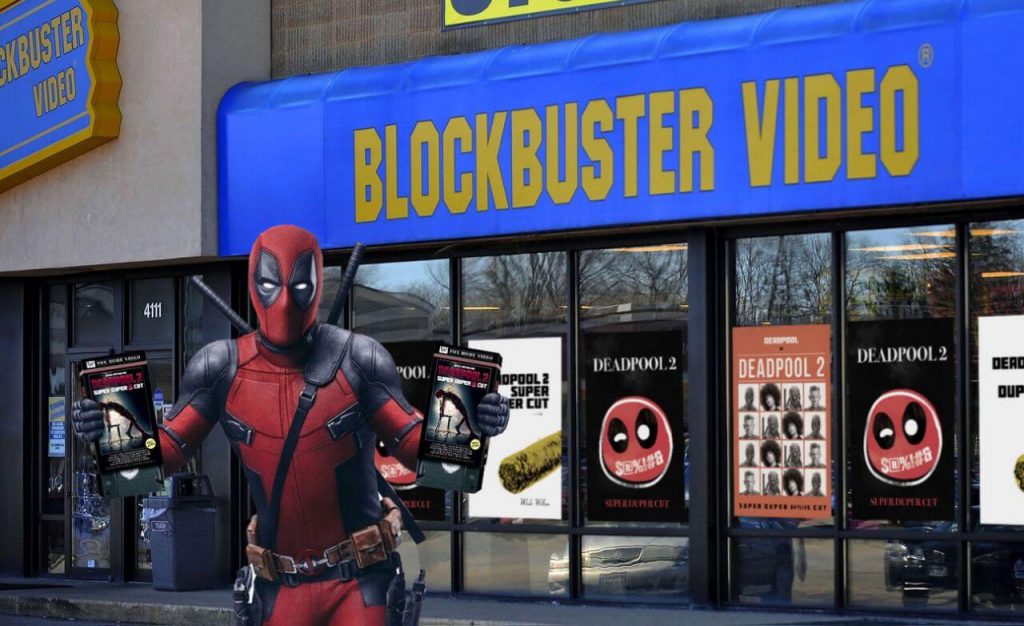 Festive or seasonal promotions are also popular. Decorations, music, themed activities and photo booths will draw customers into your store, and keep them entertained.
Here's a simple example from a shopping centre. Each location in the mall decorated their windows for winter. Customers could stroll around, take a look, and then upload a photo of their favorite for the chance to win $500.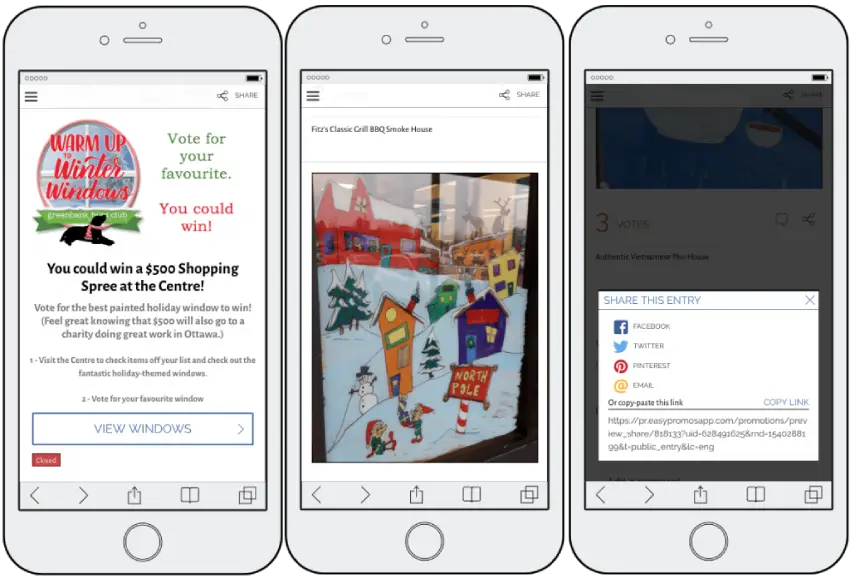 Finally, there's the high-tech option. Integrate your shopping experience with apps or automatic scanners for a seamless experience.
Take this example from Good Housekeeping. They created a pop-up store where customers could view and test products in a home setting. And when they selected the products they wanted, an automatic Amazon delivery was set up.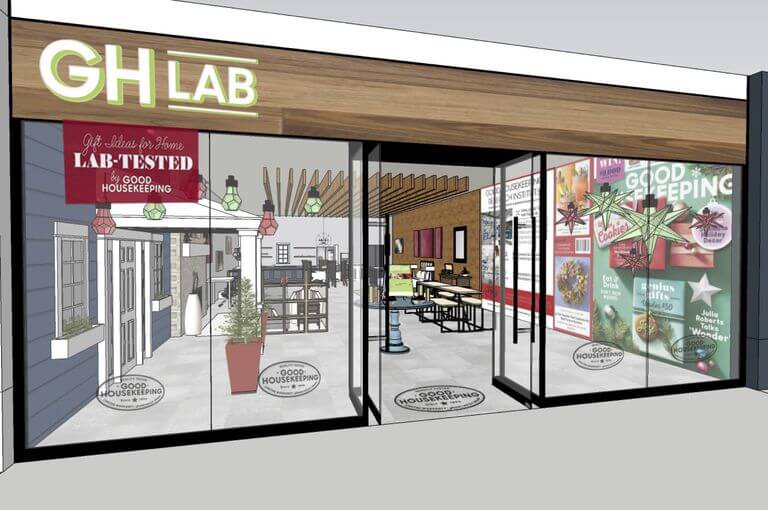 Speed up product search and payment with interactive content
That Good Housekeeping-Amazon stunt was just a taste of things to come. As consumers get used to the one-click convenience of online shopping, they expect a full range of products in store.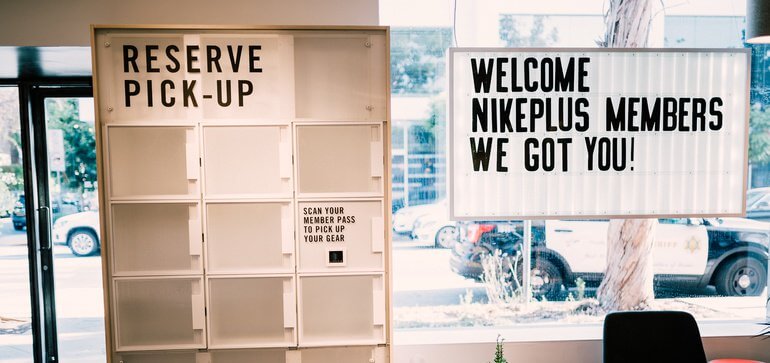 Nike catered to this with their Nike Live pop-up store. Nike Plus members could use the app to reserve products in store, scan barcodes for product info, and earn rewards. They could even text store associates to organize returns and exchanges.
Offer exclusive discounts for visitors to your store with mobile devices
Discounts are a perennial favorite with customers. They incentivize sales, reward loyalty, and create a welcoming, generous experience. And they can be as low- or high-tech as you please.
Here's a simple but effective example from a jewellery store. They offered a range of giftcards in a prize draw for customers who signed up online.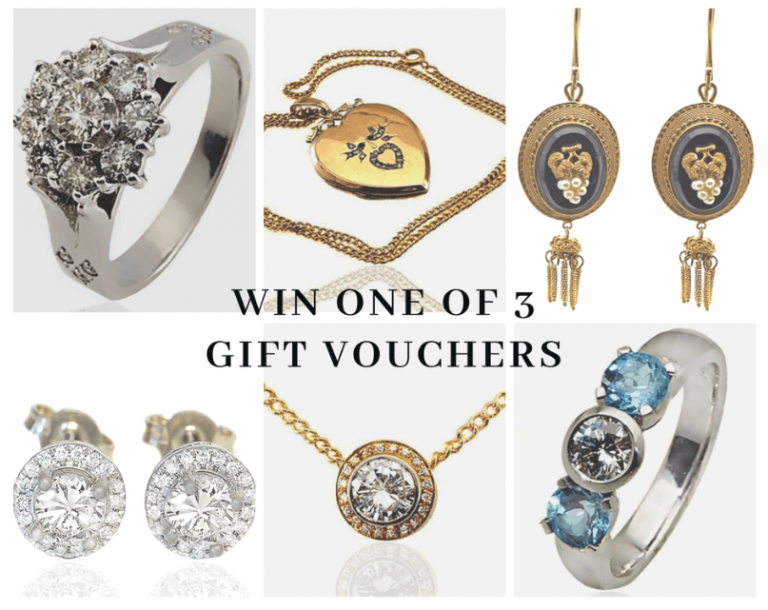 It provided a strong, clear incentive for customers to visit the store and redeem their rewards. Plus, the jewellery store used the competition design to show off a range of products available.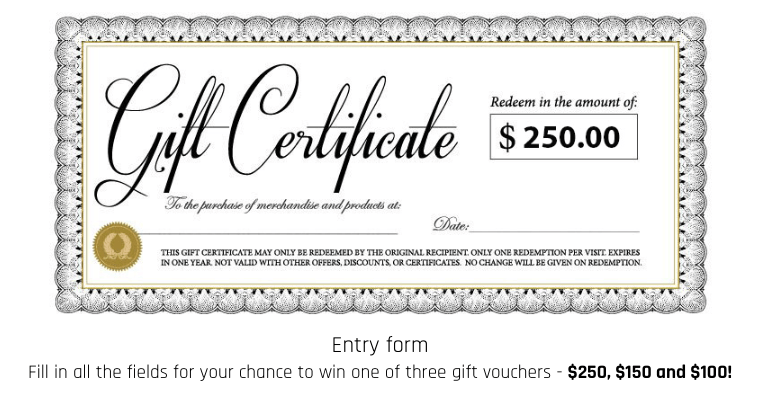 Create micro-communities for key products
Experiential retail isn't just about offering benefits to the customer. It's also an opportunity for you to expand your experience of sales, marketing, and branding.
What does that mean? As customers move around the store, use your app, or interact with you online, they share information about their shopping habits. You can seize the opportunity to learn more about your target market, qualify leads, and build specific communities.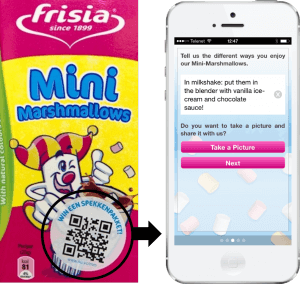 Here's a brilliant example of micro-targeting by the confectionery brand Astra Sweets. They added a QR code to the packets of one specific product: mini marshmallows. Anyone who bought the marshmallows could scan the code to take an online survey. And of course, there was a prize for one lucky survey respondent.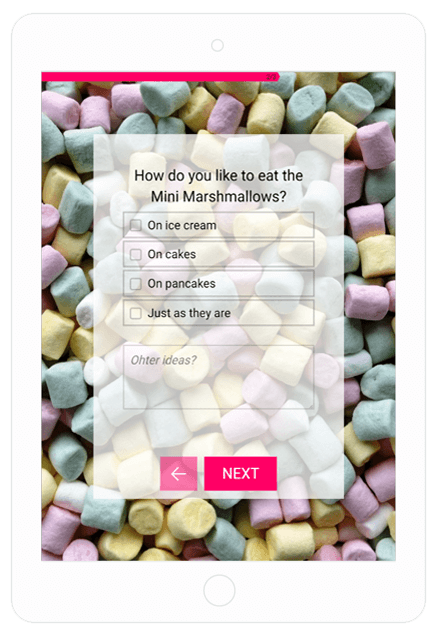 97% of respondents went on to share an email address, and many of them also shared product photos online. So as well as offering added value, the brand collected highly specific leads.
Collect and reward instant customer feedback
As well as qualifying leads, you can collect instant customer feedback when you offer a connected, rewarding experience in store.
Here's a fantastic example from a restaurant chain. First, they drew people in with themed dishes and decorations for the Super Bowl.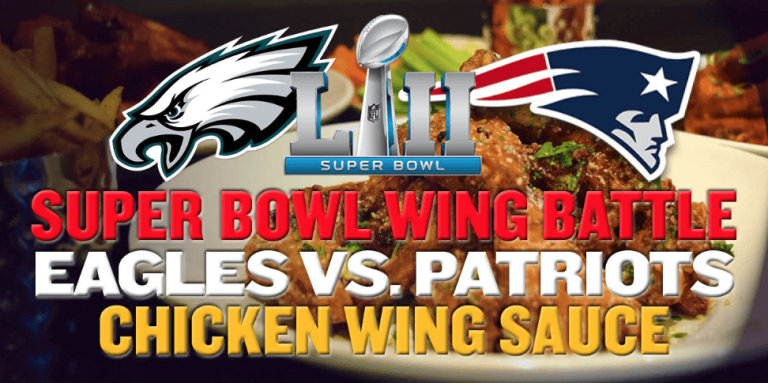 Everyone who ordered the Super Bowl Wings was invited to complete a quick quiz through their smartphone. They could share their predictions for the championship – and say which wing sauce they had enjoyed the most.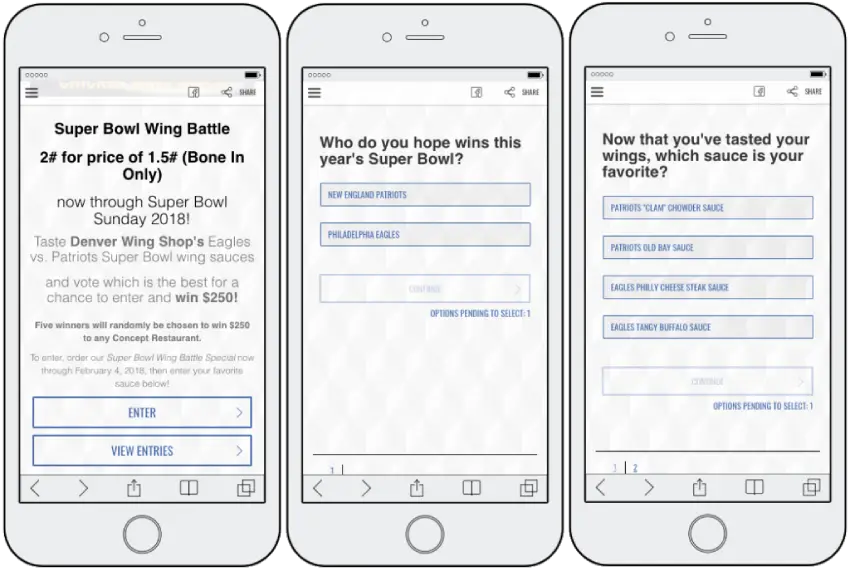 With those two questions, the brand received a whole pile of information. They had contact details from a specific customer segment; they reinforced their theme image; and they had a range of customer feedback on their menu.
Incentivize customers with interactive content and encourage them to share your store online
Finally, remember that connecting on social media isn't just for the benefit of your customers. It's also an opportunity to raise brand awareness, increase engagement, and share user-generated content.
This is particularly important if you target younger demographics, such as Gen Z.
Companies should encourage Gen Zers to share photos and videos with their purchases, create polls and contests on social media and, most importantly, listen and respond to their feedback.
– Sarah Spivey, CMO of Bazaarvoice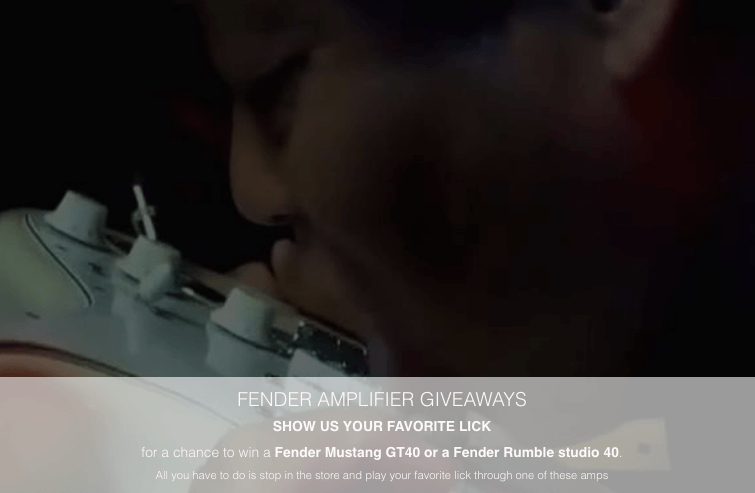 We like this example from a guitar store. They offered some very generous prizes for customers who visited the store, tried out an amp, and then posted the video online.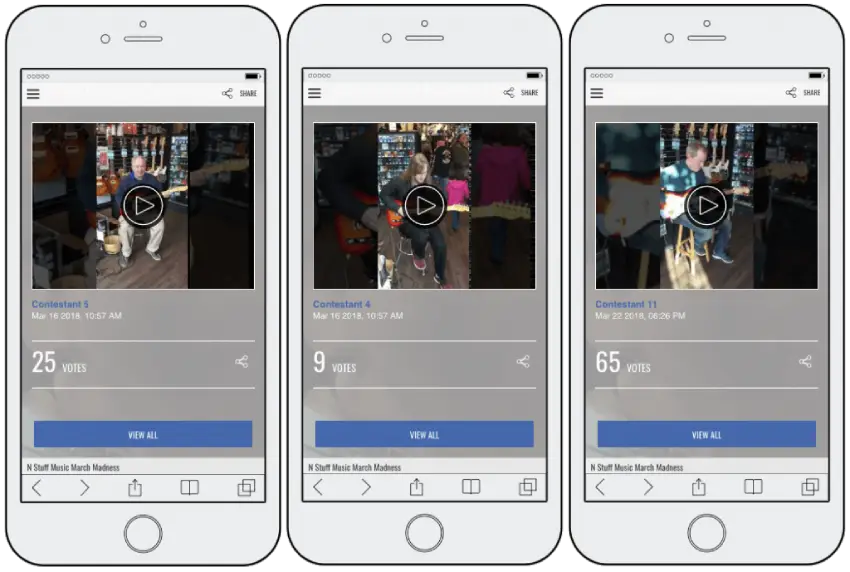 In doing so, they advertized their products, reached out online, and rewarded customers for visiting them in-store. It was the epitome of experiential retail.
Want to create original, interactive promotions? Get in touch to discuss your experiential retail strategy and choose from over 30 apps.
Publication date: 2019-02-01