Posted in: Events,Ideas for your websiteLast update: 28/02/19
On 17th March, you'll see social media dressed in green to celebrate St Patrick's Day. The festival started out as Ireland's national day, but has now spread across the globe as a celebration of Celtic culture. Here's how you can get involved – with just 5 minutes of set up time.

This year, St Patrick's Day falls on a weekend. So we're sure you would rather be out partying than managing your social media accounts! Follow these steps to set up a St Patrick's Day giveaway on Instagram, Facebook, Twitter or even YouTube… then take the weekend off.
Step 1: pick a prize
The most important element of your giveaway is the prize. St Patrick's Day is a golden opportunity because it offers so many themes and symbols for you to play with.
Choose one of your products, or put together a bundle of gifts from brands you like. Here are some themes to inspire you:
green and gold colors
shamrocks and four-leaf clovers
luck
Celtic symbols and legends
famous Irish brands or products
snakes (a symbol of St Patrick)
traditional Irish songs, games or recipes
Take this example of a St Patrick's Day giveaway on Instagram by a small business. In the post, the business owner talks about his Irish roots. And the prize is just right for St Patrick's Day: two green shot glasses decorated with shamrocks, designed with Irish whiskey in mind.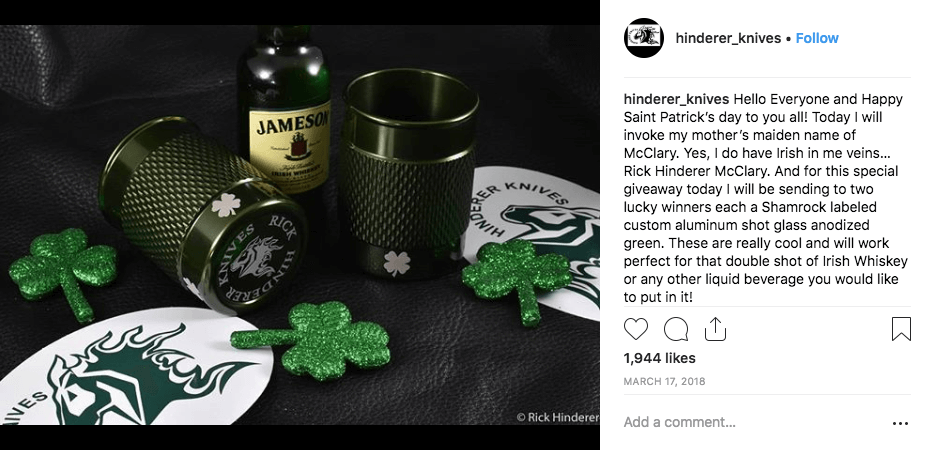 In this Twitter giveaway, a make up brand has used the traditional green and gold colors to match the St Patrick's Day theme. Remember your brand doesn't have to have an obvious connection to Ireland or St Patrick's Day. With a clever selection of prizes and publicity, any brand can get involved.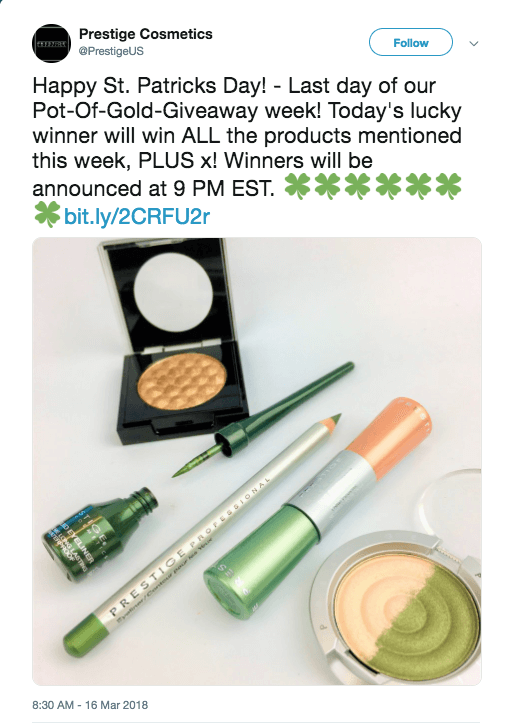 Step 2: design your St Patrick's Day giveaway
Once you've chosen a prize, you need to set up the contest. Creating a St Patrick's Day giveaway is as simple as posting on social media!
Remember to include the competition dates, rules, and terms and conditions. If you run a giveaway on Facebook or Instagram, you must include a disclaimer that the giveaway is not officially endorsed by the social network.
But now the fun part: how do you want users to take part? To enter the contest, they must comment on your post – but you can be really creative with the questions you ask.
In the example above, a cake decorating brand asked followers who they feel "lucky" for. You could ask any question related to the holiday, such as people's favorite St Patrick's Day tradition, or experiences of Ireland.
Or you could create a challenge. In our next example, followers had to guess how many four-leaf clovers were in the picture. The closest guess would win a bottle of Shamrock Green tattoo ink.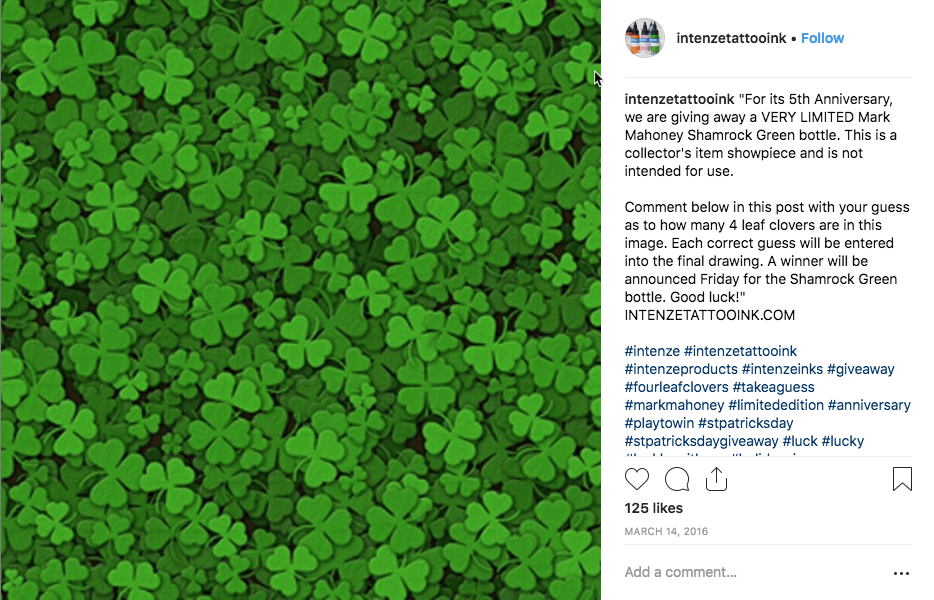 Step 3: share updates
So your St Patrick's Day giveaway is published, and the comments are rolling in. But your work isn't done yet!
Make sure you maintain the excitement with regular updates on your social media feed. Add posts or create Stories to thank the participants, count down to the prize draw, and remind your followers of the prize on offer.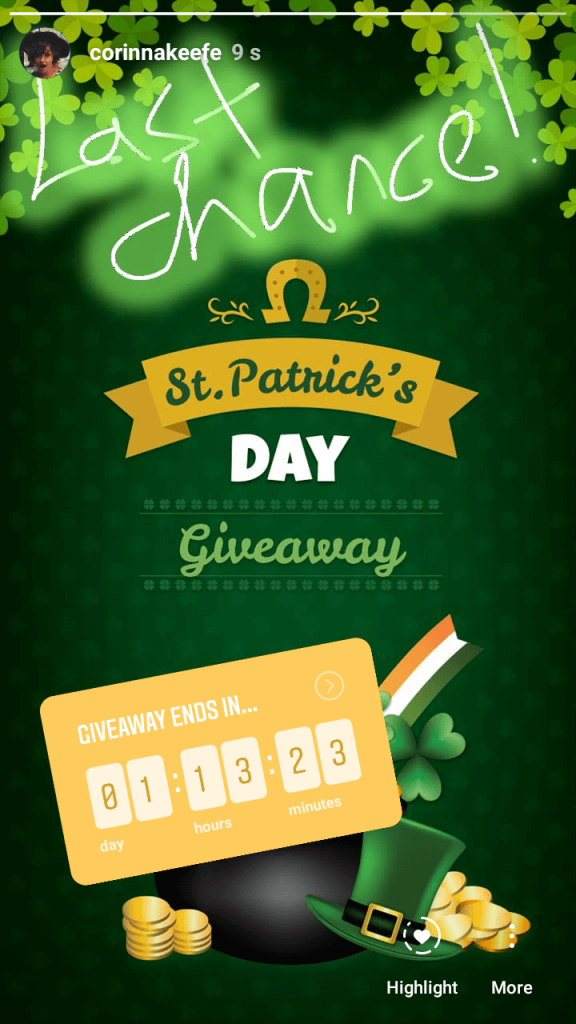 Like this design? Get free post and Story templates for a St Patrick's Day giveaway on Facebook and Instagram.
Step 4: announce the winners
When the giveaway is over, you just need to carry out the prize draw and notify the winners. It couldn't be easier. Simply connect your social media account to Easypromos, and the platform will automatically select a random winner. It's completely fair – and your first social media giveaway is free. Get started here.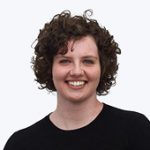 Corinna Keefe
Content marketer at Easypromos
Publication date: 2019-02-28