Posted in: Digital marketing,Ideas for your websiteLast update: 02/09/22
TikTok is hot right now! This new platform is currently the fastest growing social media network with more than 800 million monthly users already. Brands turn to TikTok to find and engage with new audiences, while viewers interact with looping and edited videos for entertainment. Is your brand still not on TikTok? We hope it'll change once you arrive at the end of this blog post!

What is TikTok?
TikTok was first launched in 2016 in China, and it then became available in the United States in 2018 after merging with Musical.ly. The app allows users to record short videos, lasting between 3 and 60 seconds accompanied by music, sound effects, filters, and transitions. It was the most downloaded application on the App Store in 2018 and 2019. Currently, TikTok continues to be the fastest-growing application on the market, with more than 800 million monthly active users, mostly Gen Z individuals (born between 1995 and 2005) representing up to 69% of the overall TikTok's audience. However, TikTok also attracts active Millennials and representatives of Generation X, happy to express their rebellious and fun spirit and play with new technologies.
TikTok's audience divides into two groups: #ContentCreators and #Viewers.
Click To Tweet
TikTok's users divide into two groups:
Content creators (TikTokers): users and brands creating new engaging content.
Viewers: users generating little or no content but regularly consuming the content generated by others.
The secret to good positioning on this new video-sharing platform is high activity; the algorithm will keep you at the top of the "For you" feed only if you post regularly. However, once you grow your TikTok audience and share engaging videos your positioning will be safe, too.
Unlike other social media networks, TikTok posts are published with little or no text and are always accompanied by sound effects (such as voice, sped-up songs, background music). Although, there is one thing TikTok shares with Instagram: hashtags. If you're a hashtag master and you know exactly how to make them work on Instagram and Twitter, then you should definitely put your knowledge into practice on TikTok. Good command of hashtags helps reach wider audiences and attract new potential followers, and that's what you need to make your content go viral. Hashtags are also very important for brands that are up to date with the newest social media trends. For example, brands should keep their eye on challenges that have become an inseparable part of the platform.
If you still haven't downloaded TikTok it's time to tap the neon icon and dive into the phenomenon of popular looping videos! Comments, likes, and followers are within your reach.
TikTok challenges go viral
One of the most popular TikTok trends has been started by ingenious social media users (some brands, too) inviting their friends and followers to participate in different challenges. This trend boosted even more during the coronavirus lockdown. Even popular actors, singers, influencers and big brands joined in! TikTok's challenges are normally based on simple dance routines and they tend to engage big numbers of people.
If you're looking to increase social media engagement and strengthen your connection with the TikTok community then joining TikTok challenges is one of your best options. They boost social media presence, following, engagement, brand, and product awareness. They work!
Brand engagement is an important aspect for all businesses, not only small companies looking to boost sales. Believe it or not, Real Madrid also cares about their social media engagement. Here's an example of how such a legendary football team connects with fans through their players. In this case, Sergio Ramos participated in the "Hand Emoji Challenge" (or "Gesture Challenge") that consisted of using your own hands to copy a set of emojis shown on the screen.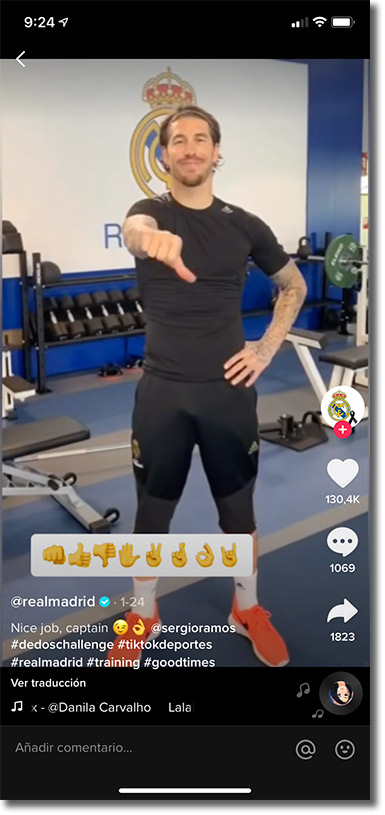 Another popular TikTok challenge was the "Beauty Mode" accompanied by a sound effect. Challenge participants first appear messy and disorganized to then "turn on" the beauty mode where they're nicely dressed with make-up and pretty hair. A famous actress Jessica Alba was one of the challenge participants. And as you can guess the video got millions of views!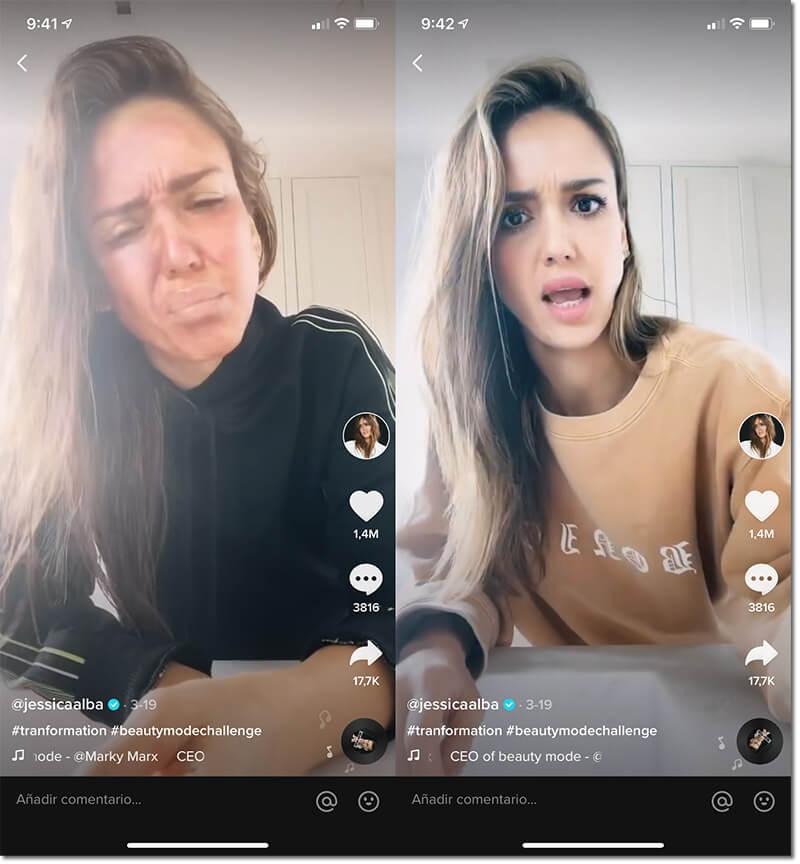 The "JLo challenge", where TikTok users copy the singer's dance routine is also getting popularity.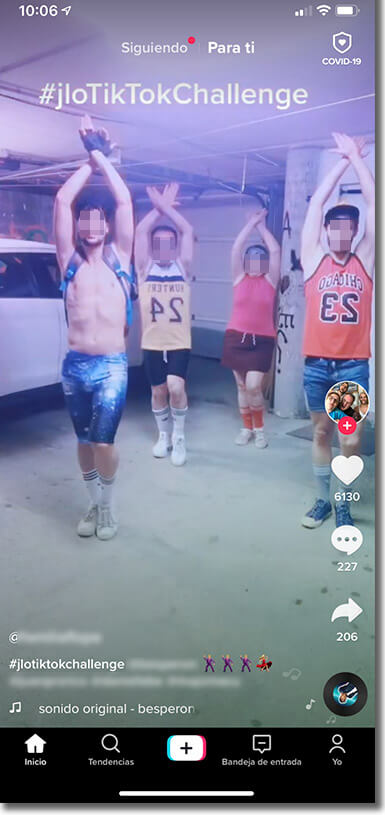 TikTok duets
But let's not forget that TikTok is not all about challenges. The technology behind the app allows users to create fun videos, and TikTok duets turn out to be highly engaging and popular.
Let us quickly explain how TikTok duets work.
TikTok duets allow users to create their own videos using already existing content. Both videos appear in a square format side by side. Another way to put… TikTok duets allow users to reply to already existing videos by sharing their own audiovisual content. The most popular are collaborations with celebrities and influencers.
Here's an example of a duet between two TikTok users. The girl uploaded a video in which she's eating candy, and the other user joined the video to make it look as if she was eating his headphones' cable.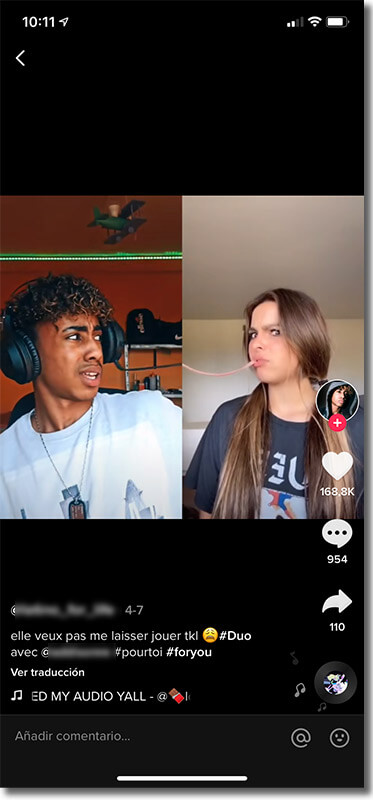 How can brands use TikTok to increase brand engagement and reinforce brand awareness
Having in mind the number of monthly active users and popularity of TikTok challenges and duets, it becomes crystal clear that brands can take big advantages of this vibrant social media network. TikTok has a lot to offer!
The technology and tools that come with TikTok can really reinforce brand recall and boost social media engagement.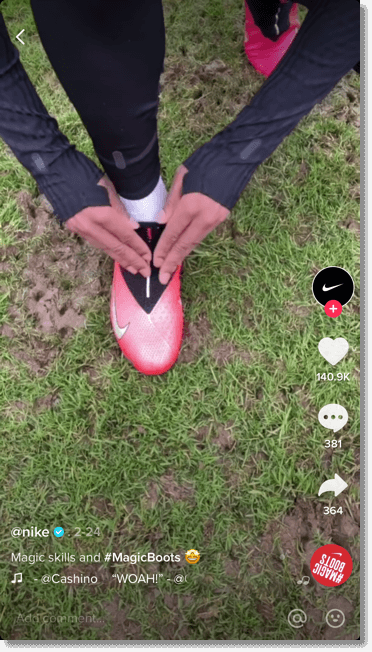 But how do you know what kind of content is adequate for your brand and target audience? How can you find out what is the best approach?
First things first. We believe that prior to becoming a content creator you should first become a viewer. It will allow you to deep dive into the whole phenomenon and understand all the dos and don'ts, while also discovering successful TikTokers and trends.
Once you get your head around the app it's time to make sure your account is updated and properly set up:
Uploading a profile picture is a good starting point. Brands can use their logo for better recognition and influencers should use their own pictures, headshots, etc.
TikTok allows you to share a short text on your profile. Use it to briefly describe your brand and product.
You can also connect your Instagram and YouTube accounts with your TikTok profile. Make sure you do it as it's a great way to attract potential followers to your other social media accounts.
Currently, TikTok doesn't allow users to share links the way Instagram does, and it is something that is expected to be shortly fixed. However, the social media platform allows you to add hashtags to your profile and videos. Do some research to find out which hashtags are best for you.
Invest in TikTok ads and create original advertising content. It's a fantastic opportunity to attract TikTok users' attention. Currently, TikTok ads are the only way to share direct links, so it's an effective way to drive traffic to your website, online shop, or Apple Store or Google Play to download your app.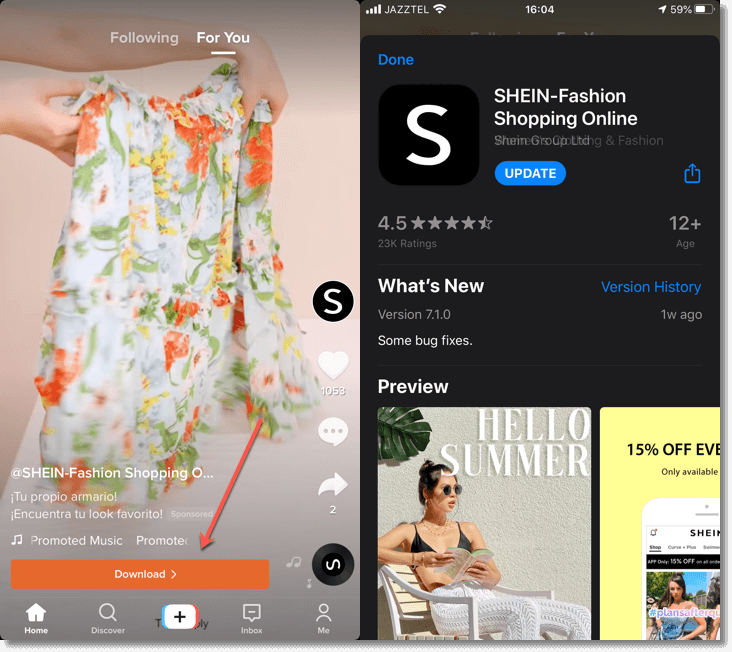 Brands are still not as present on TikTok as they are on other social media networks. However, this is starting to change as more and more businesses are creating their TikTok accounts and investing in paid ads.
In order to establish lasting relationships and gain loyal followers, it is important to research the most popular content on TikTok.
The biggest difference between TikTok and Instagram and Facebook is that Instagram and Facebook users don't mind to see a simple promotional photo once in a while. On TikTok however, each video must be entertaining, telling a story, or possibly solving a problem.
That's the reason why it is so important you find your own style between thousands of new videos published every day. Things to consider:
Find out what content your audience interacts with.
Be aware of your competitors. It's important to find your own style and stay ahead of the competition.
Create content that your audience can relate to. Solve problems and share videos based on your brand and product.
To put it shortly, brands must find their place in between millions of other TikTok users. And the most important thing to remember is that eventually, brands must become content creators and not maintain silent viewers.
The great thing about TikTok is that you can download your videos and then share them on other social media platforms like Instagram and YouTube. Use it to spice up your content marketing and promote your TikTok account.
How to organize a TikTok contest or giveaway
We know that TikTok is looking into letting users share direct links in posts and profiles. Once link-sharing is available it will be an easy way to send traffic to your website, e-commerce, or landing pages of contests and branded games. But for the moment this option is still not available. However, it is not a reason to stop you from inviting your TikTok audience to join contests and giveaways. Here's how you can do it:
1. Organize a Video Contest on TikTok
You might not be able to organize a Video Contest directly on TikTok but you can definitely organize a contest around TikTok, simply because you can save your TikTok videos on your mobile device.
Your safest bet would be using the Easypromos Video Contest app. Here's how it'd work:
Launch a Video Contest and spread information about the competition on your social media channels, newsletter, website, in-store, etc.
Invite participants to create videos, for example, using specific sound effects or filters. You can also ask the participants to make videos about your product or a specific topic.
People would create their videos on TikTok, download them and submit their entries through the Video Contest app
This example shows how a British county Lanarkshire followed exactly these steps: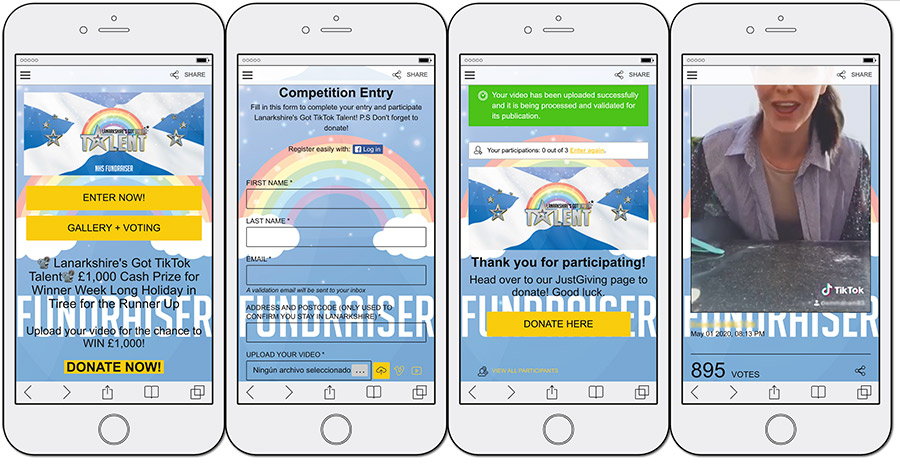 The county invited its residents to show off their creativity. The submission with the highest number of votes was the winning one, meaning that its creator walked away with £1000 cash.
We'd like to remind you that you don't own any information about your social media followers. With a Video Contest launched with the Easypromos app you automatically convert your social media followers to leads, as in order to submit their entry the participants must fill in the registration form, entering your database.
How to ensure a TikTok Video Contest becomes successful? Our tip is to promote it as much as you can. You will attract new followers for your TikTok account, generate leads, boost engagement and concurrently reinforce your brand and product awareness. All that while your online audience is content and entertained! It's a win-win!
Remember that you can download your TikTok video promoting the contest and share it on Instagram and Facebook Stories! It's an incredibly easy way to create buzz around your campaign!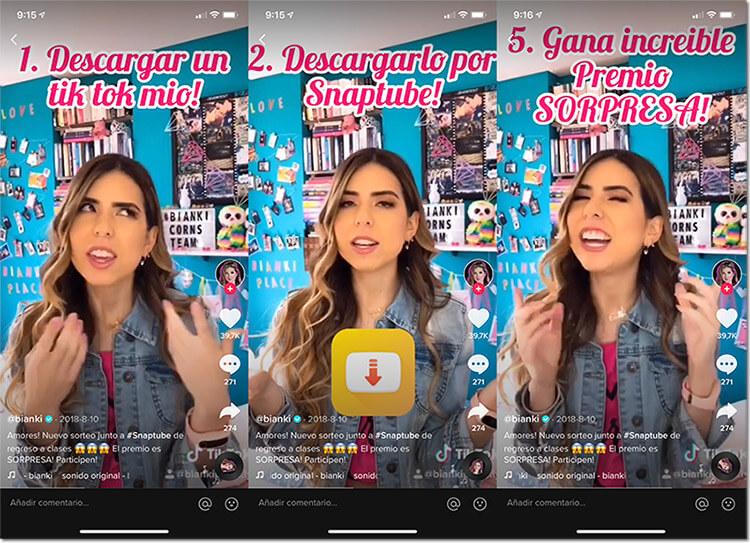 2. Share a direct link to your promotion on your TikTok
Did you know that business accounts can add a link to their TikTok profile once they reach 5000 followers? Add it by using the "edit profile" option, it will be displayed under the bio.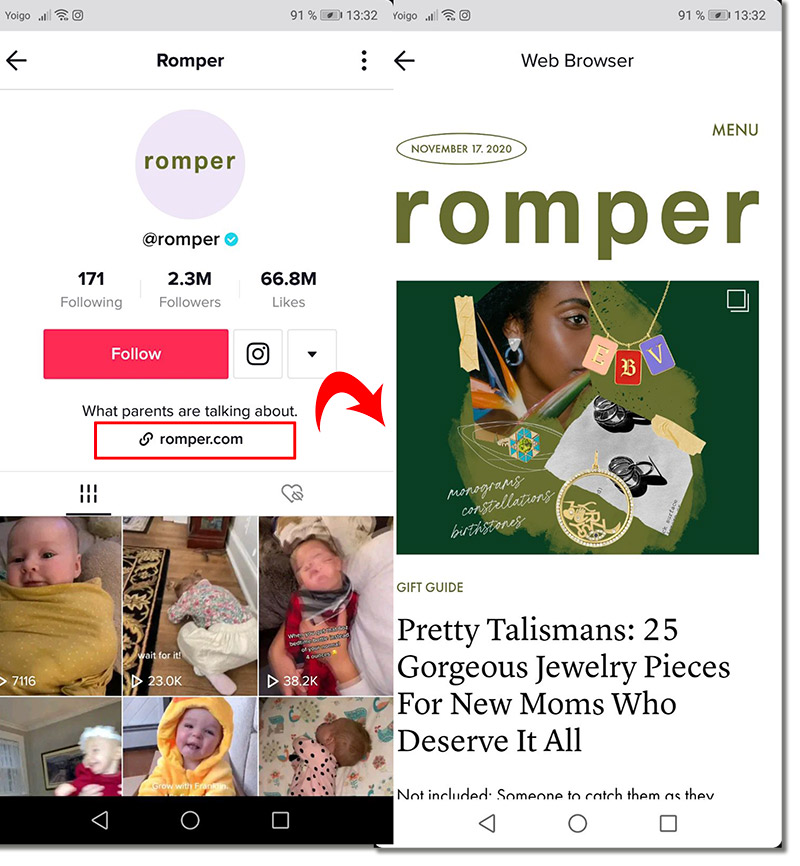 Using a link on your TikTok profile is a fantastic way to drive TikTok traffic to your website or landing page that you want to promote. Want to share more than one link? You can use Linktree or other link sharing tool to promote more than just one link, the way Donettes Spain does.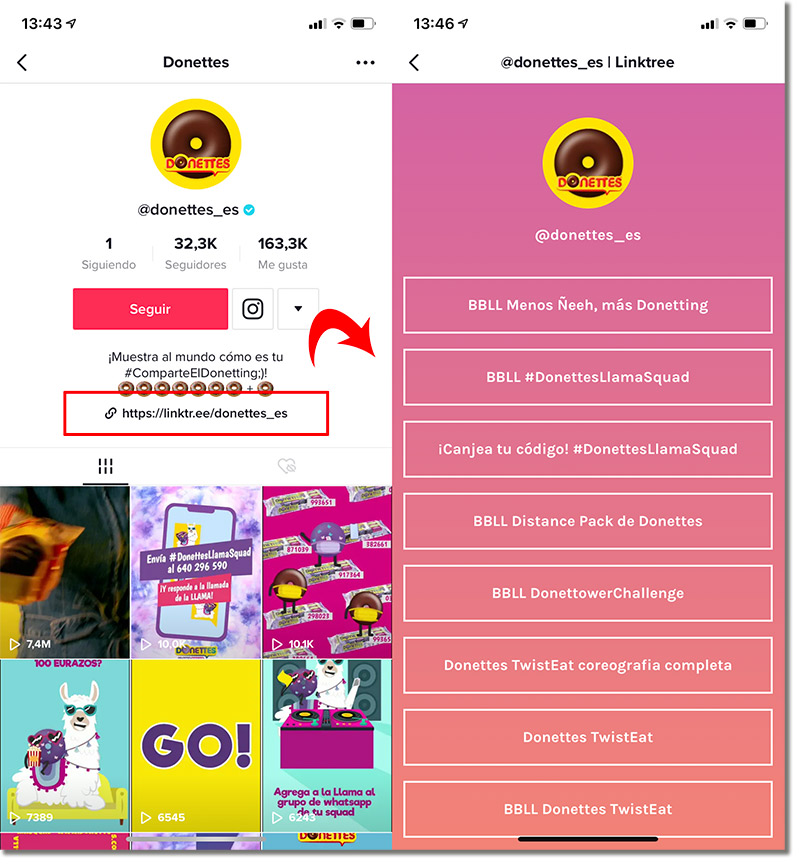 The link in bio option is also a great way to share a direct link to your giveaway, contest or mini-game where you can raffle attractive prizes for your TikTok followers. The best thing about it? You get to convert your TikTok followers into qualified leads! Configure one of our Easypromos applications to boost engagement and grow your brand on TikTok.
3. Organize a giveaway on Instagram and promote it on TikTok
As we've already mentioned, currently it is not possible to automatically import comments from TikTok. This improvement might be introduced sometime soon but until it happens there is another way to reward your TikTok followers.
We highlighted that TikTok allows you to link your Instagram account with your TikTok account. Therefore organizing an Instagram Giveaway is a fantastic way to engage your TikTok audience.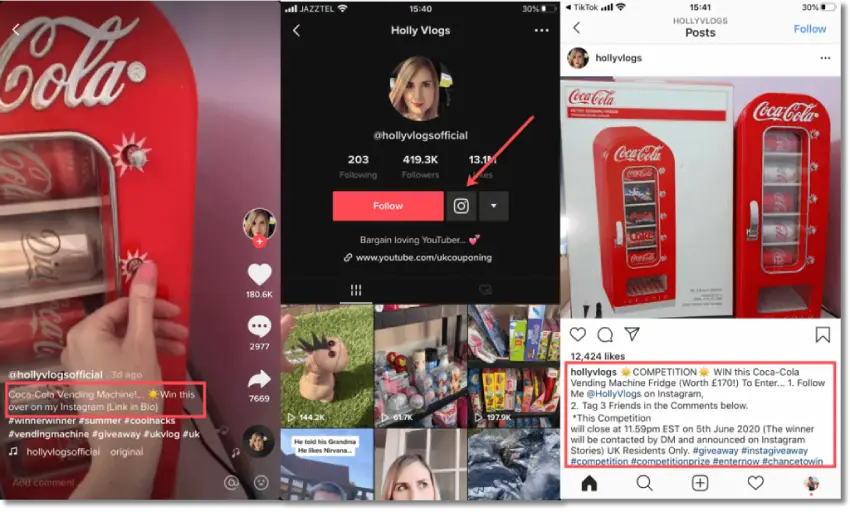 Simply publish your promotional post on Instagram and add the link to your profile on TikTok. Then simply create a TikTok video promoting your giveaway and encourage your followers to head to Instagram to participate. It will bring you new followers or subscribers, boost engagement, and also reinforce your relationship with your TikTok followers.
That's it! How does it sound? Do you feel like TikTok is something your brand should start taking advantage of? In case of any questions about contests and giveaways on TikTok don't hesitate to Online Chat with us!
Publication date: 2020-06-05