At Easypromos there are two ways to run photo and video contests:
Both kinds of contests are conceptually similar. But, depending on how you want to present your promotion, one will be a better fit than the other. In the following sections, we will explain the differences between the Multimedia contest and the photo and video contests.
Photo and Video contest apps
These are the ideal apps for a typical contest where participants upload a photo or a video. Depending on how you configure the Easypromos contest, photos and videos can be displayed in a public gallery. You can then activate the "vote" feature so that any user can vote for the photos or videos in the galleries.
This contest is designed for not-so-complicated dynamics where the user participates with a single photo or video submission. After publication, the best photos are voted by users or chosen by a jury.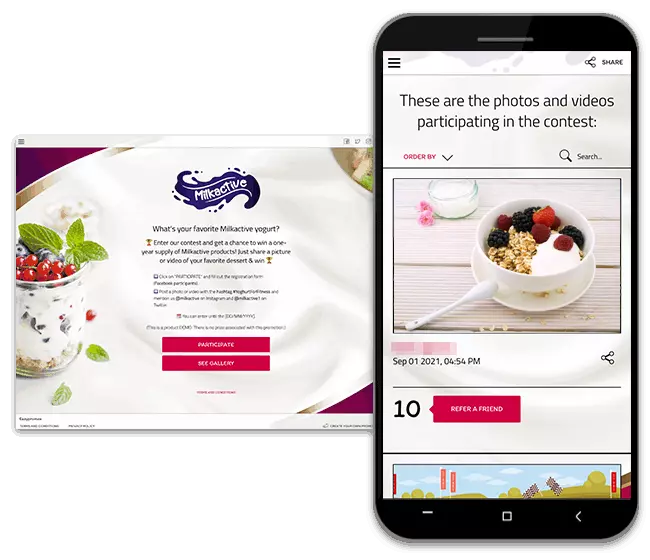 The Photo and Video contests are some of the longest-running and most used Easypromos' products. These products feature additional characteristics like participant pre-moderation, security layer and anti-fraud voting system, Youtube and Vimeo integration, the possibility to upload from a mobile phone, and Dropbox integration to download the original files. These features are more than enough to cover the needs of most photo and video contests.
However, there might be some more complex scenarios in which the Photo and Video contests might not be enough. For this reason, Easypromos has created the Multimedia contest. Below, you will learn more about it along with some of the most common use cases.
Multimedia Contest advanced app
The multimedia contest is similar to the Photo and Video contests, with three fundamental differences:
Features an album that gathers each participant's content
More than one kind of multimedia content can be uploaded in a single participation. These contents make up an album. The supported formats are:
Image: PNG, GIF, JPG
Video: .MOV, .MP4, .AVI, .MPEG, .WMV, WebM, 3GPP, .FLV
Youtube video
PDF documents.
Audio: .MP3 (coming soon)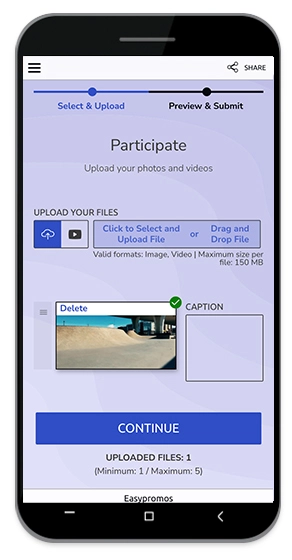 The participants start by registering and are set up for all their participations
The multimedia contest works with Easypromos' login system. Users log in first and then fill out the registration form. This is only done once, the first time users access.
The contest takes place along different independent stages
Once users have registered, they can access the participation stage to upload content or enter the gallery stage. At the gallery, users can visit the participants' albums and vote, if the voting feature is enabled. With the Multimedia contest, the participation and gallery stages are separate. Both users that upload content or those who access to vote, have to register to participate.
Try the Multimedia contest DEMOS to experience its possibilities.
The multiple possibilities of the multimedia contest
These differential characteristics open up a range of possibilities that the traditional Easypromos Photo and Video contest did not offer. These features are:
Album management:
A user can upload up to 5 contents in a single participation (photos, videos, pdf's or audio files). These contents make up an album. It's easier and more natural to organize contests that involve evaluating a project. For example: a renovation or architectural project. Or, a research project that includes: technical report, descriptive report, presentation video, and a final image of the project, all in a single album.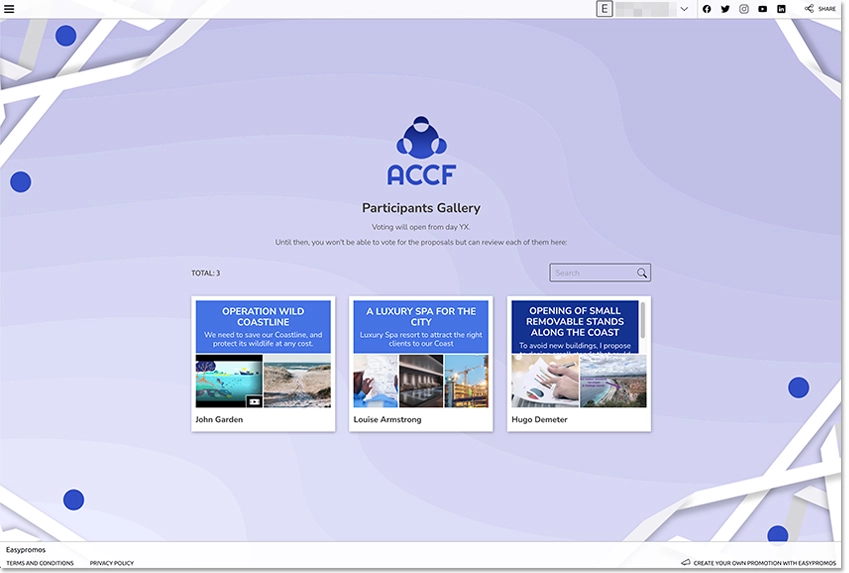 Multiple categories
You can create a contest with different participation stages and gallery style stages. Thanks to this feature you can create contests with multiple categories. For example, a drawing contest with different age categories: Children (up to 12yo) and general (over 12 yo). Furthermore, the organizer can publish independent galleries according to the participation stages. Following up on the example of the drawing contest, one gallery could display all the submissions for the under-12 category and the gallery for the over-12 category would only show the jury selected submissions. The key issue is that organizers can configure as many participation and gallery stages as they wish.
Advanced voters and votes management
Voters must always register to participate. This allows for more sophisticated configurations of voting management mechanisms. Specifically, voting frequency – limit to one vote per day- as well as a more advanced vote by a points system. For example, 5 points for the first photo voted, 3 for the second, and 1 for the third.
Additionally, as voters also have to register, they can be considered participants as well. This means you can reward voters with prizes, or contact them through the Easypromos email platform. For example, you can give a discount coupon to every voter and send it directly to their email.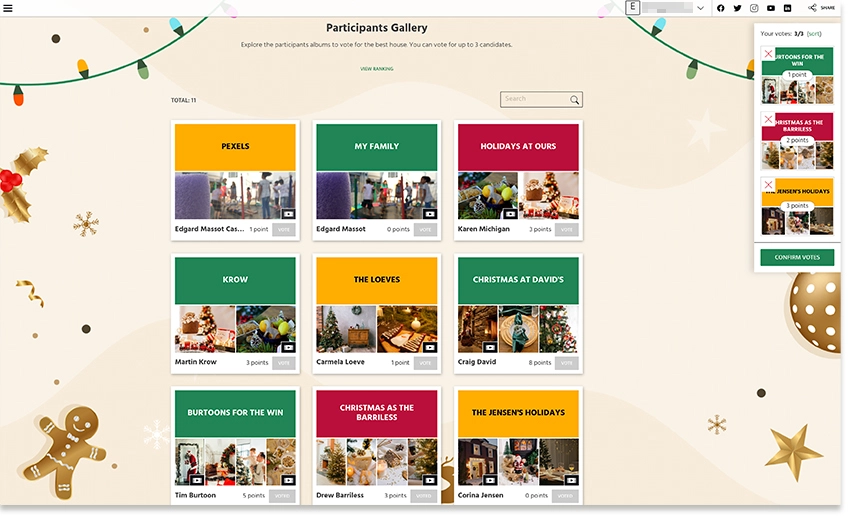 Jury system
The Multimedia contest allows you to create galleries that are only accessible to the jury. These galleries can be private or password protected. In this way, you can create contests that combine users' votes and jury selection. An example of this might be a photo contest where the 50 finalists are selected by popular vote. Afterward, the finalists move on to a stage where a jury selects the winning photo.
Private contests, apps, and customer loyalty programs
With the Multimedia contest it is possible to publish photo, video, and document galleries accessible only to private groups. Such as company employees or club members.
Clients with a Corporate License can use the Auto Login API to create a photo or video contest with voting within an app or exclusive to the members of a loyalty plan.
Multi-stage promotions
The Multimedia contest can work as an individual contest or be part of a multi-stage campaign. This means you can combine it with Easypromos' games, prize wheel, and quizzes. For example, a promotion where only the users that have uploaded their selfies can move on to participate in a prize roulette.
Photo and Video contests are optimized for contests where users only participate with one photo or video, and voting is open to everyone. The Multimedia contest works for contests with more advanced requirements. Or when participation has to be limited to the members of a web or an app.
Remember that with the "test mode" of Easypromos you can try any dynamic before activating it and paying for it. If you have any questions, you can contact our live chat or our sales team. We will look at your case and provide you with a solution that best meets your promotion needs.