Many football fans watch the matches together with friends and family but it's also become a part of social media. In fact, according to Martech.zone, social media is the second screen for the sports industry with 61% of sports viewers following sports accounts and 80% interacting on social media. And especially now that we can't be together as many people as before, the EURO 2020 will very much be "played" online. So take this opportunity to create EURO 2020 promotions to connect with your online audience.
Instagram, Twitter, or Facebook Giveaways for EURO 2020
Do you think that a promotion centered around the European football championship could be a good strategy to engage your audience but you've never run a promotional action before? Then we recommend that you begin with social media giveaways. Think of a good prize related to the championship or give away your star product. Publish a post to announce the giveaway on the network where you have more engagement with your followers. You can run it on Instagram, Twitter, or Facebook. Users participate by commenting on the giveaway post where you explain the promotion. With their comments, you will achieve more post and brand reach, and as a consequence, more brand recognition.
Since interaction-based social media giveaways are easy to organize, they're ideal for creating real-time actions related to the course of the match. You can, for example, ask your followers to comment on who should be announced best player of the match, or about the specific details of the match, for example, a foul or penalty, or any situation during the match that has caused controversy. The idea is to take the emotion from the field and use it for timely actions on your social media that will make your followers tremble.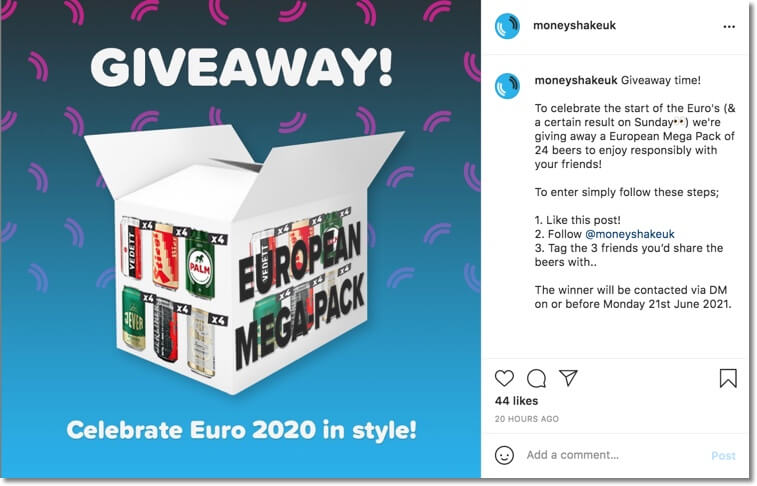 Combine several social networks to celebrate with your followers
If you want to celebrate EURO 2020 with your followers on more than one social network, use a Multi-Network Giveaway. With this one, you can add participants from your posts on Facebook, Instagram, and Twitter. To enter the draw, users have to comment on the posts. You can encourage other actions such as follow and mention but it can't be checked automatically. The main objective of this type of promotion is to catch the attention of the online audience. At the same time, you cheer up your community and create brand recognition.
Raffle tickets or online passes with an Entry Form Giveaway
If you have bigger prizes to raffle, and your marketing objectives go further than brand reputation on social media, you can launch an Entry Form Giveaway. With this, you can collect the participants' contact information. It's hosted on a microsite with its own URL where the users access to fill in the form to register. Prizes could be online passes for TV access to watch the championship, the national football team's official team kit, or tickets to go watch a match.
Try our Entry Form Giveaway DEMO so you can see how it works. In exchange for entries in the giveaway, users fill in the registration form and accept the terms and conditions. This way you can contact potential customers and you will already know that they're interested in football.
Organize a betting pool to follow the national team in the tournament
Do you already know that your audience likes football? If this is the case, you can offer them a more entertaining dynamic. What about organizing an online betting pool so that the users can predict the results of the national team or of all the matches?
If you're interested in creating a betting pool for a single match and see how it's working, you can launch a simple Predictions contest. In the next example, you can see a chips company that collaborates with the Spanish football team. The brand launched a betting pool that shows both teams and asks users to guess the result and who wins each match in the group stage. Users have to make their predictions for all matches at the same time.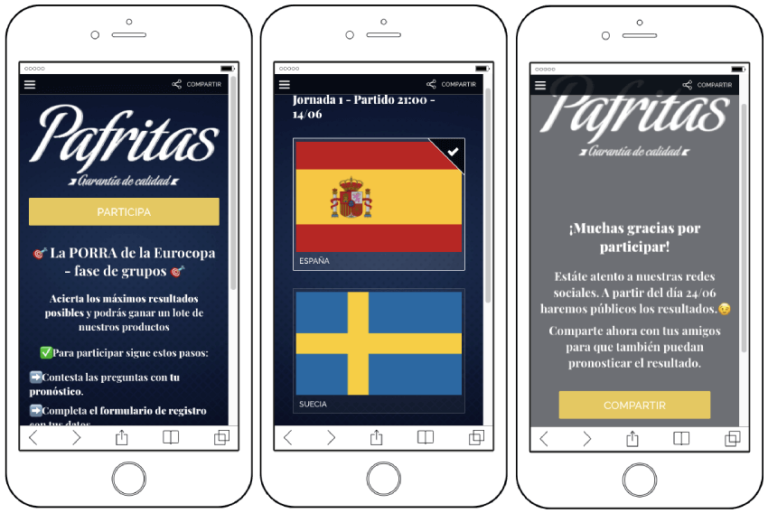 If you know that you want to follow all the matches of a team or of the tournament with your followers, then you can launch a Multi-Round Predictions contest from the beginning. Users only have to register the first time they enter to make their predictions, and you can send them reminders when a new round is open. Furthermore, you will update the ranking with the correct predictions and score of each user as the matches are played.
Do you want to create a complete betting pool of the whole tournament for your hardcore soccer fan audience? In the last paragraph, we explain how to organize a predictions contest from the group stage to the final.
Give away prizes with a EURO 2020 prize wheel
Use the EURO 2020 as an excuse to organize a promotion for your audience! Even though your followers aren't super football fans, the tournament is a perfect pretext to publish a promotion to generate engagement and spread joy among your community. You can give out coupons, merchandise, and products related to the championship by letting users spin the wheel. You can place it on your website or blog to capture the data of the visitors, share it on social media to convert followers into customers, or display the prize wheel in physical stores on posters, tablets, or big screens.
Connect with your audience with football-themed games
Do you want to add a touch of gamification to your EURO 2020 promotions? Then bet on branded online games! Organize a puzzle, memory, or word search game with images of the players of the national team or the team logos. You can also place your brand in strategic places on the promotion site. Raffle an attractive prize among all the participants or give the prize to the user with the highest score.
How about doing a Euro 2020 Puzzle? Try the EURO 2020 Puzzle DEMO and download the template to create a similar game with your brand.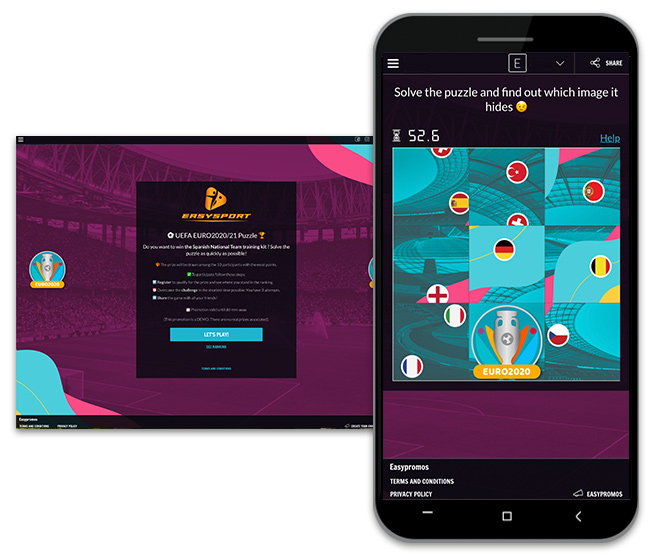 Organize a knowledge quiz about the championship
In 2020, the European championship celebrated its 60-year anniversary. But how many editions have been played? Which country has hosted the tournament the most times? Who came up with this football championship? Soccer fans are sure to get many of these questions right and have fun challenging themselves.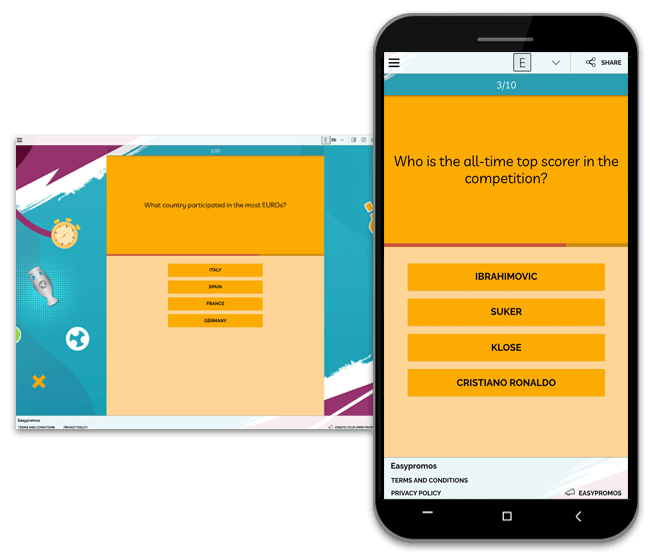 Take the opportunity to launch a EURO2020 Timed Quiz and get engagement and brand awareness in return! Offer prizes based on correct answers or with a random draw to attract more participants. In addition, you will have a user database to work on the relationship with potential customers.
Create a photo contest to let users show their EURO 2020 excitement
Do you want to catch the excitement of your football-loving audience? Then a photo contest is a good idea. You can ask the EURO 2020 fans to show how they have prepared for the matches this June and July. Create frames and stickers related to your brand, the national team, or the championship. Then ask participants to customize the photos when uploading them to your contest site. Get user-generated content while collecting their contact details!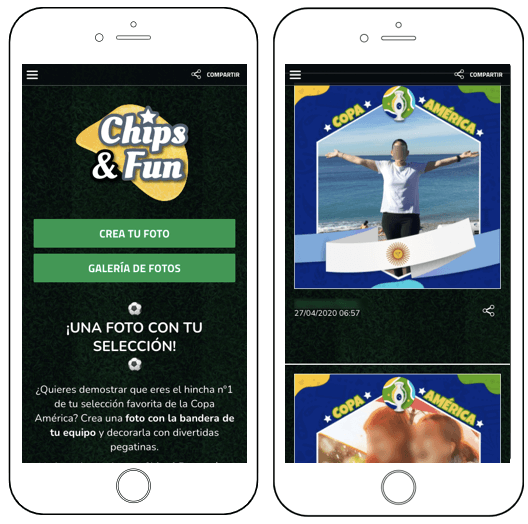 Organize a match by match EURO 2020 betting pool and final tournament bracket
For football fan communities, bet on entertaining them throughout the tournament. Combine a betting pool for the group stage and a tournament bracket for the final stage. This way, users will be able to participate regularly to make their predictions of the results match by match. Remember to always encourage participation with attractive prizes. This will make users pay even more attention to the championship and your promotion. They will try their best to make the right predictions and win the prize. You can try our EURO 2021 Tournament Bracket DEMO and you can download it as a template, almost ready to use.
Combining a multi-round predictions contest to follow the group stage, and a tournament bracket for the final stages, is a more complex type of promotion than the rest of the ideas, but it allows you to generate a week-long relationship with the participants. If you are interested in knowing how to set up this type of promotion to follow the development of Euro 2021, you can check out this tutorial.
Do you like our Euro Cup demos but want to create a different promotion for the tournament? Then you can download the creative assets in zip format and use them in your own promotion.
What do you think of these ideas for EURO 2020 promotions to celebrate with your online audience and work on your brand engagement? Surely the ideas have helped you form an idea of your own that you want to try with your community. If you have any questions, please feel free to contact us in our live chat and we will be happy to help you.