Celebrating New Year's Eve
Almost every culture celebrates the end of the old year, and the beginning of the new – although dates and traditions are different around the world. Looking for inspiration for your New Year's Eve promotions? Here are just a few of our favorite traditions for New Year's Eve…
In Scotland, people celebrate the tradition of the "first footing". The first person to visit you in the new year brings whiskey and a lump of coal.
In Venezuela, people wear yellow underwear for good luck.
In Serbia, people decorate a tree for New Year, instead of Christmas.
People celebrate the famous "ball drop" at Times Square in New York City, United States. But there are regional variations too! In North Carolina, the ball is replaced by a live opossum.
In Spain, the Philippines, and many Latin American countries, people eat 12 grapes at midnight – one for each hour.
These traditions might sound a bit much, but here's good news: you can celebrate New Year's Eve with your online community with quick and easy promotions instead. It only takes minutes to set up a social media giveaways and creative interactive promotions. Here we share some inspirational ideas for New Year's Eve Promotions in 2021!
Boost social media engagement with New Year's Eve giveaways
Christmas tends to be a very busy period for most people: like minute shopping, cooking, house decorating, visiting family and friends… Some of us are simply stressed. Discharge tension by inviting your social media followers to participate in a quick and easy comment-to-win giveaway. Offer an attractive prize that will appeal to your social media community and run a New Year's Eve social media giveaway.
Here's an example of a social media giveaway organized by 10 different brands. Each company threw in an attractive incentive and one lucky winner walked away with a bundle of trendy gifts. It's a perfect way to boost social media engagement, grow your social media community and even tap into customer loyalty. All right in the middle of the festive season!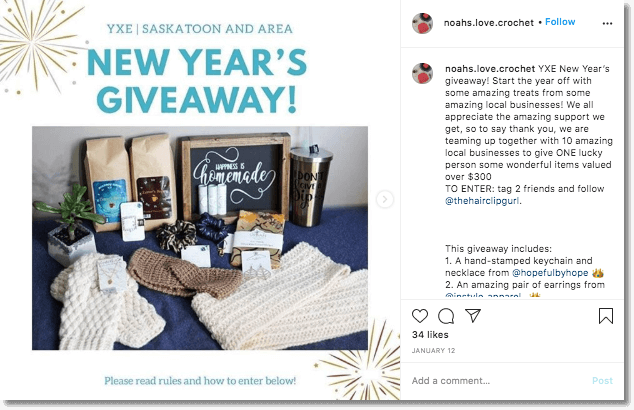 Would you like to run a social media giveaway for New Year's Eve? Use our customizable Instagram and Facebook templates to save time and run New Year's Eve giveaways according to best practices.
Use mini-branded games to boost brand awareness and engagement
New Year's Eve is all about joy, happiness, and celebration… So why not offer some extra entertainment to your online community? And maybe throw in a chance to win? Branded mini-games are your best option here! With online games, the users get exposed to your brand and product, while being focused on the fun part of the game. Gain engagement, increase your brand awareness, and most importantly generate new leads!
The Easypromos Word Search game works great as part of New Year's Eve campaign. Ask your audience to find some words associated with NYE. We decided on "fireworks", "champagne", "celebration", "resolution" and "New Year's Eve".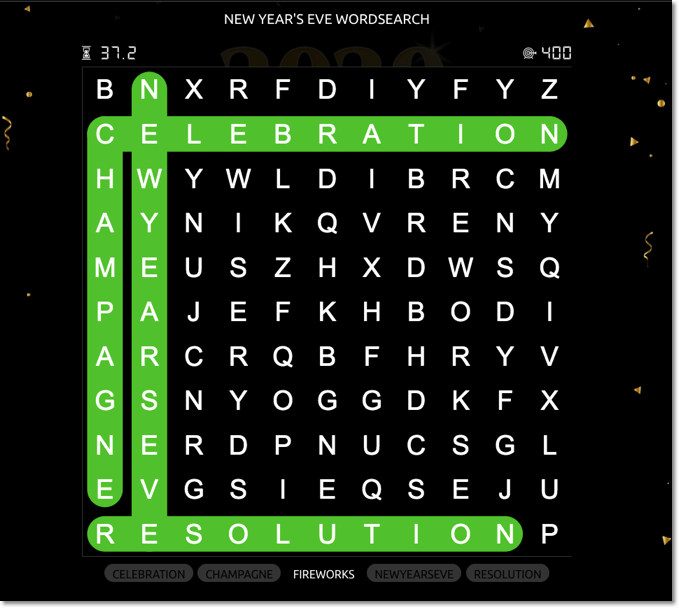 Attract more participants by incentivizing participation – more users will be likely to share their contact details if they get a chance to win attractive prizes. You can raffle one big prize among all registered participants, or you can offer discount vouchers and codes redeemable in-store or online! It's a clever way to convert followers into paying customers.
Would you like to see an example of a New Year's Eve mini-game? Check out our Chinese New Year Memory game! Discover how to engage and entertain your audience with a fun game and corporate design.
Share New Year's Eve resolutions with a Writing Contest
Many of us start the year with grand resolutions. In a survey for 2018, almost 70% of people said they planned to make a specific resolution:
Start the year by asking your followers about their resolutions for the year to come. Then share a prize to reward and help people stick to their promises.
Here's a great example from a homeware brand. They asked users to write about their resolutions. Everyone who shared their ideas received a free ebook full of self-care tips for the year ahead. And one lucky winner received a pressure cooker, to support them in their healthy eating goals.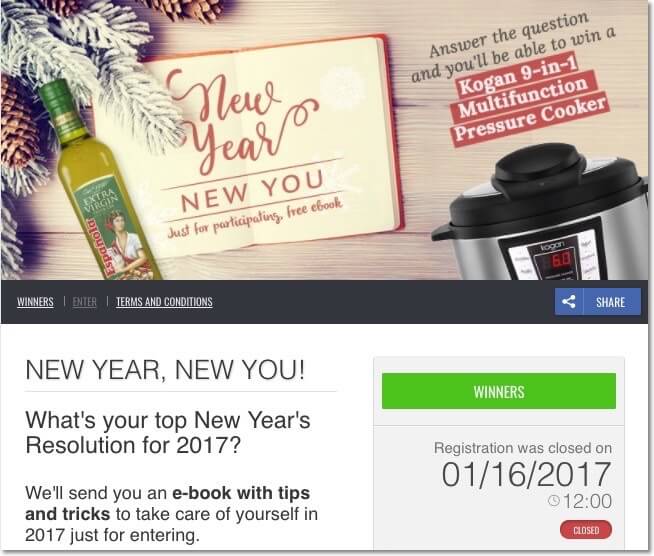 There are several different ways you could run a resolutions contest like this:
Whichever type of contest you choose, this is a great way to get user-generated content and learn more about your followers.
Throw a party for your followers
While we might resolve to get more sleep and take care of our health on January 1st… December 31st is a night to party! So why not organize or sponsor a New Year's Eve event? Or, if you want to keep your New Year's Eve promotions small-scale, just give away a few pairs of event tickets.
Use a simple registration form to collect people's contact details and pick a winner. Or if your goal is to extend your reach online, then consider a recruiters contest.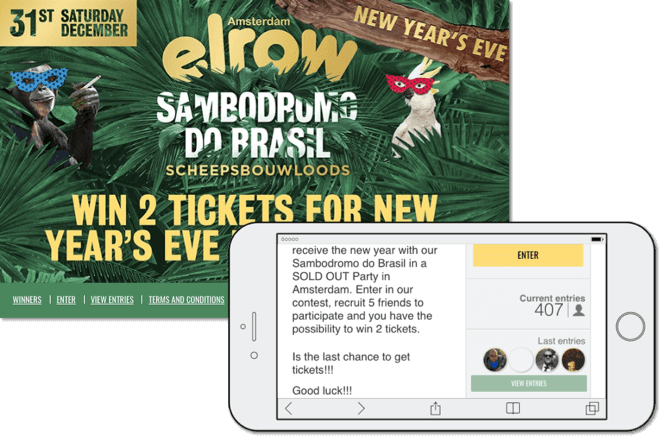 It's just the same as a classic giveaway – but every time participants refer a friend to your New Year's Eve promotions, they earn an extra entry in the prize draw. You can also set up the contest so that people need a minimum number of referrals to enter, just like this example from a popular club in Amsterdam.
Share a special prize when the ball drops
It's the most-awaited moment at every New Year's Eve event. The clock strikes midnight, and fireworks burst across the sky. People hug, kiss, and hold hands while they sing traditional songs like Auld Lang Syne. And with the right New Year's Eve promotions, you can be a part of that moment too.
People love Instant Win contests. The idea is simple: you set up some prizes, ready to win. Your followers just sign in to the app to find out if they have been lucky. The twist? The app automatically awards prizes at random times – motivating your followers to check again, and again, and again…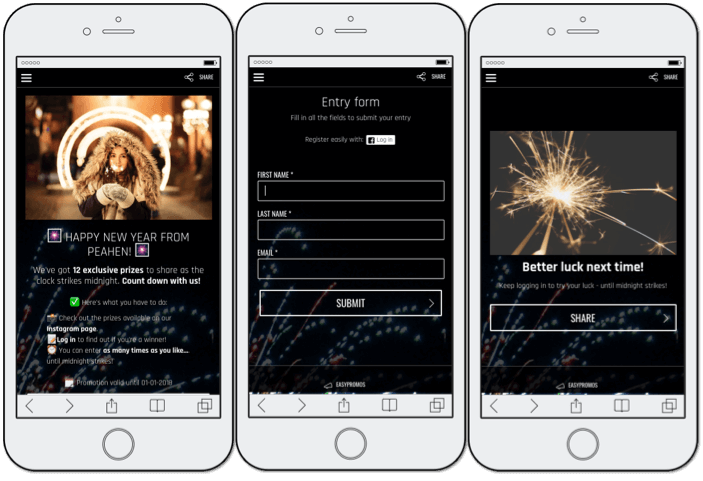 Anybody can join this kind of contest, so long as they have a computer or mobile device with an internet connection. So you could share prizes with your followers at the countdown to midnight, at special events or at home.
Send customized New Year's greetings to friends and family
Use our new PhotoFun app to invite your followers and customers to send their customized New Year's greeting to their friends and family. Select the format, frames and stickers they can use and encourage them to share as much as possible to get votes. The best thing about the PhotoFun application is that the frames and stickers can be branded! It's a great way to reinforce brand awareness and recall.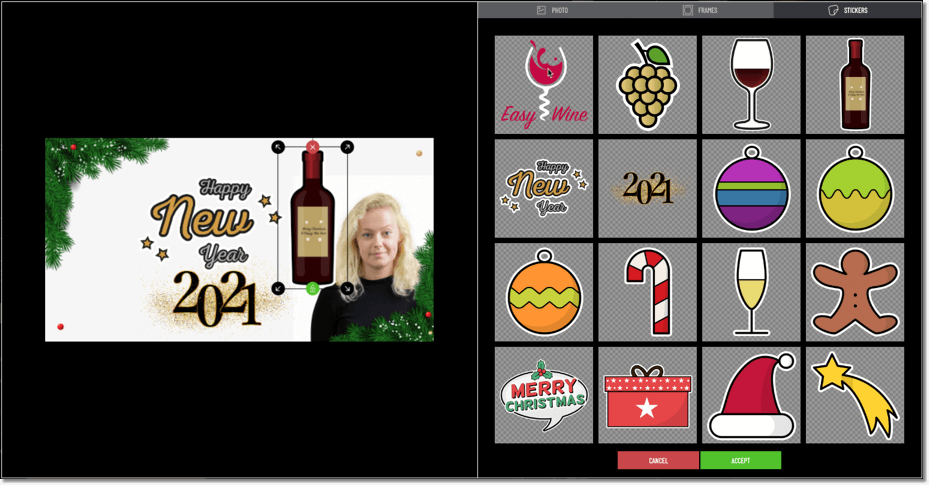 Do you have questions about New Year's promotion ideas? Don't hesitate to contact our Support Team, ready to assist and inspire!