Posted in: EventsLast update: 19/08/20
It's time for Carnival – with music, parties, costumes, parades, and treats. Here's how to bring the color and life of the carnival to your brand marketing strategy.

Carnival promotions offer so many possibilities. It's a festival full of life, light, and color – perfect for sharing and building hype on social media. Traditions vary all over the world, so you can even tailor your marketing for local customs. However, in almost every country, a carnival costume contest is bound to be a success.
Are you looking for ideas for Halloween costume contests? Visit our blog post about costume contest ideas for Halloween for more inspiration and fantastic examples!
In this post, we'll take a look at some ideas for your carnival and Mardi Gras promotions. Make sure that you plan for every moment of the holiday: from the months of preparation beforehand, to the dizzying excitement of Carnevale itself.
1. Choose how to collect costume photos
A carnival costume contest is very visual. So you'll need a way to collect photos and videos, share them with your audience, and select a winner. You have a few different options: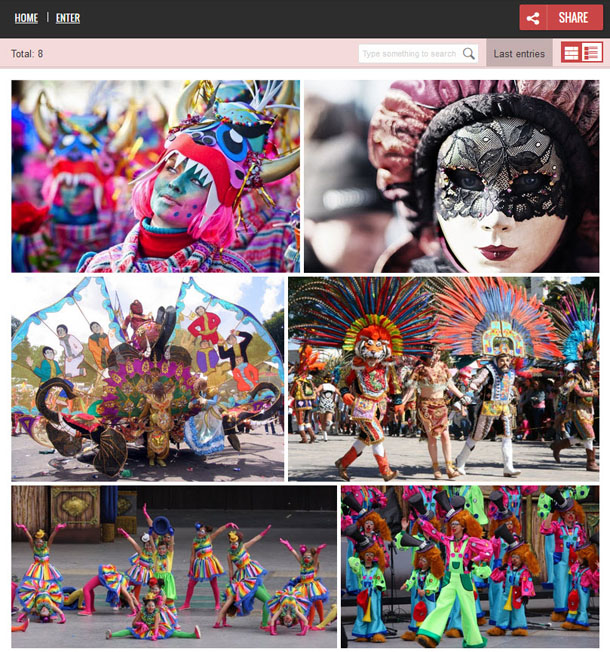 The method you choose depends on your marketing goals. If you just want to go viral, then a classic photo gallery may be enough. If you want to collect user-generated content to re-use in your campaigns, then an Instagram, hashtag or PhotoFun contest would be more effective.

2. Build excitement with carnival preparations
If you've ever taken part in a carnival parade, then you know that preparations actually begin long before the festival. The most dedicated performers will start designing, sewing and rehearsing months in advance!
So you, as a marketer, have even more time to reach your audience. Kick off with a giveaway of costume materials, or a carnival costume design contest.
You can help organize the event, too. Check out this example of a video contest to select the star of the Toronto Carnival: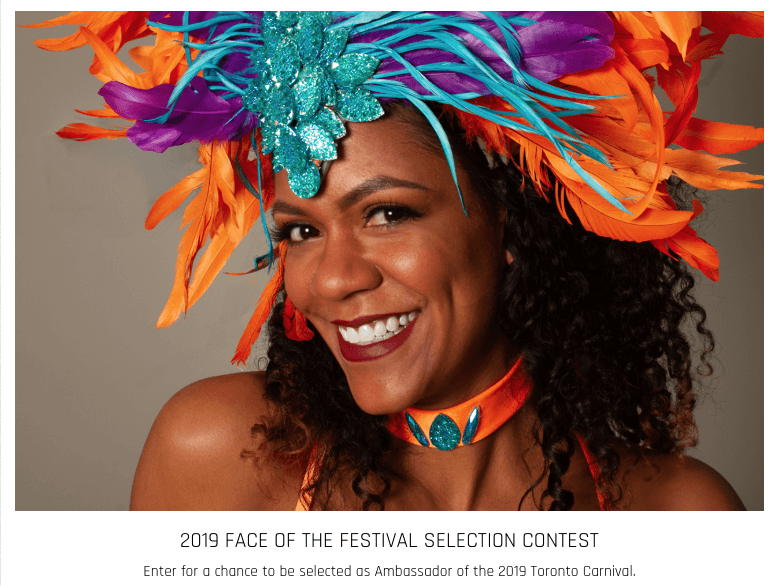 As the big day approaches and excitement builds, you can ramp up your promotions. You could run a series of giveaways leading up to a grand prize, or run several rounds of voting for a carnival costume contest.
3. Vote and share to make your carnival costume contest go viral
So you've found a great idea and designed a gorgeous contest app. Now how do you let people know about the contest?
Good publicity is essential to success. Make sure you announce the carnival competition on social media, in email newsletters, and emblazoned across your website. Follow up with regular reminders, Stories, countdowns, and sneak peeks at the rewards on offer.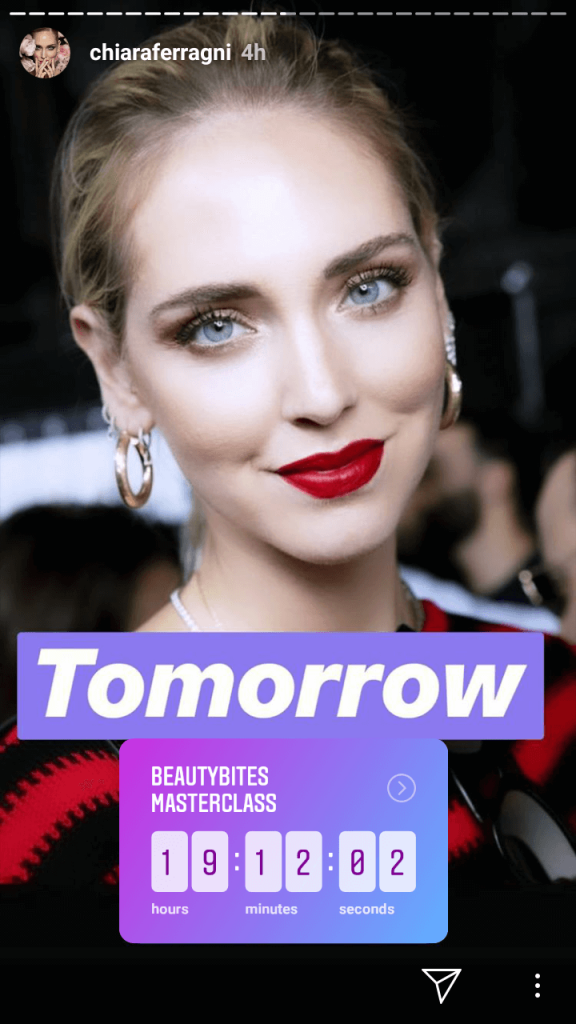 And most importantly, include lots of audience participation. We've found that voting can increase engagement by 100%. So as well as posting the contest entry form, you should also publish competition entries and ask your followers to share their opinion.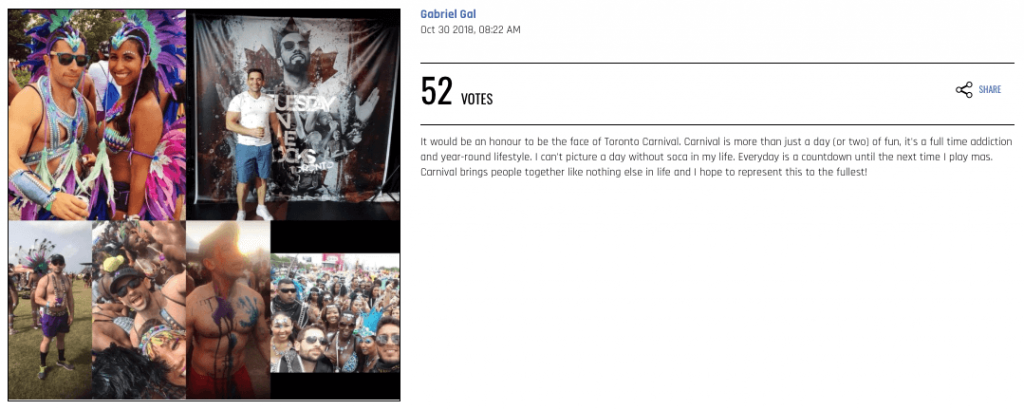 You have many options beyond a simple voting system. For example, you could use a survey app to get individual ratings for each carnival costume photo.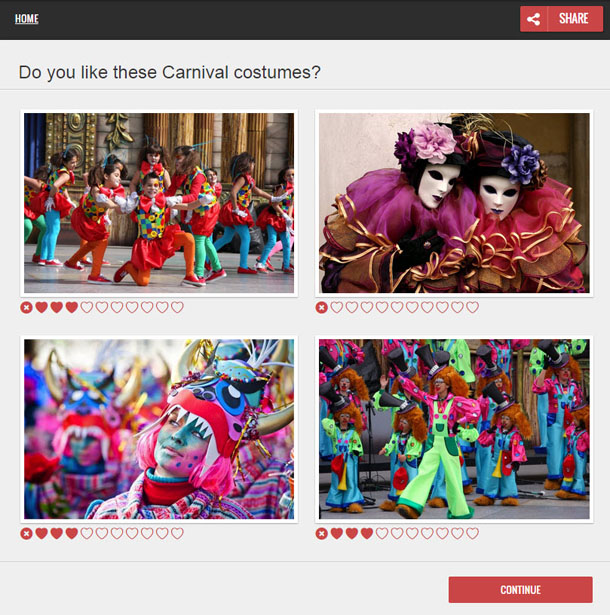 4. Offer a glittering carnival prize
Next, let's talk about motivation. Of course, carnival is exciting in itself – and most people love the thrill of a competition. But if you really want to maximize engagement, then you need to offer a material incentive.
Choose something that is relevant to your brand, or the carnival theme – ideally both! The prize should be something which your followers desire and value. Perhaps something that they can't justify buying for themselves, but would love to have.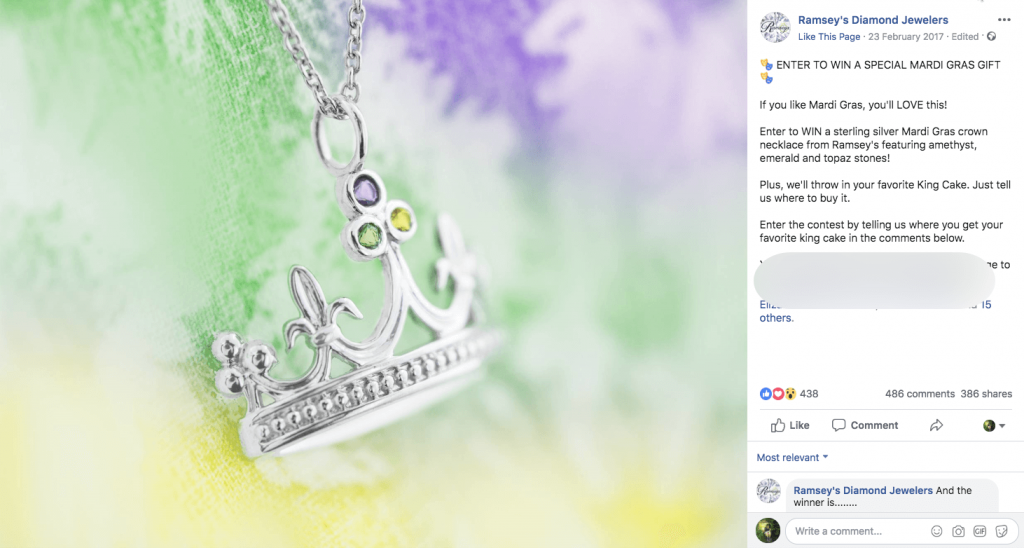 Here's a great example from a jewellery retailer. They offered a special Mardi Gras crown pendant, along with a seasonal King Cake for the winner of the competition. They captured the spirit of the holiday to offer their customers a gift of real and sentimental value.
Try to think creatively. A valuable gift doesn't have to be an object! You can give away experiences too, such as a spot in the parade or a day behind the scenes with your brand.
5. Run a live carnival costume contest event
Carnival is a 360-degree experience: a blur of color, music, and movement that encompasses all 5 senses. So take some inspiration and design a carnival campaign that reaches people both on- and off-line.
Running contests on your website or social media is a great place to start. But you can go further with brand events, in-store celebrations, sponsorship, award ceremonies, and live contests or giveaways.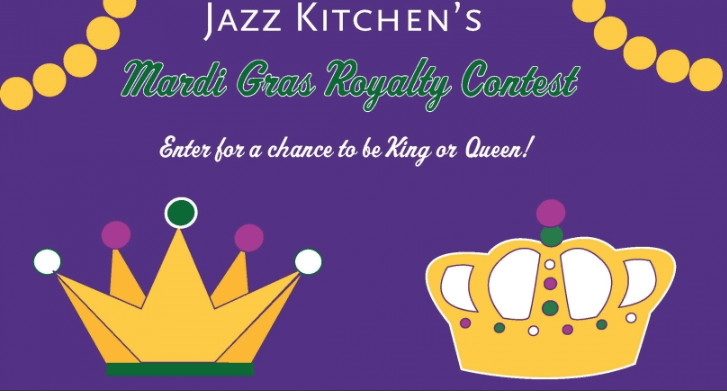 Take this carnival costume contest from Jazz Kitchen. Before Mardi Gras kicked off, they asked their followers to register online. The winner would receive a VIP seat at the Jazz Kitchen Mardi Gras party – and make the final decision in the costume contest.
This was a really clever way to advertize the Mardi Gras event. And it encouraged people to make the competition their own, either by wearing a costume or helping out as a judge.
6. Follow up with participants
When carnival ends, the costumes are packed away for another year, and the fun is over until Easter arrives. But your work is just starting!
Follow up on your contest through email and social media. Thank people for taking part, congratulate the winners, and announce your next event or competition. Show your followers that you really valued their participation – and that it's worth staying in touch.
Want to build your own Carnival Photo Contest or giveaway? Here you can try our Carnival products and get ready-made templates to run your own promotions.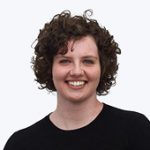 Corinna Keefe
Content marketer at Easypromos
Publication date: 2015-02-18