Posted in: Applications for facebook,Applications for TwitterLast update: 11/07/18
Are you thinking about creating a sweepstakes on Facebook based on a post published to your Wall? Would you like to carry out a sweepstakes on Twitter among all your followers, or among those who retweet your tweets? Let us introduce a free tool, especially designed for rapid sweepstakes held across the social networks, which enables the administrator to create and host the terms and conditions. The tool is designed for sweepstakes on Twitter and Facebook – environments in which you have a limited space to explain how the sweepstakes work and what the conditions are. The tool can also be used to organize a promotion or contest on another online channel – on a webpage or blog for example. In this post you can find out how to use the tool to create terms and conditions for your contests.

Giveaways on Facebook and Twitter provide an excellent opportunity to dynamize your social networks. Facebook users just have to comment or "like" a Timeline post to participate. Twitter the user only have to retweet a tweet posted by the brand. These are quick, dynamic actions: they're easy for administrators to manage, and simple for users to carry out. Giveaways are therefore a great way to generate a high level of engagement with lots of users.
Pick-a-winner contests like this develop from a Facebook post or a Twitter tweet, so you have to be mindful when creating the initial post or tweet. It's very important to transmit the message encouraging participation, but that's not all. You also want to explain to users how the contest works, what the deadline for participation is – and the prizes they could win!
It can be difficult to fit all this information in the confined space of a post or tweet, let alone including a long legal document. So how can you inform users about the terms and conditions of your giveaway? Here at Easypromos we've developed a free tool for creating and hosting the terms and conditions of your promotions. This tool makes life easier for administrators by providing a link to share terms and conditions with users. 
How does the Terms and Conditions Tool work?
The tool is very simple: it consists of creating and customizing a webpage with a text outlining the terms and conditions of the promotion. You can then obtain a short URL to share the webpage with your followers and contest participants.
Here's how the tool works:
1. The tool is available for free from the Easypromos admin panel. All you need is an Easypromos account.
2. The tool will permit you to create and customize a webpage where you can include the complete text of the terms and conditions of the promotion. And there are other customization tools – such as bold, numbers and italics – to make the text easier to read.
This is what the page for writing and editing the legal bases looks like: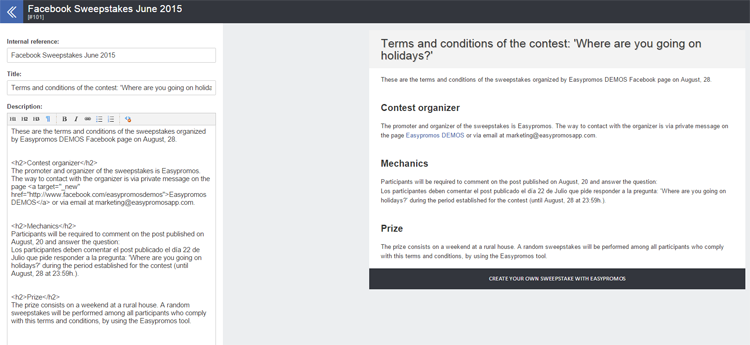 3. The tool provides a unique URL for the webpage where the terms and conditions are hosted. This enables you to include the link in the Facebook or Twitter post advertizing a giveaway, so that users can access the legal information whenever they want to: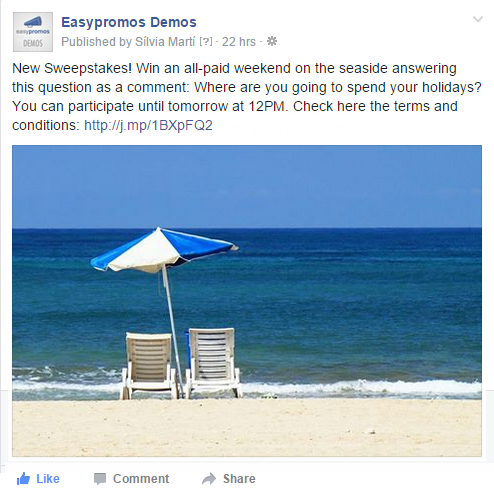 When you click the link, the page will then display a detailed description of the terms and conditions of the giveaway: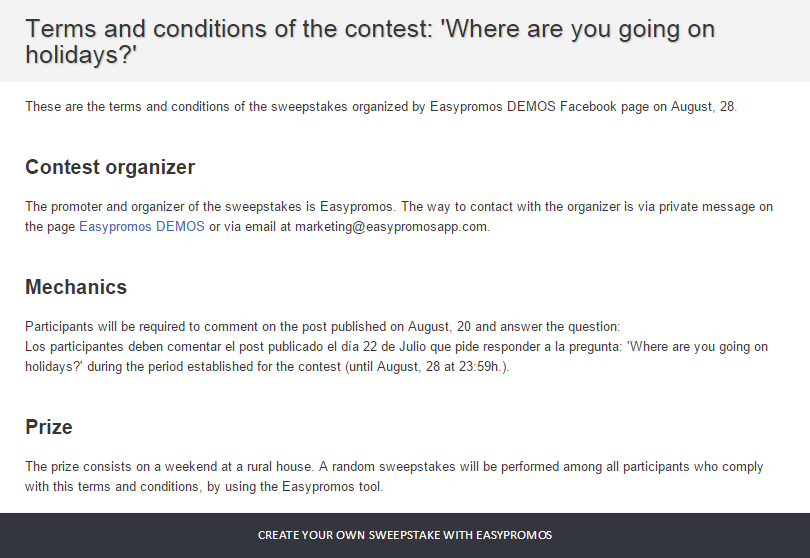 Giveaways on Twitter, webpages and blogs
On Twitter, space is even more limited than on Facebook. You only have a maximum of 280 characters to tell your users about the next Twitter giveaway, encourage them to take part, and explain how to do so. The Easypromos Terms and Conditions Tool gives you a special, short-form URL that's perfectly adapted for publishing the legal details of your Twitter contest.
Thinking of organizing a direct contest or giveaway hosted on your webpage or blog? You can still use the Easypromos Terms and Conditions Tool! It just takes two clicks to the terms and conditions page. You'll find it easy to publish the link to the terms and conditions. You can embed or feature it on your own webpage, too.
Some practical tips
Include all the information that will be relevant and useful to promotion participants in the terms and conditions. This includes things like start and end dates of the promotion, participation requirements, how the winner is selected, and which prizes are on offer.
You'll receive a URL for the terms and conditions, plus a short-form URL to facilitate sharing across social networks. So take advantage of this by including it in all your publicity for the promotion. Embed the link in Facebook posts, Tweets, on your website, in a newsletter, and more. Users should always have the terms and conditions to hand if they want to check how the promotion works.
You'll be able to reuse the terms and conditions for future promotions. Your customized legal document will be stored in your Easypromos account, so you can use it for your next giveaway too.
How to access the tool
In order to use the tool to create your terms and conditions, you first have to connect to the Easypromos control panel. From here, you can create your account in just two clicks. You'll then be able to access the Terms and Conditions Tool for your social media giveaway.
Read our step-by-step tutorial about how to create your terms and conditions.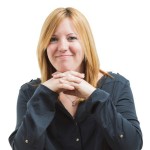 Marian Jubany
Customer care Easypromos' team