Posted in: Ideas for your websiteLast update: 14/07/22
It's a special time for family and friends to gather and give thanks. Thanksgiving is a warm moment in the middle of winter, bringing joy and gratitude into every home. And if you'd like to give thanks for your loyal customers, then try these fun Thanksgiving promotions, created in the spirit of this great holiday.

Thanksgiving is a holiday to celebrate community – and that includes your online brand community. This is a golden opportunity to reward your customers, improve your online reputation, and show the warm, generous side of your brand. In this post, we've collected 4 Thanksgiving promotion ideas that will inform, entertain, and delight your online followers.
If you're short on time, try our free, ready-made templates for a set-and-forget Thanksgiving campaign. Just complete the text with your brand, prize details, and competition dates!
Thanksgiving promotion idea: Collect classic family recipes
What's the best part of Thanksgiving? We've got to be honest… it has to be the Thanksgiving dinner. Here's a tasty example from Canada. French's Mustard asked their followers to share their serving suggestions for turkey with mustard – for the chance to win a generous Thanksgiving hamper.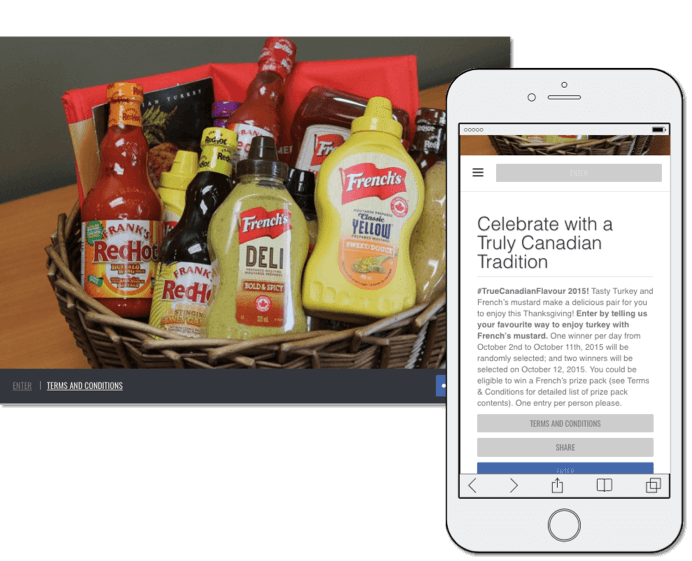 Use a Writing or Photo Contest to collect user-generated content, including your customers' favorite family recipes. Ask for their secrets to classic Thanksgiving dishes, or collect innovative new recipe ideas! Reshare them to tap into customer loyalty and put your company in a different – more humane – light. Social media followers love to see UGC as they find it much more authentic than content shared by brands.
Gift your customers with a Thanksgiving giveaway
If you want to keep things simple, just organize a classic giveaway. It's a highly efficient strategy to collect sales leads and reward your social media community at the same time. It doesn't require much effort from your followers, but both you and they will reap the rewards.
Offer a prize incentive to encourage people to share their details with you. You could give away a product from your brand, a luxury experience, or a seasonal gift. Another option is to share a small discount or free sample with everyone who signs up.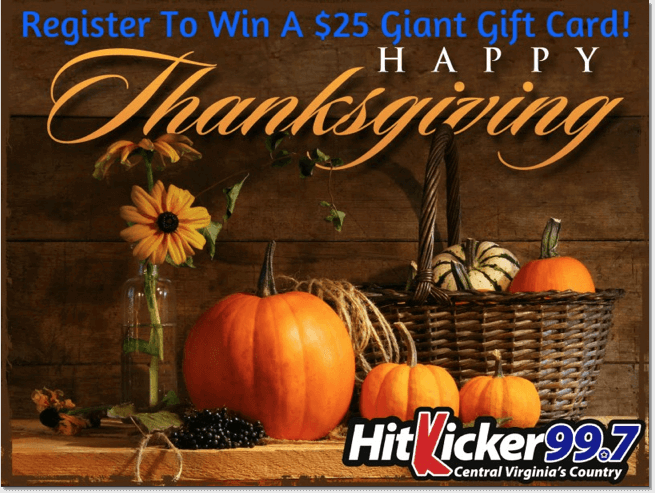 Here's an example from a local radio station in Virginia. They offered a simple gift card as the grand prize. But to add some holiday grandeur, the card was printed in a giant format! Gift cards are also a versatile online option if your brand mainly sells through the internet.
Thanksgiving promotion idea: Give back to the community with a volunteer drive
In the traditional story of Thanksgiving, the newly arrived European settlers received help and kindness from the Native American people. So generosity is an intrinsic part of Thanksgiving. We don't just give thanks for what we have; we share with others, too.
Many people choose to volunteer or donate to charity on Thanksgiving. Your brand can get involved, too! Think about running a fundraiser or soup kitchen event. You can also offer rewards to your customers who give up their time, help, or money.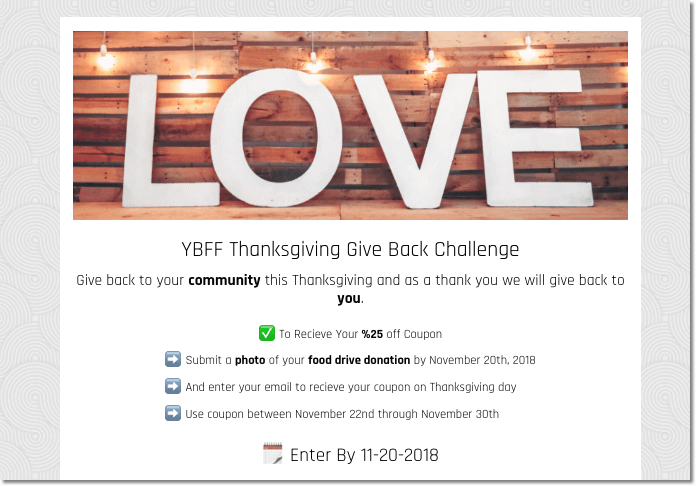 This organization created a "Give Back Challenge". They asked all their online followers to make food drive donations before Thanksgiving. And to thank them for their generosity, the brand awarded a lavish discount coupon to customers who could demonstrate their donation. The organizers created customized coupons and shared them via automated emails, using the coupon app.

Entertain your followers with a Thanksgiving quiz
Last of all, let's think about some holiday entertainment. Thanksgiving is a long weekend – so give your followers a Knowledge Quiz to keep them entertained!
Here's a fantastic example from mechanical services company, Brakes Plus. They invented a comic Christmas quiz about Thanksgiving. And they gave back to the community at the same time, with tips and advice on how to travel safely on the busiest weekend of the year.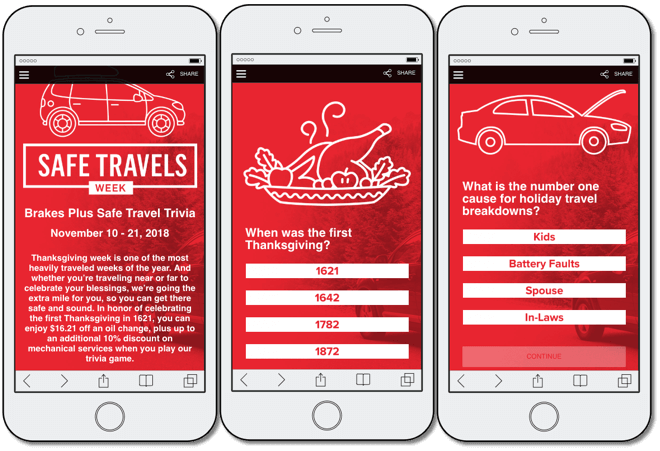 Ready to create your Thanksgiving promotions? Create your free account here if you don't have one already and get started. Do you have any questions? Live chat with us!

Publication date: 2015-09-17