Thanksgiving on social media: the reason for the season
Thanksgiving giveaways have become a staple marketing strategy for a festivity that despite being mostly associated with the USA, covers a range of continents and cultures. Some believe the idea came from traditional European harvest festivals, where people gave thanks for a prosperous and happy year. Later, it was adapted for a new life in America, and the story of European settlers on the continent.
But most importantly, Thanksgiving has become a festival about family. It's an opportunity for people to gather together and give thanks for everything and everyone that they have. So Thanksgiving giveaways are a wonderful opportunity to thank your followers and make them feel part of your brand family. Let's take a look at Thanksgiving giveaway ideas to see how your brand can join the holiday celebrations.
Try our free, ready-made templates for a set-and-forget Thanksgiving campaign. Just complete the text with your brand, prize details, and competition dates! Then, use our apps to choose a random winner of your giveaway.
In this article, we'll focus on social media giveaways. They're quick and easy – and the holidays are a busy time. But social media is also a good choice because it's the main way that people relate to your brand. Instead of a distant sales pitch, this is your chance to make a real connection with your community online.
Thanksgiving giveaways on Instagram
Organizing a Thanksgiving giveaway on Instagram is a great and cheap idea to celebrate this special day with your audience. All you have to do is publish, or schedule, a giveaway post that comes with an attention-grabbing photo, and ask your followers an engaging question, or ask them to tag the people they're grateful for. The best news is that any brand can organize Thanksgiving giveaways on Instagram.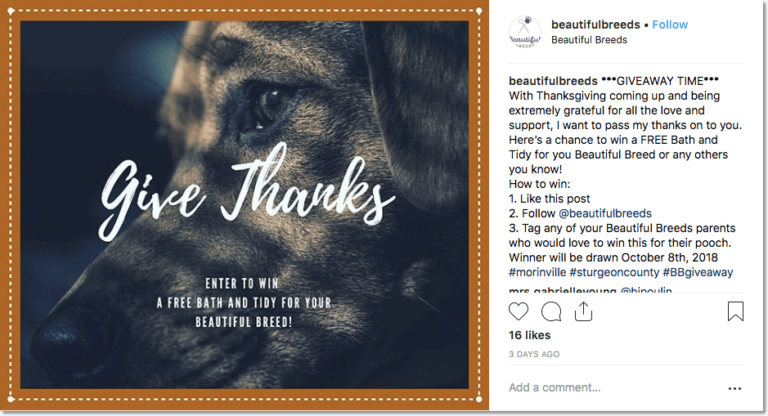 Here's an Instagram Thanksgiving giveaway idea from a dog grooming salon. They decided to thank their loyal customers by giving away a free session for one lucky pet. To take part, they asked followers to comment and tag their friends. It's a great tactic for anyone looking to grow their social media following.
Another great example comes from Not Your Mother's, a haircare company. They launched a Thanksgiving comment-to-win Instagram giveaway in collaboration with a makeup products brand, in which participants had a chance to win a bundle of products from the organizing brands.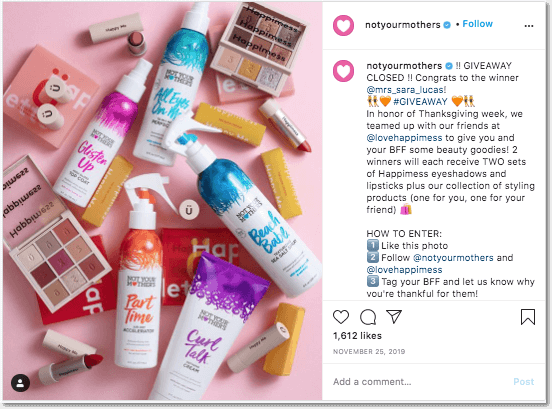 In order to participate users had to follow the organizing brand and tag their best friend in the comment section.
You can run photo contests on Instagram, too. With the Hashtag + Mention contest app, you can collect contact details and creative photos from your users, along with image permissions.
Ideas for Thanksgiving giveaways on Facebook
Facebook is still the social network with the most number of users. However, it can be difficult to reach people through all the noise and distractions on their feed. Thanksgiving giveaways are a great way to get attention and improve engagement.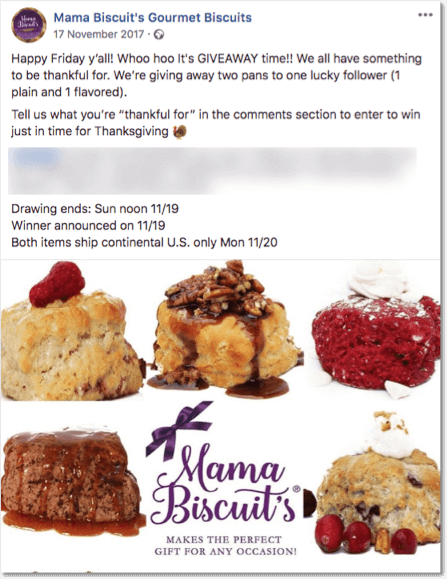 To make the contest fun – and follow Facebook rules – we recommend asking an open question, as it will definitely encourage real conversations, which are great grounds for strengthening customer relationships. Here's a sweet example from a gourmet baker. They asked their followers what they were thankful for!
Then everyone who commented had the chance to win a panful of traditional sweet biscuits for their Thanksgiving dinner. A Facebook giveaway like this is easy to run – and always popular with users.
Support your favorite charities with Thanksgiving giveaways
You don't have to give away luxury prizes for your Thanksgiving campaign. If you really want to get into the spirit of the holiday, then think about running a charity giveaway or collection.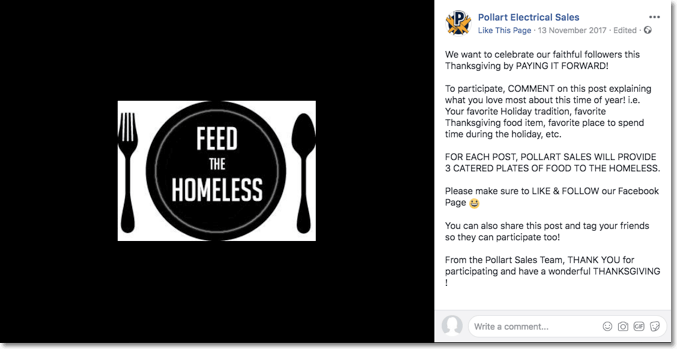 Here's a touching example from an electrical store. They decided to pay it forward by supporting Thanksgiving meals for homeless people. They asked a simple question: what do you love most about Thanksgiving? And every time one of their followers commented, they added three more meals to their donation.
Remember, your giveaway isn't limited to a single prize! So if you want to share a charity drive like this, you could reward your generous followers with a quick discount code as well.
Unite communities with Multi-Network Thanksgiving giveaways
There are two fantastic reasons to run a Multi-Network Giveaway on Thanksgiving. First of all, it's a celebration of communities coming together. So it's the perfect opportunity to unite your followers across Facebook and Instagram.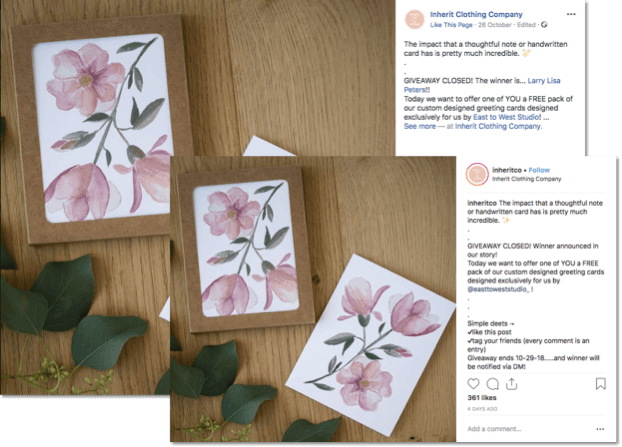 Here's a thoughtful example from Inherit Clothing Company. They shared some beautiful stationery for thank-you notes with their followers on both Facebook and Instagram.
Secondly, let's not forget that Thanksgiving is a holiday. We know that it's a busy time of year for retailers – but you deserve a day off, too!
When you organize a multi-network giveaway, you only need to create one contest and one prize for all your social networks. Then you can spend the time you've saved with your family, preparing a delicious Thanksgiving meal, or giving back to your local community. Happy Thanksgiving!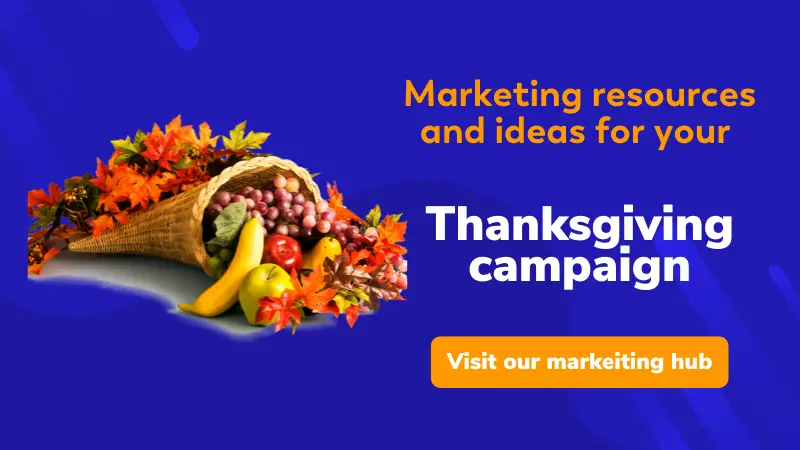 Do you have questions that haven't been answered in this blog post? You can chat with our Support Team, they're always happy to help!