Posted in: Applications for Facebook,Digital marketing,EventsLast update: 22/07/22
Christmas is the season of giving – and it's time for your brand to join the party. Run a Christmas Facebook giveaway to increase followers, engagement, and brand loyalty. We know it's a busy time of year, so we'll dive right in with 3 Christmas Facebook contests that you can create in minutes.

First things first: why run a Christmas Facebook contest?
Facebook boasts more than 2.7 billion monthly active users. That's a big potential audience.
Christmas giveaways are a tried and tested method of increasing engagement with your online community.
A Christmas Facebook contest is fast. Fast to create, fast to run, fast to select the winners. If you need a quick and easy campaign idea, then this is the place to start.
Run a Christmas Facebook Contest with comments
We've already mentioned the importance of engagement. But that doesn't just mean likes and follows. In fact, the Facebook algorithm rewards you for high-quality interaction instead: comments, photos, and original ideas.
However, it's easy to improve the quality of your interactions with Facebook users. Getting original comments is as simple as asking your followers an open-ended question. Take a look at this Christmas Facebook contest from James Deakin.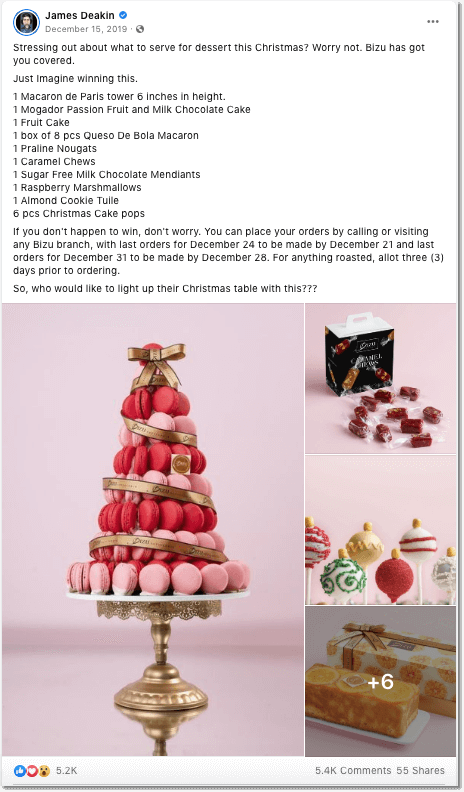 James Deakin collaborated with a dessert manufacturer looking to promote their products right in time for Christmas. James ran a quickly and easy Christmas Facebook contest for his online community. "Who would like to light up their Christmas table with this?" was the question which Facebook users had to answer. Easy, right?! It was a great engagement booster and a fantastic example of product promotion.
Another creative example comes from a local church: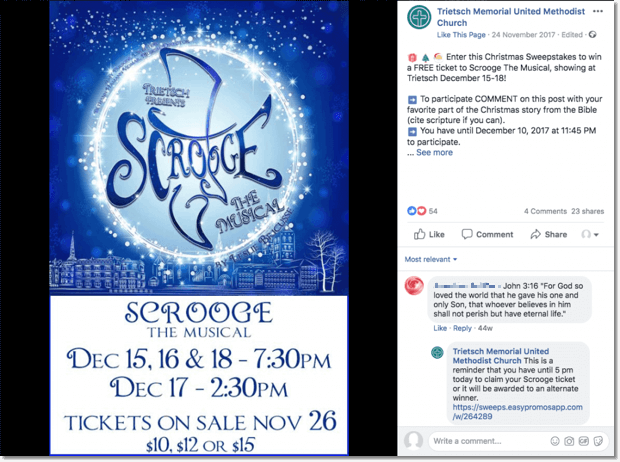 They asked their followers to share their favorite part of the Christmas story. Everyone has a different answer to this question, which was designed to appeal to churchgoers. Next, the brand used the Facebook Giveaway app by Easypromos to choose one comment at random. The lucky winner received a free ticket to a Christmas show.
If you have time to plan a more complex giveaway, then check out this post with more Christmas giveaway ideas. Learn how to run seasonal surveys, photo contests, and challenges online.
This type of Christmas Facebook contest takes 5 minutes to create. Here's how:
Choose an image to post: a cheerful Christmas scene, or a photo of the prize.
Then ask an open question that will get your followers' attention.
Remember to choose a desirable prize. Think of Christmassy treats, a sample of your products, or tickets for a seasonal event.
Share a festive video to get your Christmas Facebook contest going
Everyone loves Christmas music, right? Whether it's carols or the traditionally terrible pop songs, we all have a favorite soundtrack for the season. Not to mention festive poems like The Night Before Christmas, or iconic video adverts such as the annual Coca Cola campaign.
Share a song, story, or animation with your Facebook followers. This style works especially well for promotions aimed at kids and families. For example, check out this post from baby products brand Chicco, to see a great example of a Christmas Facebook contest.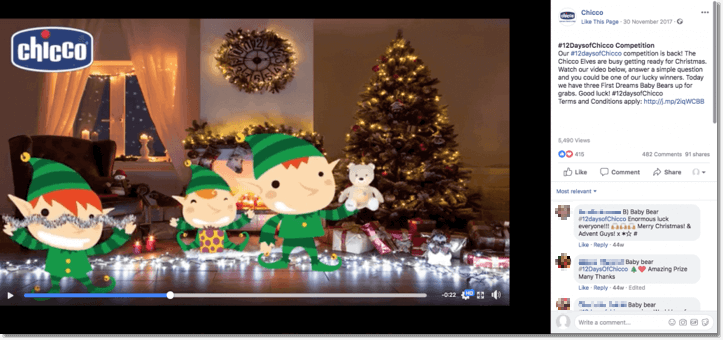 They created a cute animation with the Chicco Christmas elves. For a chance to win one of three teddy bears, their followers had to watch the video. Then they answered a question about the video in the comments. The giveaway brought some Christmas magic to Chicco's Facebook page and was hugely popular with customers.
Apart from boosting their social media engagement and attracting new followers, the brand also strengthened customer relationships.
Look closely and you'll see that Chicco included a short link to terms and conditions in their post. Every online giveaway must include legal details. Fortunately, Easypromos has a free tool that will create and host your T&Cs in minutes.
Set a Christmas challenge
Perhaps you'd like to make your Christmas Facebook contest a bit more competitive! It's easy to share puzzles, riddles, and guessing games. Just create a post with an attractive image, that sets the challenge and explains the prize. Then choose your winner from among the comments which get the answer right.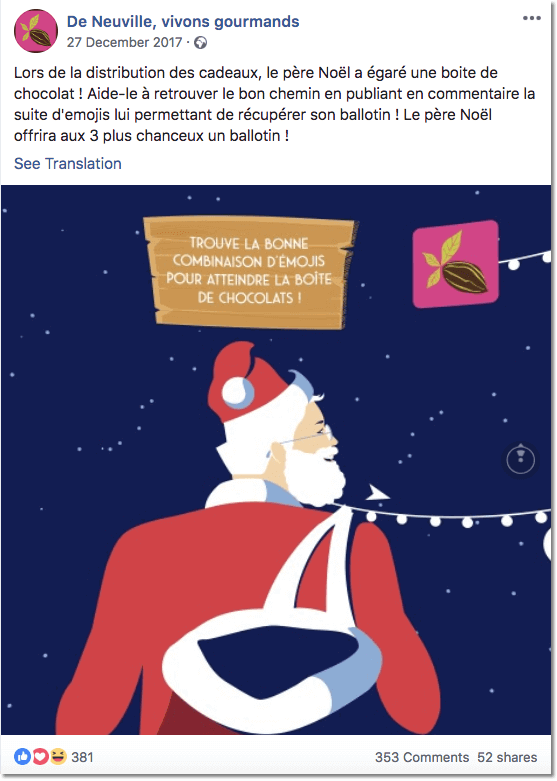 We loved this example from French chocolate brand De Neuville. They ran a series of Christmas puzzles throughout the festive season. In the example below, they posted a panoramic image on their Facebook page. Users could "look around" the panorama to help Santa Claus find the correct Christmas route.
The panorama "map" was marked with different emoji. So once users knew which way Santa Claus should go, they commented with the emoji he should follow to stay on track. And of course, they had the chance to win some delicious festive treats. It created great engagement within the online community and really entertained the audience.
So now you know: it's easy to make a Christmas Facebook contest! Online chat with us if you have questions about Christmas Facebook contests, are team is ready to inspire and assist!
Publication date: 2017-11-02