Posted in: Applications,Digital marketing,Ideas for your websiteLast update: 23/12/19
At its heart, Valentine's Day is an opportunity for people to celebrate their most valued relationships. Invite your followers to share their photos – and collect user-generated content, leads, and engagement. Try a classic, creative, or viral photo contest to meet your marketing goals.

Engagement is always one of the most important, and hardest to achieve marketing objectives. Because how can you be on top of all your promotions and social media posts? Engagement is encouraged by high-quality content. Engagement then leads to brand exposure, brand awareness, sales, and so on. Seasonal marketing should always be an important aspect of your marketing plan.
So what is high-quality content? How to create it? Here, at Easypromos we believe that user-generated content is the best content you can ever ask for. Pictures, videos, and texts generated by your customers show your customer's loyalty and create a sense of customer-brand relationships. So ask your audience for user-generated content! But do it nicely… In a way of a contest or giveaway. And when it comes to Valentine's Day competitions, the only real limit is your imagination. But to help focus your ideas, we've broken it down to 3 types of Valentine's Day photo competitions. Choose the one that best reflects your brand, audience, and aims.
Classic: collect sales leads with a branded app and share a photo gallery
Creative: have fun with your followers when they decorate a Valentine's Day photo card
Viral: challenge your followers to a Valentine's Day photo contest on Instagram, and get user-generated content to repost
Classic Valentine's Day Photo Contest
The classic Photo Contest app is the simplest way to run a Valentine's Day competition for your followers. Just set up the app with instructions and an entry form. Then share the link on social media, with your mailing list, and on your website.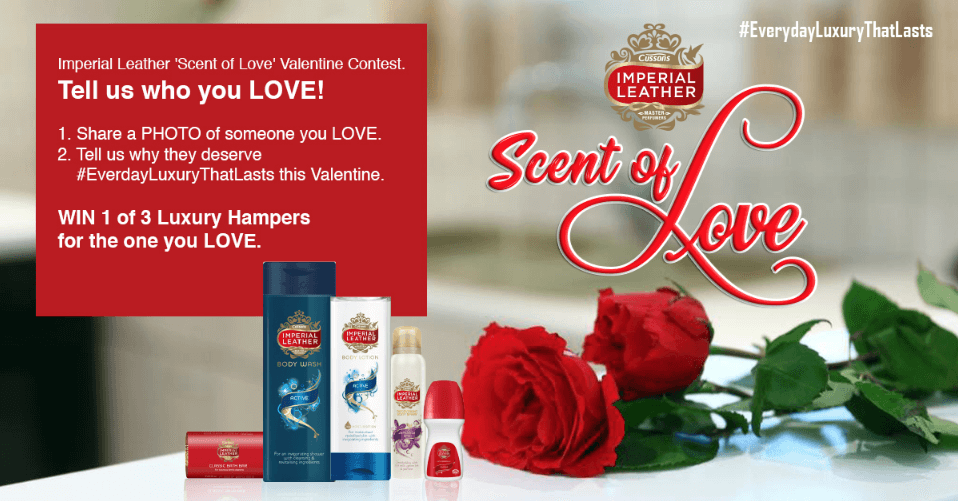 Here's a great example from a health and beauty brand. They shared three luxury product hampers for Valentine's Day. And because they had a range of prizes, they could use the opportunity for some market research.
As part of the entry form, participants had to choose their favorite hamper. Then they entered the specific prize draw for that hamper. And the brand got insights into which products were most popular.
Remember that Valentine's Day is about incentivizing your audience, but also about achieving your marketing objectives! This is why you should always enable the entry form. You will be able to collect new leads and target them in the future!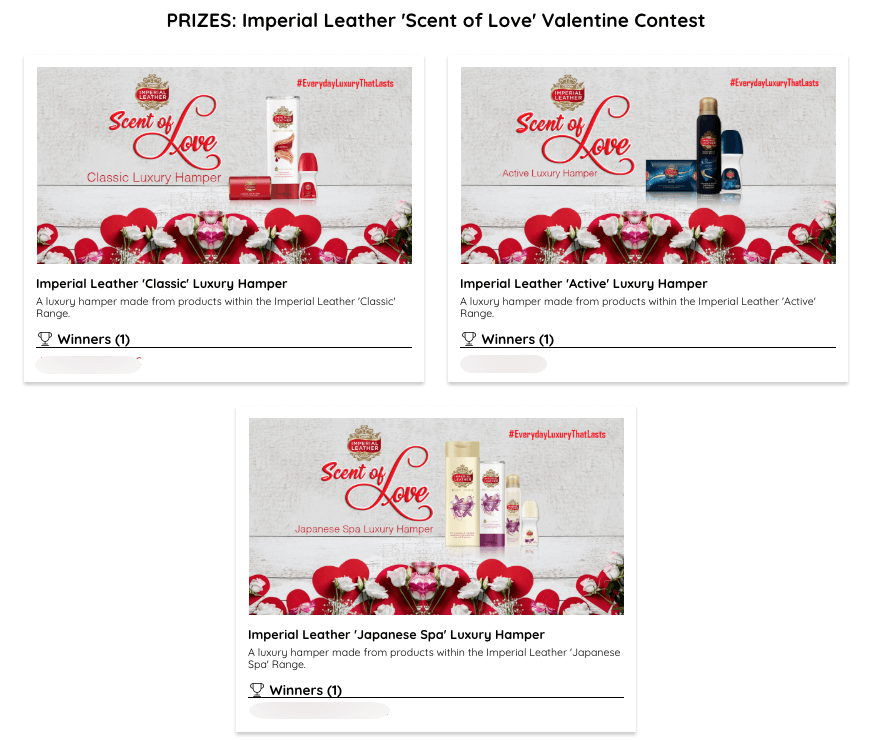 Finally, don't forget to share the results of the Valentine's Day Photo Contest. And we don't just mean the winners! You can publish all the photo entries in an online gallery. So people can share their entry, vote for their friends, and spread the word about your Valentine's Day offers.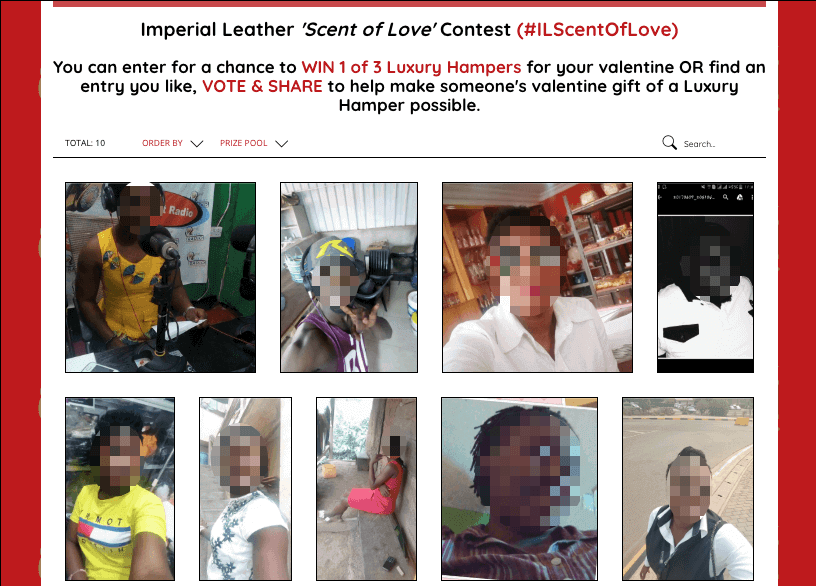 Creative Valentine's Day competition with extra fun
Valentine's Day is an iconic holiday – quite literally. Red and pink hearts, flowers, Cupids and chocolates are all instant symbols of the holiday. So it's the perfect moment to create a themed and branded photo contest.
How exactly? With the PhotoFun app. It starts just like a classic photo contest but it provides more entertainment, concurrently bringing more engagement and more participants. First, your followers can upload their own pictures. You can create a customized entry form to collect contact details and share the link to the promotion across all your social channels to try and target as many possible participants as possible.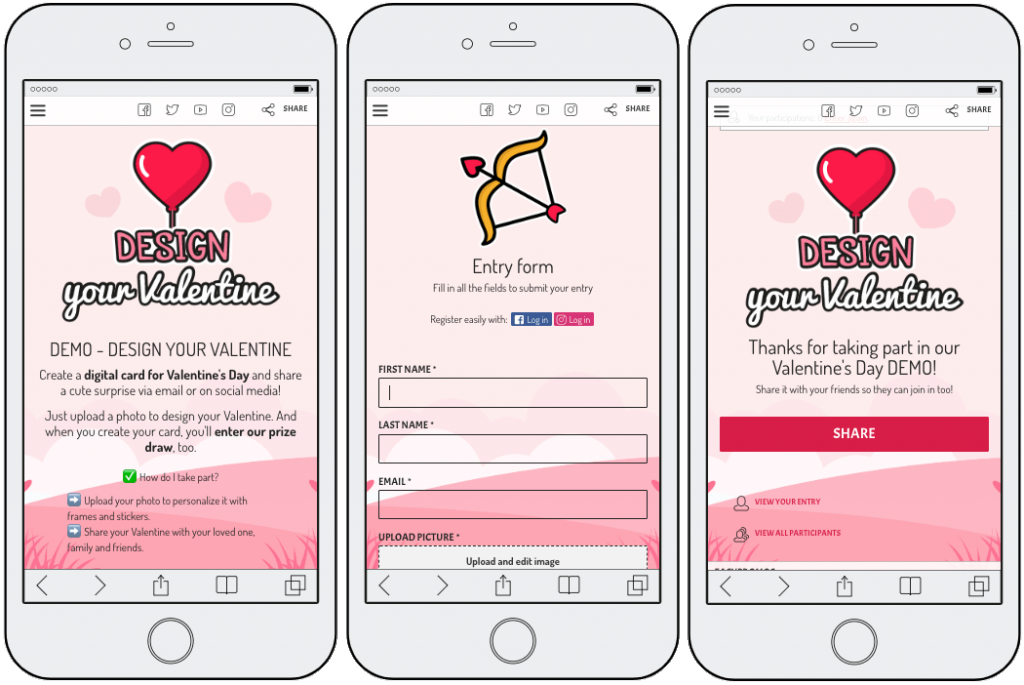 But here comes the twist: the entrants can decorate their photos with frames and stickers. Choose from a free library of Valentine's Day embellishments, or upload your own stickers. For example, you could create a photo frame with your brand logo, or add stickers featuring your products. Extra brand exposure is guaranteed with this Valentine's Day competition!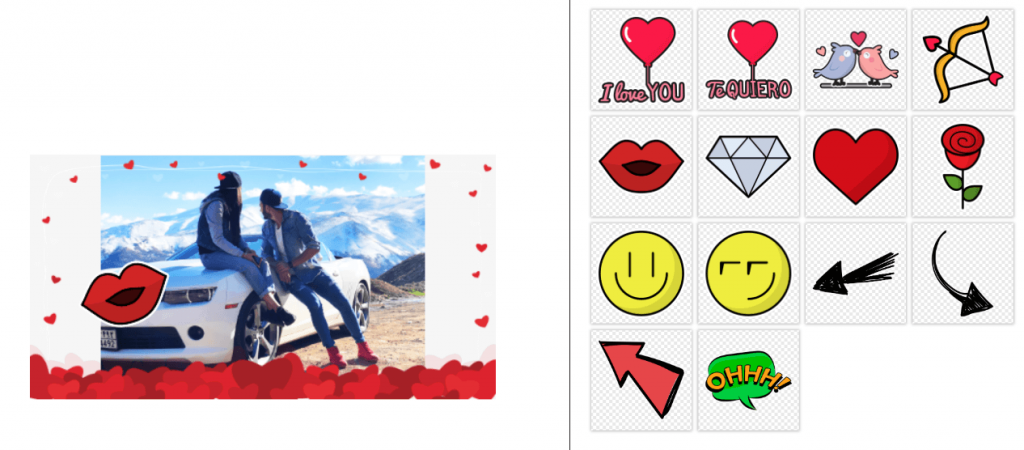 Apart from just submitting their entry, the participants can also download the decorated pictures and share them on their social media pages. This is great exposure for you, as your logo will be exposed to a wider audience.
Viral Valentine's Day Photo Contest
Your Valentine's Day marketing campaign just wouldn't be complete without social media. The biggest spenders on V-Day are 25-34-year-olds, who make up a key demographics on social media. Plus, the visual content of a Valentine's Day photo competition is designed to go viral!
So what's the best way to create a viral contest for Valentine's Day? Easy: run a contest that takes place entirely on social media. Invite your followers to share photos with your @brandname and
#campaignhashtag. Then connect the Hashtag + Entry app to collect the posts and pick a winner.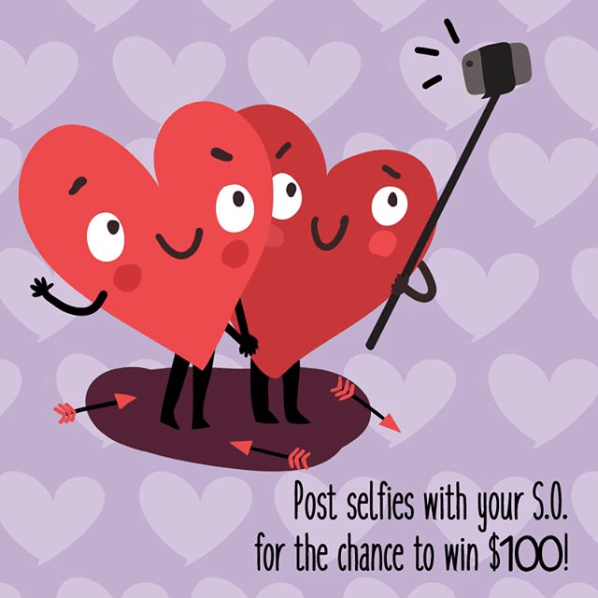 Collecting photos through the app has extra benefits for you, too. When people sign up, they have to share image rights and permissions with you – even if they set their Instagram account to private. So you're free to use, share and repost user-generated content as much as you want.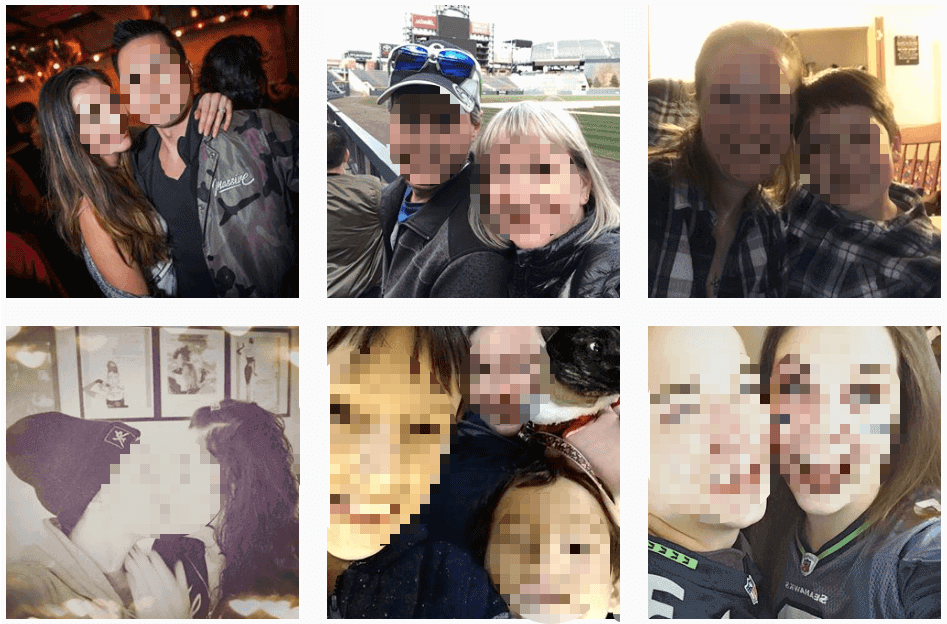 Just like any other photo contest, you can automatically create a Valentine's Day competition gallery. But all those photos will be plastered across social media, too – with your name and hashtag attached.
Want more? Visit our Valentine's Day campaign hub for more ideas, free graphics for social media, and templates for your PhotoFun contest.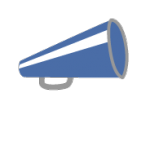 Easypromos Team
Content produced by Easypromos Marketing Team
Publication date: 2018-02-06