The agency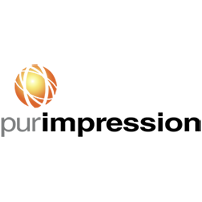 PurImpression describe themselves as "digital blacksmiths": forging a powerful, creative online strategy for each one of their clients.
The online marketing consultancy helps their clients to maximize ROI through every means possible. They work on web development, creating original ad content, planning for the future, and optimizing campaigns in real time.
The brand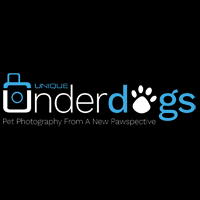 Unique Underdogs are specialists in pet photography – with a unique style. They've developed their own special technology for characteristic, lively pet portraits, with a whole new angle on man's best friend.
The brand also takes their social responsibilities seriously. Unique Underdogs donate a percentage of all sales to the National Welfare Trust, to support animals who are not so lucky to have loving owners. The Trust is an animal welfare charity which operates no-kill rescue centres. It has branches all over England, and cares for both pets and wild animals.
Marketing objectives
Unique Underdogs knew that they had a fantastic business idea – but they needed help to spread the word. That's why they turned to PurImpression for a total overhaul of their online strategy and presence. They created a totally new website and social media presence, with fresh accounts on Instagram, Twitter, and Facebook.
Unique Underdogs were looking for a way to increase their audience quickly, without spending too much on promoted posts or ads. They wanted to show how their photography studio works, demonstrate their brand values, and fulfil their commitment to the National Welfare Trust.
To hit all of these targets, PurImpression came up with the idea of a two-step contest, with social media comments and voting. They would use a combination of social media posts and the Pick Your Favorite app to introduce Unique Underdogs with a burst of new followers, page views and comments. At the same time, the contest would bring more people into the studio, and raise awareness for the animal rescue charity. Finally, because of the viral nature of the contest, they would only need to pay for one boosted Facebook post.
The campaign
Phase 1
The first stage of the campaign used Facebook comments. Unique Underdogs published a post on their page, asking people to share photos of their dogs in the comments below. Everyone who posted had the chance to win a free photoshoot, worth almost £200.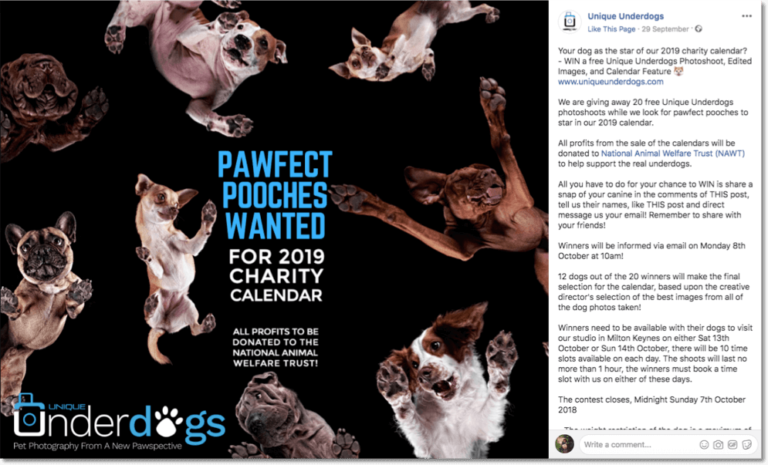 At the same time, the brand posted about the contest on their new website, Twitter and Instagram profiles. This had two advantages. First, it got attention for Unique Underdogs' new presence online. And secondly, it directed people towards their Facebook page, which was Unique Underdogs' flagship social media profile.
Next, an expert jury from the Unique Underdogs team chose their favorite candidates to appear in a 2018 charity calendar. In total, they gave a free photoshoot to 21 dogs… but only 12 could appear in the calendar.
Phase 2
So Unique Underdogs asked their followers for help. They used the Pick Your Favorite app to create a public gallery, where people could vote for their favorites and share with friends.
Voters could even suggest which month their favorite dog should feature. Everyone who voted received a generous discount coupon for extra motivation.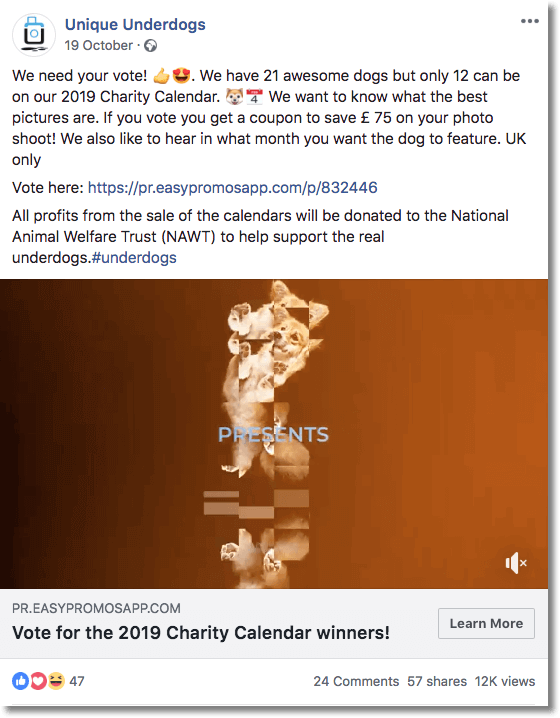 The studio followed up on the campaign by featuring one dog on their social media each day. People would like, comment, and share the posts as well as voting.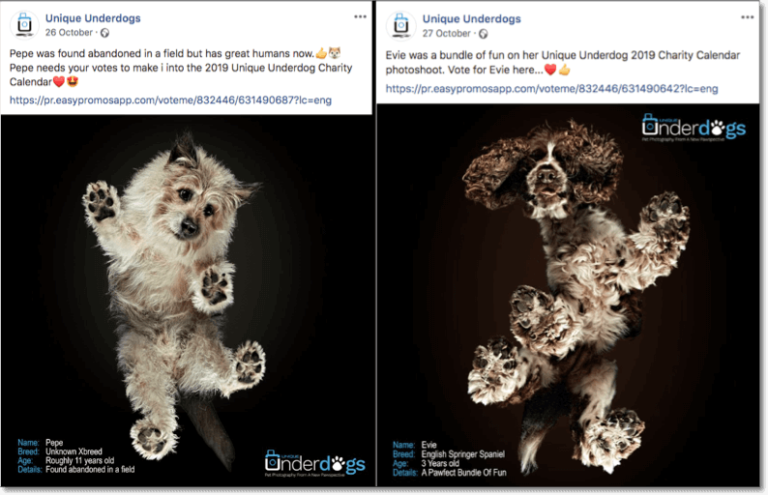 Finally, the winners were announced. But as the crew at Unique Underdogs love dogs so much, it proved impossible to pick favorites.
In the end, the 12 dogs with most votes were featured in the calendar… and all the runners-up appeared with miniature images, too.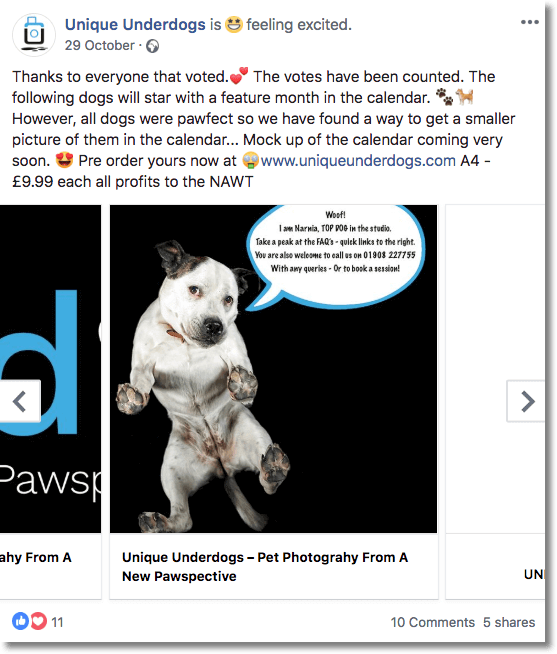 The charity calendar was printed just in time for Christmas shopping. Unique Underdogs made sure to advertize on their social media, and post a banner on their website, explaining their commitment to animal welfare.
Results
By offering free photoshoots and discount coupons, Unique Underdogs gave more people the chance to experience their portrait process in the studio. Using the contest to kick-start their social media made a powerful statement about their values and charity commitments – and they raised a generous amount of money to support the National Welfare Trust at the same time.
The contest had a hugely beneficial effect on their social media presence. The first Facebook post, which opened the contest, received 676 reactions, more than 1200 comments, and 288 shares. The share ratio is especially impressive, and shows that people really valued the content which Unique Underdogs posted.
In the second stage of the contest, almost 700 people voted on the very first day. After just nine days, the photos had received almost 2000 votes in total. The gallery of doggy portraits received over 14,000 page views from over 6000 unique visitors. Just like the original post on Facebook, lots of people shared the photo gallery – this time, on both Facebook and Whatsapp.
Testimonial
The Easypromos platform is easy to use, so very user-friendly. You can choose a broad variety of promotions, their support is excellent, and they have a good price/quality ratio.


Wilfried Ligthart, PurImpression Co-Owner