Posted in: Applications for InstagramLast update: 18/07/22
Instagram is one of the big three social networks in 2018, and it just keeps growing. New features such as Instagram Stories offer even more possibilities for engaging and interacting with your target audience online. Learn how to boost your Instagram Profile and reach more followers with our Instagram contest ideas and giveaway inspiration.

Instagram accounts which run contests reach more followers. And running an Instagram giveaway is easy once you know how! So we've shared our best Instagram contest ideas below to help you get started.
Remember to think carefully about your existing followers and your target audience. What are they interested in? Take a look at all the different types of contest you can run. Then choose the format your followers will find most exciting. Try to think of a prize they'll find irresistibly tempting, and which is relevant to your brand, product or service.
Run a classic comments giveaway
One of the most popular Instagram contest ideas is a giveaway based on comments. It's simple to set up, and easy to choose a winner afterwards.
Top tip: Remember that you must have an Instagram Business profile to run a comments competition. Follow our quick tutorial to make sure your business profile's set up and ready to go!
Celebrate with comment contests
Your calendar is your new best friend. Look out for holidays, special events and national days that could be relevant to your brand. For example, if your business sells stationery supplies, you could plan giveaways for the back-to-school rush, the end of summer exams and more.
Don't forget the traditional seasons and holidays, too. Spring, summer, autumn and winter are all great opportunities to remind your customers of useful, relevant products. Traditional holidays such as Thanksgiving, Christmas, Valentine's Day, Hanukkah and Eid are all opportunities to celebrate the festive season with your followers. Sports tournaments like Wimbledon or the World Cup can kick off some great giveaways, too.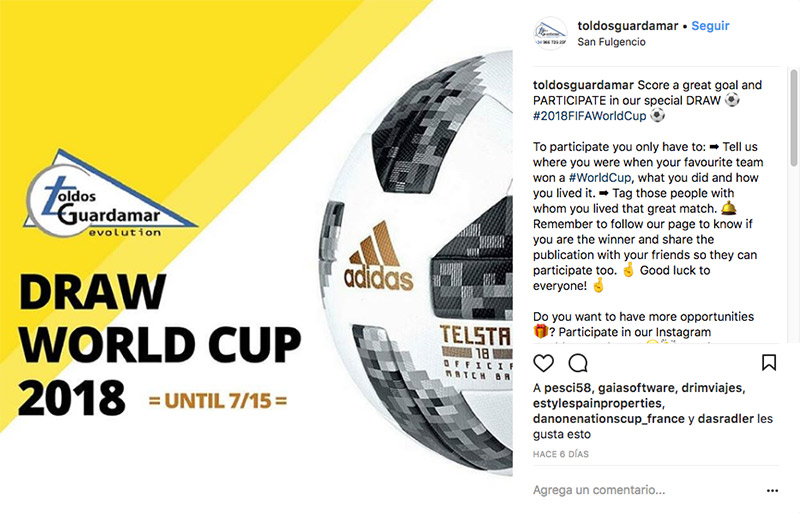 Top tip: Sometimes it seems like a new celebration is being added to the calendar every day! Try using a site like Celebrate Every Day to keep track and find inspiration for new Instagram contest ideas.
Contest countdown
If there's a lot of excitement for an upcoming holiday, consider a countdown series of giveaways. For example, you could offer 12 contests for the 12 days of Christmas. You could offer a giveaway for each round of a sports tournament, too.
If you're running a countdown contest over several days, you can require your followers to comment on a minimum number of posts. So if your giveaway series has six posts, followers must comment on six posts for a chance to win. Our new comment filter tools make sure that participants can only win if they participate fully.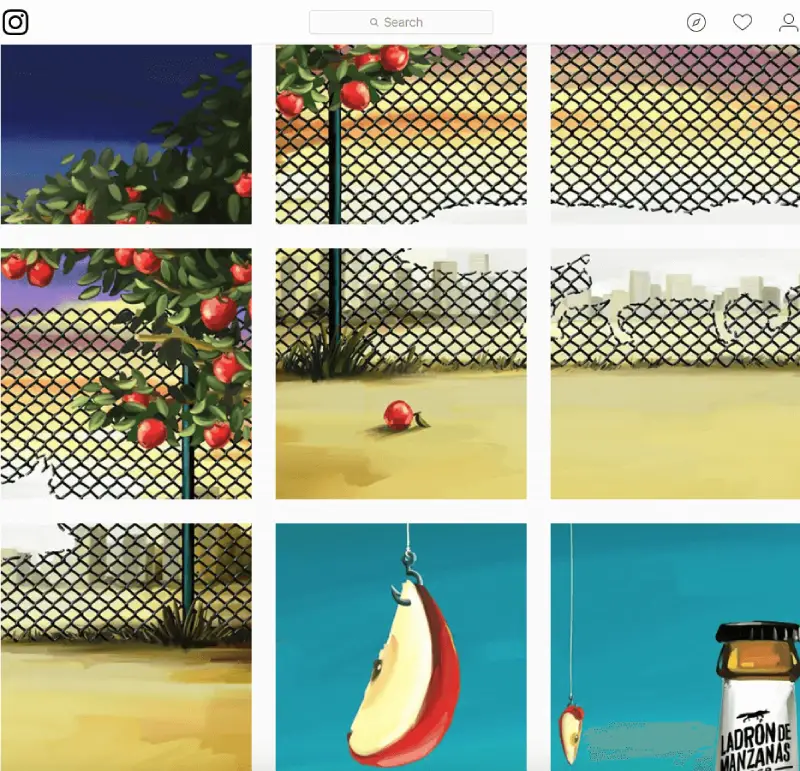 We love this example of a giveaway series from a popular Spanish drinks brand. Each photo in their Instagram Profile grid is part of a different giveaway. Followers were motivated to check in every day, take part in the giveaways, and see the picture building up!

Here's another cute example. An Instagram account dedicated to new mothers set up a seven-day giveaway. Each day, mothers were encouraged to take 10 minutes for self-care. Then they could comment with the campaign hashtag, describing what they'd done to make that day better. In return, they had the chance to win desirable prizes such as an organic body scrub or a pedicure.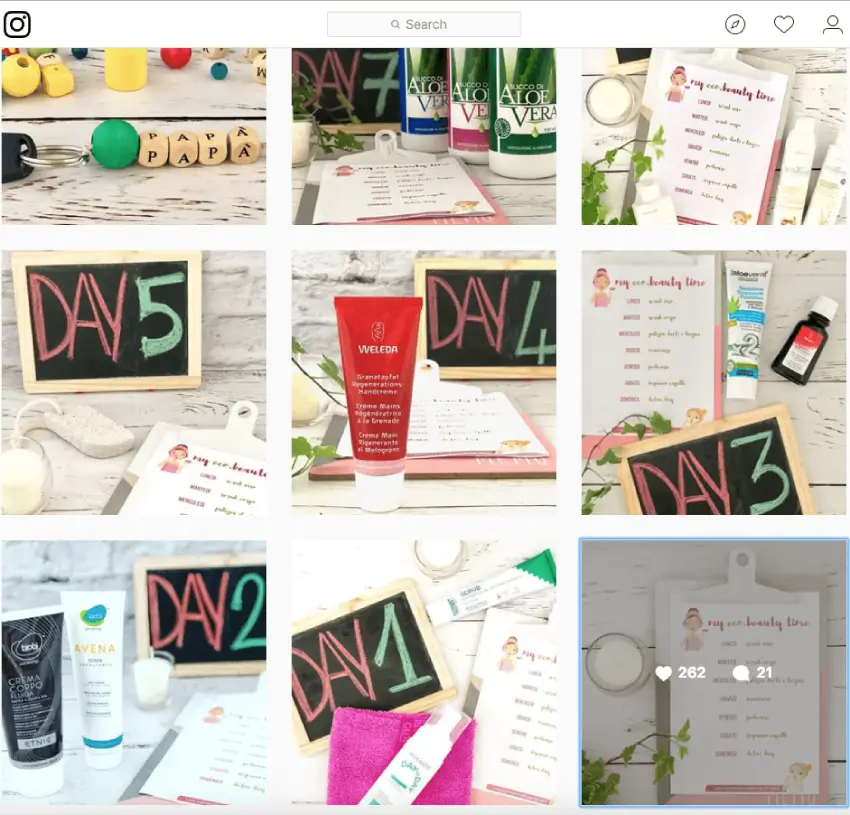 With a little help from your friends
Instagram users really do put the "social" into "social media". They like to share with friends, tag them, and include them in exciting opportunities such as giveaways. So you should be making the most of this friendly, generous atmosphere to publicize your giveaways and build new connections.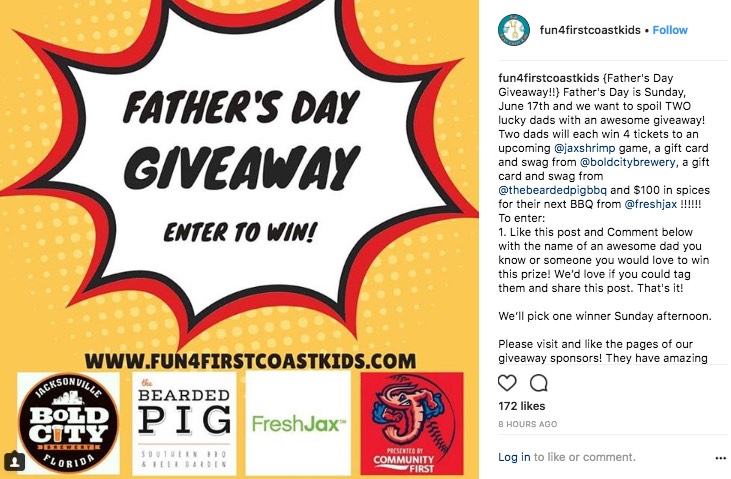 Why not run a contest where participants comment and tag their friends to enter? This is a great way to increase brand awareness and encourage followers to promote your brand. Of course, you can also choose to combine this with a theme or seasonal celebration. In the example above, followers are celebrating Father's Day by tagging their dads! And we've collected some more friendship-themed inspiration here.
Run a regular prize draw
It's not enough to just add new followers – you want to make sure you retain your faithful fans. It's important to build a strong relationship over time and encourage brand loyalty. The best way to do this is to make your followers feel seen, heard, and appreciated!
Consider running regular prize draws. For example, you could offer a giveaway based on Instagram comments once a week, or once a month. This strategy gives your profile and exposure a regular boost. It also helps you to build your audience slowly and organically over time. Your followers will then feel valued and rewarded, increasing their loyalty to your brand.
Make sure you change things up regularly. Research new Instagram contest ideas, offer a different theme for each giveaway, or make it topical. Choose prizes that your followers will love, and refer back to popular posts.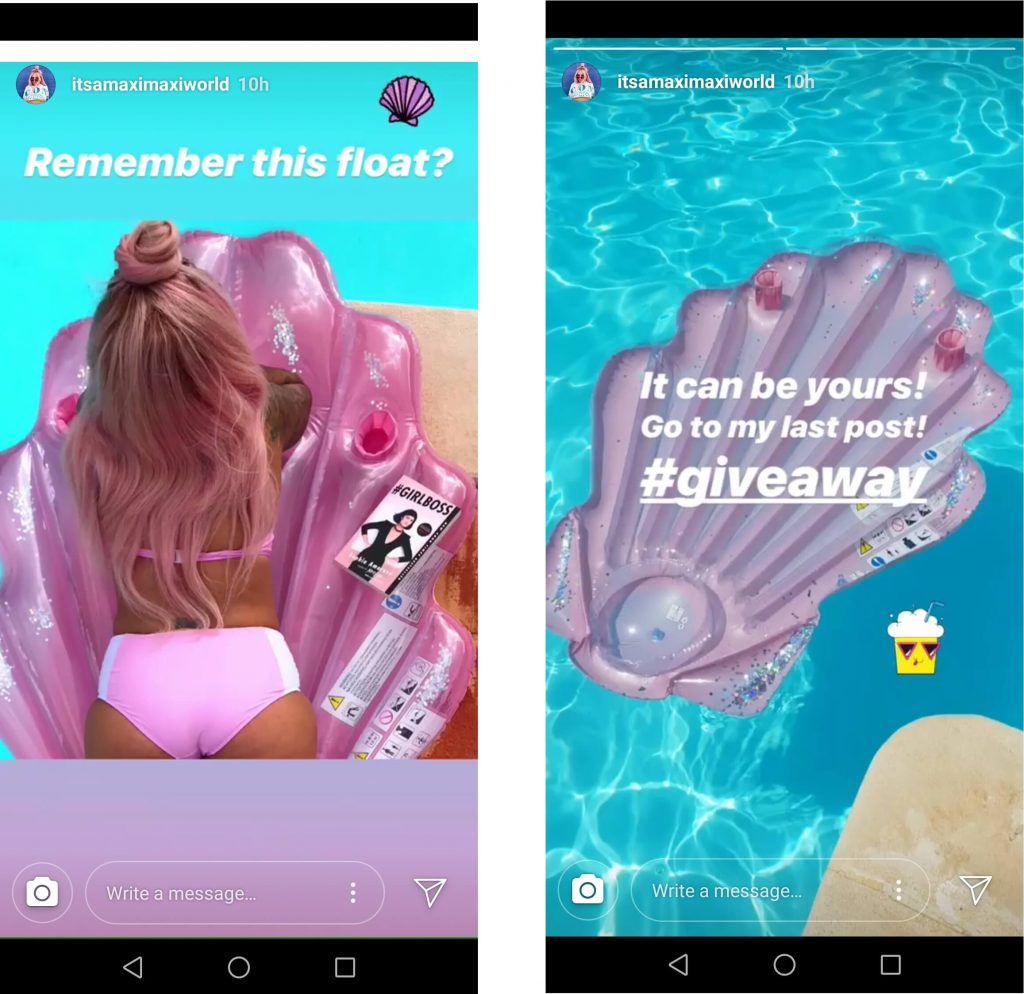 More Instagram contest ideas
Comments aren't the only way to run an Instagram giveaway! In this section, we've collected the latest, most innovative Instagram contest ideas. Learn how to use Instagram and Easypromos features to tempt your followers with exciting new contests.
Run an Instagram hashtag contest
In this type of giveaway, you ask followers to post photos or videos on their Profiles using your competition hashtag. Make sure your hashtag stands out! You can encourage users to post selfies or show themselves using your products. Alternatively, you could set up a photo contest with a theme that's relevant to your brand. Then use the Easypromos platform to collect all the posts made with your hashtag, and randomly select the winner.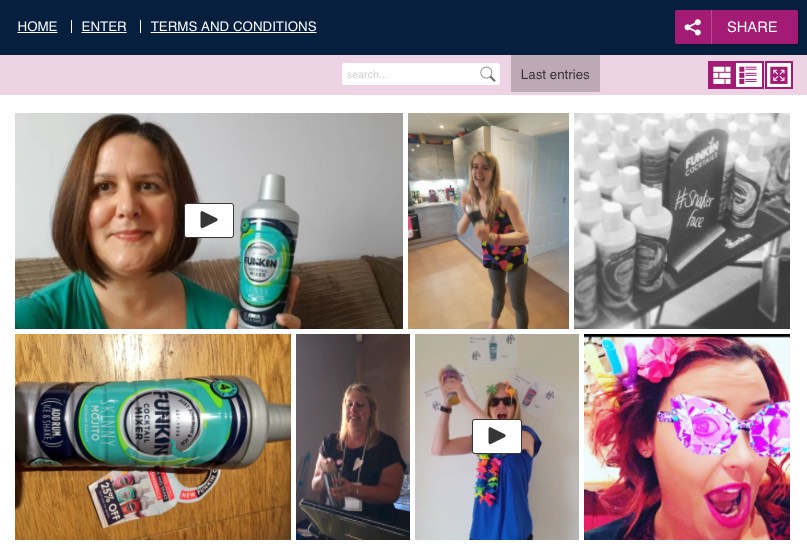 Another type of hashtag contest is when you ask users to include your hashtag in their comments. You can use our comment filter tools to make sure that the winner is selected from commenters who followed the rules and used the hashtag correctly.
Top tip: Some brands use Facebook Ads to give their promotions even more visibility. Easypromos' smart platform can collect comments from the original post and the Facebook Ads post, too.
Link in bio
You might prefer to run a promotion outside Instagram. Then you can run more types of giveaway, and share it on multiple social networks. In this case, the best option is to create a promotion with its own microsite, for example, a sweepstakes with entry form to obtain new leads. Then you can share the link on Instagram, Facebook, Twitter and more. However, remember that links in Instagram posts, Stories and comments aren't "live". Your followers can't access the link just by clicking.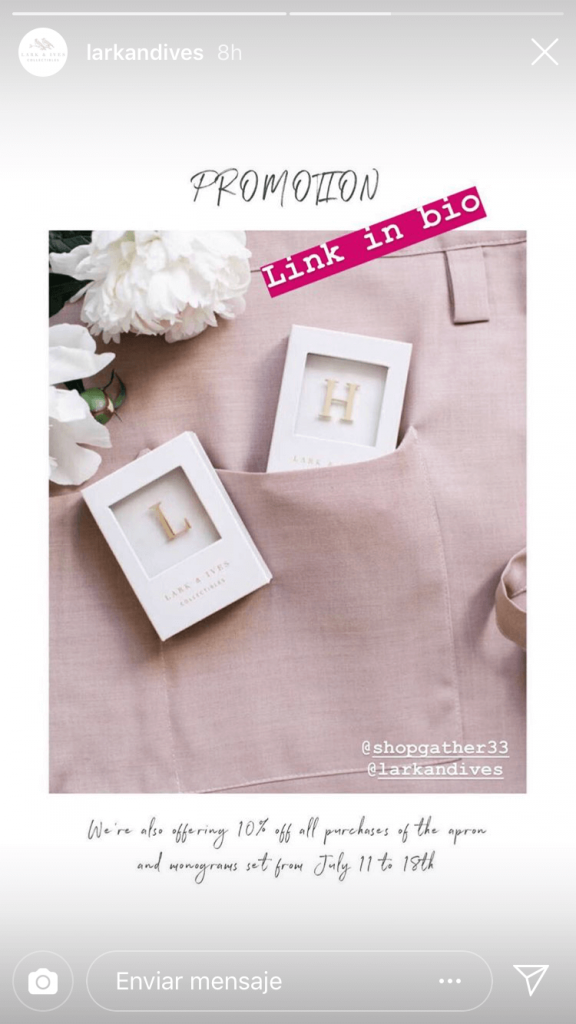 Instead, you should share the link in your bio. If your Instagram account is connected with Facebook Ads, you can also post a Story with Facebook Ads that features the live link. And of course, don't forget to highlight the giveaway in your posts and Stories.
Top tip: If you want to run multiple giveaways, or share several links with your followers, use a service such as Linktree. This connects users to a list of links from your Profile bio.
Even though your giveaway is hosted on a separate microsite, you can still gather data for your Instagram marketing strategy. With Easypromos' latest social login update, you can require users to log in with Instagram or Facebook to take part. So you'll still be able to collect customer information, while enjoying the benefits of an externally-hosted giveaway.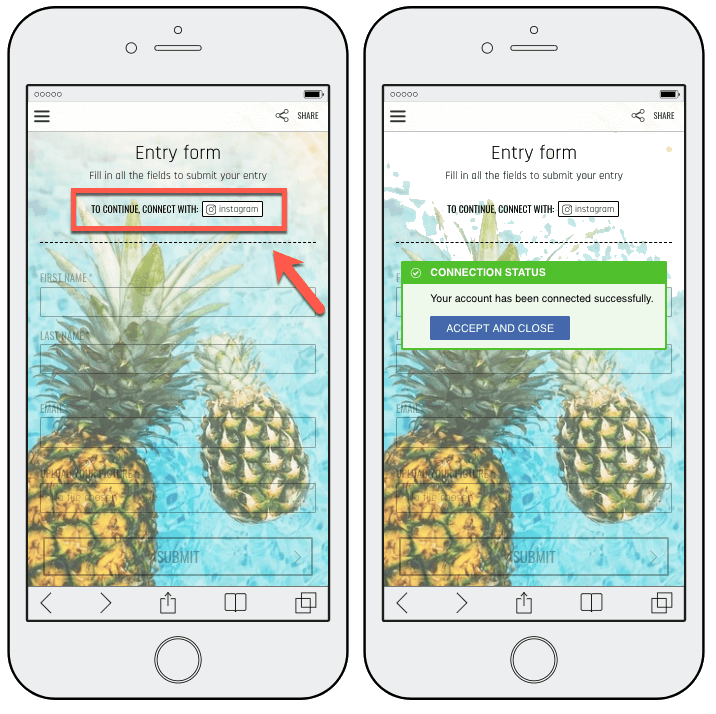 Share on Stories
It's not yet possible to run a giveaway directly from your Instagram Stories. However, there's still a ton of Instagram contest ideas that make the most of Instagram Stories! Stories are a fantastic way to reach followers. You can update them in an instant, and build a more personal relationship with your fans.
If you have a verified Instagram profile or you use Facebook Ads, you can include a live link to a promotion in your Stories. Don't have access to those features? Don't worry!
You can still use Stories to highlight the giveaway and attract more followers. Put a direct link to your Profile in your Stories, so users can click through to find a link in your bio. Use Stories to share the hashtag for a photo contest. Announce the winners of your promotion with a live video. There's a million ways you can use Instagram Stories for giveaways – check out our best ideas here, or learn how to announce competition winners in your Stories.
Build your brand's reputation
There's one other aspect of giveaways which most people never consider. Instagram contests are an important opportunity to show that your brand is trustworthy, transparent and reliable. By running a fair competition and being upfront about how it works, you can impress followers with your values. So here's some advice and tools to help you out.
We never recommend contests based on Instagram likes. It's very difficult to ensure that this kind of contest is fair. Using likes as a voting system is not reliable! If you want your followers to vote on competition entries, use the app for hashtag contests instead. You can import users' competition entries to a public gallery, and use Easypromos' voting system with antifraud features.
You can use a range of other tools to make your contest free and fair, too. Easypromos ensures that each follower can only take part in a contest once. The system selects winners at random, and excludes or blacklists any users who break the rules. When you run a giveaway and select the winners, a certificate of validity is created. Then you can share this with your followers. They'll be reassured that the contest has been open and above-board.
Finally, don't forget to include terms and conditions! Easypromos offers a free tool to write, edit and host the legal details of your Instagram contests.
Over to you
With all these Instagram contest ideas, we're sure you're already full of inspiration. Get started with an Instagram giveaway today!
Publication date: 2018-02-13