The client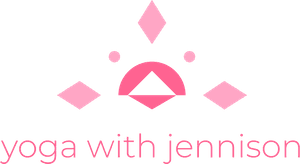 Jennison Grigsby is a California girl who ended up in Valencia, Spain, where she's spent the last five years building her business "Yoga with Jennison". She offers weekly yoga classes in the old Turia riverbed in Valencia and unique and quite popular monthly full moon yoga sessions on the beach. She also organizes different national and international yoga retreats.
Since Jennison started as a yoga instructor in Valencia, her goal has been very clear: to create a community through yoga. She emphasizes it in the introduction to any class and she always integrates partner and group yoga poses in her classes.
Social media as a support for offline events
Jennison uses Facebook and Instagram as a community-building mechanism. On her profiles, she shares new event dates, pictures from events, news, and other brand activities. On the online side, she offers brief online courses, for example, "Find Your Happy" and "Warm up for Winter". Her blog is the main sales channel for her yoga retreats. On all her platforms, she uses spot-on hashtags and posts, nice pictures, and good humor that all together let her personality and drive shine through. Her yoga students also willingly post their achievements and the good time they've had in her classes.
With the COVID-19 virus lockdown started in Spain, Jennison found herself with a lot of already planned events, classes, and retreats canceled and no income stream for the next months. Now what? "I was devastated, I felt as though the earth was crumbling beneath me. As a small business owner, I have spent the past five years creating this business, my heartwork. I have put so much passion and love into my work that I needed time to grieve the loss. I canceled all of my international retreats as well as my local classes. I thought I was left with nothing. It was difficult to process, but I knew it was necessary. After a few days of letting it all set in, I began recreating and rethinking how I could remain connected to my community and continue to share yoga," says Jennison.
The need to move from offline to online
Jennison started by creating recordings of online yoga sessions that her yoga students could enjoy from the safety of their homes, at their own pace. She did this through a series of recordings in private YouTube lists she called "Find Your Zen in Quarantine" and "Lockdown Yoga Bingo". Next up, Jennison started giving live classes via Zoom so the participants could chat together, share stories, and feel connected.
"I am constantly inspired. Usually by focusing on the needs of those in my community. I knew that everyone would be home and more or less sedentary, with a packed schedule of working from home, caring for children, etc. I also knew that they would have a desire to connect with others," says Jennison. She also offers weekly free "Sunny Sunday Yoga" sessions on Instagram Live.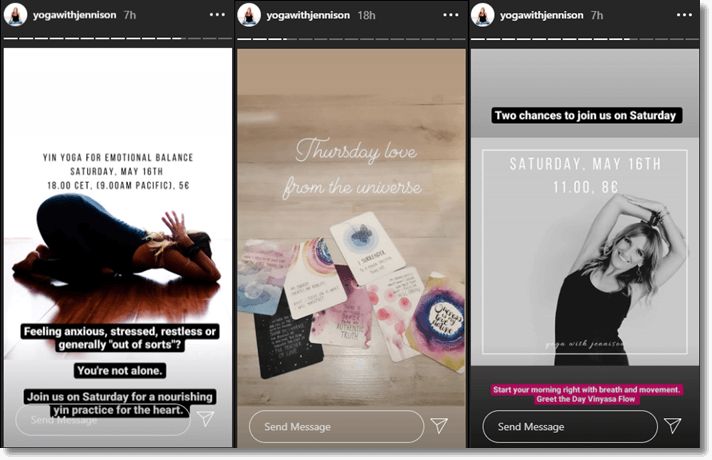 Over the years, Jennison has had to learn how to manage her social media, website, and blog. She's still constantly learning and working with these channels daily. With the need for more constant video recording and online screening sessions, she sourced technical support.
"I would not be where I am today without my husband. Not only is he my number one fan, but he is constantly working behind the scenes for me. He is my in-house technical support, which has been so appreciated during this time as I have transitioned my entire business online. He cares for our son while I teach my classes (and keeps him quiet, haha), he helps me to record and edit my videos, adds music, updates my website, and so much more. He is a huge part of the 'Yoga with Jennison' team," says Jennison.
Jennison launched a new dynamic website during this time. Her husband had been working on it for a year and due to the lockdown time together the site project is now live.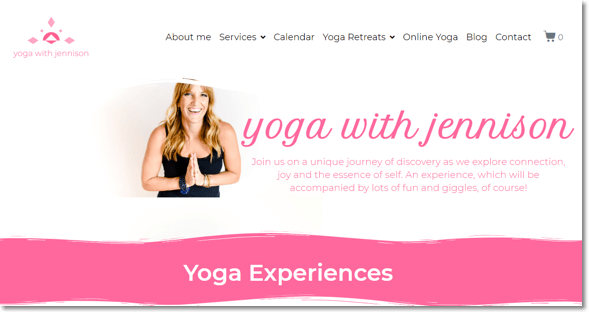 Pros and cons of teaching online
Teaching online felt strange at first, especially managing the technical side while teaching but Jennison adjusted to it rather quickly. She feels lucky to have very understanding students when there has been any sort of glitches on the technical side. She misses leading classes in person, the community they've created in Valencia and being able to greet each student with a hug. But being forced to go online has also had its benefits. "I have been able to connect with people from all around the world and teach my classes with students who are participating from various countries, at the same time. It is truly beautiful. I have especially enjoyed connecting with friends and family in California and would love to keep that going," says Jennison.
Jennison is already thinking about the future. She's now convinced that incorporating both online and offline classes in the future will help to expand her reach and allow her to connect with a broader audience. "This is something I am so passionate about. I have been really grateful for the ways that teaching online has allowed me to continue to connect with amazing individuals, through yoga. I think online classes will not only be useful for sharing yoga with individuals in other countries, but it is a convenient way for my local students to participate in class as well! I imagine I will teach once a week online and continue with teaching a few times a week in-person in Valencia," explains Jennison.
Creating more community through social media giveaways
During the lockdown, Jennison organized giveaways on her Instagram profile, both solo and with collaborators. One of them was the "Yoga with Friends" giveaway. To participate, users had to comment on the giveaway post telling how yoga has helped/benefited them during the past month. They were also required to mention two friends that they would like to share a private, online, yoga class with. This allowed friends from around the world to share a yoga class together.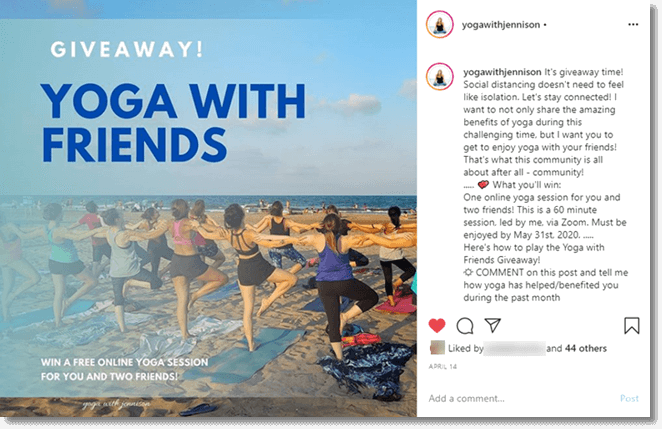 "I personally love going to yoga classes with my friends and I thought it would be a fun way for a group of girlfriends to connect during this interesting time. The giveaway went really well, there was a lot of interest and excitement around the idea. Many participants tagged friends in other countries. I think they saw it as the perfect opportunity to connect and maybe even reconnect with friends in other countries," Jennison tells.
Testimonial
Social media is one of the most effective ways to share classes and events these days. I will, without a doubt, continue to share my offerings through social media. I love the idea of sprinkling in some fun promos and giveaways along the way! And Easypromos really lived up to its name. It was a really simple, user-friendly platform and I will definitely use it again in the future.
– Jennison Grigsby –
Founder of Yoga with Jennison