The brand behind the Instagram giveaway success case

Tombow is a worldwide art and craft brand, well-known across North America for its high-quality tools such as Dual Brush Pens, art markers, colored pencils, drawing pencils, erasers, fine pens, adhesives/glues, and correction tape. Tombow's goal is to create the world's best products so that artists and crafters can create their best work.
In the last years, Tombow has grown its social media profile massively. Instagram is a key component of their social media marketing strategy, and they have developed a highly skilled team to keep up. In 2017, they received Ragan PR Daily's Digital PR & Social Media Award for Best Use of Instagram. The brand regularly launches comment giveaways which are finalized with the Easypromos Instagram giveaway picker app. The application was also used in their 12 days of Christmas campaign.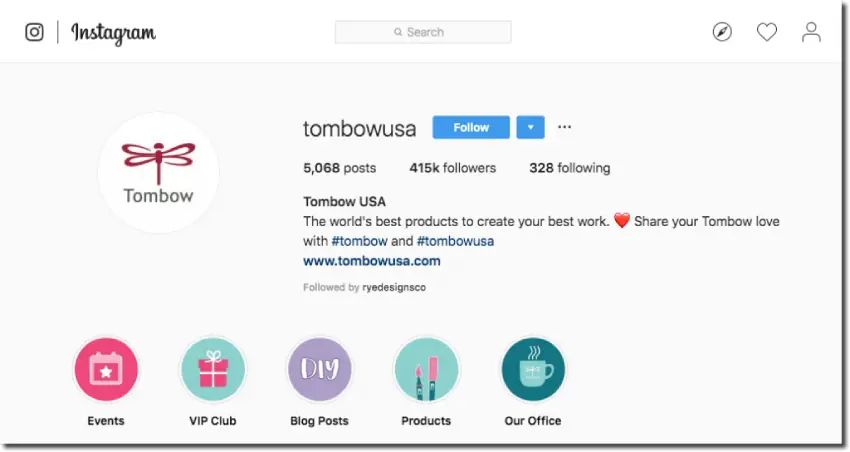 Objectives that were set for this Instagram giveaway
Since 2015, Tombow's Instagram followers have increased from 2,000 to over 400,000 people. At first, this boosted their website sales – and in 2018, they received access to Instagram's shoppable posts as well.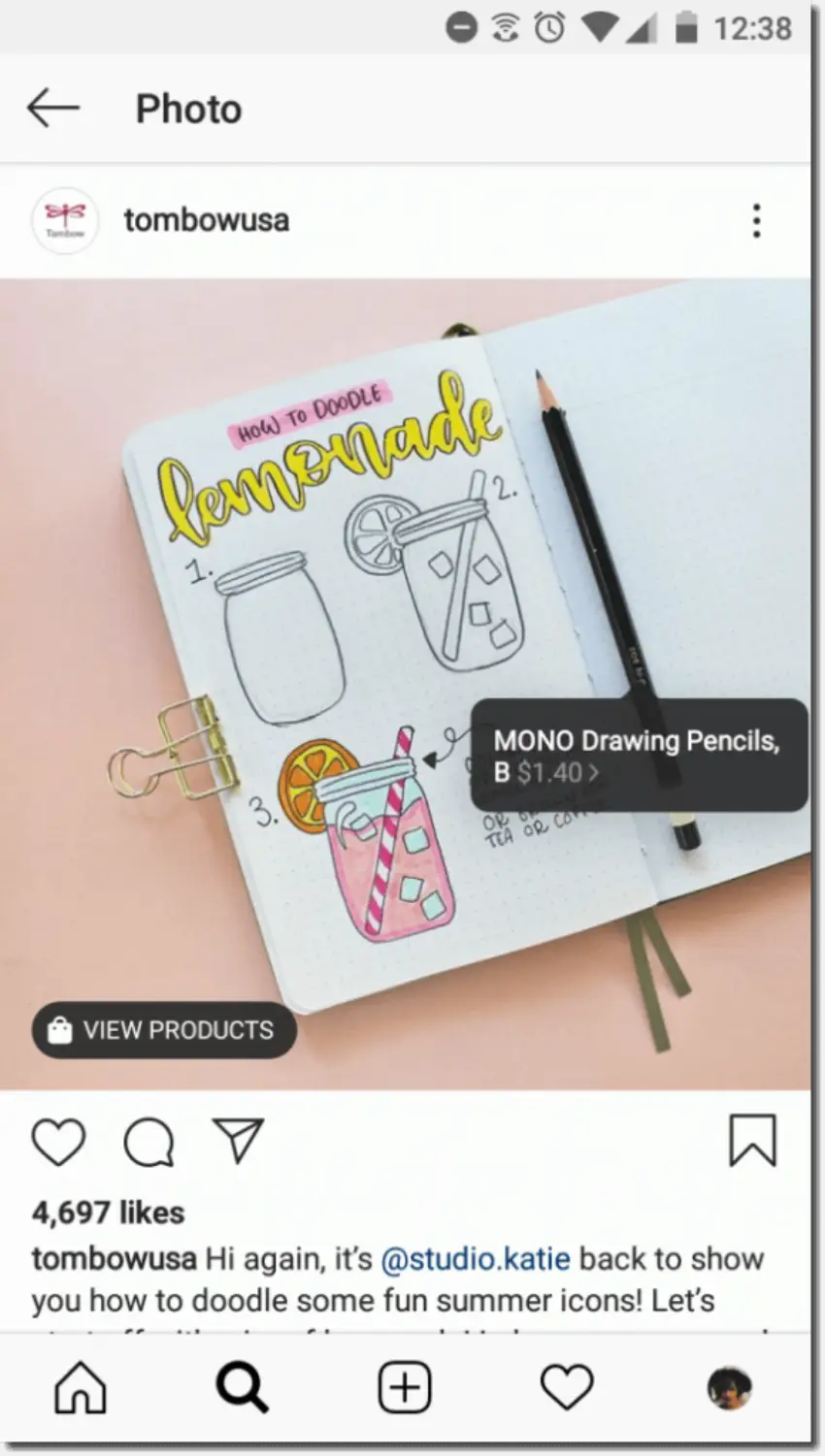 "Anytime we start a new marketing campaign or initiative, we think about how we can promote it on Instagram and involve our fans," says Brittany Luiz, the Media & Public Relations Manager responsible for growing Tombow's online presence. "We love hearing their feedback, communicating with them, and giving them opportunities to interact with our brand."
As part of that strategy, Tombow wanted to give back to their fans, artists, and collaborators at Christmastime. The challenge was to bring customers and creators together with some festive cheer.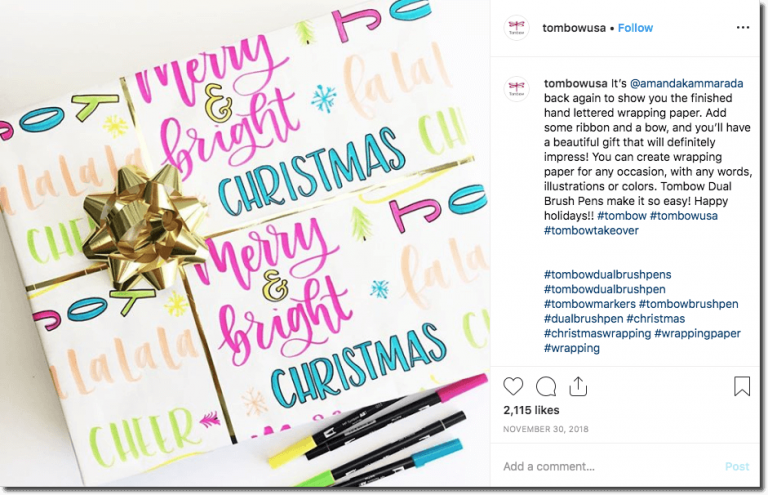 Looking for more Christmas giveaway examples on Instagram? Head to our Christmas Hub to see many festive ideas and discover free promotion resources for the 2021 holiday season.
Instagram giveaway success case: the campaign explained
Tombow decided to increase their social media engagement with a giveaway – but they wanted to make their Christmas campaign stand out from the crowd.
First, they decided to create an Instagram Christmas giveaway, that consisted of a giveaway series for the 12 days of Christmas. This was a clever strategy to hold people's attention for almost 2 weeks, during the peak season for Christmas gift shopping. They wanted to make sure that the winners were picked by a transparent and reliable tool; hence they opted for the Easypromos Instagram giveaway picker.
Second, they created prize bundles in association with artists and suppliers.
For example, on the 12th day of Christmas, Tombow gave away a 10-pack of their new Fudenosuke color pens… and a set of planners and planning material from their partners, Bloom Daily Planners.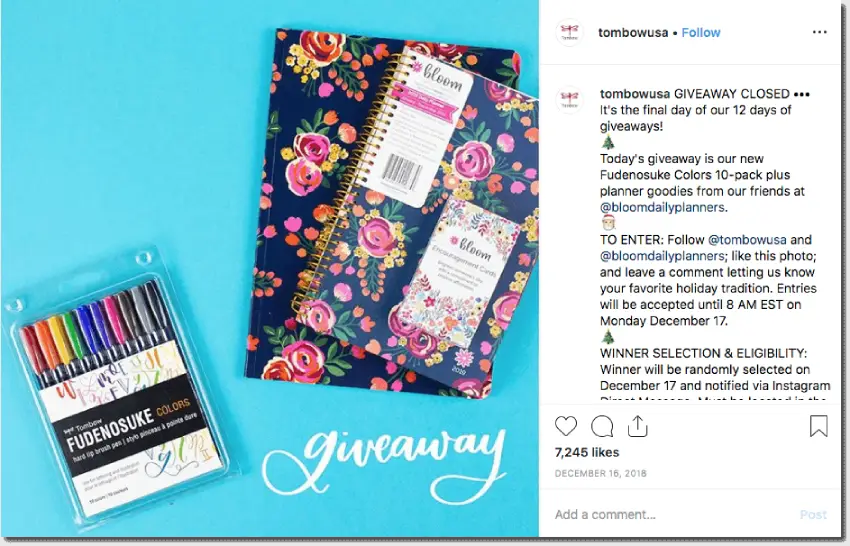 And on day 7 of the Instagram Christmas giveaway, they gave away a set of pens in holiday colors, along with a copy of Hand Lettering For Relaxation by author and craft influencer Amy Latta.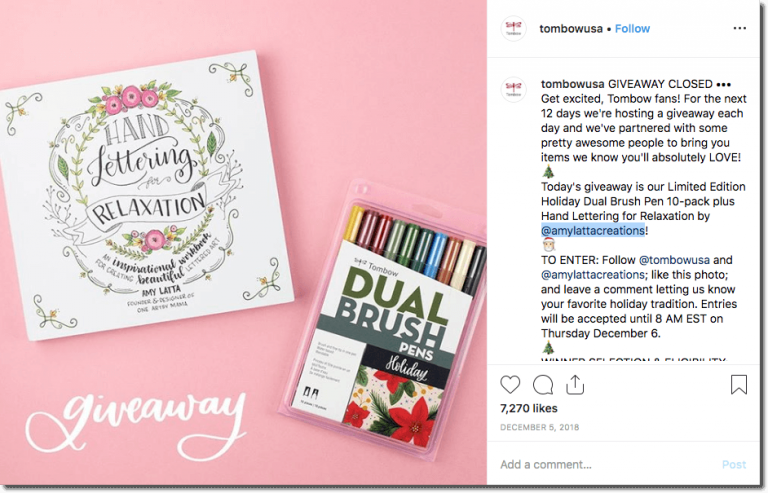 The brand kept engagement high by using a similar design for all the giveaway posts. That way the followers could instantly recognize and join the competition each day. And they made it easy and entertaining for users to take part: they just had to comment and describe their favorite holiday tradition.
The only problem was the sheer volume of comments. Tombow receives up to 8000 comments on each giveaway post! They needed an easy, automated Instagram giveaway picker to process all the comments and select a winner of their Instagram Christmas giveaway.
"We started using Easypromos in 2018," explains Brittany Luiz, "[so] we figured it would be the perfect year to try to execute the 12 Days of Giveaways campaign."
The result of the Instagram Giveaway picker success case
Most of the Instagram Christmas giveaway posts received around 7,000 likes and a similar number of comments. Inviting people to follow Tombow and their collaborators led to an increased audience for all the brands and influencers involved.
"The promotion was definitely a success!" Brittany reports. "Several of the giveaway posts ended up being some of our best performing posts on Instagram for the entirety of 2018. It's a campaign we will likely continue to do year after year."
Testimonial from the Instagram Giveaway organizers
The Easypromos platform definitely lives up to its name! It's incredibly easy and straightforward to use and makes giveaway management very simple. I love that we can exclude previous winners and select back-up winners. And the ability to really customize the parameters of each giveaway campaign is fantastic.
Brittany Luiz
– Media & Public Relations Manager –
Feeling inspired by this Instagram giveaway picker success case but you're not sure where to start? We have more than 50 Instagram Giveaway templates – go ahead and find the one for you!