Posted in: Digital marketingLast update: 28/03/19
Online sweepstakes and contests are an excellent way of obtaining leads. These leads can then be loyalized and encouraged to make purchases. Today, there are a variety of tools that can help you make the most of your leads. One of these tools is Microsoft Dynamics, a CRM that could be your biggest ally when it comes to managing and making the most of your leads. If you don't know how to combine Microsoft Dynamics with Easypromos, don't worry. We'll walk you through it.

Why integrate online contests with your Microsoft Dynamics CRM?
Microsoft Dynamics is a CRM system that adapts to your requirements, offering you scalable data models and allocation tools whose purpose is to cover the needs of both your business and your users. It's a system that enables you to access the data and information you need, whether you're online or offline, adapting to different languages and time zones so that you can compete all over the world. But Dynamics offers even more than that:
Foster your customers' loyalty. By combining information from internal and external sources you'll be able to get to know your customers better, to understand their preferences and behavior. This translates into superior customer care, as the detailed information you have on your customers will enable you to provide them with service that is tailor-made to their requirements. This, in turn, will help ensure that your customers stay loyal to your brand.
All your resources in a single place. Dynamics provides all the information you could need in one place and it is accessible at all times. You decide if you want to access a complete or segmented visualization of the data.
Optimized sales processes and increased productivity. Enjoy the advantages of having all the smart applications you could need, working together effectively in the cloud.
Access information in real time. You decide when, where, and from which device you wish to access the data.
Extra assistance when managing your marketing strategies. By unifying sales and marketing you can get the most out of the leads as you obtain them.
Microsoft Dynamics integration with Easypromos via Zapier. This tool will enable you to collect all the data collected from your contests and send it securely and automatically to your CRM Dynamics. You'll be able to work from within your system with all the leads you've obtained, getting more value from your leads by targeting them with future promotions and encouraging them to advance through the sales funnel.
With all these advantages, why not take the opportunity to link your leads obtained through Easypromos contests and sweepstakes with your Microsoft Dynamics CRM? If you're looking to maximize the results of your online promotions and provide your users with more effective administration, connect your CRM with Easypromos. You can do it from your Premium or White Label promotions.
How to feed your Microsoft Dynamics CRM with leads from your promotions via Zapier
To feed your CRM with data from your promotion leads, the first thing you need to do is create your contest with one of our apps. Carefully define which fields you want participants to complete when they fill in the registration form, because this is the data you'll be capturing from your lead. Remember that the number of fields in a form depends on the type of contest and prize being offered, as well as on the type of participant you are aiming at. If your objective is to loyalize existing customers you can ask for more personal information, such as gender or telephone number; if your contest is open to your entire community and you're looking to capture new leads, then just a name and email address will be enough for establishing first contact; if you're interested in finding out participants' opinions on a product for example, you can create a registration form with closed-ended fields.
The second step is to connect your promotion to your CRM. To do this, go to the Integrations section of the main menu of the promotion. You'll see that integration with Microsoft Dynamics via Zapier is one of the preconfigured connections. Follow all the steps until you arrive at the Zapier sign-up screen.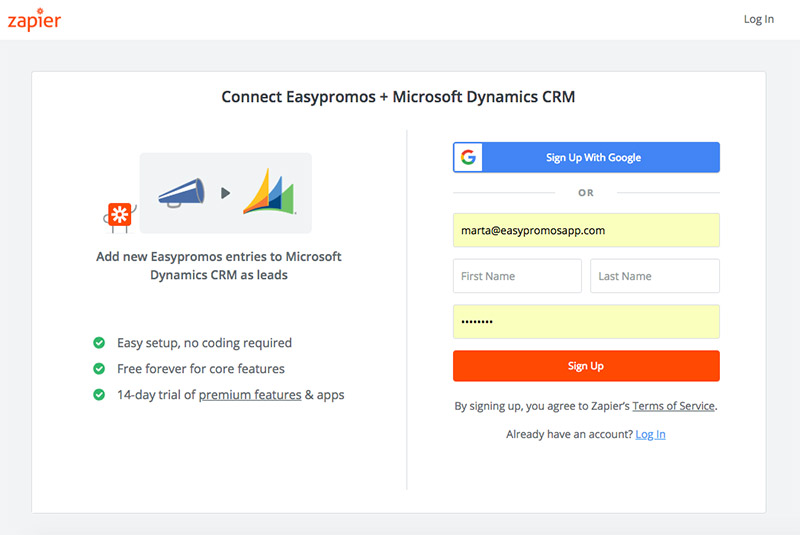 Once you've connected your online contest with Microsoft Dynamics via Zapier you'll be able to set up the fields you want to link to, say where you want the data to be stored, and much more.
Are you ready to connect your online contests with Microsoft Dynamics? Find out more about the possibilities we offer with Zapier and learn how to integrate your promotion.

Publication date: 2018-06-01