Posted in: Applications,Applications for InstagramLast update: 20/06/18
The World Cup is here and plenty of companies are already making the most of it by launching World Cup-related online marketing campaigns. Soccer fans are more active on social media during the World Cup than at any other time, thirsty for news about their favorite teams and eager to discuss the matches and debate events as they transpire. And of course, soccer fans are also more likely to be attracted by World Cup-related free gifts and promotions. There's no doubt that during this tournament, fans are even more in love with 'the beautiful game' than usual, so there's no better time to surprise them with a soccer sweepstakes. In this post we're going to look at how to launch a World Cup Instagram sweepstakes to inspire your community. ?
Reasons to run an Instagram sweepstakes during the World Cup
As you know, Instagram is one of the most successful social networks in the world. Its popularity makes it extremely attractive to brands. In part because of the sheer number of people who use it, but also because the network offers brands the chance to learn about their community of followers from the content they share, as well as from their participation in contests and sweepstakes. Now we've touched on the potential of Instagram, let's proceed to pick one of two promotion types: comments sweepstakes or a photo and video contest with hashtag.
Sweepstakes based on comments on a post
One interesting option is to launch a sweepstakes in which users have to comment on a post on your Instagram profile. Once the participation period is over, the winner/s will be chosen at random with the Instagram Sweepstakes app. Of course, to attract and loyalize as many soccer fans as possible, and to boost user engagement and interaction, this post should be related to the soccer World Cup. This type of contest can also lead to an increase in your numbers of followers. To achieve this, we recommend you ask users to tag friends as a requirement for taking part: this will help you viralize the sweepstakes.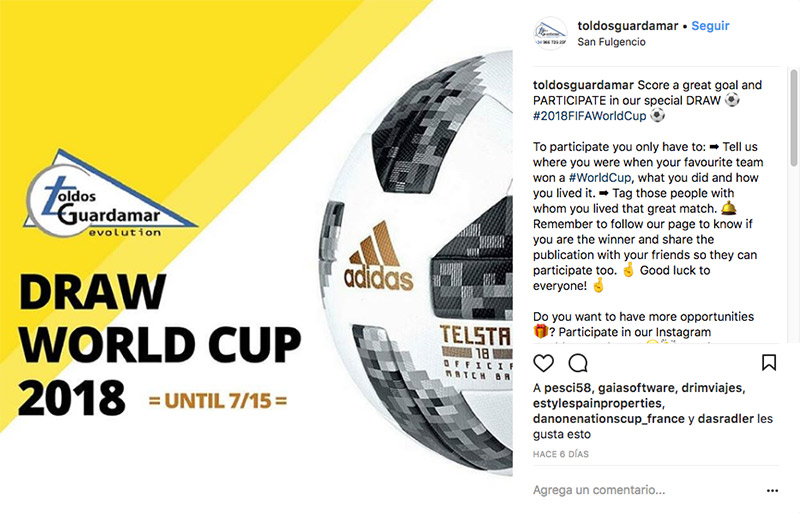 Sweepstakes using your campaign hashtag
Another option is to carry out a World Cup photo or video contest, asking participants to post their entry from their account, along with the sweepstakes hashtag. All the photos and videos will be displayed in a public gallery. You can pick the winner/s one of three ways: directly and randomly from the Instagram Sweepstakes app, via a voting system or with the help of a jury. With the app you can also download the files into a compressed folder. This will come in handy when diffusing the sweepstakes and storing the audiovisual content generated by the contest. This type of contest is a great way of involving users and ensuring that they are the ones generating content (User Generated Content), while increasing brand awareness and loyalizing your followers.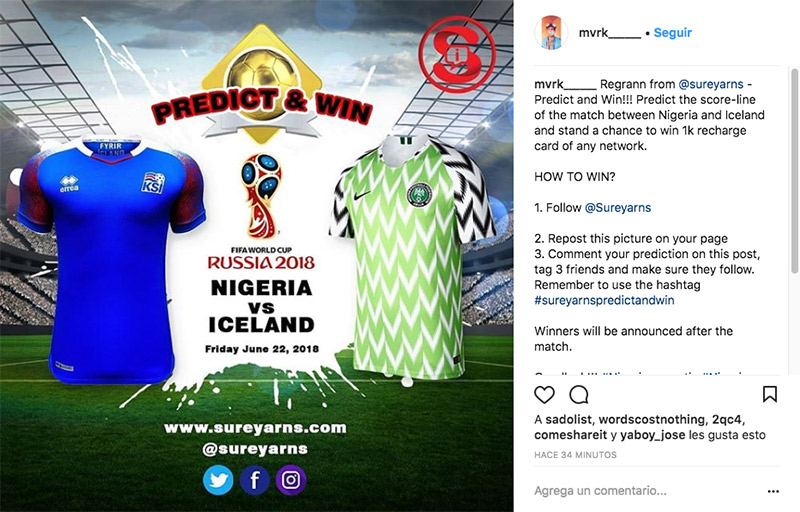 Why use our Instagram Sweepstakes app?
Whether you choose to run your sweepstakes based on comments or hashtags, the Easypromos Instagram Sweepstakes app is just what you've been looking for. Forget about wasting time gathering information from your participants. Our app is very simple to use and provides a range of valuable benefits:
All comments within your reach. With our app you can import the comments left by participants during the participation period automatically and all at once. You can even download an Excel file containing all the users and their comments!
And the same goes for hashtags! With our app you can automatically import all the users who have shared a post containing the sweepstakes hashtag – including photos and videos uploaded during the contest.
You can also filter by hashtags and number of mentions per user. Based on these features you have the option of applying automatic rules of exclusion and viralizing your sweepstakes organically.
Choose your winners and alternates randomly and simply, with just a couple of clicks.
Your list of winners ready to be published. When the sweepstakes has finished you'll receive a link to a page containing the list of winners. This page comes ready-to-publish, but it can be customized first if you prefer. You can also generate a certificate of validity to guarantee to participants that the sweepstakes has been carried out transparently and randomly with Easypromos.
So, what are you waiting for? You still have plenty of time to carry out your Instagram World Cup sweepstakes. Launch it now!
Publication date: 2018-06-20