Posted in: Ideas for your websiteLast update: 30/08/21
Marketing is famously about delivering the right message, to the right person, at the right time. Today we're going to focus on sharing that message with a very specific group of people. Getting to know Generation X will help you understand your audience, segment your marketing strategy, and design a promotion that's exactly right. So let's talk about how to help your brand reach Gen X…

Generation X is pretty special. Those born between 1960 and 1980 were the first to grow up with computers and the Internet as a presence throughout their lives. Now they're known as a generation of go-getting, optimistic entrepreneurs with sophisticated tastes. In this post, we'll learn more about what characterizes Generation X. And we'll also share some suggestions for how to connect with Gen Xers through contests, competitions and giveaways.

Who are Generation X?
In order to reach your Generation X audience, you need to get to know them. Here are some classic Gen X characteristics:
They live their lives (partly) offline. Although this generation grew up with home PCs and mass-market technology, they still enjoy offline hobbies, sports, and the great outdoors.
They're children of the Information Revolution. Gen Xers have enjoyed a long list of innovations, including desktop PCs, VHS tapes, cassettes, CDs, and the explosion in internet use.
They've witnessed historical and social change. The consumerism of the 80s and 90s, the fall of the Berlin Wall, the end of the Cold War, the end of British colonial rule, the miners' strikes in England, the War on Drugs in the US… They've seen it all.
They're all about work/life balance. Generation X have built a reputation on their work ethic and pragmatism. But they care about balancing work commitments with time for family, friends, and leisure activities.
They're faithful fans – and friends. Gen Xers stand out for their commitment to the same values and tastes throughout their lives. So they keep friends for life, and they still love rock and roll.
Gen X just wanna have fun. This generation grew up in a time of economic growth. They still enjoy the good things in life: comfort, good food, travel and high-end technology.
They want products with personality. Generation X will gladly pay for products and services that they identify with personally. Mass-produced goods don't interest them so much.
They like to work in a team. They collaborate with colleagues, and don't believe in hierarchies. Instead, they treat authority figures as equals.
They're ready for a challenge. This generation of entrepreneurs likes to see projects through. And they're not just motivated by ambition, but a desire to support their team too.
Generation X online
Now you know what makes Gen X tick, let's see how that shows up in their social media habits.
They use digital and traditional media. Gen Xers use the latest tech, such as smartphones, as well as traditional devices such as television. So the best way to reach them is through digital and traditional channels. Make sure your campaigns combine digital and traditional marketing.
They watch videos online. Video is a powerful tool for attracting Generation X's attention.
They use social networks to connect with their tastes and hobbies. For example, Gen Xers who enjoy travel will search for plane tickets, hotel reservations, and information about tourist hotspots.
They use the web for practical info and advice. As well as looking up leisure activities, Generation X turns to the internet for day-to-day searches, such as recipes or opening hours.
Facebook is their favourite network. Keep this in mind when you launch your digital campaigns. YouTube, Twitter and Google+ all come in second place, and Instagram – the millenials' favorite – barely makes an impression.
How to create giveaways for Generation X
There's one thing that's true of every generation: they love a good deal. Customers love to receive free gifts, exclusive promotions, and discounts on their favorite products and services. That's why online contests and giveaways are so successful. And Generation X is no exception to this rule! So here we've set out three great ideas to get Gen X on board with your brand.

Photo contests
It's a simple idea: create a photo contest and share a link to participate on your social media. Remember that Gen X use Facebook most of all!
In this type of contest, followers have to upload a photo related to the theme you've chosen. Go for something creative, or bring out your followers' nostalgia. Generation X has lived through exciting times, so looking back to the past is always popular. Think 80s music, famous films, childhood toys, street style… Offer a tempting prize and choose the winners with Easypromos' specialized app.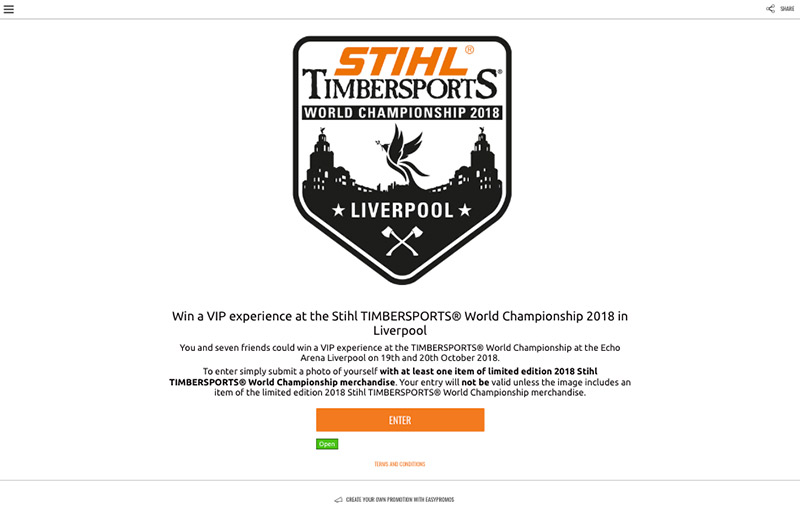 In this example, the brand Stihl is sponsoring the Timbersports World Championship – an outdoor extreme sports competition in existence since 1985. Followers participate by uploading photos of themselves in limited edition sports gear. Remember that Generation X prefer unique goods to the mass market, so limited edition merchandise is a great way to express individuality. And the prize on offer is a VIP experience for the winner and seven friends, perfect for sociable and fun-seeking Gen Xers.

Giveaways with Instagram comments
Why not try a giveaway to boost your Gen X followers on Instagram? Use other social networks to publicize the contest, and you'll soon see your Instagram community grow. In this case, a giveaway based on Instagram comments is the most popular and effective option.
Remember that Generation X is famous for being outgoing and generous. So make the most of this to share your giveaway: ask followers to @mention their friends in the comments. For users, this means more ways to participate in the giveaway, and a more social experience. And for you? The viral reach you've been hoping for.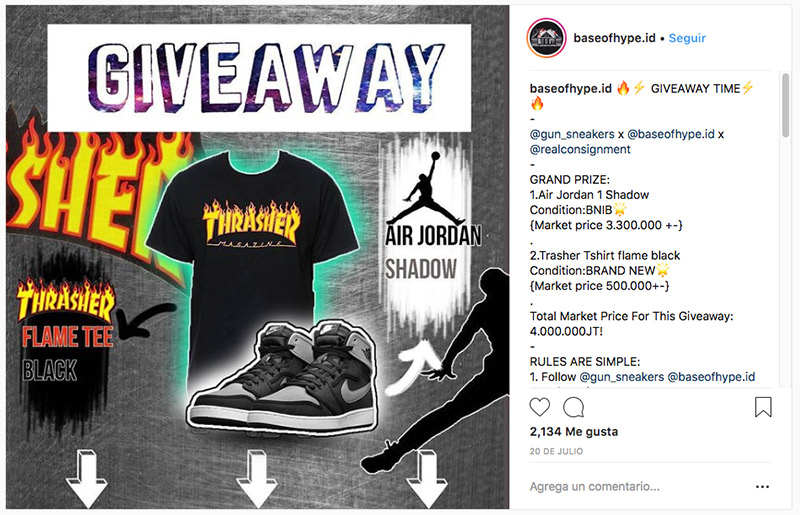 The post above is a great example of a Gen X giveaway. The items on offer are full of nostalgia for Generation X, and the Instagram post emphasizes the uniqueness and good condition of each prize. Followers are encouraged to interact with the brand and share with their friends, making the giveaway a more social experience.
Check out our free tips and resources for Friendship Day if you want more ideas for friendship-themed giveaways!

Quizzes and surveys
If you want to entertain your followers, receive feedback on products or services, and research consumer habits, we recommend a quiz. You can create a fun quiz or survey with a giveaway at the end. As we've pointed out before, Generation X are a hard-working lot, and they love special or unique rewards. With this type of contest, they'll feel that your brand values their opinion. And if you can offer an original, desirable prize, they're even more likely to take part.
In the example, a hospital is offering a very desirable gift card prize. Followers take part in a quiz about US history, giving them the chance to test their knowledge.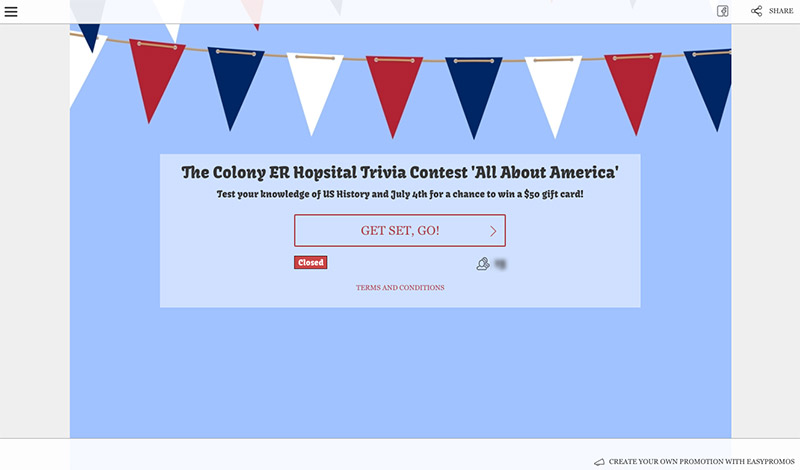 Now you've seen how easy it is to design giveaways for Generation X, try it for yourself! It just takes minutes to start setting up a giveaway.

Publication date: 2018-08-07