Posted in: Ideas for your websiteLast update: 01/08/22
Let's talk about how to promote a film online. Whether you're working with a blockbuster action movie or an arthouse indie project, running a local film festival or celebrating a nationwide release, you'll need to turn social media to your advantage. Bring in viewers, reward fans, and build anticipation with online promotions, contests, and giveaways.

Movies are big business. That's still true even in 2018, despite radical changes to the film business due to online streaming and new media. In 2018, 13% of Americans go to the cinema several times a month – and all those tickets add up to about $40 billion of revenue around the world. But it's not just about making money. You also want to create a community of fans, make your film a household name, and stand out from all the myriad options viewers have. So the question is: in a changing industry, on ever-changing social media, what's the best way to promote a film online?
We're not just talking films – but TV, online streaming, digital shorts, and more. Check out our Game of Thrones templates for quizzes, Facebook, and Instagram campaigns.
Why promote a film online?
Of course, offline promotion is still important too. Movie posters, billboards, and endless in-person press interviews are a vital part of promoting new movies. But if you really want to maximize your audience, you'll need to reach as many people as possible.
In this post, we're going to focus on two key strategies to promote a film:
Bridge the online-offline divide
Target your audience as individuals
We'll discuss eight real-life examples of promotions which connected with viewers, online and at the box office, and treated them as unique, valued customers. Scroll down to see the case studies and learn how to promote a film yourself.

8 best ideas to promote a film online
Attract attention with a co-branded giveaway
This sounds deceptively simple – but it works! Online users love free gifts, treats, and giveaways. Get your audience's attention with a worthwhile, relevant prize.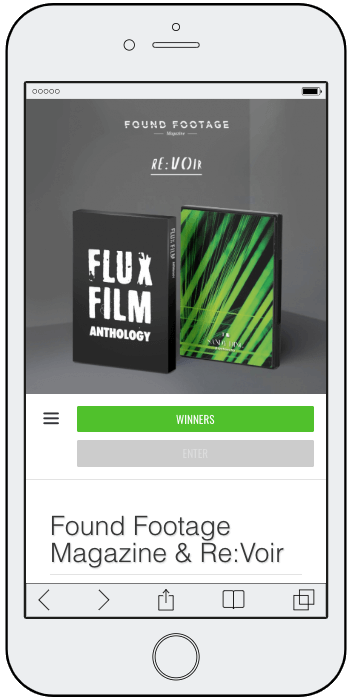 In the example below, a film magazine teamed up with an independent video label to sponsor their competition. Sponsorship and co-branding is a great strategy to promote a film. Both the film and the sponsor benefit from increased publicity, and viewers will be doubly motivated to take part.
Use a simple giveaway promotion to ask for contact details, in exchange for an entry in the prize draw. Then use those email addresses to share updates about the film release, remind viewers to visit the cinema, or even share discounts and deals on tickets.

Build anticipation with a predictions contest
In the run-up to première night, try to build anticipation and excitement in the audience. You can drop teaser trailers, share behind-the-scenes photos, or offer cryptic clues about plot twists.
Every popular film or franchise has its online fans. Take a quick look at Twitter or Tumblr. You'll see that people love to share their theories and predictions about what's going to happen next. Tap into all that chatter with a predictions contest.
Here's an example from Oscars season. This brand asked their followers to pick their Oscars favorites. Anyone lucky enough to guess correctly had the chance to win a prize.

This brand offered a range of prizes in their giveaway. Sharing multiple prizes gives your fans extra motivation to join the competition. You can even give participants the chance to choose their favorite prize.
Challenge your audience to a movie trivia quiz
Every movie fan loves their trivia. Just try challenging a Harry Potter or Star Wars fan on their knowledge of the franchise!
Even if your film isn't part of a famous series, you can still run a fun quiz to get viewers' attention. Ask them for their expertise on different film genres, actors, or directors.
Here's an example of how to promote a war film. They shared a quiz about famous Second World War films. Specialist quizzes like this have an extra benefit: they are most attractive to your target audience. By running targeted promotions like this, you'll be sure to reach the market you want.
Remember that users always need motivation to join your promotions. Offer an exclusive deal on tickets to everyone who answers the questions correctly. Alternatively – or in addition! – you could run a final prize draw for everyone who takes part.

Raise awareness with a ticket giveaway
In the examples so far, we've focused on building excitement and awareness of your film before its release. But once the film arrives in theatres, your biggest challenge is selling tickets. And this is where it becomes really important to create promotions which work online and offline.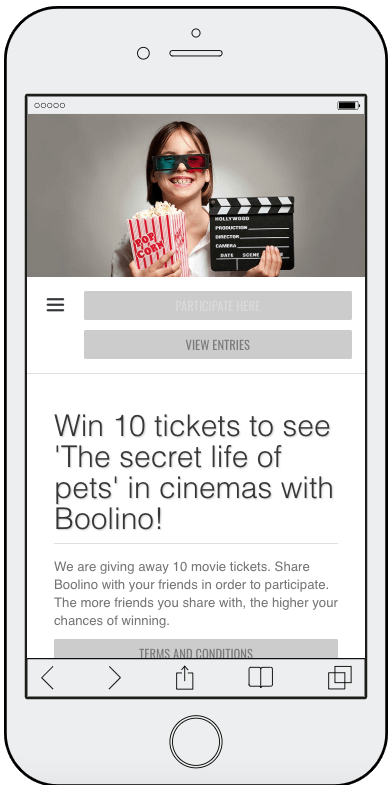 It might seem counter-intuitive, but a ticket giveaway is an excellent method of boosting sales. Of course, the competition winners will watch your film for free. But at the same time, you've advertized your movie to everyone else who entered the competition. And many participants volunteer to share contests on social media, so you'll spread the word to an even bigger audience.
Here's an example of a contest which maximized word-of-mouth marketing. Every time that users shared the competition, they increased their chances of winning free tickets. Recruiter contests like this are an extremely powerful tool to promote a film online.
Increase ticket sales with a limited coupon offer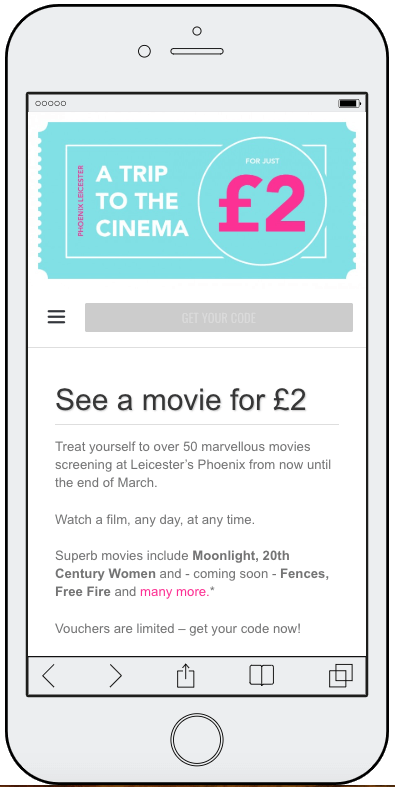 Let's take a look at another classic sales strategy. Once again, offering a discount on tickets seems like you'll be losing money. But in fact, coupons usually produce a major return on investment. In other words: yes, you'll lose money from the discount. But you'll earn it back, and more, from the increase in sales.
This local cinema offered a very attractive coupon promotion. Viewers could see any movie for just £2. But here's the twist: the number of coupons, and the length of the promotion, was strictly limited. Add a sense of urgency to your promotions, and encourage viewers to sign up as soon as they can. You can also take the opportunity to collect contact details for future campaigns.

Offer tickets to your best-dressed viewers
Once you've opened in theatres, you can take advantage of physical venues to run exclusive events and celebrations. And we don't just mean a red-carpet première! Run local events and competitions to promote a film online and share the excitement with your fans.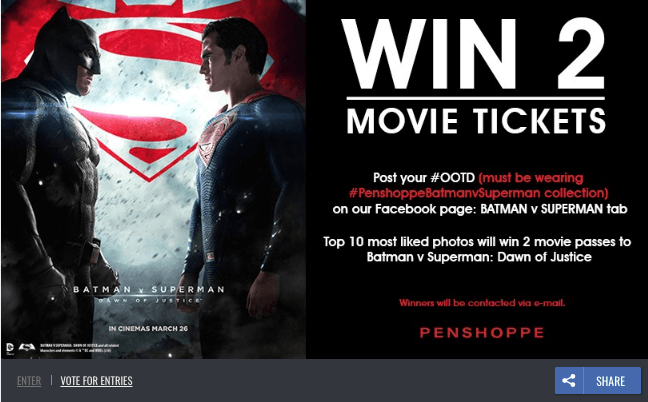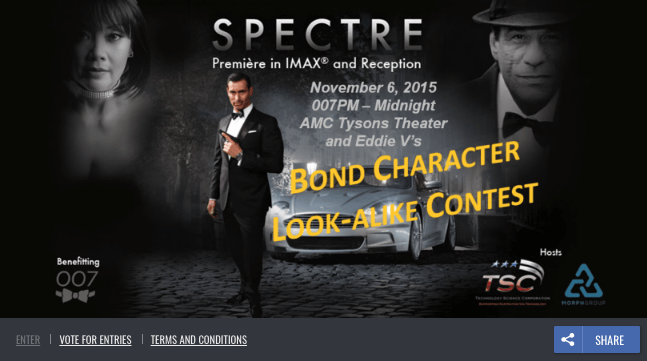 Here's an example of another sponsored promotion. A clothing brand produced a special line of t-shirt designs for a new DC Comics release. When users joined a photo contest in Batman or Superman gear, they had the chance to win tickets to the movie.
This promotion went a step further. Their users didn't just wear branded t-shirts. Instead, they asked fans to dress up as James Bond, the star of the latest movie release. They had the chance to win a look-alike contest in the movie theatre.
Costume and cosplay contests are especially popular for sci-fi, fantasy, and comic book franchise fans. These communities tend to be very active online – so make sure they're aware of your promotional plans. Bring them off social media and into your movie theatre with fan-focused events and offers.

Put your audience in the director's seat
To round out this list of ideas to promote a film online, we've finished with a creative challenge. You can invite your fans to share their own films in an online video competition.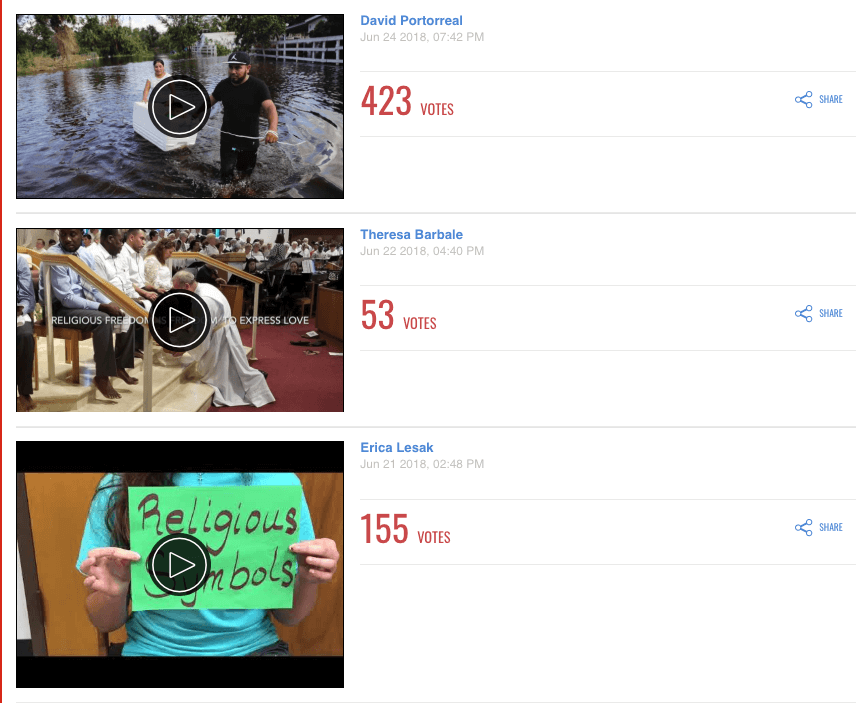 Don't be afraid to think outside the box! Ask them to share their own trailer edits, film tributes, actor impressions, film reviews, alternative endings, and more. Make the most of your audience's creativity, and show that you value the content they produce.
This is also a great option for local cinemas and film festivals. Collect entries for a short film competition, and run a special screening for your local community. Who knows – you might just discover the next Martin Scorsese or Kathryn Bigelow.
In any photo or video contest, you can share all the entries in a public gallery. Double online engagement by inviting your followers to vote for their favorites.
Create your account to promote a film online
These eight ideas are just a starting point. There are millions of different ways to promote a film online. What's more, each individual movie has its own unique strengths and challenges.
But Easypromos is here to help. You can create an account and start drafting all your promotions for free. Read our tutorials for extra tips, and contact our support team with live chat if you need help. We can't wait to see what you come up with!
Publication date: 2018-09-28