Posted in: Applications,Applications for InstagramLast update: 04/02/22
Instagram is the latest social media success story, with over 1 billion users. It's become the platform of choice to showcase products and share updates with your customer base. But if you're just getting started, it can seem overwhelming! Follow these steps to increase engagement and reach the 1000-follower milestone.

Why you need to increase Instagram followers
Instagram has seen incredible growth in its users in the last 5 years. And out of all those people, the vast majority look up brands, follow them, and find new products on the platform. Not to mention that Instagram sees ten times more engagement with posts than Facebook. Your brand strategy just won't be complete without a plan to increase Instagram followers and engagement.
If that still doesn't convince you, then just think about how easy to use Instagram is. Instead of launching a big, complex campaign, you can simply post a Story or photo… and get amazing results. More and more tools for ads, links, and shopping are being added to the platform. And even as Instagram becomes more monetized, it's still a place where you can show your brand's human side.
In this post, we'll explain everything you need to know to increase Instagram followers. We'll walk you through:
How to get started on Instagram
Choose between a business and personal profile
There are two types of Instagram profile: personal, and business. You can choose your type when you first sign up, and change between personal and business at any time.
If you're using Instagram as a marketing tool, then we recommend a business profile. You can include a clickable link in your profile and Stories, use the Instagram Ads service, and run giveaways to increase Instagram followers. You can also see more detailed statistics about how followers engage with your account.
Take time to create the perfect profile
Many Instagram users focus on their photos and Stories, and ignore their bio. We'll discuss how to produce incredible content later in this post – but first, let's give the bio the attention it deserves. If you take the time to construct an attractive profile, then you will find it easier to increase Instagram followers.
We're impressed by this example from Taiyaki NYC, a gourmet ice cream shop that's used Easypromos to increase Instagram followers. Take a look at all the details they've managed to pack in to their profile.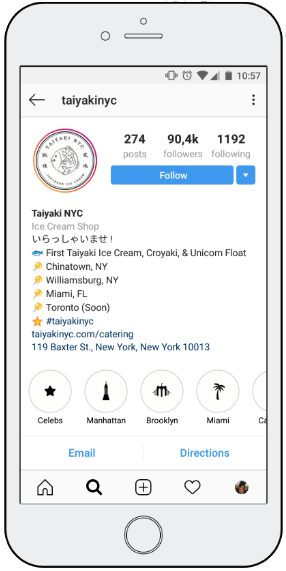 What to include in your Instagram business profile
Username. This is the handle people will use to @mention you, so make sure it's snappy and memorable.
Display name. This name appears at the top of your profile, and above your posts. It doesn't have to be the same as your username, but as in this example, consistency is often a good idea.
Business type. When you create a business profile, you can add a quick explanation to your profile. So when you increase Instagram followers, they know exactly what they're looking at.
Bio. Make it fun, clear, and memorable. This brand chose to highlight their key products, advertize their store locations, and even set up a hashtag for users to share.
Live link. One of the major benefits of a business profile. Use this to link to your store, latest blog posts, or promotion microsites. You can only share one link! Use a service such as Linktree to direct users to more than one website.
Location. Highlight your head office or flagship store. And not just to help users find you on the street. They'll also use your location to tag their photo posts, boosting your profile on Instagram.
Story Highlights. Instagram Stories are ephemeral, and usually only last for 24 hours. Save your best ones to give new followers an instant introduction to your brand.
Email and Directions. Make sure you keep these business profile features up to date. An out-of-date profile will actively harm your Instagram follower count and status.
Notice how Taiyaki NYC brightened up their bio with emoji. These cute little pictures save space, but convey a lot of meaning.
How to create viral content on Instagram
Quality, not quantity
The Instagram algorithm used to be one of the Internet's great mysteries. How did they decide which posts went viral? How could you improve your profile's ranking?
Well, Search Engine Journal recently revealed their secrets. The three most important criteria are interest, recency, and relationship. In other words, your popular posts should be interesting. Use them to showcase your products and connect with your followers' tastes and hobbies. Try to post frequently, but don't overdo it.
And most importantly, you should take the time to build a real rapport with people – not just increase Instagram followers by purchasing empty likes.
Be smart with hashtags and mentions
Another way to boost your presence on Instagram is through savvy use of hashtags and mentions. When you use a #hashtag, users will be able to find your posts by searching for that word. When you @mention other users, they're more likely to engage with your content, by commenting or even sharing it on their profile.
Here's a great example from a sports gear brand. They started with an awesome, colorful image that would catch people's attention. Then they made the photo caption come alive, with emoji and mentions of their partner brand.
Finally, they asked their followers to comment and tag friends, for the chance to win the product in the photo. They harnessed the power of mentions to increase Instagram followers and active engagement with their posts.
When you run an Instagram comments contest, you can filter comments by how many tags they include. Ask your followers to mention their friends to participate.
Plan your content
So you know you need to post relevant, frequent content, that connects with your users. Let's not forget another key aspect: variety. Mix things up. Don't just post photos of your products – try sharing posts from your followers, behind-the-scenes shots and videos, helpful how-to content, and exciting competitions or deals..
Make sure that you schedule your content, so that you don't become repetitive or too predictable. Plan your social media content calendar, so that you're posting at the right moment and keeping your followers engaged.
Make the most of Instagram Stories
Instagram Stories have been key to the social network's success. These mini-videos – no more than 60 seconds long – are a fun way to share daily updates with your followers. You can add emoji, gifs, polls, questions, and even shopping tags to make them interactive and fun.
Take a look at these examples, where brands used Stories to tell their followers about giveaways and promotions. This first post used a simple image with a cute little heart gif to get followers' attention.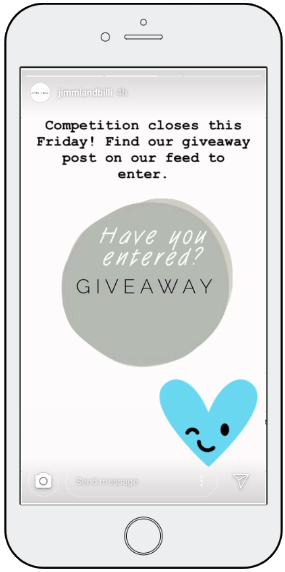 This brand used another popular technique. Their story showed a preview of the giveaway. To join the comment contest, users had to look for the same photo on the brand's profile. So as well as adding users to the promotion, the brand increased their profile views, too.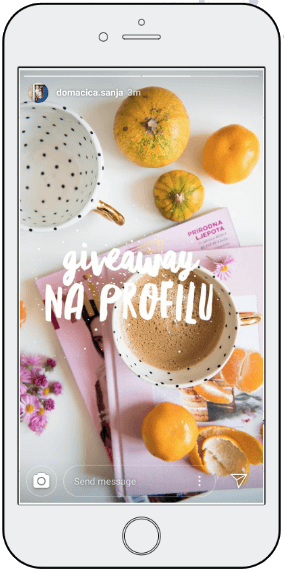 Ready to take your Stories to the next level? Read these creative tips from Facebook's own experts, to make your Stories even more artistic, interactive, and engaging.
How to increase Instagram followers
Respond, react, and interact with your Instagram followers
Right now, we're focusing on how to increase Instagram followers. But in fact, getting users to follow your page is just the beginning. You'll need to develop and maintain a positive relationship to get the most return on your investment of time and effort.
So what does that look like? Well, first of all, you should be reading and responding to comments. Let your followers know that there's a real person behind the account. Show them that it's worth replying and engaging with your posts.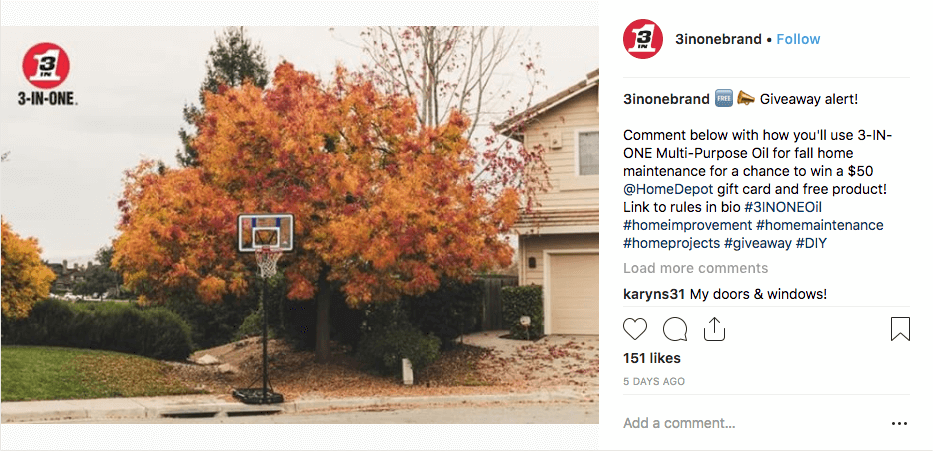 Run contests and giveaways to encourage your users to comment. By offering a prize, you can prove that you value their contributions. It's also a chance to showcase your favorite products, or clear out old stock. Choose a prize that will be relevant and desirable to your followers – think carefully about your target audience.
Reward your Instagram followers
Let's take the idea of giveaways a little further. You can use Instagram promotions as a way to reward users: for following you, for engaging with comments, for sharing posts with your hashtag, and more. And of course, when you reach your first 1000 followers, you'll throw a giveaway to celebrate!
Here's an example of an eye-catching giveaway post. This brand created a gorgeous, artistic image, and asked users to share their favorite season. In exchange, they could win fall beauty products.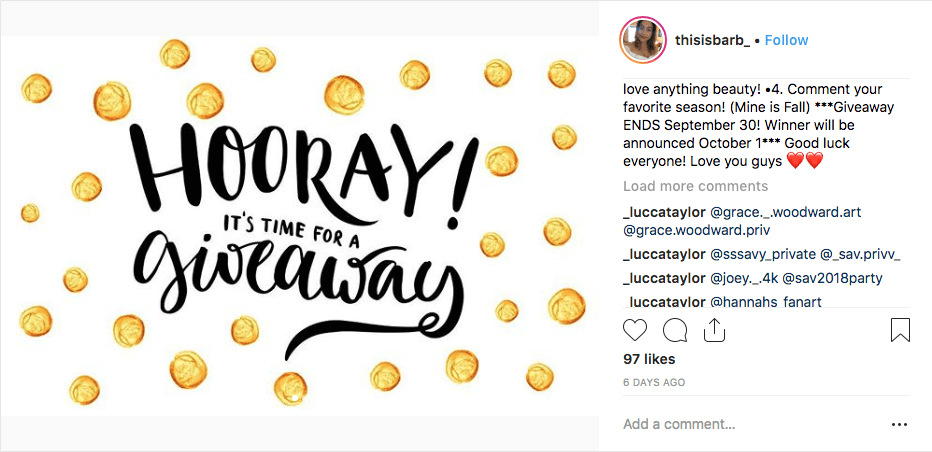 This next example is a bit of a contrast. This pizza franchise shared an image of their delicious pizza – catching followers' attention, and displaying the giveaway prize.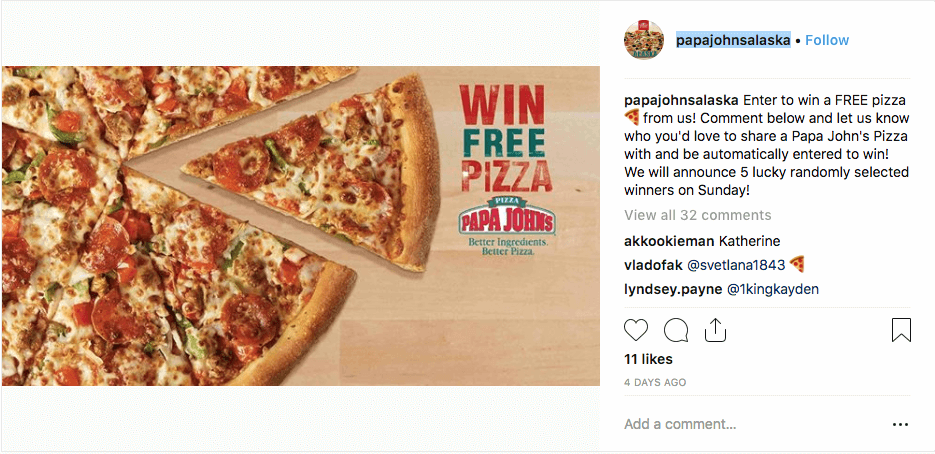 Both these contests invited users to comment with open-ended questions. Social networks love content like this! The algorithm will reward you for high-quality, original interactions.
Instagram Ads, sponsorship, and co-branding
If you have a serious plan to increase Instagram followers, then you'll need to get familiar with Instagram Ads. Use the platform to promote your posts, and target them to a specific audience. Remember, sharing interesting, relevant content is a key factor in your posts' popularity.
But there are commercial possibilities beyond ads, too. Sponsorship and co-branded promotions are very popular on Instagram. Different brands often team up with each other, or with influencers, to increase Instagram followers and create viral buzz.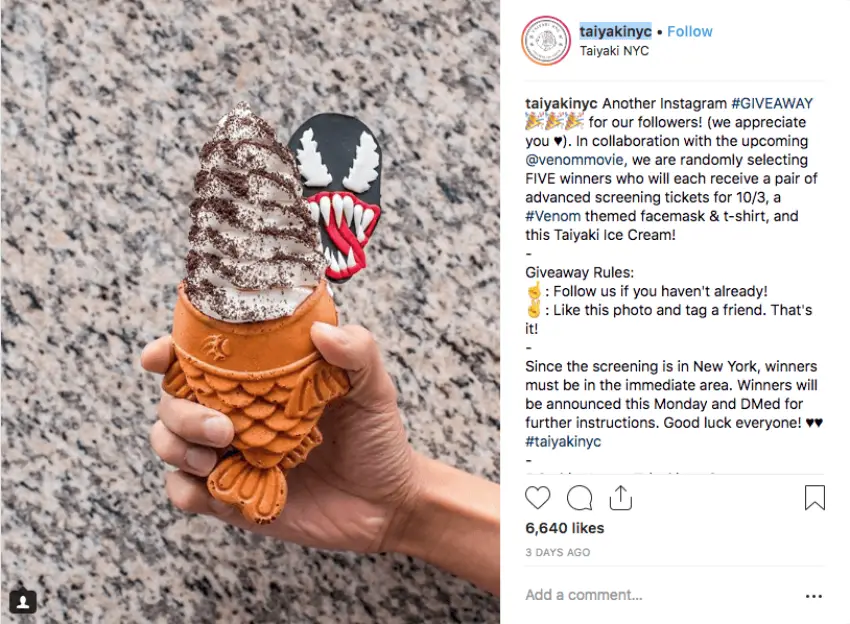 Let's finish up with this example from Taiyaki NYC, the same brand that we saw at the beginning of this post. They tapped into the media frenzy about a new film première with a co-branded promotion. They offered movie merchandise and themed treats, and mentioned the film's Instagram account. Both brands reaped the benefits.
Share your profile on other social media channels
One last thing. Despite all the wonderful features on offer, don't forget that there's a world outside Instagram. When you're first setting up your profile, use your other social media channels to give your follower count a head start. Even after you've established your presence on Instagram, make sure you notify followers on other networks whenever you run an exciting giveaway or promotion.
Ready to get started? We're here to help! Check out our free templates for giveaways on Instagram, including special events and holiday themes.
Publication date: 2018-10-04