Posted in: Ideas for your websiteLast update: 16/03/21
However many giveaways we see at Easypromos, we never lose the thrill of the prize draw. The final moment when you know that it's all down to chance, and in just a few seconds, there will be a winner. And we want you to share that excitement with all your followers – so we created Broadcast Mode.

Video is fast becoming the most popular form of content on social media. So it's only natural that brands want to use video to get engagement from their communities online. You'll often see giveaway organizers recording a video – or even live-streaming – to show how they select a winner.
But we'll be honest: it's not the most exciting video to watch. There are delays. There's slow wi-fi. If you're really pumped about the giveaway, then maybe your hands are even trembling!
We wanted a better way to announce giveaway winners online. Now you can use Broadcast Mode with all our social media and pick-a-winner apps. We'll be adding the feature to our promotion apps, too.
Broadcast Mode is available for Basic PRO, Premium, and White Label clients. Use it in your giveaways on Instagram, Facebook, YouTube, Twitter, mailing lists, and more.
What is Broadcast Mode?
Broadcast Mode is a little bit of showbiz. It's putting on the Ritz. It's finishing your giveaway with a bang and a shower of confetti.
When you select the winners of a giveaway, Easypromos always creates a Winners Page. You can share the public link anywhere, display a list of names, and direct people to the prize draw's certificate of validity.You still have access to all these features – but Broadcast Mode adds something more.
You receive an animated video with sound effects to announce the winners. You can share the video with a unique URL.
Your followers are on tenterhooks as they watch the progress bar and hear the drumroll. And then… the names of the winners are revealed in a burst of confetti and applause.
Take a look:
How does Broadcast Mode improve your giveaways?
Broadcast Mode helps you:
announce giveaway winners with more drama and excitement than ever before.
customize the giveaway with your own colors, titles, brand name and logo.
control the length of the video, with automatic or manual screen transitions.
download the video to save or share.
Click here for the Broadcast Mode tutorial. Learn how to enable, customize, and share your giveaway announcement.
Top tips for using Broadcast Mode
1. Share the unique video URL
Every social network has its own quirks and different ways to share. Sometimes, it's easiest just to share a link which directs people to your video.
Once people are on your video page, you don't need to worry about different formats for different social networks. You can connect people to the winners page, prize draw certificate, and prize claim pages without any limit on sharing live links.
2. Share the video on Facebook
If you'd prefer to stay on social media, then you can upload your video as a Facebook post to get more engagement on your business page. You'll be able to see your followers' reactions and comments, and increase your reach on the social network.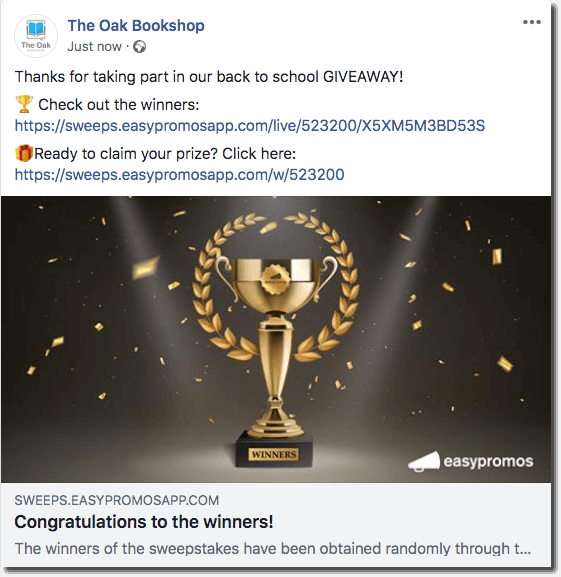 3. Share the video on Twitter
You can also share the video as a Twitter post. However, you'll need to convert to .mp4 format. (There are lots of handy tools online, like this one.)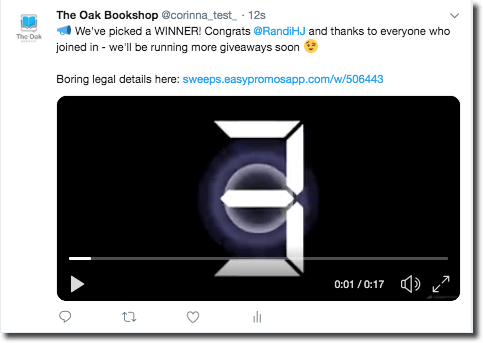 Even if you just share the video link on Twitter, you'll still see a video preview.
Broadcast Mode builds engagement, while the Winners Page and Claim Your Prize tool take care of the details. Combine these resources to get maximum publicity.
4. Share the video on Instagram
On Instagram, you have even more options for sharing the video. You can download the announcement in vertical format, so it's optimized for Stories and mobile devices.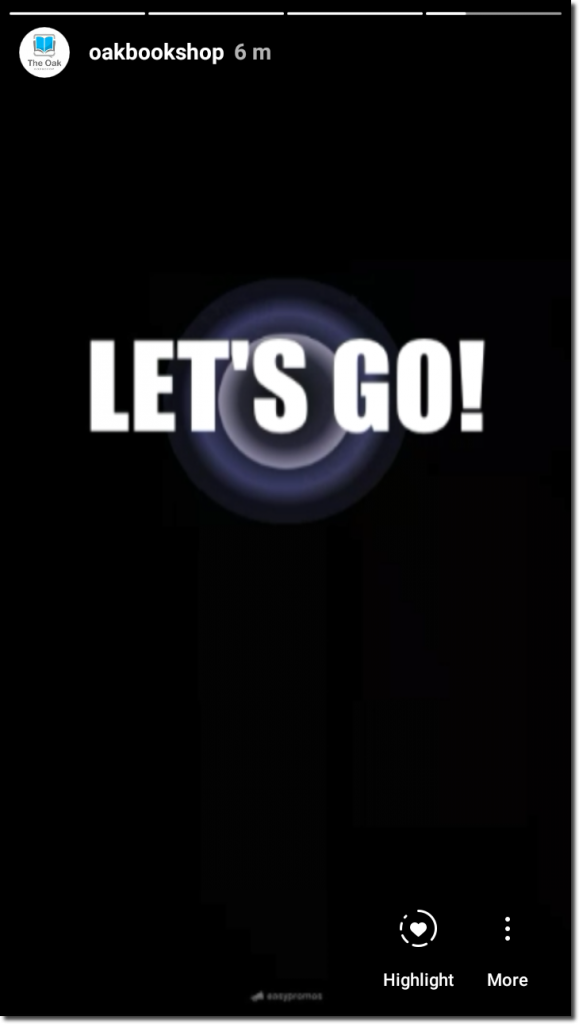 You could create a permanent post on your profile page, or share a Story to maximize views. Remember that you can save Stories as highlights, so your users will always be able to check back and review the prize draw.
Don't forget to update your bio with a link to the winners' page, so that people can claim their prizes.
Broadcast live, or save the video until the perfect moment
Livestreaming has become a key part of posting on social media. You can use Facebook Live, YouTube Live, Instagram TV, and live video on Twitter to share exciting moments with your followers.
So here's how to make Broadcast Mode a part of that.
First of all, you control the length of the video. You can leave the screen transitions up to us – or control the video manually, so that the video stays in sync with your live presentation.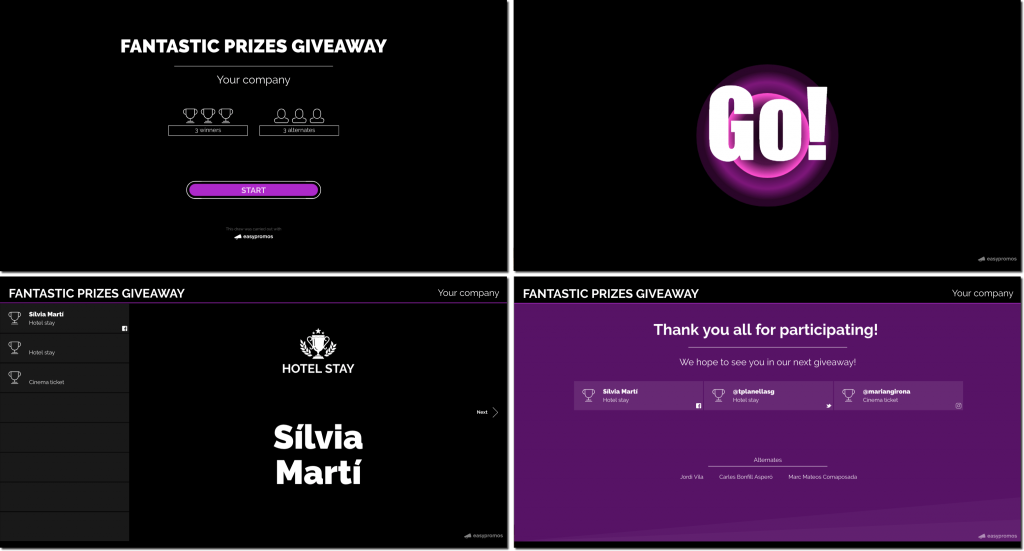 Secondly, you control when the video is broadcast. You can share it live, so that you find out the winners at the same moment as your followers. Or you can view the video first, and download it to post online when you are ready.
Whichever way you choose, you can rely on Broadcast Mode for an effective, attractive, and flawlessly presented prize draw.
Publication date: 2019-04-02