Posted in: Ideas for your websiteLast update: 28/04/22
Cycling is a fast-growing business – and it's modernizing, too. Bike marketing is no longer just about showcasing the latest model. It's also a lifestyle. People – especially young adults – use bikes for day-to-day transport and their leisure time. They turn up to cycling events, expos and races and buy cycling clothes and gadgets.
It's a lot. It's also the perfect moment to try new bike shop marketing ideas.

Whether your business is large or small, you can use social media to create an affordable bike marketing strategy. Social networks like Instagram and Twitter make it easy to build an online community, offer customer service, and raise brand awareness – if you get it right.
Get involved with cycling events and promote your bike shop on social media
Cycling is now a social activity. Your customers are getting product recommendations from their friends, going out for rides together, and building a whole social life around races, expos, and events.
So if you want to start making an impression on the market, then bike events are a good place to start.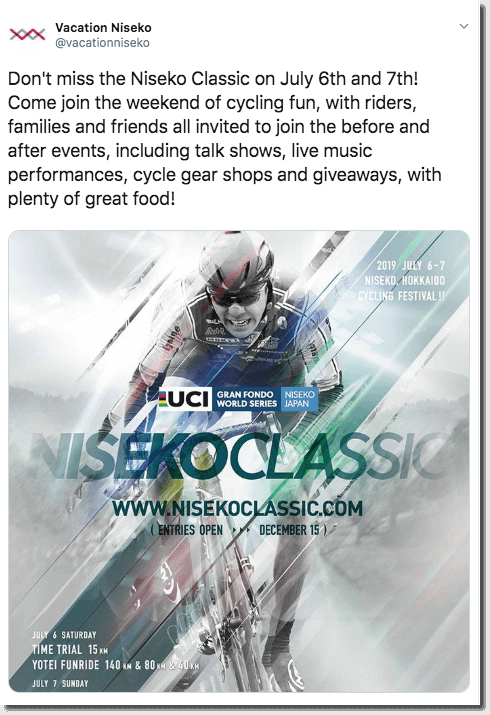 Now, the way you get involved is up to you – and your budget. If you want to go big, then look into running a stall at an expo, sponsoring or supplying merchandise for a local event, or even creating your own event.
But for most bike shops and cycling brands, you'll want to start small. Your first event promotion could be as simple as posting on social media on a significant date or holiday: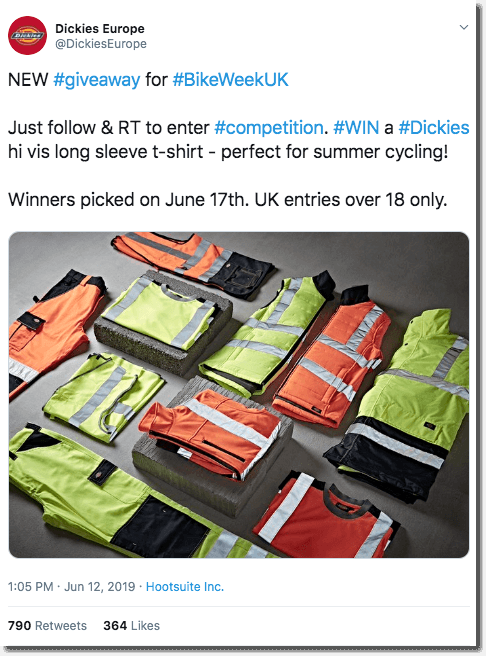 We like this example because the brand doesn't have to invest very much in the event at all. Bike Week UK already exists – they're just joining in the fun. And they've set up a very simple Twitter giveaway to bring more followers on board. So their participation in the event will have benefits that last in the long term.
Another effective, low-commitment way to get involved is giving away tickets to cycling events. The prize plays to your followers' interests – and if you set the giveaway up right, then it can return useful information for future campaigns.
Take this next example: this bike manufacturer asked their followers to pick a favorite bike, and explain why they loved it. That customer feedback will help them plan future products and marketing campaigns.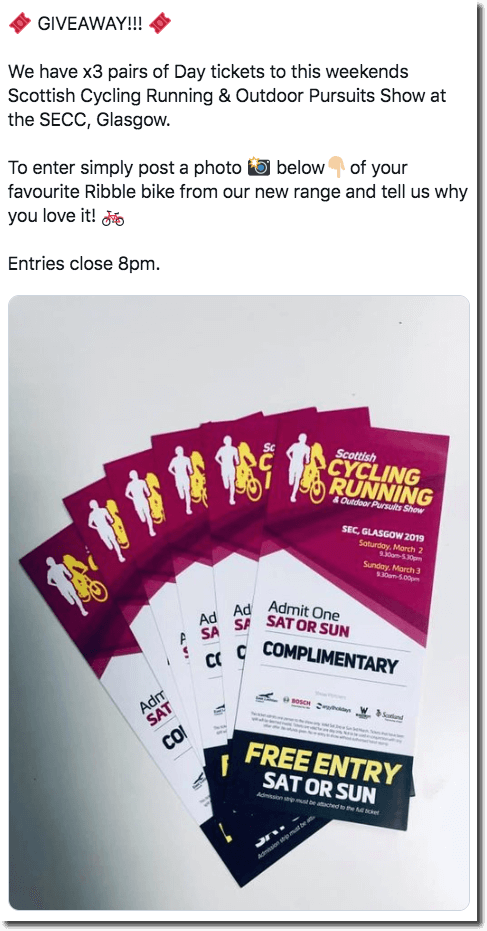 Bike shop marketing ideas include Instagram giveaways
Over the years, Instagram has become a very important medium for bike shop marketing, especially because Instagram is the platform where users like to share shots from their rides or follow their favorite cycling product brands.
So how can you balance sales talk with being social? First, try and keep things natural.
When researching this piece, we hopped over to Instagram and Facebook to see how bike brands use "shopping tags" to direct users from their social media feed to their store.
But most bike brands don't use shopping tags. Instead, they focus on the experience of cycling and let photographs of the gear speak for themselves. They just leave the shopping tab on their profile, for users to discover in their own time.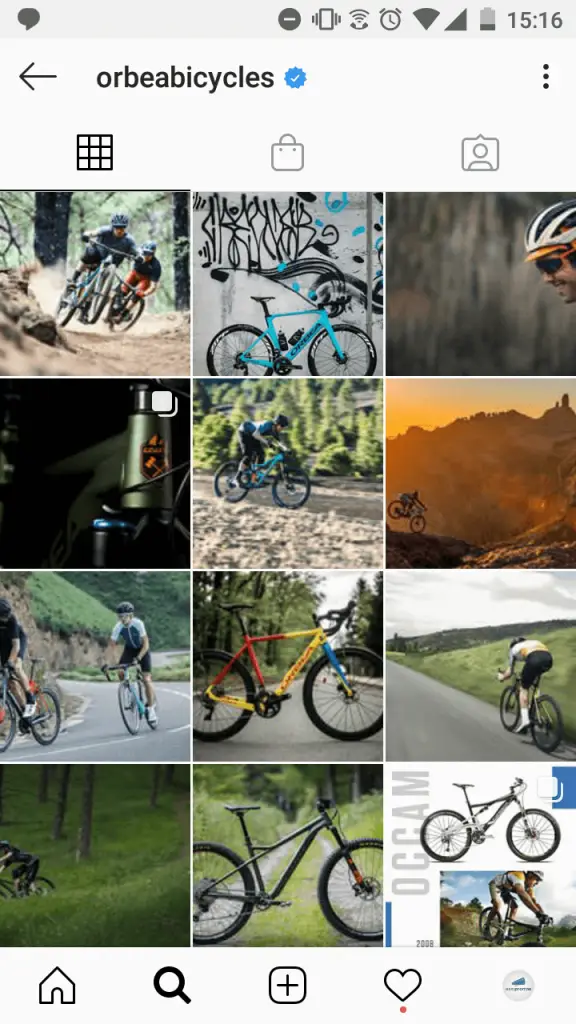 The main goal of their social media feed is to prove the quality of the product without pushing too aggressively for a sale.
When you want to put a specific product front and center, then try and do it in a way that's useful to your followers. For example, you could film a video post about how to use a specific piece of gear, or test-drive a new bike.
Another option is to run a product giveaway. Start with a photo or video post to show the best points of the product – and then ask people to comment for a chance to win it.
Although you give away one item for free, you simultaneously put that product in the minds of thousands of other people.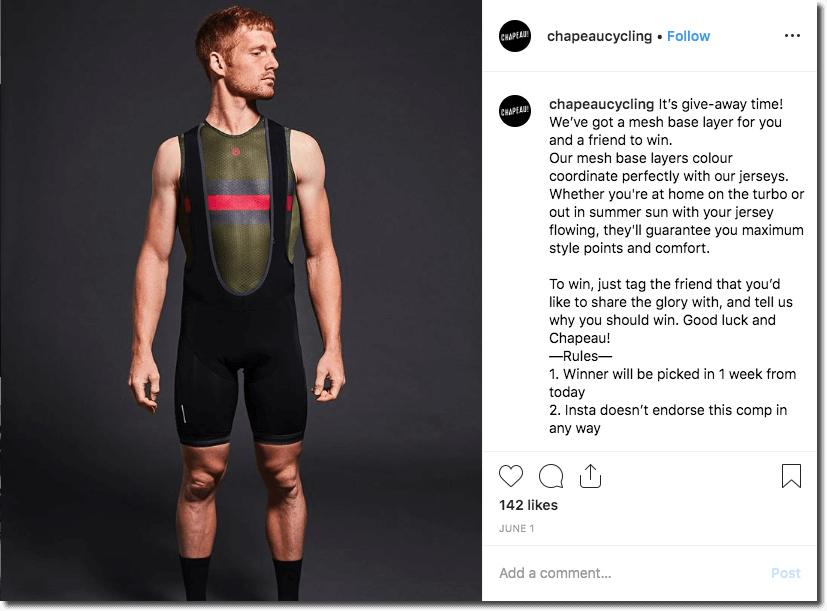 Take a look at the following example. Two Instagram accounts teamed up to together run a Valentine's Day giveaway that would help them promote their products. Interested users were invited to participate in the Instagram giveaway by following the organizing accounts, liking the post, and mentioning two friends they want to cycle with during the summer.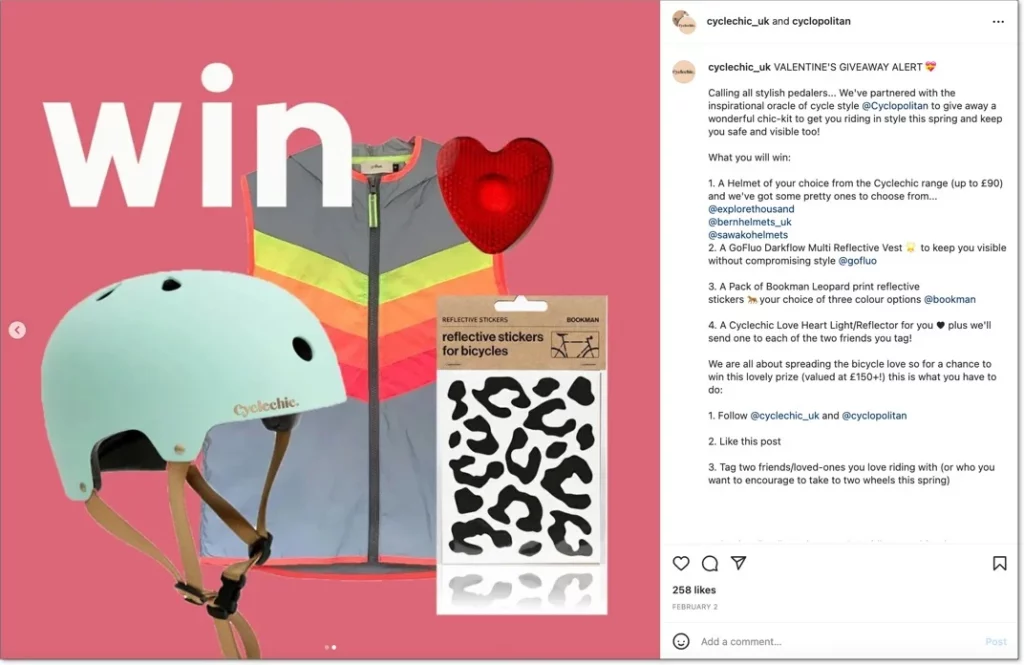 Another example comes from a bike shop that looked to finish off the year in style by raffling a team jersey and a brand new heart rate monitor. They invited their followers to comment on the post and explain what was their favorite cycling moment in 2021.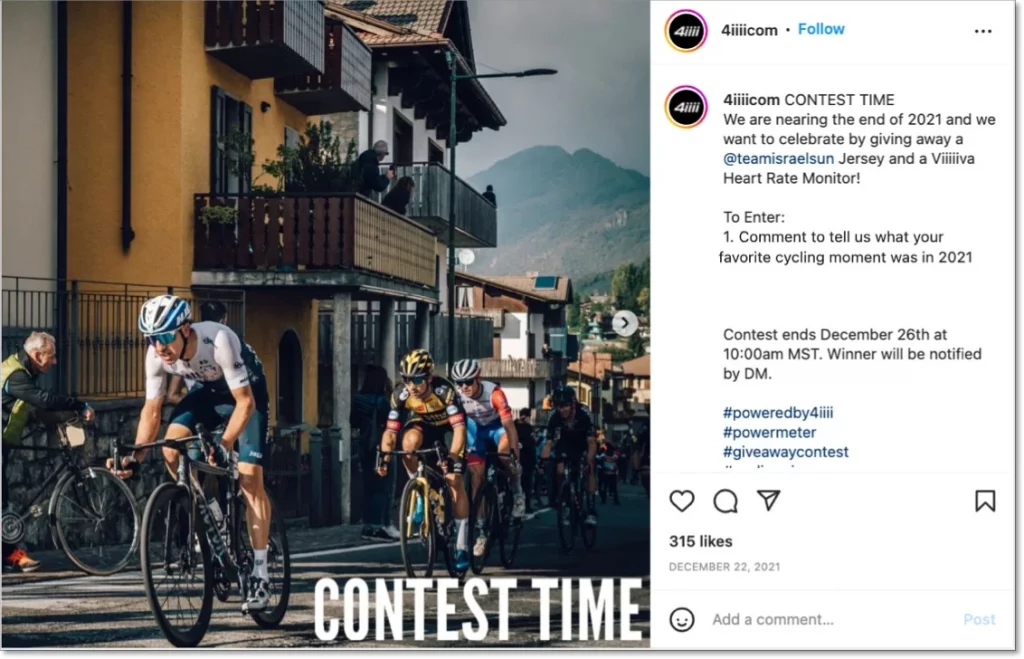 Show off your local knowledge on Facebook and generate engagement for your bike shop
If you want to make your brand stand out, then it can be intimidating to realize just how many people are competing for your customers' attention. But once you find your niche or unique selling point, then marketing becomes much easier.
One failsafe method is to make your bike shop the essential, local destination for cyclists in your area. If you have a brick-and-mortar store, then you can scoop up the local market by demonstrating that you have plenty of local knowledge to share.
Here's a classic example from WildBike, a cycling tour operator. They run trail tours, with a special focus on mountain tracks in the UK.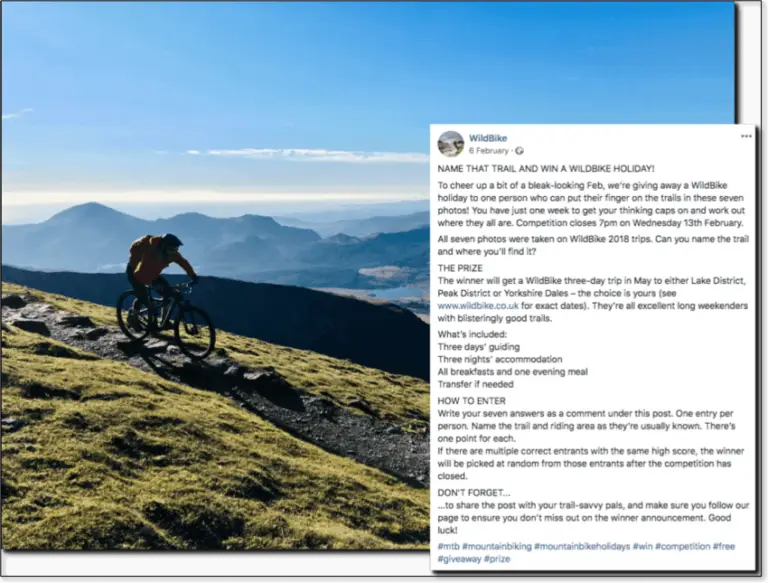 When they set up this Facebook contest for their followers, they demonstrated their knowledge of trails around the United Kingdom.
… And, incidentally, they showed off some of their most beautiful routes in the process.
Let your customers lead the way
Cycling brands and bike shops have a special advantage when it comes to marketing. By default, your average customer is well-informed and interested in the details of the product you're selling.
As cycling becomes more of a lifestyle choice, and it grows in popularity with young, brand-conscious Millennials, consumers are becoming more active – instead of just passively accepting the products on offer.
What does that mean in practice? It means customers who have opinions, and expect you to listen. So one way to make your brand stand out is to make customers part of the design process.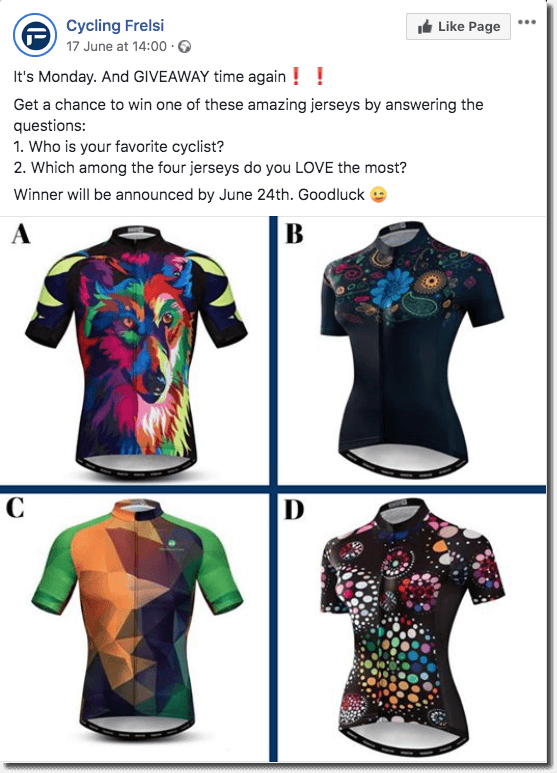 This example from Cycling Frelsi is a great place to start. It's easy for the brand to set up – a simple Facebook contest – and it's easy for people to take part. The competition is low-commitment and low-stakes for everyone.
But it's a stepping stone to greater things.
Start with basic contests like this, where you ask your customers to share their views on different products. Once they are used to being heard and valued, you can ask them to contribute even earlier in the production process – for example, choosing which designs get manufactured, or voting for products they want to see in-store.
This shows your followers and customers that you truly value their opinion. And it means you can fill your bike shop with products that are guaranteed to sell well.
Team up with other bike brands
Organizing product giveaways like the one above might seem daunting. Or you might be concerned about your budget.
Another way to get started is by teaming up with another brand. You can share the cost – for example, by both contributing prizes – as well as the benefits.
Try to find a sponsor or partner which has a similar audience to yours, but isn't a direct competitor. You'll both gain followers from each other's audiences. If you don't have a comparable audience, then you won't get high-quality leads.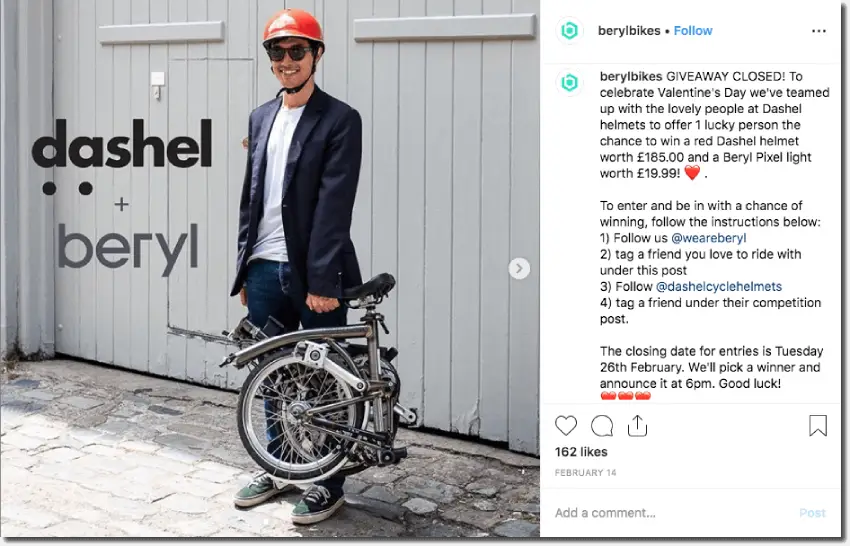 Here's an effective example from Beryl Bikes and Dashel, a helmet manufacturer. There's a clear overlap between their target markets: people who ride bikes, and people who need protection while they ride bikes.
Work with influencers and cycling stars
Finally, don't forget that you can team up with individuals too – just like working with a partner brand or sponsor.
And they don't have to be world-famous influencers with hundreds of thousands of followers. Depending on your brand, budget, and goals, you could reach out to:
professional cyclists
sports entrepreneurs
local cycling teams or clubs
local schools or youth groups
active social media users who like your brand
Then encourage those people to post more about your brand. This is usually in exchange for products from your brand, a store discount, or a cash fee.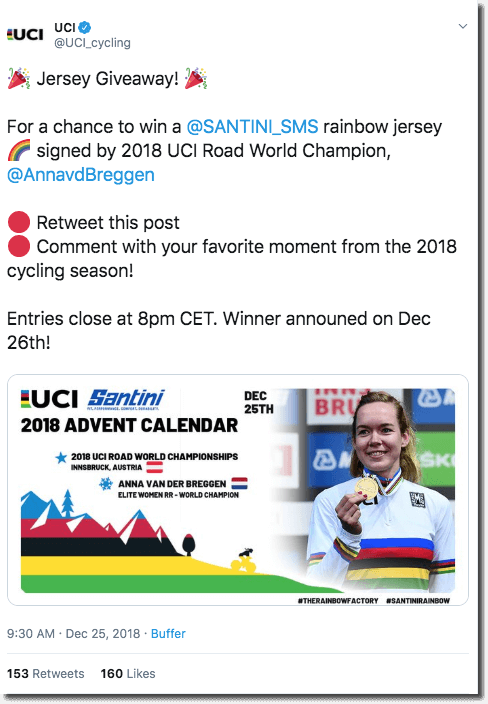 Discover how a professional cyclist generated engagement on his social media channels with a comment giveaway.
Just like working with other brands, the goal is to reach more people from your target audience. So when you choose a brand ambassador or influencer, spend some time looking through their followers. Be sure that their audience is real (not just social media bots), and full of people who would appreciate your products.
Remember, your audience is out there – you just have to reach out with the right message.
Bike shop marketing ideas: generate leads with giveaways
Social media giveaways and promotions are fantastic for generating engagement and visibility among your target audience. The only downside is that you don't own any contact details of the users that interact with your content. And here's a way to change it!
Organize online giveaways, in which users fill out a registration form for their chance to win interesting prizes, for instance, a team jersey like in the following example.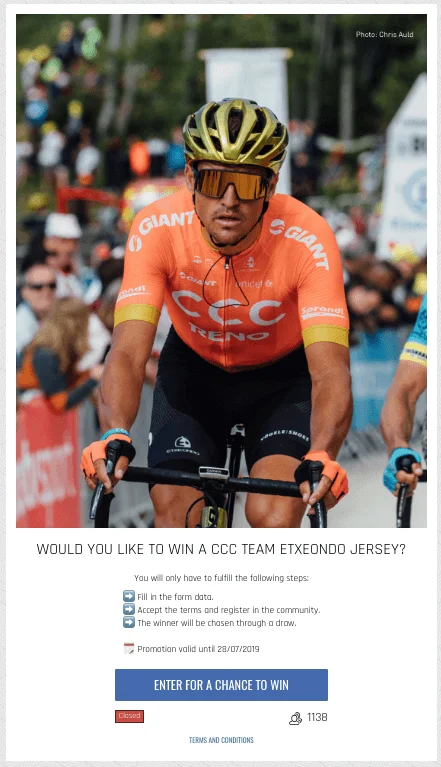 All you have to do is launch an Entry Form Giveaway, activate it, and start sharing the link on your social media channels or website. Users leave their contact details and you build your database!
Are you interested in finding out more? Or maybe you want to share your bike shop marketing ideas with us? Chat with our customer support team!
Publication date: 2019-07-01