Posted in: Digital marketing,Ideas for your websiteLast update: 13/04/22
The Rugby World Cup 2019 starts in Japan on September 20th, and it's expected to be the biggest ever. So how can you and your customers get involved? Try these 3 fun, interactive marketing campaigns to get started.

Why brands are watching the Rugby World Cup
Every Rugby World Cup is memorable – but the 2019 tournament stands out. For starters, it's the first world championship to be held in Asia. And although some were nervous about holding the Rugby World Cup in Japan, over 85% of tickets have already sold out – months before the tournament even begins.
The World Cup is an event that works for lots of different brands and industries, such as:
sports (obviously)
tourism
hospitality
fitness
any brand with a local or national identity
And most of all, because the contest lasts until the final on November 2nd, the Rugby World Cup offers a chance to keep your followers engaged for months. That's definitely enough time to convert them into customers!
What we learned from the Rugby World Cup in 2015
2015 was the first truly "social" Rugby World Cup, with an explosion in campaigns on Twitter and Facebook, according to Digital Marketer. But Instagram was still in its infancy. And let's face it – many brands were still catching up to the idea of social media marketing.
In 2019, we can expect even more social media chatter, before and during the competition. What's more, because this is the first time that the World Cup will be held in Japan, there's enormous potential for tourism and travel marketing.
Over the last four years, brands have learned to be more personal, innovative and interactive. So look out for creative ads which get the fans involved – like the latest air safety video for Air New Zealand.
But what if you don't have a marketing budget the size of an Airbus 380? You can still create fun, effective campaigns! Try these 3 ideas to activate your social media followers, collect leads, and share the thrill of the World Cup.
#1 Run a quick social media giveaway
Let's start with the easiest option: a social media giveaway on Facebook, Instagram, Twitter or YouTube.
All social media giveaways work the same way. First, you publish a post on your profile. Then you invite people to comment – and once you've got plenty of engagement, choose one commenter to win a prize.
Try to offer a reward which is relevant to the Rugby World Cup, and to your brand. Make sure you're up to date on the rules for prizes in your location – and if you need to limit participants by age or location, use a sponsored post to target your giveaway to the right audience.
Top tip: Use a service like Easypromos to make sure you choose fairly, and get a certificate to prove the prize draw was random. And did we mention the free, instant video you get to announce the winner?
#2 Challenge your followers to pick a winner
There are only 2 drawbacks to a social media giveaway for the Rugby World Cup. You can't collect direct contact details, like email addresses or phone numbers – and your contest is open to a very wide audience.
Now, if you're still building a following online, then that wide audience is a good thing. But what if you already know your target market, and you only want to reach high quality leads?
That's where more advanced contests come in. And when it comes to Rugby World Cup contest ideas, you really want to create something which will give rugby fans a challenge.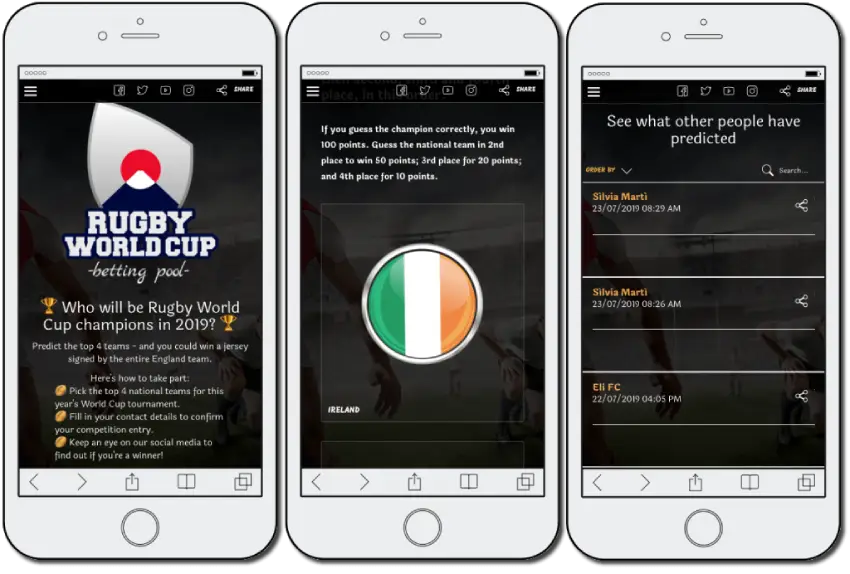 If your customers are sports fans, try running a Rugby World Cup betting pool. Invite them to guess the winners in each pool, the semifinals or the finals. You can give away small rewards for participation, or finish up with a grand prize for one person who predicted the winners correctly.
Everyone who shares their predictions will have to fill in a contact form. You can customize this to collect any details that you need. And you can offer extra incentives, like more chances to win when users recruit their friends.
Top tip: Want to see how it works? Click here to play the app demo – then use the template to set up your own Predictions contest.
#3 Test your customers on rugby trivia
Quizzes, trivias and tests are also popular Rugby World Cup contest ideas. Instead of asking your followers to predict the future, test their knowledge of rugby history.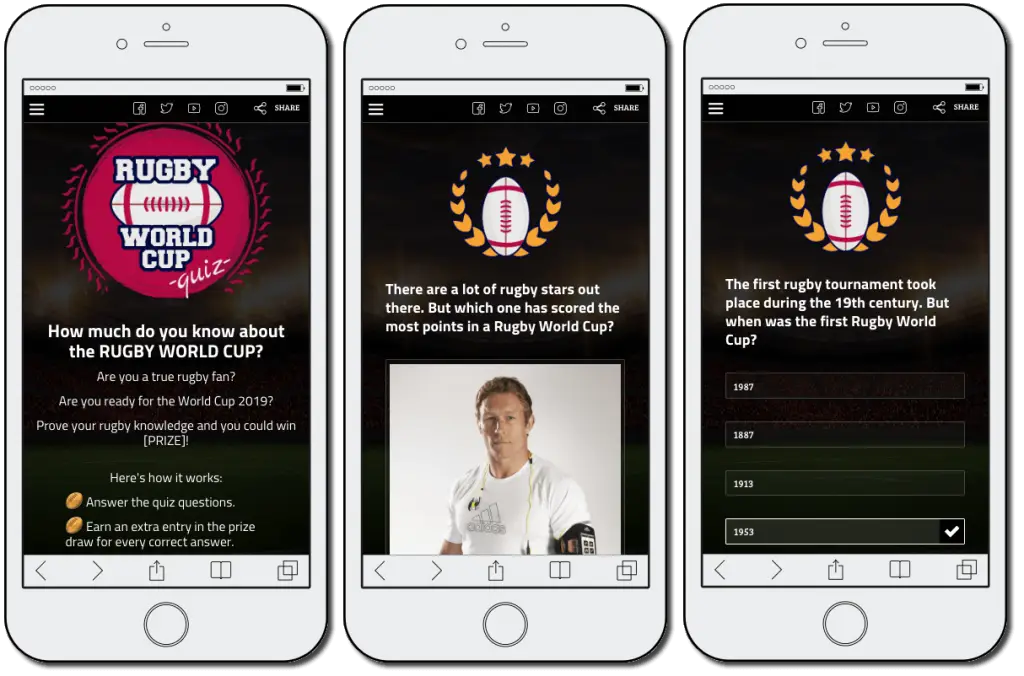 Just like a Predictions contest, you can use the campaign to collect contact details from potential customers. And you can offer coupons, prizes, and recruitment incentives to make your Rugby World Cup quiz go viral.
Top tip: Click here to take our own Rugby World Cup quiz. Then copy the questions from the template – or add your own!
Publication date: 2019-08-02