Posted in: Applications,Digital marketingLast update: 19/11/19
Games in digital marketing have proven to be a great way to get better engagement and interaction with online communities. Gamify your online strategies and watch your marketing results improve! In this article, we want to show you three examples of marketing campaigns that you can easily organize yourself in no time. They are fun, easy to set up and manage, and your audience will love them, too! Keep on reading to find out more about gamification in your marketing strategy!

What is gamification? Gamification is a digital marketing term used to describe the action of applying typical dynamics, structure, and techniques of game playing to non-gaming environments, such as business, education, health, and marketing among many others.
Gamification-based dynamics normally have the ultimate goal of engaging the user during the game. Games' easy and playful nature makes it easier for the user to personalize with the content. And this is what will get you better results than other techniques in any field.
Many brands seem to have found a great ally in this type of activity. They can now quickly, easily and pleasantly achieve their surprising marketing goals.
The most common objectives that brands expect to achieve through gamification are:

Increase brand awareness as the users normally spend more time on playing games, rather than on any other type of activity. Therefore the actual brand exposure increases
Attract the users' attention
Increase engagement
Earn loyalty
Generate leads
Gain followers
Create high-quality content
Entertain
Increase traffic
Inform
Promote products and services
Motivate
Increase interest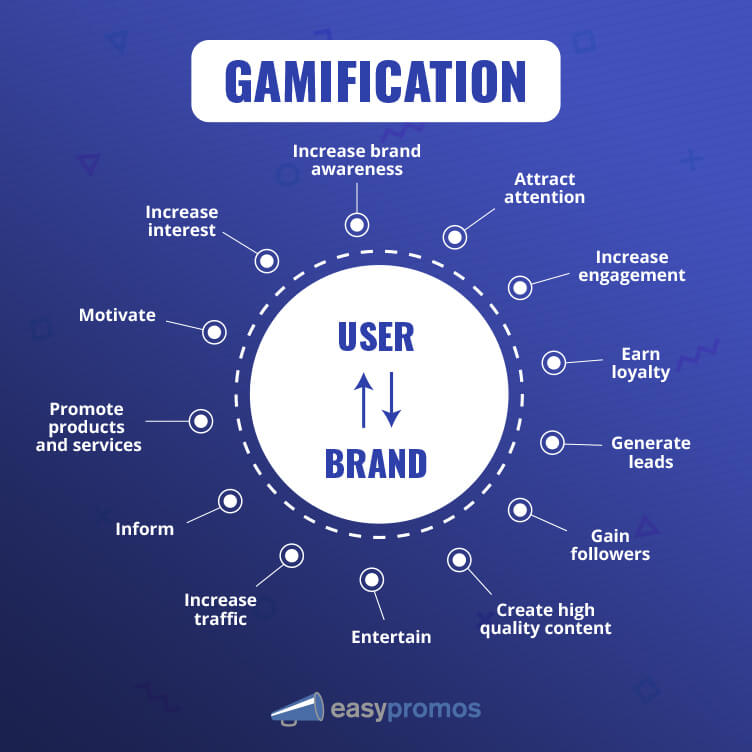 Here we'll be sharing examples of how to use the new Easypromos games, linked to one or more marketing goals. To get a better grasp of the idea, we will show you real examples.
Wordsearch: Increase traffic to your website
To complete a Wordsearch, you would normally provide the user with the words that need to be found. However, if your marketing goal is to drive traffic to your website or blog, don't show the hidden words on the same screen. Instead, as part of your strategy, you can locate an external link in the header of the app. It will redirect the audience to a page that you are trying to promote, and that's where the hidden words will be displayed. This way you generate extra traffic to your blog or website, as without visiting the web page the game cannot be completed.
Once the user knows all the words they need to look for they will go back to the previous page and resolve the game. In our case, the hidden words are virality, followers, loyalty, versatility, and transparency.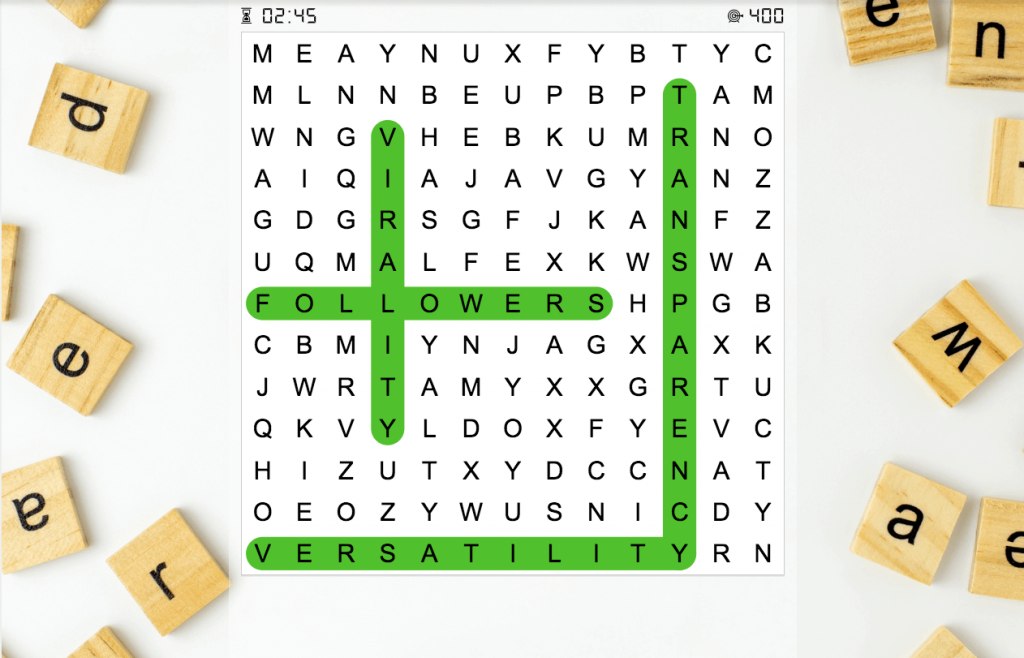 To create this example we have used the "Hide the legend" option in the Wordsearch panel, so the user must check the hidden words in the content that we refer to. The objective of this example was to send traffic to a website and to provide the user with extra information.
Gamification is likely to help us achieve also other objectives, such as obtaining data, entertaining and creating high-quality content. You can also introduce products and services, but also attract attention and create user engagement.
Puzzle: Target a niche audience
Let's say you're a museum manager trying to gather data of future museum visitors. You create an online Puzzle and share it on social media networks, asking your followers to order chronologically different works of art. In this type of promotion, you will find two different types of users. There will be experts that have the knowledge to complete the game because they're interested in art. But there will be also people who will not be able to finish the Puzzle without doing online research.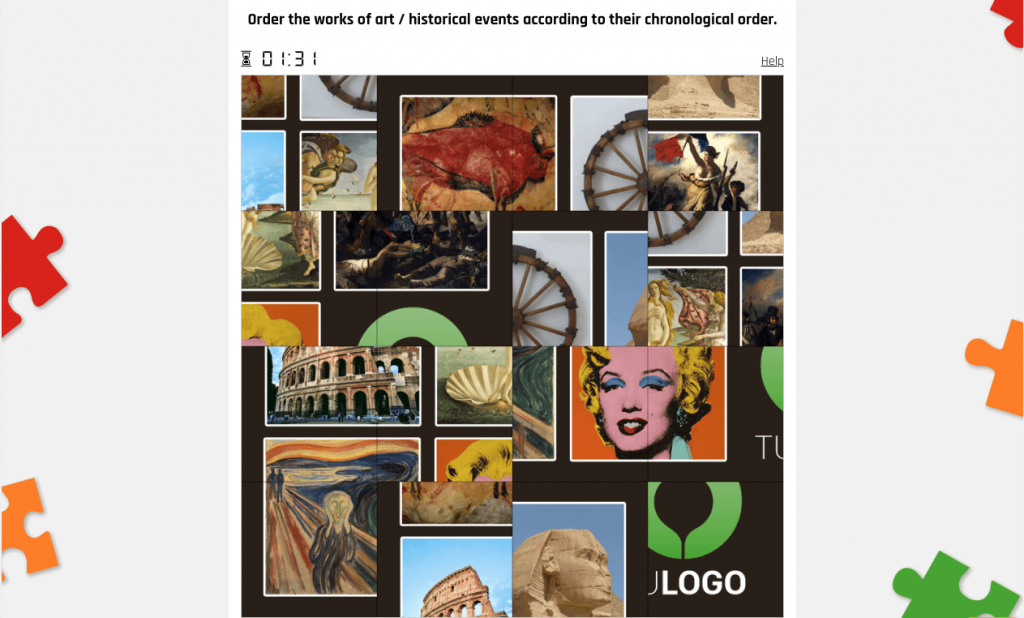 At the end of the game, you will have information about the participants that completed the Puzzle in the shortest time. But apart from reaching your niche audience, you will also have informed a wider number of online users about a topic that they weren't familiar with. This might generate their interest, making them potential future customers. As in the previous example, the gaming application achieves more than just one marketing goal. It informs, generates high-quality content and attracts the attention of a wider audience.
Memory: Promote products and services
Gamification in marketing has also another purpose. Brands use games as an extra tool to advertise and promote their products and services, it is called advergaming, and it is the development of games used to promote products and services.
Face to face with the Christmas season, there are thousands of companies that are trying to boost their sales and persuade the public to choose their brand over hundreds of others. Winter holidays are the peak season for shopping malls, especially toys and fragrance shops but candy and pastries also go like hotcakes!

A marketer of a company that experiences a big rise in profits during Christmas will want to promote the best selling products to a wider audience, and this can be achieved with a quick and easy Memory game. Through a game like this, you expose your audience to the products that you want to promote, as you choose the pictures that the users will try to match.

At the end of the game, the user will have been exposed to the products quite a few times. Therefore the brand awareness of your company will be increased, and the audience will be able to differentiate your products from the competitors'.
Interested in finding out more about our new games? Create your free account with Easypromos. And in case of any questions, don't hesitate to contact us through our Online Chat.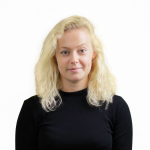 Kamila Palka
Easypromos marketing team
Publication date: 2019-10-28