Posted in: Applications,Digital marketing,Ideas for your websiteLast update: 16/08/21
Bored of sharing the same old pdfs, infographics and product shots? Add some variety to your content marketing plan – with quick mobile games! Here's how add gamification to your content marketing plan.

Content marketing is a classic strategy: instead of overwhelming people with sales talk, you provide valuable, interesting content for them to enjoy. That content will help to project your brand image and build a community of followers… so that when someone is ready to make a purchase, your brand is the first they'll think of.

However, too many brands miss out when it comes to content marketing. Why?

Because it's too complicated; or too expensive; or too slow. Or – even if they put in all that effort – people just don't like the content they produce.

So in this article, we'll take a look at how to build up your content marketing plan and add some variety. Content marketing can be simple, affordable and effective. You just have to create the right stuff.
What is content marketing?
First, let's make sure we're all on the same page. According to the Content Marketing Institute, content marketing is "the strategic marketing approach of creating and distributing valuable, relevant and consistent content to attract and acquire a clearly defined audience – with the objective of driving profitable customer action."

Please note that the venerable CMI doesn't specify a particular content format. Content marketing can be an online blog, in print, an ebook, a video, an image, a game, a sensory experience… anything you like!

But whatever form it takes, your content marketing should be relevant, accessible and engaging. If you want to maximize its impact, then it should also be shareable and interactive.

Take a look at this graph from Google Trends. After years of bumbling along, the phrase "content marketing" suddenly spiked in the early 2010s… just around the time that social media and smartphones took off.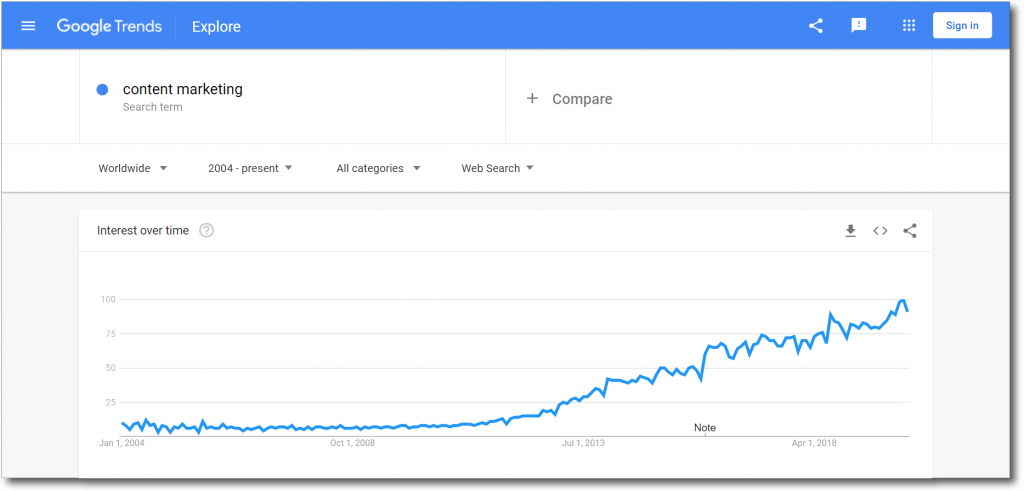 New technology and new ways to communicate have enabled content marketing to the extent that we could never have previously imagined.
Those same innovations mean that consumers are no longer happy to just watch ads. They want to interact, personalize and share the content you produce. That's why I say that your content marketing needs to be mobile-friendly, interactive and shareable.
Not sure if your social media and content marketing strategies align? Check out the Definite Guide from Bulk.ly and learn how to integrate the two strategies.
How to spice up your content marketing plan
Every brand has a different approach to content marketing. That's fine! Depending on your products, services, and style, you'll have preferred ways to communicate.

For example, many B2B brands share quality content in the form of whitepapers and ebooks. B2C brands are often happier sharing tutorial videos, customer reviews, or the story behind their products.

But whatever your brand sells, you don't want to get stale. If your content marketing plan consists of "every three months, we upload a new pdf"… Well, your audience probably doesn't thrill at the sight of your emails.

Successful content marketing means creating outside of your comfort zone and occasionally taking risks. (One of my favorite examples is MailChimp's movie studio.)
Successful content marketing means creating outside of your comfort zone and occasionally taking risks. 
Click To Tweet
Content marketing is also about staying up to date with new formats. Five years ago, that meant designing a cute Instagram grid and organizing Facebook seminars. As I type this article, it means getting comfortable with TikTok, Twitter threads and mobile games. Five years from now – who knows?

Sadly, one article is not enough space to cover every single form of content marketing out there. Today, we're just focusing on one type: mobile games and gamification.
Why mobile games matter for content marketing
Let's go back for a second, and look again at the essential characteristics for content marketing. We said that content marketing has to be:

relevant
accessible
engaging
shareable
interactive
mobile-friendly
And ideally, it will be easy and affordable too! Sounds like a tall order, right? Here's the good part: mobile games fulfill almost all of those content marketing criteria.

They're relevant: mobile gaming dominates both the game industry and our phone usage. They're accessible, in the sense that mobile games tend to be simple (although there is a lot of work still to be done in making games truly accessible to all users). They're mobile-friendly, engaging and interactive, by definition. They're shareable through mobile phones and social media.

"OK," you're probably thinking, "but what about being easy and affordable? I don't have the time or the resources to build a game engine from scratch!"

That's where mobile game apps come in. These are ready-made games, where you just have to edit the design and details to fit your brand. That means you can have your content up and running in just a couple of hours.
3 examples of gamification in content marketing
So far, we've talked about content marketing in broad terms. However, your content marketing plan probably gets a little more specific than that. Different content works for different customers at different stages of the buyer's journey.

Different content works for different customers at different stages of the buyer's journey.
Click To Tweet
So, to help illustrate how useful games are for content marketing, I've broken down the following examples into three different goals.

Read on for examples of mobile games that demonstrate brand values, link up with major holidays, and help guide customers to the checkout with product recommendations.
Mobile game #1: Demonstrate brand values
Content marketing is really useful for demonstrating your brand values. The content you produce, the format you use, even the tone of voice and the font choice – they all say something to customers about who you are.

One way to demonstrate your brand values is to produce content around issues that you care about. For example, International Women's Day is celebrated every year on March 8th. If you care about equality, cater to women consumers, or employ women, then this is a good opportunity to share those values with your audience.

Here's one example of a mobile game for content marketing around social issues: a quick quiz to mark International Women's Day.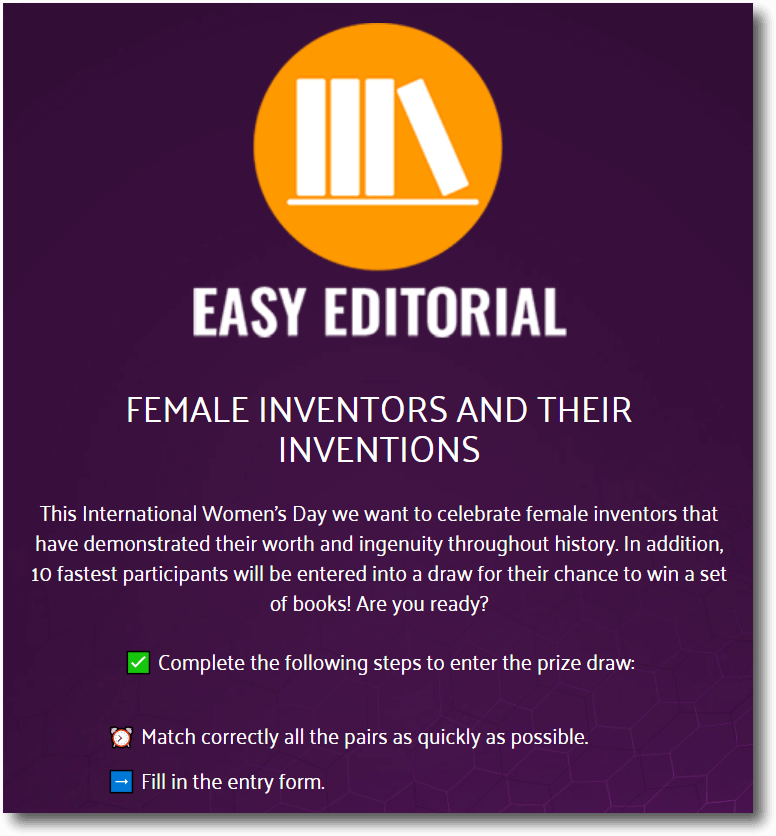 You could adapt the format to your brand by focusing on women from a particular industry, country or time. The game is fun and challenging for your followers, raises awareness for gender equality, and clearly demonstrates your values.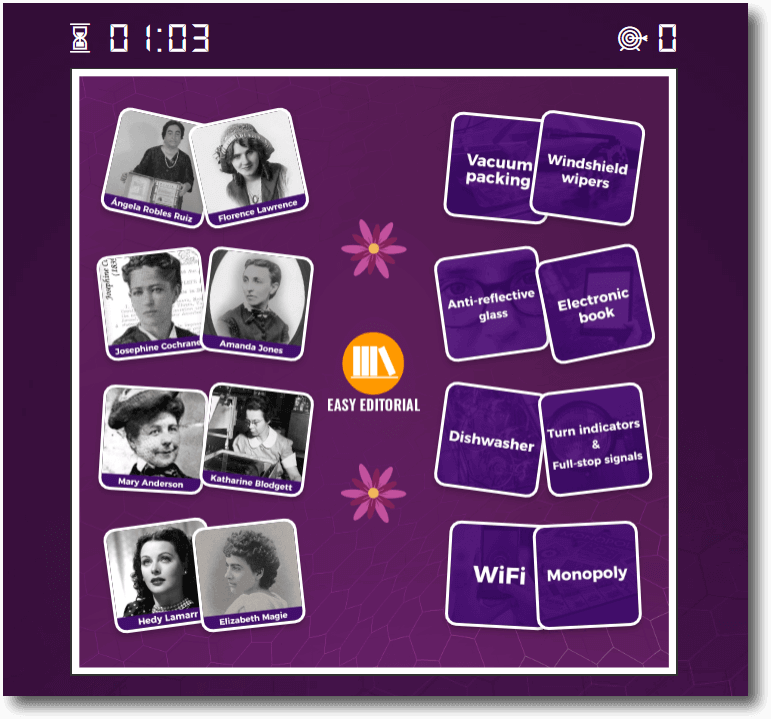 You can super-charge the effect of this type of content by making mobile games more competitive. Offer a prize that appeals to your target audience; show rankings in a public scoreboard, or even give extra points to players who share the game with their friends.
Try the Quiz yourself – and then create your own promotion using our free template!

Mobile game #2: Celebrate holidays and events
Major holidays, seasons and events are another fantastic opportunity for content marketing. Think about it: the theme, colors, and symbols are already decided for you. That makes it super easy to fit your content into the template of the holiday and reach an eager, interested audience.

For example, every B2C marketer knows that Christmas is a key time of year. And because Christmas is the season of giving and goodwill, it's the perfect time to run giveaways, share special offers, and encourage people to share with friends.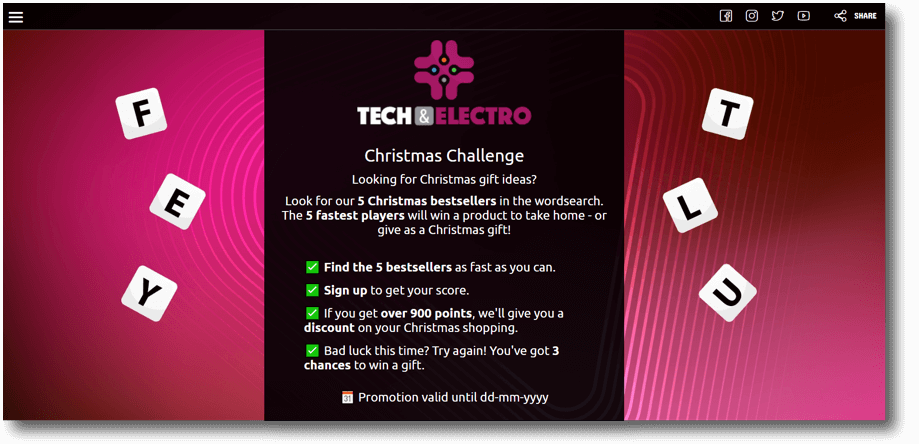 In this example, the brand appeals to their audience with a classic game. Christmas is a family holiday, so old-fashioned games always play well.

They're also offering a generous prize to the winners, which will appeal to consumers during an expensive time of year.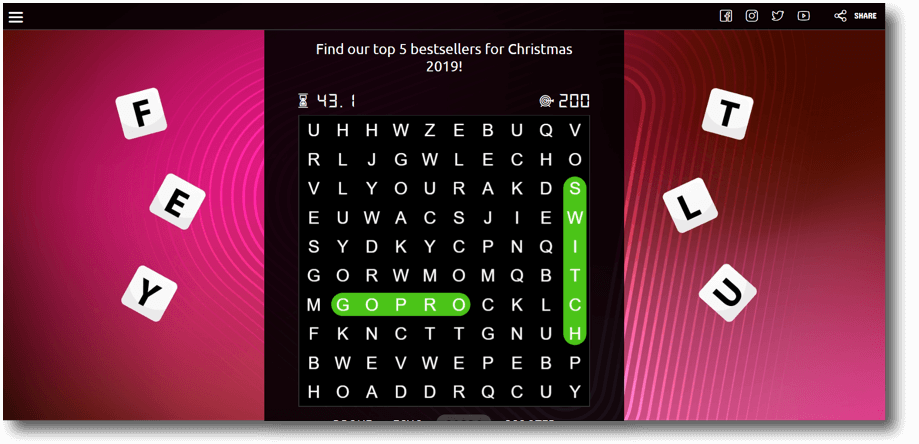 And, as you can see in this Wordsearch, everyone who plays will get a quick reminder of the top tech brands and gifts available. You can also try the DEMO yourself!
Mobile game #3: Product recommendations
Product recommenders are becoming the golden child of content marketing. They're an easy way to give every customer a unique, personalized experience… while increasing your sales and reducing cart abandonment.
Did we mention that they're also a fun, interactive form of content marketing?

Here's a tasty example from a cheese store: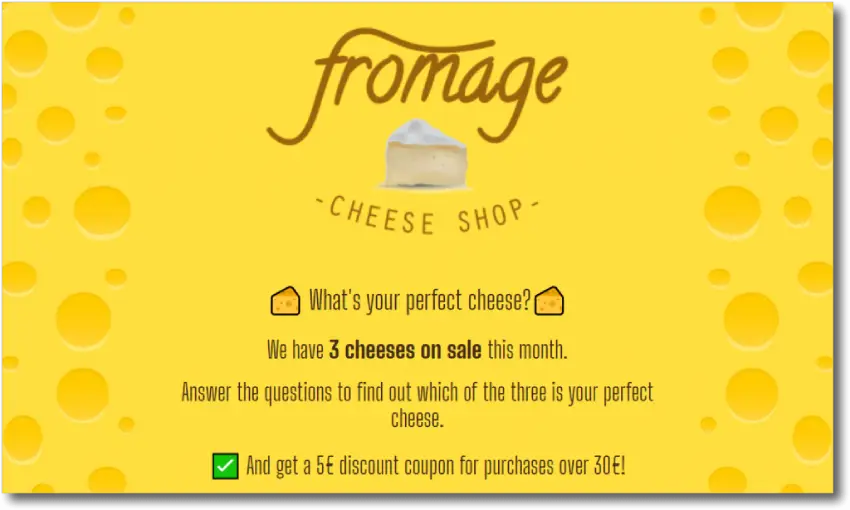 Once again, you'll notice that there's a financial incentive on offer. Games for content marketing work best when you combine an exciting experience with a tempting incentive.

Players just have to answer a few simple questions…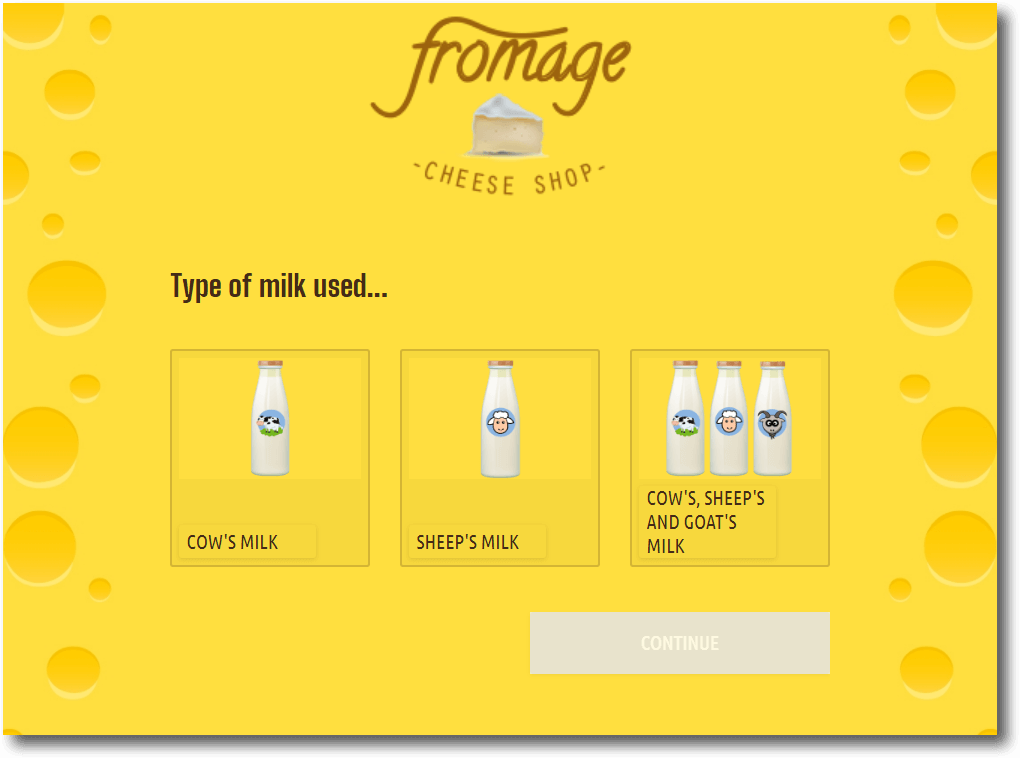 … and they'll get a personal recommendation in their inbox, plus a coupon to nudge them towards the checkout. Participate in our Product Recommender DEMO to discover how it works!
Get started with games in content marketing
If you're ready to spice up your content marketing plan, then the Easypromos game apps are an easy way to start. Try out some product demos or chat with our sales team today!
Publication date: 2020-03-12