Posted in: Digital marketingLast update: 18/05/22
Why does your brand run digital promotions? To boost sales, generate leads or collect data? Whatever your goals, you can achieve more when you integrate online promotions with Google Analytics. Here's how to set up an integration and supercharge your marketing campaigns.

In this post, we'll explain:
what Google Analytics is and how it works
why you need it for your online promotions
how to set up an integration with Easypromos
… and, as a bonus, we'll suggest a few ways to use the feedback from Google Analytics to make your promotional campaigns even bigger and better. Ready? Let's go!
To integrate your promotions with Google Analytics – as well as Zapier, HubSpot, Facebook, and others – visit the Easypromos integrations directory.
What is Google Analytics?
Google Analytics is a free online tool that helps you track and understand website traffic. It's the most popular tool for web analytics, and it can track mobile activity as well as users on desktop computers.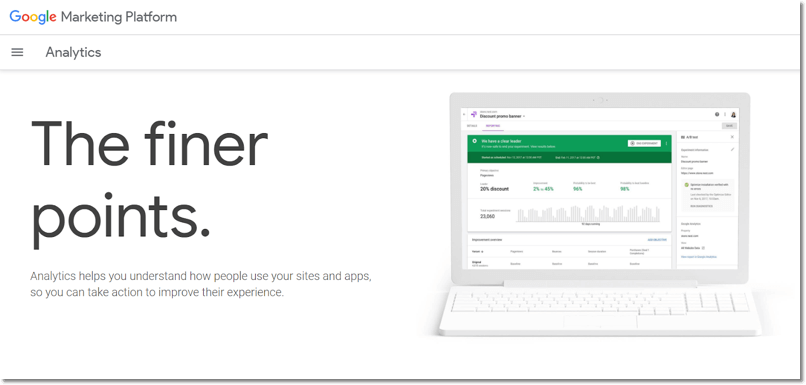 When you connect your website to Google Analytics, you'll get information such as:
how many people are using your website from day to day
which pages of your website are most popular
whether your website loads quickly or slowly
where your users are located
what devices they used
how they found your website
… and much, much more. You can view this information on different time scales, see whether users behave differently on different devices or in different countries, and monitor the progress of your promotional campaigns.
Why you need Google Analytics for your online promotions
Not convinced yet? Well, let's get specific about why Google Analytics matters for your online promotions.
First of all, when we talk about "online promotions", that phrase covers a huge variety of marketing campaigns. It could be a discount offer, a product recommender quiz, a cute Christmas game, a spin-the-wheel giveaway, a social media challenge…
In fact, Easypromos alone offers over 30 different apps for online promotions.
Now, most promotion apps have their own built-in analytics. When you run an Easypromos promotion, you can see how many people viewed the promotion, who took part, and whether they shared it with their friends.

Adding Google Analytics is the cherry on top of your promotion data sundae. It gives you more and more detailed information, such as how long people spent on each page of the promotion.
We'll talk about why that data is valuable shortly. But first… here's how to actually make the integration happen.
How to integrate Google Analytics with online promotions
First of all, you'll need to create your promotion with Easypromos.
This can be as easy or as sophisticated as you want it to be. You could set up an easy entry form giveaway with one of our ready-made templates, or you could create a unique PhotoFun app with custom graphics and code. There's something to suit everyone.
When your promotion is ready, you'll get a unique web address where the promotion is hosted. This is the key piece of information you need to get started with Google Analytics. (Please note: social media promotions don't have a unique website, because they're hosted on social networks. You can use social network analytics instead.)
Go to your Google Analytics account (or set up a new one) and create an additional account for the promotion website. This keeps your promotion data separate from all the information about your main website.
As soon as this new account is set up, Google Analytics will give you a tracking ID. Copy this ID down and head back over to your Easypromos account. Click the "Integrations" tab of your promotion, and pick the Google Analytics integration.
Type in your Google Analytics ID and… that's it. You're done. Valuable data is now heading your way!
Want a little extra help? Here's a video tutorial on setting up a Google Analytics integration with Easypromos.
How to use data from Google Analytics
So you've set up your Easypromos x Google Analytics integration, the data's flooding in, and sales are up. Fantastic! But… the work isn't over yet.
You should be feeding every scrap of analytical data back into your marketing campaigns, to keep refining and developing them. Let's look at two ways that Google Analytics and Easypromos data can help to upgrade your online promotions.
Refine your online promotion strategy
Promotion data will show you what works – and what doesn't.
For example, if you see that desktop users tend to complete the promotion but mobile users don't, then you need to check whether your promotion design is mobile-friendly.
Or if you notice that lots of people take part in the promotion, but don't end up making a purchase, then you need to find the weak link in the chain. Google Analytics will help you figure out where people lose interest: is it the call to action? A URL that leads to the wrong product? The checkout process?
Over time, your online promotions will become slick and effective. As you implement the lessons learned from each promotion, you'll be able to grow your reach and increase conversions.
Target promotions for different customer profiles
As we've seen, Easypromos data can help you understand your audience better. What devices do they use? Where are they located? What time did they log in? Which social media platform they come from?

Google Analytics offers even more fine-grained information: What browsers do they prefer? What are their other interests? Have they shopped with you before? What are they interested in on your website?
You can use all of that information to segment your audience into specific groups, based on their demographics, interests or behaviour. And then you can create online promotions targeted for each group.
For example, if you have a chunk of customers who love finding your coupon promotions on Instagram and tend to shop on mobile… then you can create a photo-packed, mobile-friendly promotion to boost sales.
And if you have another group of customers who like getting promotions by email and are searching for Christmas gifts… then you can send out a fun festive promotion with plenty of gift ideas.
You get the idea. Depending on your business, the possibilities are pretty much endless.
Ready to integrate Google Analytics? Still need advice? Chat live with our support team!
Publication date: 2020-10-26