Previously in this series, we've discussed what coupons can do for you and how to plan out your campaign. Today, we're looking at how to implement all that planning, and analyze the results. So let's take a look at how and where to distribute coupons for viral success.
The basics
First, a caveat. There's no one-size-fits-all solution for promotional campaigns. You'll need to choose a coupon type, define your target audience, and build a social media strategy for your specific brand. So we won't waste your time with generic statements. Instead, let's start by asking the right questions to create a tailor-made promotion.
Who's your client? In inbound marketing, we talk a lot about buyer personas. This is a tool for thinking about your client: what are they like? What do they need? How do they spend their downtime? What's their budget? What social media do they use? Try to get a picture of how they find information, both on- and off-line.
What's your brand all about? If you have a brick-and-mortar store, then you'll be able to share promotions via flyers, posters, and local ads. But if your brand is online-only, you'll need to focus on social media and email marketing. Make sure your strategy fits your identity.
What's your campaign objective? Are you trying to attract new clients or reward faithful customers? The channel you use to share coupons depends on your goals, just as much as your client profile or brand identity.
Choosing the best channel to distribute coupons
Once you've thought through the three questions above, you should have a better idea of how and where to distribute coupons. Now it's time to break down your strategy even further, focusing on each individual channel.
For example, your promotional message is going to sound very different on Instagram than it does via email. Take the time to write, design, and prepare custom messages for your different social networks. Think about design details, like image dimensions and character limits, as well as how your audience differs between channels. Using a variety of media to share your promotion is a chance to segment your communications, and make them more effective.
When you create a promotion with the promo code app, it automatically generates a unique URL to distribute coupons. You can share this on Facebook, Twitter, Instagram, Whatsapp, or embedded in any website or blog. You can even print it on leaflets, flyers, posters and promotional material. The URL is totally versatile and compatible with all devices, so your promotion will reach customers wherever they are. And here's an example that you can make your own coupon, fully designed with the Easypromos editor.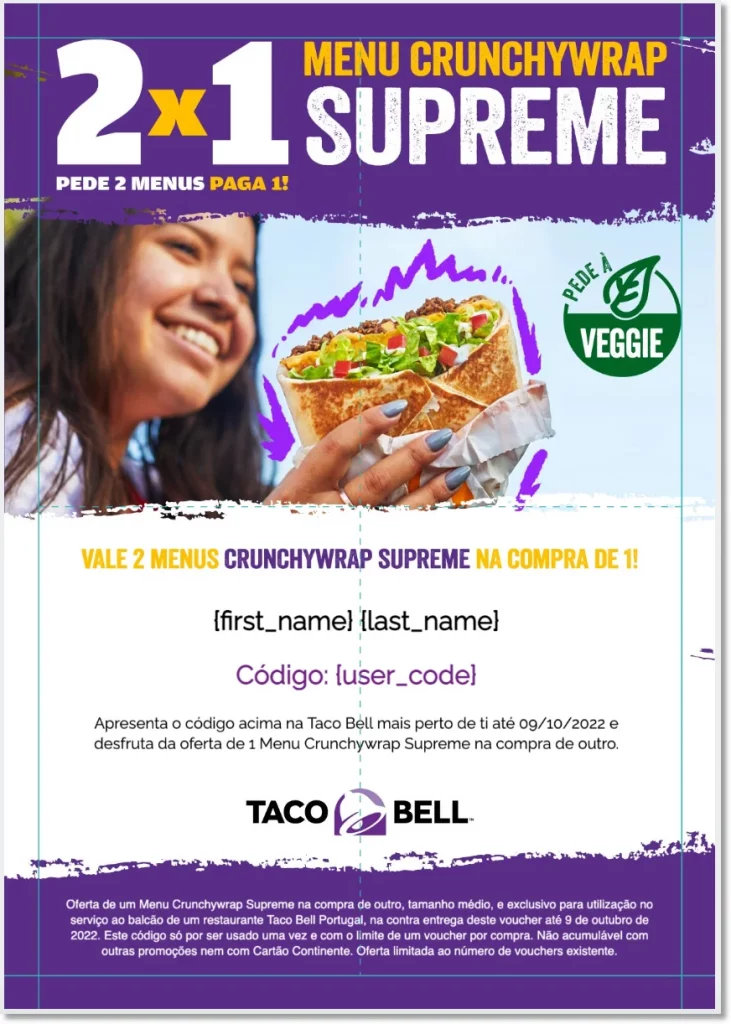 Make your campaign stand out
So now you've chosen your channels to distribute coupons, and you've prepared the viral content for each one. To round things off, let's talk about how to analyze the results of your campaign, and how to add those finishing touches to make your promotion stand out.
Use UTM codes to track coupon users. UTM codes, or UTM parameters, are little pieces of code that you can add to the promotion URL. They'll tell you where each visitor comes from: if they clicked the coupon link from Facebook, an email, or any other channel. Use this info to check how effective your strategy has been.
Include images to make your promotion more dynamic and visual. It's a great idea to show off the prize. You'll remind users of what they could win and motivate them with this photographic call to action.
Segmentation, segmentation, segmentation. Don't just distribute coupons at random – tailor your message for individual audiences on each channel you use. The more precisely you target your message, the more effective it will be! Think carefully about who will appreciate this promotion the most.
Be proud of who you are. Many users will only participate in promotions if they recognize and trust the brand behind them. Make sure that the promotion, and every advertisement for it, is clearly connected to your brand or business.
Online coupon directory for your brand
Did you know that with Easypromos you can launch an online coupon directory for your brand? It can be fully customized with your brand image and logos for further exposure and visibility. It's a tactic that comes especially in handy if you're looking to generate customer loyalty and trust. Add the coupon directory software into a private area on your website, or share it with the public to generate more leads and boost sales.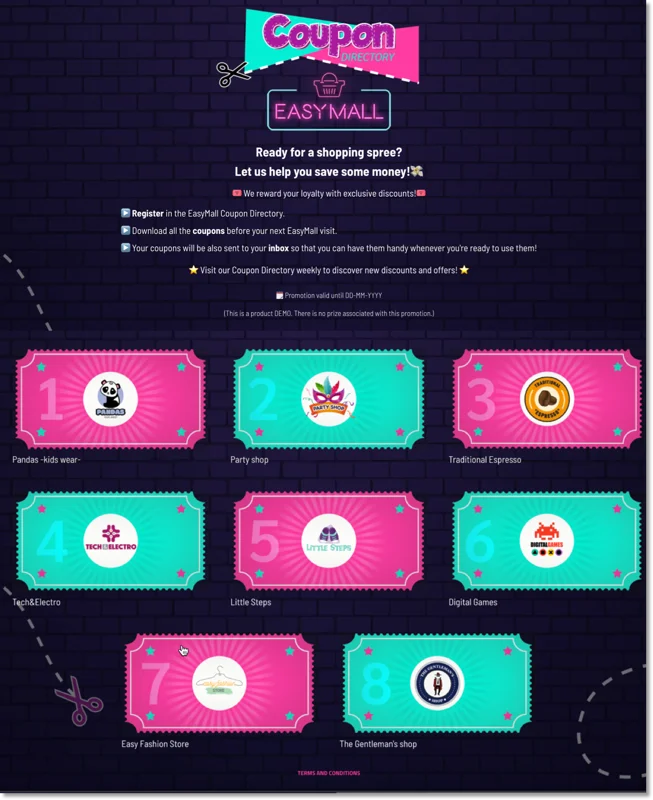 Try our coupon directory software to discover how it works! Download different coupons to replicate the real user experience.