Celebrity endorsement is an effective and well-established marketing tactic. We're all used to seeing popular faces on TV screens, billboards, and magazines promoting new – and often high-end – products. Marketing teams of powerful companies use movie stars, singers, and athletes to influence our decision-making process; and frankly, sometimes they manage to do it, as celebrities generate trust while emphasizing the values of the promoted products.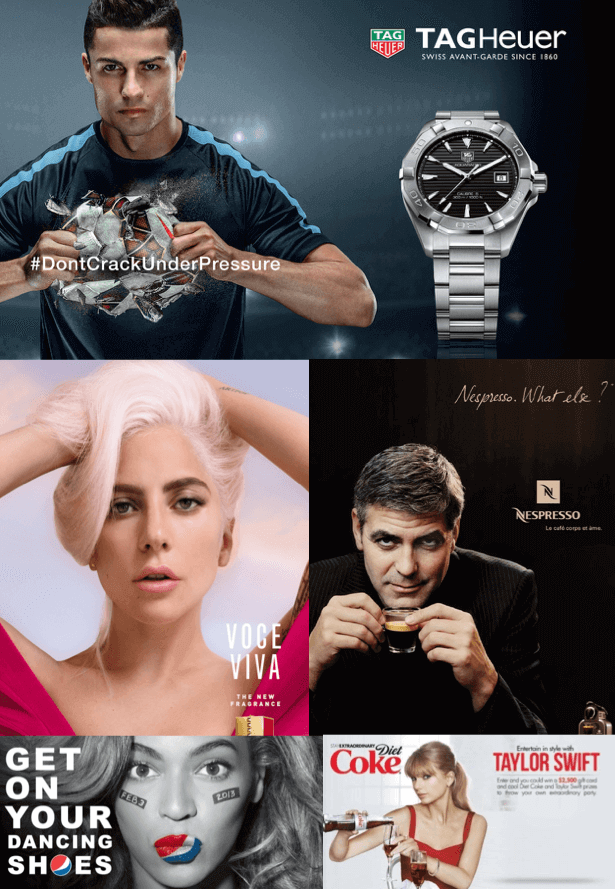 This popular marketing technique is still very much alive today but with the growing speed of social media, a new trend came to the light: influencers marketing. This trend is especially present on Instagram, the most visual and one of the most viral social media networks. And believe us when we say that the reach of social media influencers is really powerful… 49% of online users admit they depend on influencer recommendations. That's basically half of your total followers. Now then… Isn't it something important to take into account?
Are you planning to launch an influencer giveaway? Find out how to run a social media promotion according to best practices.
And now imagine what'd happen if apart from promoting your product, an influencer would also raffle it with a social media giveaway? One thing is guaranteed – product awareness would go through the roof!
Organize an influencer giveaway on Instagram and boost your brand
Influencer giveaways on Instagram go viral for two particular reasons: the trust the influencers generate and the numbers of social media users that follow their accounts. Therefore taking advantage of the engagement that influencers can generate is a very smart thing to do. And the best way to do it is by running an influencer social media promotion.
The great news is that we have the magic formula – and the only tool – that you need for a successful giveaway organized in collaboration with a brand and influencers. And that is… Our Instagram influencer giveaway tool. It allows you to create a single giveaway across different Instagram accounts. That way you and the influencer can publicize the same giveaway.
Let's point out a few important aspects that you should have in mind whenever thinking about an influencer giveaway:
Make sure you have an active social media audience, preferably with high levels of trust.
Ensure your Instagram account is active – not many people trust accounts that have been inactive for no particular reason.
Collaborate with influencers of your niche: you want to make sure the giveaway attracts members of your target audience.
Organize a comment giveaway where participants enter by commenting on any of the promotional posts, either on your or the influencer's account.
Give away an attractive prize. Yes, it's the influencer's job to promote it but it still must be catchy and attention-grabbing
Share terms and conditions so that you follow the Instagram rules.
Use the Easypromos Instagram Giveaway tool to ensure the winner selection process is transparent and automated – it'll further boost brand loyalty and trust.
Let's take a glimpse at an effective and well-organized giveaway by a fitness influencer. She collaborated with two brands (fitness clothing and accessories) to promote their products and increase brand visibility. The organizer chose a random winner from among all the participants that followed the entry requirements (liked the post, mentioned a friend, and followed the organizing account as well as the promoted brands).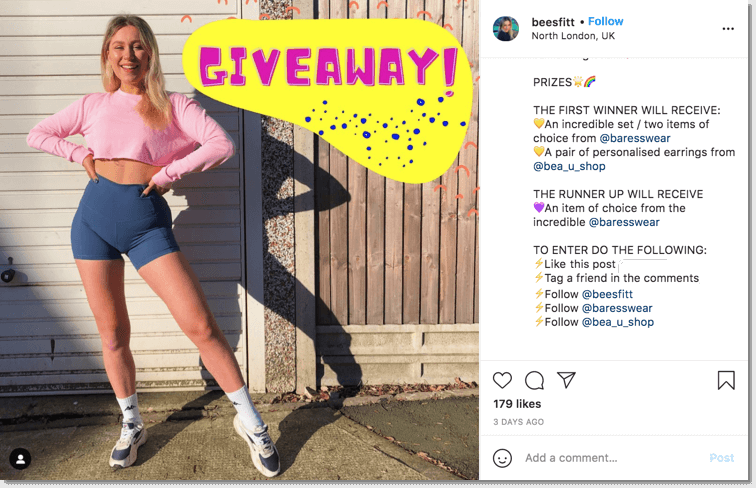 The right way to randomly pick a winner of your Instagram giveaway with influencers
Once you know the most important aspects to have in mind whenever organizing a giveaway with Instagram influencers, it's time to pick a random winner of your Instagram comment sweepstakes.
Brands and influencers that are not used to running giveaways sometimes worry when it comes to choosing the winning participant, as they don't know how to add entrants from a variety of different posts and profiles to the same giveaway.
To solve this issue, Easypromos developed a system that allows you to add giveaway participants from different profiles. All you have to do is send an invitation to your collaborating influencer or brand. They'll have to log in with their account and add the giveaway post to the winner picking tool. Then you – as the organizer – get to choose a random winner from among all accounts that promoted the giveaway. Easy, right?
Note: Both, brands and influencers must have Business Accounts to run an Instagram Giveaway. It means that you must have your profile connected to a Facebook page. It's important to remember, as, at the moment of picking the winner, the brand and the influencer will have to log in to their Facebook page.
Do you have more questions about running Instagram influencer giveaways? You can always contact our Support Team in case of any doubts!