By now, it's clear that the level of activity on Instagram doesn't change dependent on the seasons. So you just need to adapt your Social Media Marketing to your target audience's winter style. It's a chance to boost the products that fit best with this season, too.
Test and compare interactions with your posts carefully. Then you can find out the best time of day to post on Instagram, what kind of content is most popular, which products get more attention, etc. It's also been demonstrated that running Instagram Giveaways is the best way to increase followers of your profile, publicize your products, and gain brand recall value. All with one objective in common: get your name out there to increase sales.
So we we've collected 7 Instagram winter giveaway ideas to inspire you:
Winter giveaway idea #1: Promote home decor even in winter
Most holiday advertising is about summer, the beach, and the pool. However, a winter getaway might also be attractive to your users. Who doesn't like to curl up on the couch with a cup of coffee and a blanket?
This local accommodation service partnered up with a homewares brand to give that cozy feel to their lodgings and raffle one of their blankets. Co-branded actions like this may bring you new followers.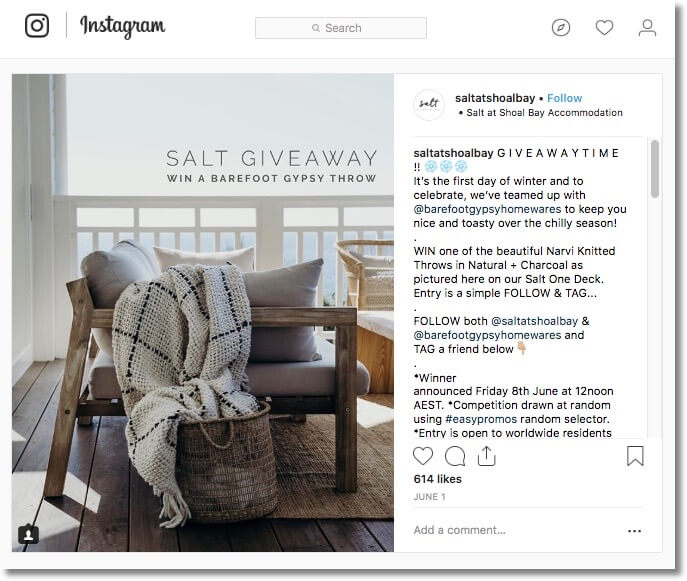 Winter giveaway idea #2: Publicize your winter collection
Fashion is for all seasons. And Instagram is the perfect social network to show off your collections, being a very visual media. So if you're looking for attractive winter giveaway ideas, giving the winter collection a good show off on your profile will be a great idea.
Why not boost virality by running a giveaway? In this case, the brand worked with an influencer, who asked users to tell him how they layer up in cold weather.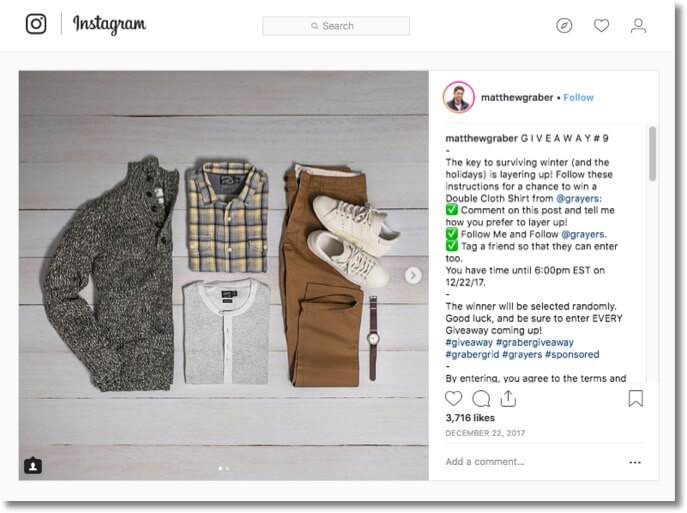 Winter giveaway idea #3: Outdoor winter equipment is a sure winner
Of course, special equipment for winter outdoor activities is sure to get a lot of attention during the cold season. So you can attract even more attention and engagement with an Instagram winter giveaway.
This is another example of a giveaway organized on an influencer's profile to raffle a pair of boots from the cooperating brand. It has winter written all over it.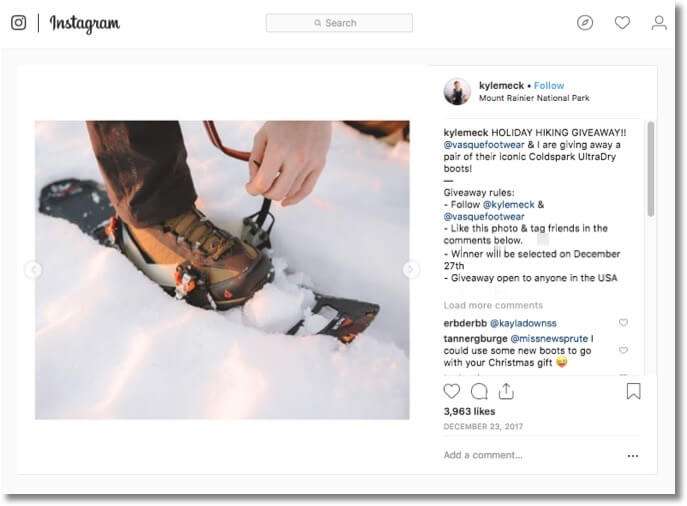 Winter giveaway idea #4: Winter is the high season for pets fashion
If you sell fashion for pets, you probably already know that autumn and winter is when you sell most. So get users' attention by organizing a giveaway where you raffle the star of your pets winter collection. Remember that on Instagram you can ask participants to tag friends in their comments.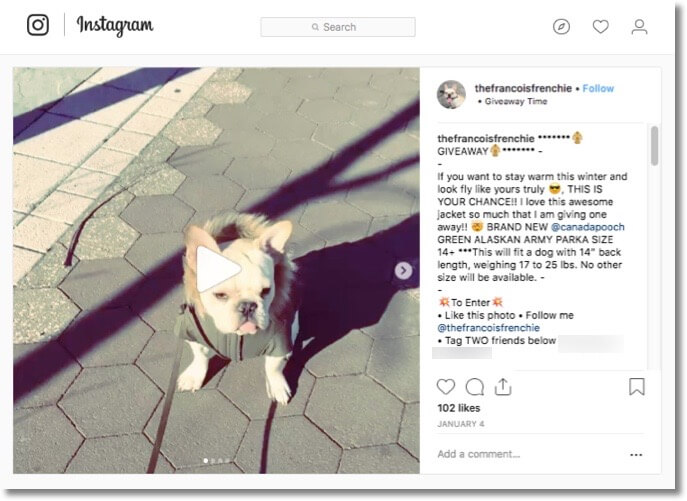 Winter giveaway idea #5: Jewelry with a winter feeling
Even jewelry can be seasonally inspired. Take this example, where the brand raffles a necklace with the gemstone of the winner's choice. The picture of the giveaway post also gives the impression of winter and cold, very appropriate for the season. This is a good example of keeping both picture and theme in line with the season.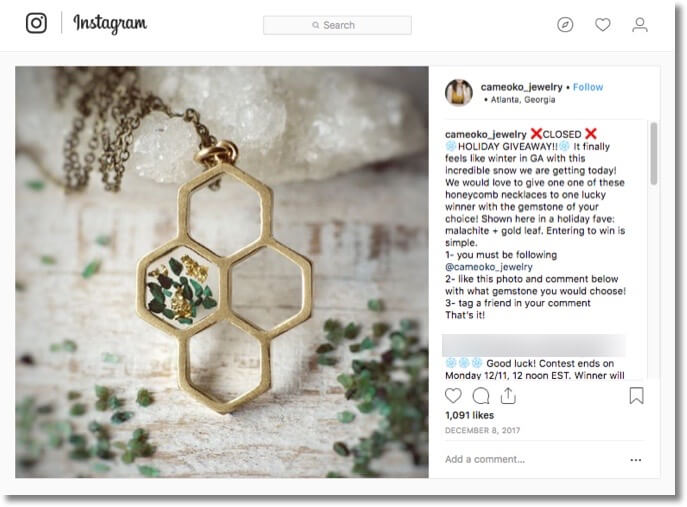 Winter giveaway idea #6: Raffle special winter skincare
When the weather gets colder, many have the need to take special care of their skin. Do you sell skin care products, or have a special line of products for winter health and beauty? Be sure to promote it as soon as winter begins. It's a good way to let users try out products, and catch the interest of new customers at the same time.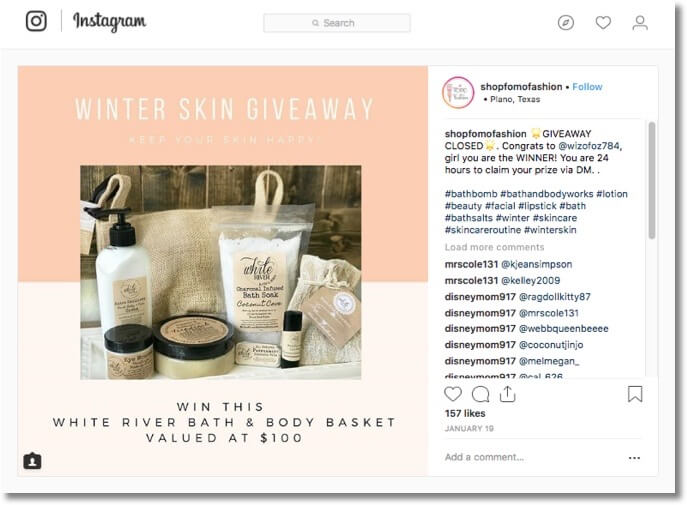 Winter giveaway idea #7: Winter giveaway for non-seasonal products
Winter is one of the dates in the calendar that you can use as an excuse for running a promotion… Even if your product has nothing to do with winter!
Like in this example, where a cake shop wanted to celebrate with its users that winter was almost over. They raffled two cakes, one for the winner and one for a friend. This invites users to think of a friend who would like these cakes and tag them. In this way they might get more followers. I wouldn't say no to one of those cakes myself 😉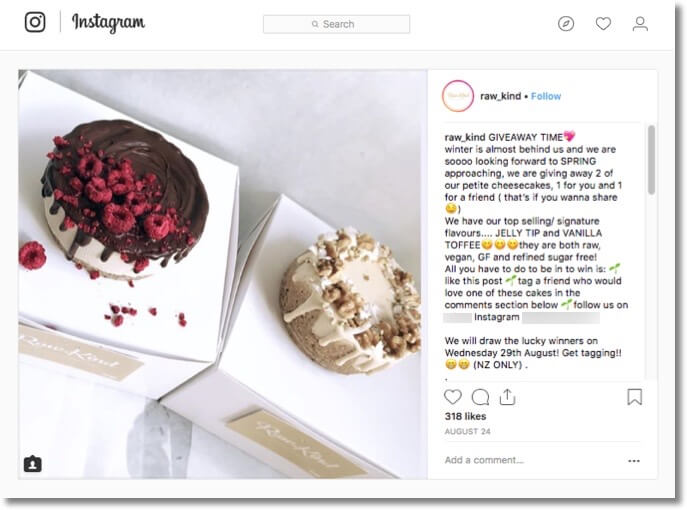 Why run your Instagram winter giveaway with Easypromos?
We've given you a head start with free templates to create your Instagram winter giveaway. You can access the Winter giveaway templates here. And the first giveaway is free! Still not convinced? Then you can read more reasons to run your Instagram giveaway with Easypromos here.
Ready to get started with your Instagram winter giveaway? Then create your free account to begin and don't hesitate to Online Chat with us in case of any questions or doubts!