Why promote sports clubs and teams?
Competence is a big aspect of all sorts of sports. Each player, club, team or national representation focuses on being better. They always aim to improve their skills and find new ways to achieve their sporting goals. But competence is also a great part of marketing. Good marketing ideas and unique ways of promoting sports clubs can bring many new opportunities… more attention, fans, engagement, sponsors, and support. And all these aspects are very important for sports teams. We know that coming up with new and original ideas can get very hard and time-consuming. But it doesn't have to be that way! Today we recommend that you put your social media accounts to use! You're about to learn about some great social media giveaways for sports teams and clubs!
Instagram Giveaways for your sports team or club
Salt Lake Bees organized an Instagram Giveaway to build brand awareness and spread the word about the upcoming game. The Bees wanted to create more engagement on their social media page. Thus they came up with the best prize for baseball fans – match tickets. One lucky winner walked away with four tickets to a game and a merchandised hat. Requirements to join? The sports team asked only for comments explaining why their fans deserved to win the prize.
Such a simple and engaging Instagram Giveaway is a great way to connect with your existing fan base. You get them involved, and you get a chance to promote your merchandise, too! Surely, after the giveaway, many Salt Lake Bees fans wanted to put their hands on the red hat!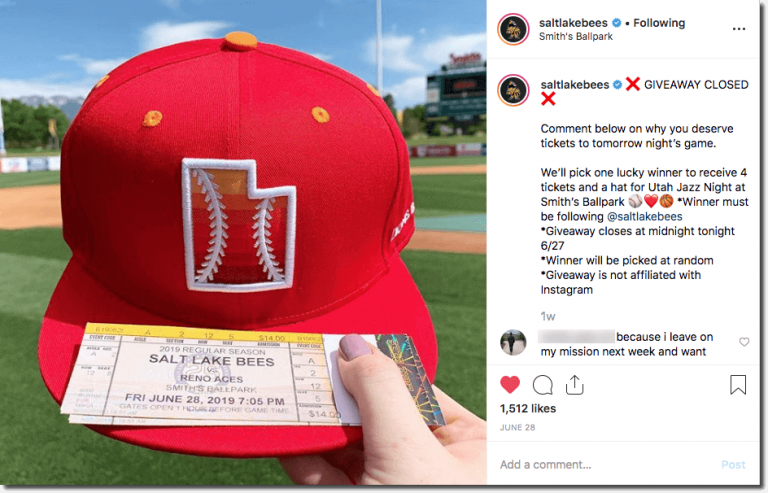 Does it look interesting? Then find out how to get started with an Instagram Giveaway!

More often than not, sports teams have great and popular players that fully outshine the club. Often they have the biggest input in the success of the team. If that's your case, we have some good news for you – it's a great opportunity to promote your club. Let's look at the example of McLaren.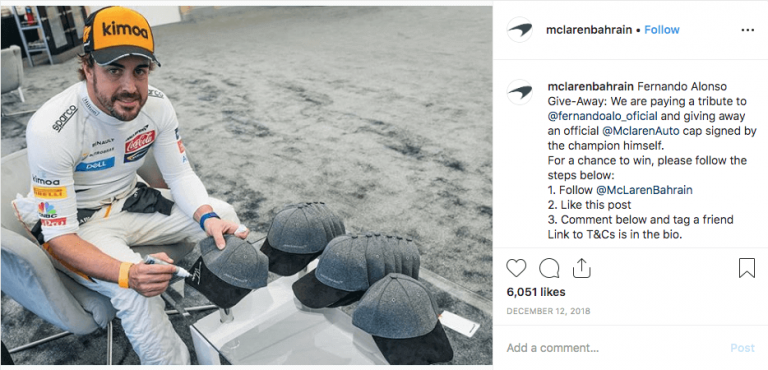 McLaren is one of the F1 teams, and it happens to have Fernando Alonso as one of their main racers. So McLaren Bahrain decided to take advantage of the famous athlete and organize a great and easy Instagram Giveaway. The aim of attracting the attention of Formula 1 fans was achieved, as one lucky winner became a new owner of a cap signed by Alonso himself! One of the entry requirements was to follow the McLaren Bahrain profile. McLaren's account gained new followers and saw an increase in engagement. The sweepstakes also contributed to building brand awareness of McLaren, and customer trust and loyalty were reinforced thanks to the giveaway transparency since the winner was picked with a random comment picker.
Twitter Giveaways to gain expose your sports team and earn loyalty
Twitter Giveaways are very popular with sports. Teams, clubs, and events, such as matches, championships, tournaments and different kinds of leagues have a lot of presence on Twitter. Sports enthusiasts turn to Twitter because of real-time updates and interactions. Therefore, when it comes to promoting your sports club and reaching a wide audience, consider organizing a Twitter Giveaway.

So let's take a look at the sweepstakes organized by Bristol Rovers, a professional football team.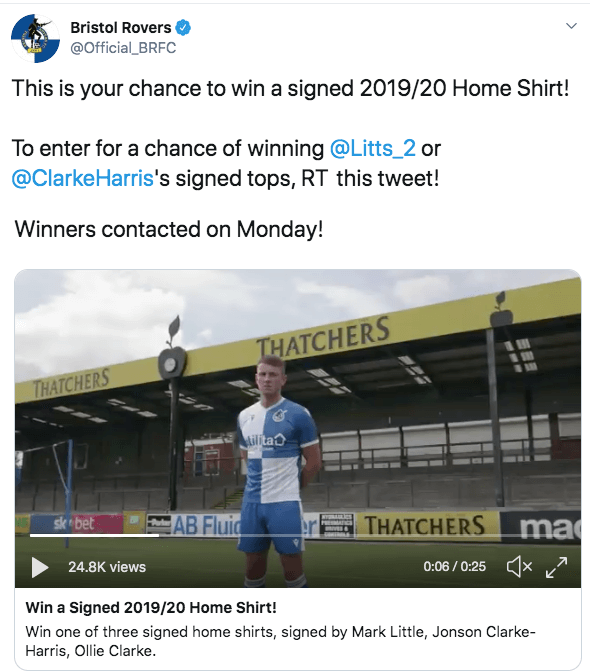 The club opted for a Twitter Giveaway promoting not only the club but also their footballers. They simply asked their existing fan base to retweet the promotional tweet. To make the giveaway more appealing and attention-grabbing, they announced the giveaway with a short video. The footballers were shown signing the t-shirts that were waiting for the lucky winners. This sort of giveaways is great to earn loyalty and build customer relationships, as the audience feels more involved with the brand. The requirement of retweeting the tweet brings a lot of engagement. It also helps with brand exposure and increases brand recognition.
New to Twitter Giveaways? Our tutorial will help you get started with your social media giveaways for sports teams!
Social media giveaways organized by your sports club's sponsors
A great way to promote your sports club is to do it through your sponsors. Why? Sponsorships help businesses improve their credibility and public image. Therefore, through promoting your sports team, your sponsors also gain prestige and improve the brand's image.
So here's a great example of a Facebook Giveaway organized by National Express. The participants were offered a chance to win tickets to upcoming matches of England's National Football Teams, male and female. Apart from match entries, the winners would also receive free return coach tickets. Consequently, National Express promoted both: themselves (they targeted a new audience – football fans, concurrently earning their loyalty) and their sponsored teams (more exposure and brand recognition among existing audience of National Express). The audience was informed about the upcoming matches, meaning that the events also benefited from this Facebook Giveaway, too.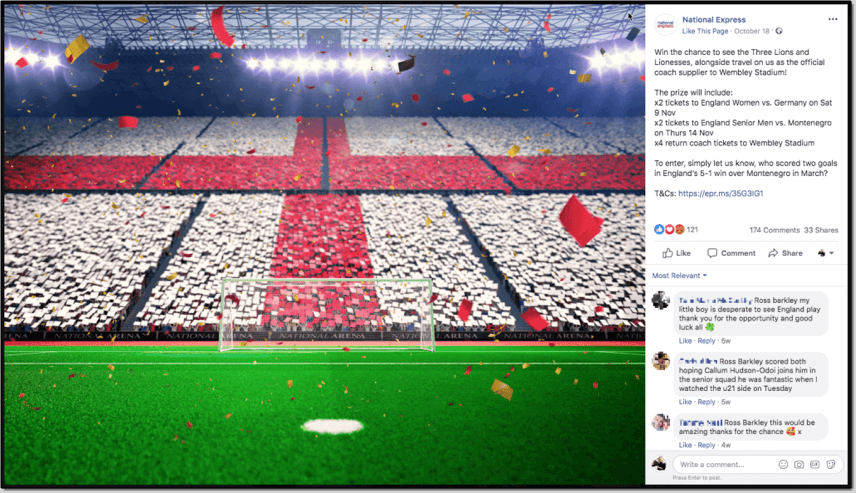 To enter the draw the audience had to answer one question: "Who scored two goals in England's 5-1 win over Montenegro in March?". Once again more engagement was seen within their online community, as National Express was targeting a segment with a higher level and expertise in football.

Do you want to learn more about Facebook Giveaways? Then head to our tutorial! It will give you great starting tips for social media giveaways for sports teams and clubs.
And if you're looking to organize a social media giveaway to promote an athlete, then we have something for you, too! Have a look at this great Twitter Giveaway promoting… a professional darts player!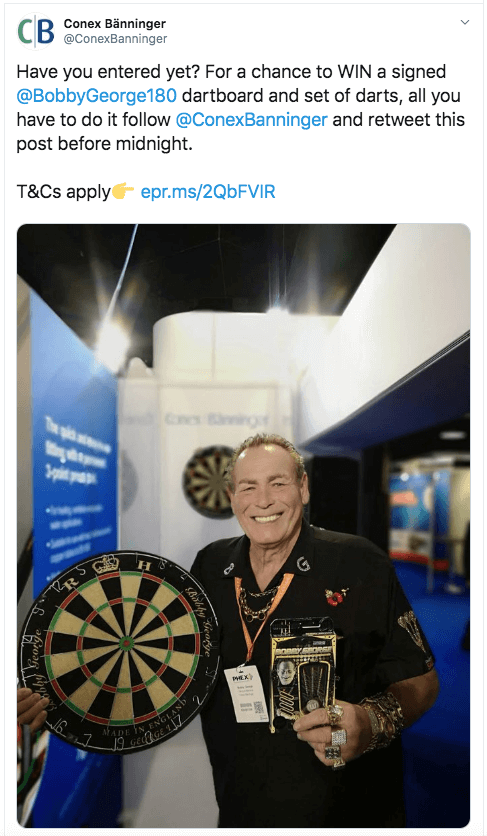 Conex Banninger decided to gift Bobby George's fans with some excitement. They organized a giveaway where the participants had a chance to win a dartboard signed by the darts star himself. And they were throwing in a set of darts, too! They asked the participants to follow the account of the organizer and retweet the post. This action increased Bobby's recognition and personal brand awareness. The organizer also didn't complain about extra engagement and new followers! 

We hope that these examples have helped you shape up some great ideas for social media giveaways for sports teams and clubs!
Do you need more examples of social media giveaways for sports teams? Download our ebook! "The power of promotional marketing for sports teams" will give you even more great ideas!
You can now create your account with Easypromos, and don't forget that your first giveaway is totally free! In case of any questions, our Support Team is ready to solve all your doubts through our Online Chat.