Tourism is a vital part of society and economy in almost every country, and according to Airbnb, it's finally recovering from one of the biggest crises in history. But with so many destinations competing for visitors, it can be hard to promote tourism. So how can you win the attention that your city, resort, region, or country deserves? Travel giveaways and interactive contests are the way to go!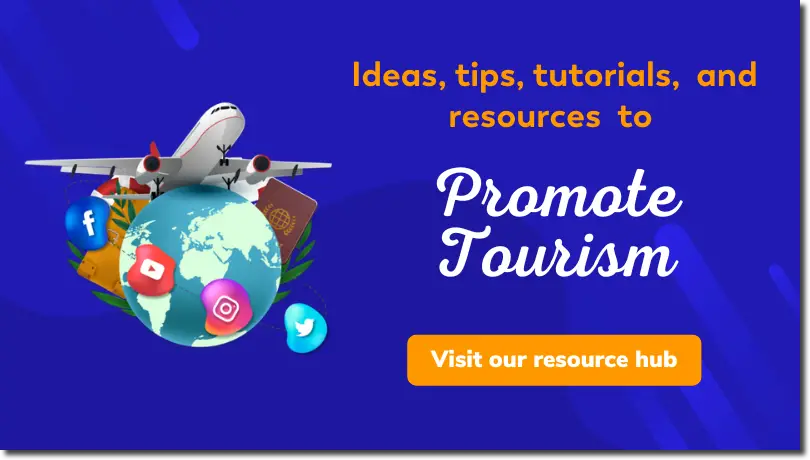 Online travel giveaways and contests are a game-changing strategy. You can raise your profile, attract online followers, and tell the world about your destination. Run seasonal campaigns, or mark special dates, such as World Tourism Day on 27 September. You can even target your campaign to focus on a particular audience or tourism type. Whether you're promoting domestic, international, cultural, eco or agri-tourism, choosing the right kind of contest is key. In this post, we'll share our top five recommendations for contests to promote tourism.
We've illustrated each idea with real examples made with Easypromos. We've also included some general guidelines, and information about useful Easypromos features for tourism promoters.
Tips for online travel giveaways and contests
Digital marketing is very visual. And so is tourism! More than 40% of Millenials choose a holiday destination based on its Instagram potential. So make sure your promotion is beautifully presented. Use attractive images, videos, and sleek design.
Holidays are social occasions. And we use social media to research, plan, and post about our vacations. So when you promote tourism online, make sure you share on all your social media channels too.
The success of a promotion depends on the prize. Choose something that's relevant to your branding and destination. It should be attractive to your target audience, too. For example, if you want to attract partygoers, don't give away museum tickets! Pick out an exciting prize that will motivate your followers to take part.
Keep it simple. Encourage followers to join the promotion by making it easy. Don't ask them to follow a complicated or lengthy process. With the Easypromos platform, you can set up a contest and collect customer information with minimum effort.
Promote travel giveaways and contests with classic prize draws
Just getting started with online giveaways? Then an Entry Form Giveaway is a popular, easy option. Simply ask users to register their contact details for the chance to win an attractive prize. We love this promotion from the tourism board OnlyLyon, which offered a luxurious weekend away for two.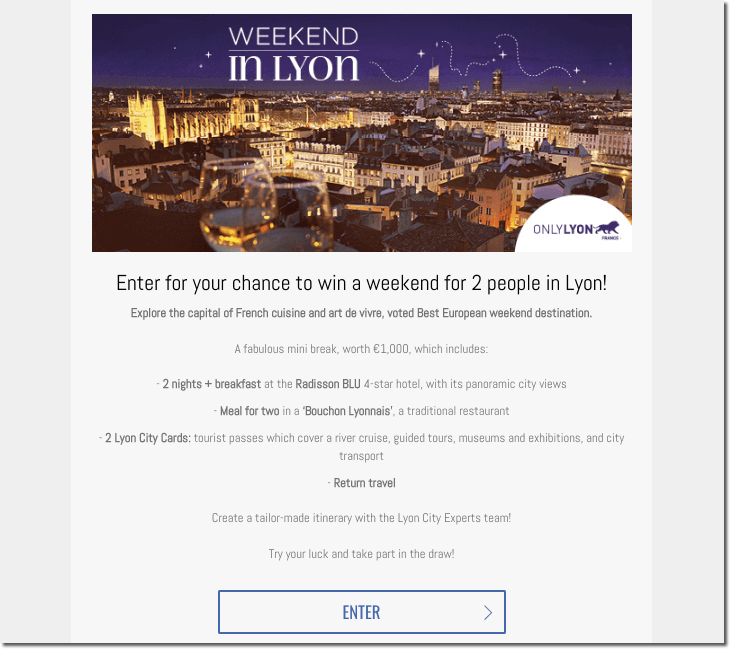 This is a great example of how to promote tourism with a cultural focus. The prize included access to gourmet restaurants, galleries, and museums too. It also subtly advertised tourist services, such as Lyon City Cards and City Experts. Of course, not every participant could win a prize. But through the promotion, they all got some ideas and advice for their next visit to Lyon.
Travel Giveaway to promote a resort chain
In the following example, the Australian resort chain Dreamtime Resorts launched a series of Entry Form giveaways consisting of three-night stays at several of their beach resorts. The organizers used Easyromos' customizable entry forms to create a straightforward registration form which also provided the organizers with the user data they were interested in.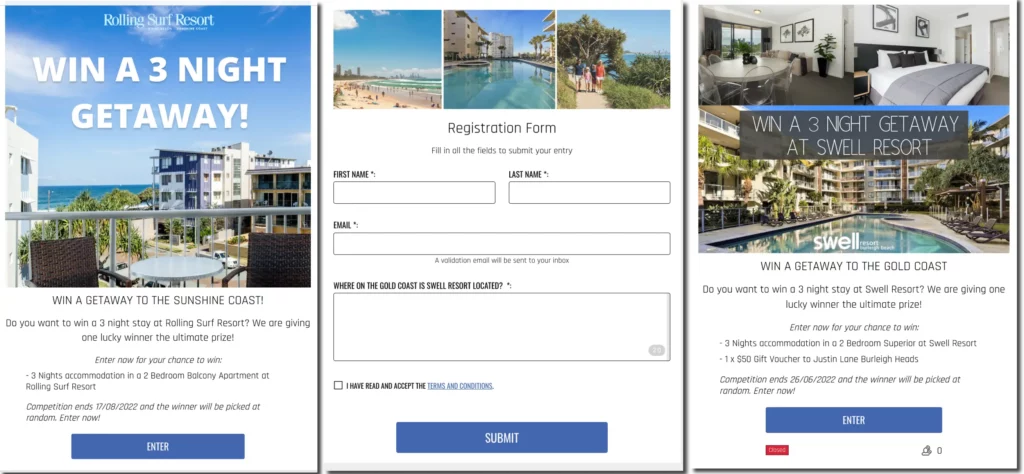 Vacation Giveaway to promote a tourist destination
Take a look at this example of giveaways that the tourism board of the Caribbean island of Anguilla has launched to promote the island as a tourist destination. The organizers shared a link to the giveaway's microsite on all their social media channels as well on the official website of the island's Board of tourism. By clicking on the link, users were automatically redirected to the giveaway's registration form.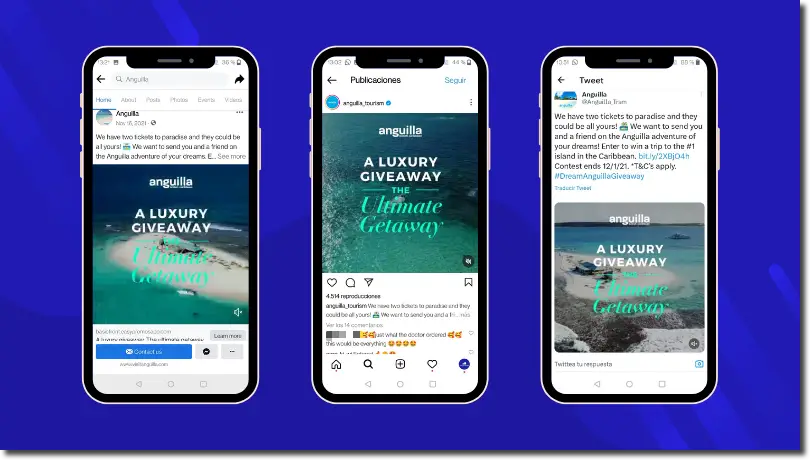 Online photo and video contests to promote travel
We've said before that modern marketing, and modern holidays, are all about photos. Tourists can't wait to share photographs, videos, and Stories from their time on holiday! So you can tap into this trend to get more online engagement for your brand.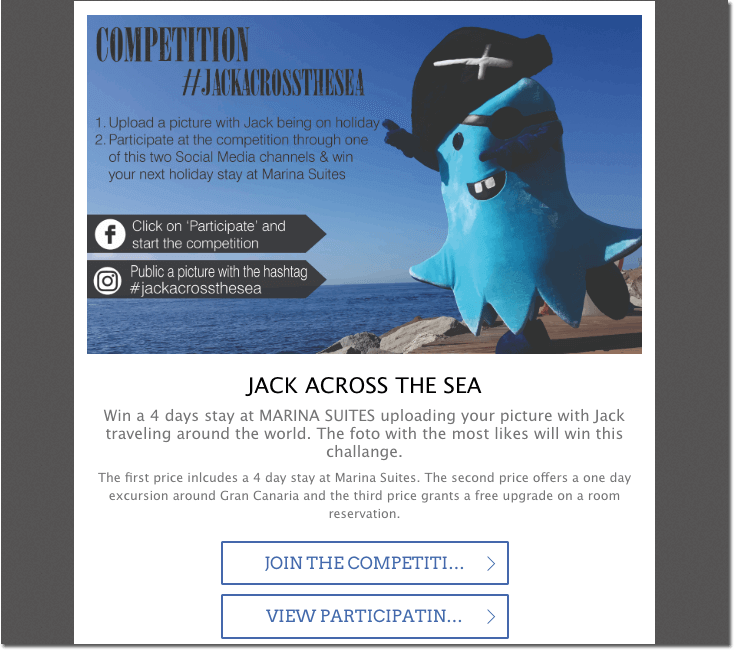 In this example, a holiday resort offered a range of exciting prizes in a photo competition. Participants just had to share photos on vacation with the resort's adorable octopus mascot. They could also share on both Facebook and Instagram, which boosted the brand's online profile.
The number of votes from viewers would then decide who won the contest. So even more followers joined the contest, in order to cast their votes.
Top tip: If you want to make your promotion more dynamic, consider running a user-generated Video Contest. You can even run a contest that combines photos and videos! Ask your followers to share quick clips of their holiday highlights.
Travel quizzes and surveys
A quiz or survey online is a fun way to challenge your followers. Use the opportunity to find out more about your target audience! How do they plan their holidays? What do they like to do on vacation? And how much do they know about your destination? You can take the chance to inform them about your brand, too.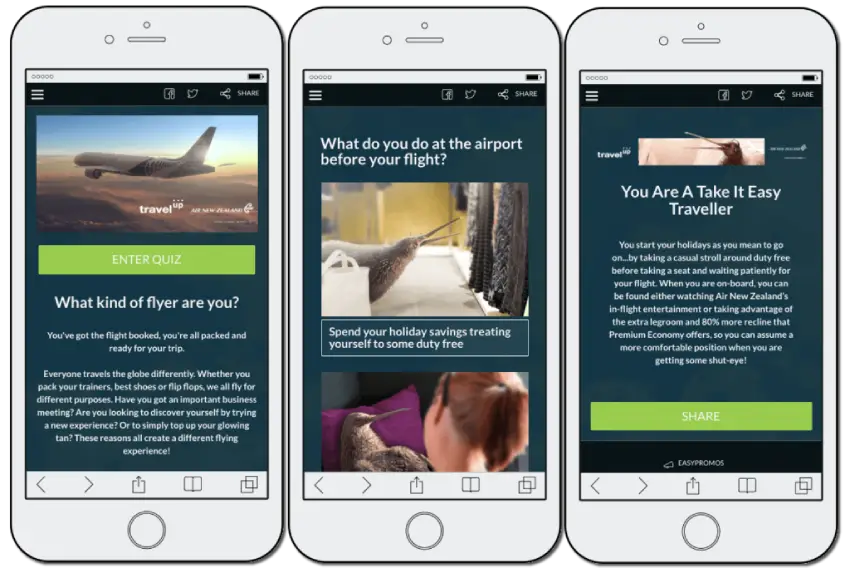 Here's a cute example from a travel agency. The brand created a group of promotions. A series of quizzes asked followers about their likes and dislikes. Depending on the answers, participants then received travel tips and holiday recommendations.
Travel Writing contests
Encourage your followers to express themselves with a Writing Contest. Just like surveys and quizzes, this is a great way to hear about customers' opinions and experiences. But a writing contest offers even more space for participants to share their ideas. You can collect contributions from Facebook and Twitter, too.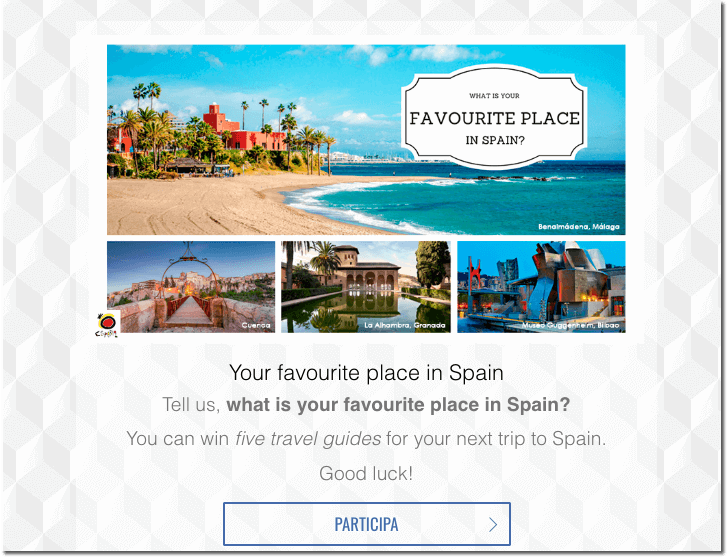 Here's a great example from a Spanish tourism promoter. They reached out to would-be travel writers and bloggers with a writing contest. To enter, users had to describe their favorite place in Spain. And the prize was perfect, combining the destination with a writing-themed reward: travel guides for five different regions of Spain.
Promote tourism with Refer-a-Friend Travel Giveaways and Contests
You've probably heard of online influencers, who advertize products to their followers in exchange for free trips and gifts. Maybe some have already contacted you! But for many promoters, influencers are too expensive, or don't offer a clear return on investment.
We've got good news. There is an alternative: a Refer-a-Friend Contest! Offer a prize just as you would for any other giveaway. The trick? For every follower that participants recruit, they get one more entry in the prize draw. This is social media influencing on an affordable scale, and it works.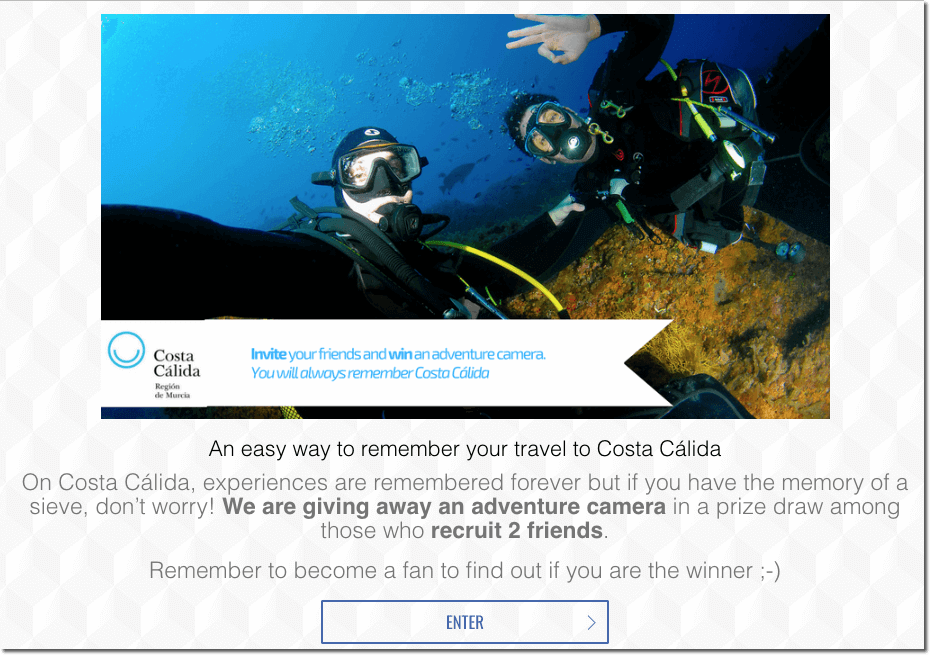 Here's a great example to explain how Recruiters contests work. This regional board wanted to promote tourism to the Costa Cálida. So they offered a super-powered adventure camera as the prize. It was the perfect gift to take on holiday! But users had to recruit at least two friends to the promotion, in order to have a chance to win.
Special features for tourism and travel promoters
Let's finish by highlighting some extra-useful features of the Easypromos platform. Here are four tools to help you promote tourism with style:
Create multi-language promotions. Are your promotions are aimed at an international audience? Then make sure that you're speaking their language. You can create promotions in whatever language you choose. You can also create promotions with multi-language support.
Country restrictions. Sometimes you have a very specific target market in mind! So you can choose to limit promotions to a single country or a list of selected countries.
Age restrictions. Depending on the type of tourism you're promoting, you may want to focus on a specific age range. Use this tool to set minimum age requirements and restrictions. Then you can be sure that your promotion reaches the right people.
White Label. We know how important branding is to promote tourism. Choose the White Label platform to customize promotions with your own branding and CSS.
Learn how the town of Leavenworth, Washington launched a Digital Advent Calendar to cope with the impact of the pandemic with such success that it has now become a yearly tradition, and not only for Christmas!
Now you know about all the possibilities for online contests, create your Easypromos account, and get started! It's completely free to draft a promotion, and our support team is available via live-chat to help you achieve your dream campaign.