A quick giveaway on Instagram can grow your profile 70% faster than other methods. But of course, that statistic is a best-case scenario. If you really want your Instagram giveaways to have an impact, then they need to be flawlessly planned and executed.
That's why we've created this guide. We'll explain everything your Instagram giveaways should include – and what to avoid.
Follow the rules. Yes, social network regulations can be restrictive. Yes, you might get away with bending a few rules. But Instagram is cracking down on rogue accounts – and if you ignore the rules about social media contests, your profile could get shut down. Frankly, it's not worth the risk to your reputation.
Keep it simple. Here's a common mistake: brands that ask people to like, comment, share, repost, post a Story, send an email… You might think you're maximizing engagement, but in fact, you're just making it difficult. Ask users for a single comment or tag, and you'll see more participation.
Go automatic. No one wants to count comments by hand. Use a randomized tool to harvest comments and pick a winner.
Be transparent. Your followers want to hear about the winner, and how they were selected. Make sure you use a reputable app to pick a winner. Then share the contest certificate to prove that your Instagram giveaways are free and fair.
If you keep those 4 aspects in mind, you're already on track for success. Next up, let's follow the process of designing and running Instagram giveaways.
How to take part in Instagram giveaways
There are many different ways to run Instagram giveaways. In fact, the social network's rules are relatively flexible (compared to Facebook, for example). But we need to make a distinction between what's possible, and what's manageable.
For example, you can ask people to follow your profile for a chance to win. But there's no way to check if they follow you automatically. You can't check Instagram likes, either. You'll have to look up each potential winner by hand – which is a waste of your time and resources.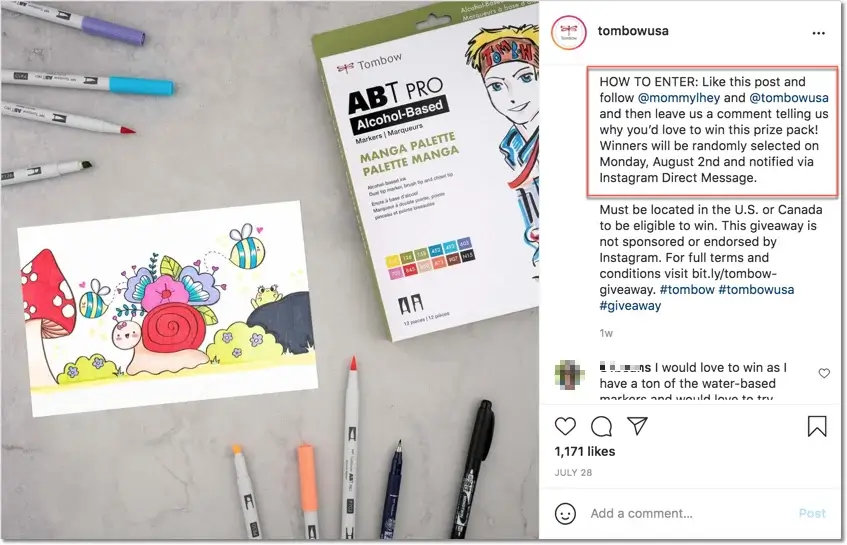 Here are even more effective ideas:
Comments. Ask an open question, and run a giveaway for everyone who answers. You can collect comments automatically – and you'll get customer feedback, opinions, and background information at the same time.
Mentions. Ask users to tag up to 3 friends in their comments. Why 3? Because it offers a challenge, without becoming spam. If you ask people to tag an unlimited number of friends, then you're just another spam account. And you risk breaching Instagram rules.
Hashtags. Hashtags in the comments won't have any effect on your post's reach. But you can use hashtags to find out what users think – for example, give a list of hashtags for different products, and ask people to mention their favorite.
Comments with follows. Here's a compromise. You can't check followers automatically. But you can run a comments contest, and then manually check whether the winner follows you. If they don't, you can reward the runners up instead.
Choose the perfect prize for your Instagram giveaway
What's the biggest factor in making your Instagram giveaways successful? The prize. The prize decides whether people will take part, how much effort they are prepared to make, and how much they appreciate your campaign.
Choose something that your followers will really value: your best-selling products, discounts, or gifts from sponsors are just a few of the possibilities. Make sure you trail the gift with photo posts and in your Stories.
If you already have an active community, then you can invite your followers to choose the prize. Ask them to comment with a hashtag, explaining which prize they prefer. Here's an example from ModCloth. The quirky fashion brand asked their followers to choose a new product design – and then ran a giveaway on the post.
Create your Instagram giveaway post
Once you've chosen your contest dynamic, and an awesome prize, there are still a few details left to prepare.
First of all, make sure that your terms and conditions are covered. Every online giveaway must include a link to T&Cs. Use the Easypromos free hosting service to create a short link, and share it in your bio or Story links. If you're operating in the US, you'll also want to read this quick guide to legal best practices.
Your terms and conditions must include the date and time of the giveaway, too. Decide how long the contest will remain open, and make sure your followers are aware.
Not sure what to include in your giveaway post? We have more than 50 Instagram giveaway templates! They come with suggested texts and images that you can use and edit as you wish. You can even use our giveaway editor to share your giveaway directly on your account.
Now for the fun part. Make your Instagram giveaways stand out with attractive, on-trend, on-brand images. Remember that you'll need separate images for posts and Stories, as they use different dimensions. We've got even more design ideas for Instagram giveaway images, but here are a few quick tips to get started: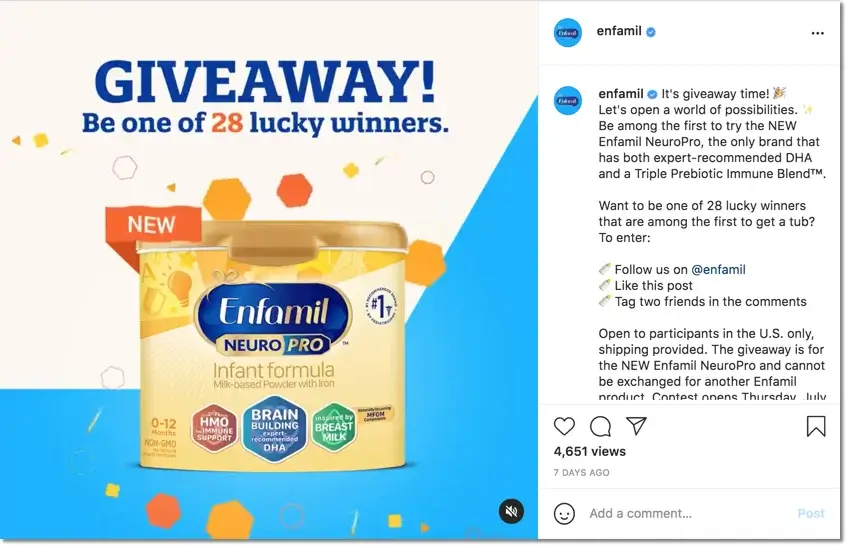 Include the word "giveaway" in your images.
Show off the prize.
Use your logo or brand colors.
Don't forget to add emojis to the text.
Ideally, you should include the same elements in the text of your giveaway post. Tell users it's a GIVEAWAY, describe the prize, and make sure they know exactly how to take part. Don't forget the closing date and T&Cs!
Launch your Instagram giveaway
It's an Instagram giveaway – so you should be publishing all over Instagram. Although the giveaway itself is based on a post, you should also use Stories, ads, and even IGTV to promote your campaign. You can cross-post to Facebook, too, and use other social media channels like Twitter, TikTok, or Twitch to communicate your Instagram giveaway and encourage participants to take part.
Carry on posting, even after the giveaway has been launched. Stories are a great medium here. Use them to trail a giveaway, share a sneak peek of the prize, highlight the giveaway post, remind users of the deadline, and even share the process of selecting a winner – live!

You can include up to 10 posts, including promoted posts, in a single giveaway. So you could publish a follow-up post on the last day of the giveaway, and collect comments from both the original and the reminder post.
Consider working with influencers, too. Here's a great example from NYX cosmetics brand in the Czech Republic and Slovakia. To celebrate the opening of a new store, they gave away tickets to a special event with prominent influencer Lucie Lou. She shared an identical post, boosting the brand's hashtag and logo recognition.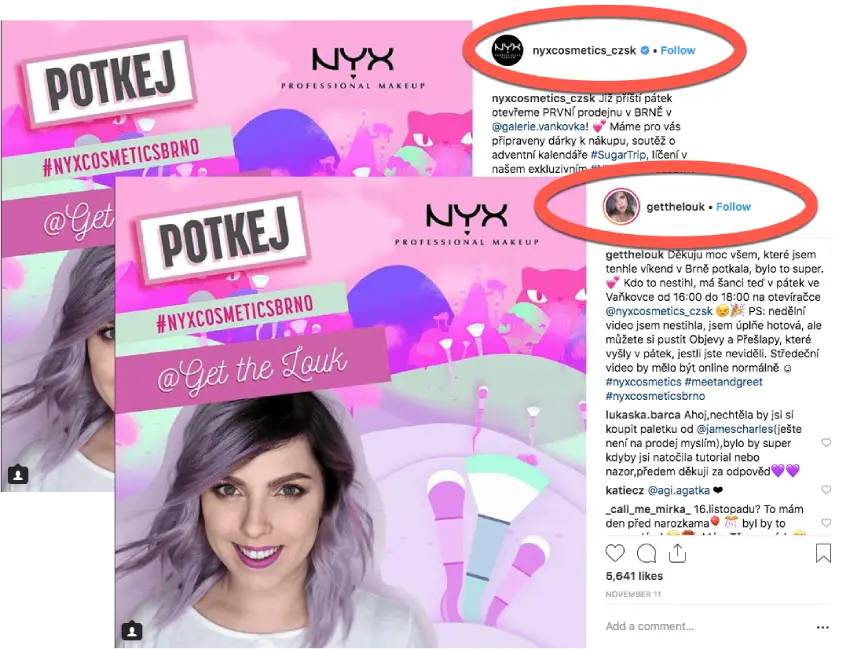 If you work with influencers, consider using the Multi-Network Giveaway app. Use it to run a single giveaway from several accounts – including your brand's profile, sponsors, and influencers.
Track comments and interactions
Once the giveaway is open, stay active! Although the app will work automatically, you should still take the time to check through your users' comments and reply to them. Think about setting up quick replies for users who message you with questions about the giveaway, too.
You can access detailed statistics about how many people comment, and when. Use this info to decide whether you want to extend your contest, or if it needs more publicity.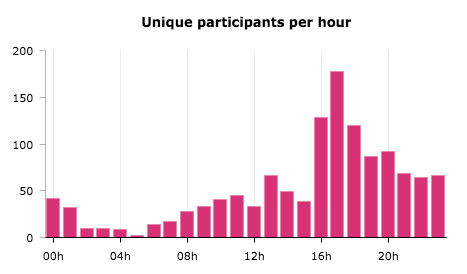 Statistics remain available even after the giveaway ends, so you can also use this data to help plan your next campaign.
Pick a winner for your Instagram giveaways
Your users will be waiting with excitement to hear who's won the prize. It's important to be punctual, transparent, and trustworthy. This is an opportunity to promote trust in your brand – if you get it right!
Use a random tool to pick a winner on Instagram, and make sure it's a reputable one. Look for apps that publish a secure, non-editable Certificate of Validity.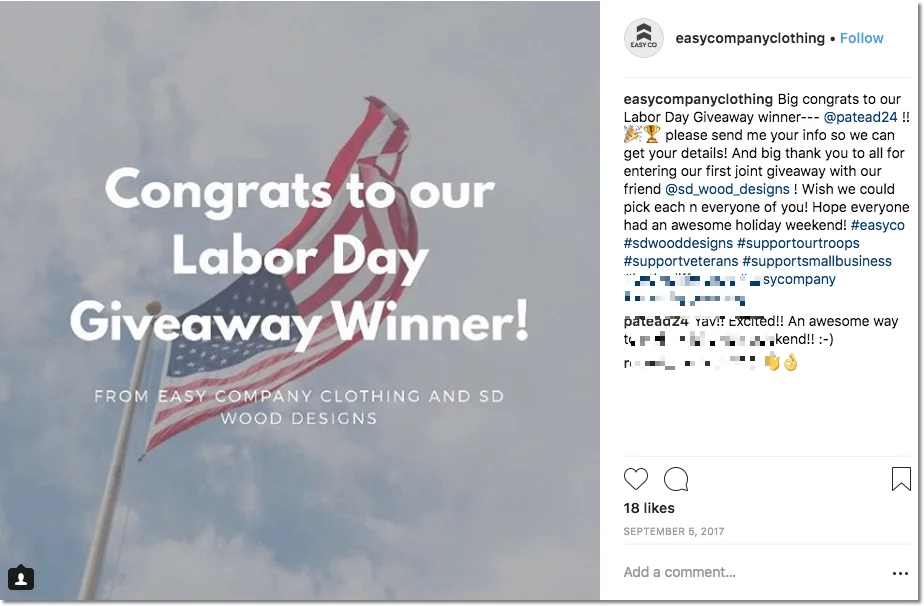 Next, make sure you publish the winner. Use posts, Stories, DMs, and comments to make sure that everyone has heard the good news. You could also take the opportunity to announce the next giveaway, or highlight the prize products in your store.
Of course, the most popular content on social media these days is video. Whether you post a horizontal clip on your profile or add a vertical-format Story, a video announcement is sure to get more views and engagement.
When you select a winner, the Easypromos platform creates an instant, animated video with sound effects. You can edit the colors and text of the video, and pick the right format for your posts. Take a look:
There's a reason so many brands entrust Easypromos with their giveaways. In fact, there are 20 reasons to run giveaways with Easypromos – and your first Instagram giveaway is free!
Do you have more questions about organizing Instagram giveaways? You can live chat with our customer support team!