Posted in: Digital marketing,Events,Ideas for your websiteLast update: 15/01/20
This time Oscars 2020 will be celebrated in February. This is one of the most exciting, glamorous and highly anticipated nights of the year. How can you tap into the public's enthusiasm for the event? How about creating your own The Oscars betting pool and challenging your customers and followers to predict who will be the big winners on the night? Your users will have fun making their bets and you can add even more emotion to the contest by raffling off a prize among those who predict correctly.

If you're looking to provide some fun for your online community, why don't you organize an Oscars betting pool? It's a great opportunity to entertain film lovers within your audience, but also to generate some new leads!
But before we head to our seven tips for creating a successful Oscars betting pool, we invite you to take part in the Easypromos Oscars betting pool DEMO. Or would you like to get an Oscars betting pool template to start your own campaign? Download it now!
1. Customize your Oscars betting pool
You'll be able to create the Oscars betting pool by using the quiz system of questions and answers. It has been designed to be flexible and adaptable to any type of quiz, test or survey. This way, you can design and create the betting pool so that it meets your needs perfectly, thanks to the following options:
Different types of questions: closed, sortable and open answers. Use ratings, dropdown lists, and auto-complete fields.
Customization: personalize the promotion with your branding colors typographies and logo. You can also choose from the predefined designs proposed by the application and edit the layout of each question. Make it vertical or horizontal, add photos or videos to accompany the questions and answers, etc.
Would you like to create your own The Oscars Pool? This tutorial tells you how to get started and provides you with an outline of all customization options!
2. Use pictures and videos of the nominees to match the Oscars theme
Make your betting pool more attractive and themed by presenting your questions with photos or videos. For example, in the category for the best movie, you could present the nominees with the movie's trailer. In the category best actor/actress you could complete options with a photo of each nominee. The result could look like this: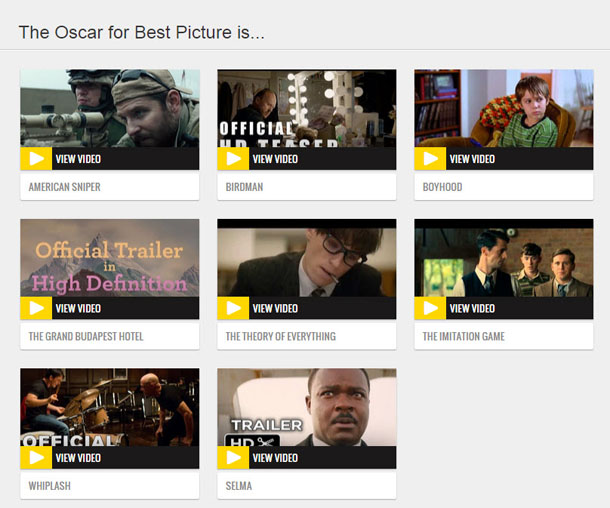 3. Publish the statistics of your Oscars betting pool
Do you want participants to be able to see other users' bets? Add emotion to the betting pool by publishing the statistics. Use graphics to show how users have responded to each question. Enabling the results will also create an extra thrill and excitement within the participants.
4. Challenge your users to make other predictions
The most elegant hairstyles, the biggest smiles on the red carpet, the best-dressed actors and actresses. The Oscars gala is more than simply finding out who will win on the big night. It's also a trendsetting event! You could challenge your users with small predictions such as: Who will be the best-dressed actress of the night? Who will take the most original selfie? Which movie will win the most Oscars? You could even present these questions as small betting pools, or you could create a Promotion Group to present them in a fun, visual way: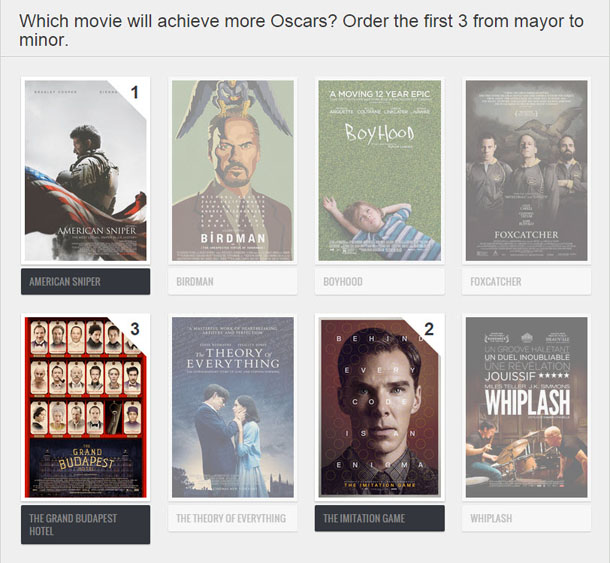 5. Keep your Oscars betting pool users hooked
Days may go by between the moment the user participates in the contest and the moment that The Oscars winners are announced. To keep users interested, send them an email as soon as you know the name of the winning movies and actors. This way, they can find out if their predictions were right. To do this you can use the email platform to compose a message that will be sent to all the users with the correct predictions in the pool.
6. Find out who has predicted correctly
One of the most important moments of your betting pool arrives when The Oscar winners are announced. At this point you can access the quiz editor again and mark the correct answer to each question. From this point on, you can use the 'Update points' function to discover how many of your users have got their predictions right.
7. Award the finalists with a sweepstakes
Correctly predicting the Oscars is no easy task, so to motivate your participants you should award all those who predict correctly with an entry into a prize draw. To do this you can use the Prize management system which allows you to create one or more prizes easily and select the way you want to assign them to the participants.
Do you want to set up a simple and fast betting pool? Head to this blog post to get more information on setting up a betting pool!
And if you're ready to create your own promotion, you can now create your free Easypromos account. And in case of any doubts or questions, don't hesitate to contact us through our Online Chat!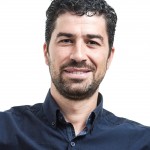 Easypromos CEO and co-funder
Publication date: 2015-01-30