Posted in: EventsLast update: 10/04/18
Mother's Day is coming up. This is an ideal opportunity to run a promotion that encourages children to thank their mothers for all their support and unconditional love with a gift. Easypromos offers you many types of applications to organize your promotion around Mother's Day. Below we give you some ideas for photo and dedications contests, as well as some examples of real online campaigns which have been carried out for this date.

Visit our Mother's Day website and create the perfect promotion to celebrate it! Here you have some resources, examples and ideas to create promotions according to your goal for this campaign.
Check here our ideas for Mother's Day promotions:
1. Facebook Timeline Sweepstakes
2. Mother and children photo and video contests
3. Dedications to Mum contest
4. Gifts for your mother
5. Sweepstakes for mums


Idea 1. Facebook Timeline Sweepstakes
A Facebook Timeline Sweepstakes is a simple and good way to create visibility for your brand and it's easy for you to set up. You can raffle any prize you'd like, one of your products or maybe an experience that specially mothers could need. Ask the users to answer a question by commenting on your post to enter the sweepstakes and on the end date, which you have to make sure to announce in the post, you enter your control panel in Easypromos and draw a winner. To make it even easier for you, we have created a template for the Facebook Timeline Sweepstakes that you can download here. You're welcome! And to find inspiration, here you can read how Chicco UK celebrated Mother's Day with a Facebook Sweepstakes from multiple posts.
Remember; You can only do sweepstakes among comments OR Likes on a post on Facebook, but you can encourage the participants to follow your page and share the post. Here you can read about the 12 most frequently asked questions about Facebook Timeline Contests.


Idea 2. Mother and children photo and video contests
Emotions play a very important part in the celebration of Mother's Day, and photos are very good at tapping into this emotional aspect. For this reason, photo contests are usually the most effective promotions to use for this campaign. Encourage your customers and followers to participate by uploading a photo of themselves with their mothers. You can ask them to stick to a specific theme, such as: a funny photo, a photo of themselves wearing the same outfit, or a photo of mother and child engaging in an activity together. Remember not to make it too complicated – you don't want to make it hard for people to participate. The best idea is to choose something that most people will already have a photo of on their cell phone, iCloud or PC.
Example 1: How else would Photobox AU and NZ celebrate Mother's Day than with a photo contest?! They asked the users to upload a photo of themselves with their mum (or with their kids if they're a Mum themselves) to enter the draw for 1 of 20 PhotoBox personalized gifts. 5 winners were chosen at random for each product category (20 winners in total)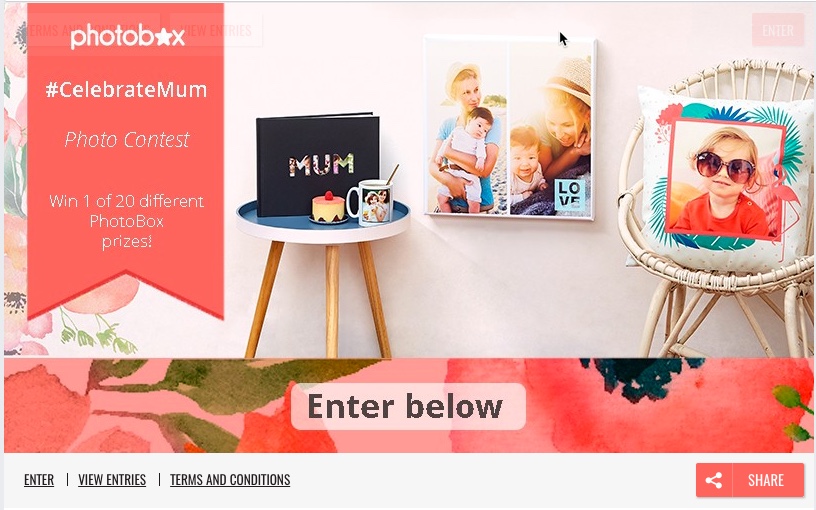 Example 2: Photos don't always have to be of people. Pizza Hut in Trinidad and Tobago had a fun idea and turned it into a photo contest they called #MomOfTheYearAward: They asked mothers to submit a photo of something handmade by their children; any art or craft piece their children had made them especially for Mother's Day. The winning child could treat their mother to a luxurious VIP Mother's Day experience in Pizza Hut. Joint prizes are a common feature in Mother's Day promotions, as mothers love sharing their prize with their children.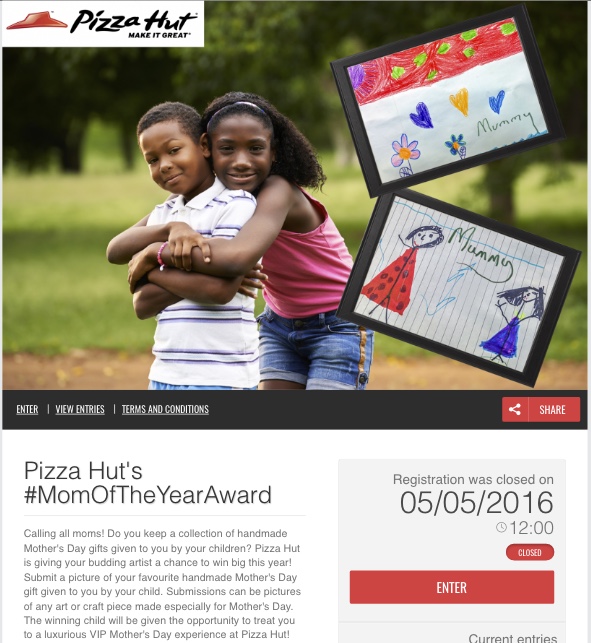 Example 3: Circus Vargas wanted children to show their best 'clowning around moves' in a combined photo and video contest to opt for the prize of tickets to their show to take their mother to have a great time. They encouraged the users to participate with this line: Everyone can clown around! Show off your best clowning around moves to WIN and make Mom laugh. Mom will love the gift!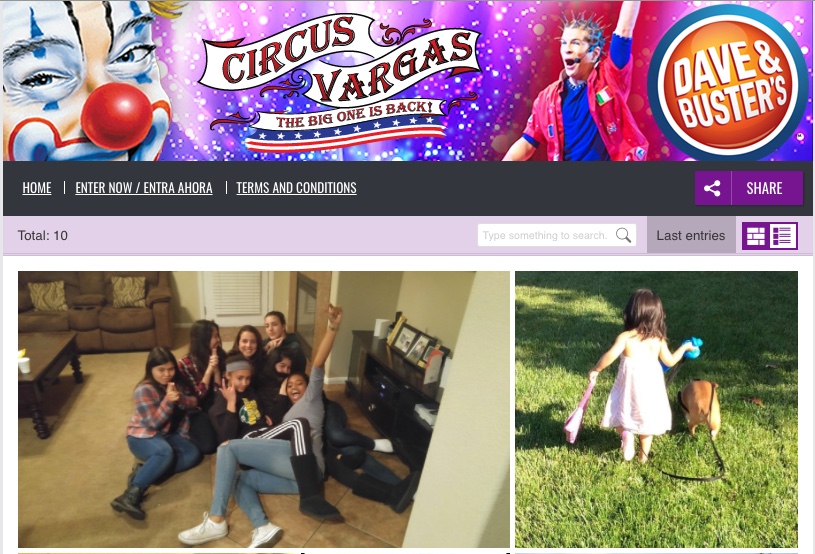 Example 4: The Home&Family show from the Hallmark Channel in the US wanted to celebrate motherhood by giving away $1,000 to ten lucky moms around the country. They did it with a video contest where the users had to explain in a short video (under 30 seconds) why their mom is the best. Users could participate from the Home&Family Facebook page but also via Instagram and Twitter by using the hashtag #HFMomGiveaway.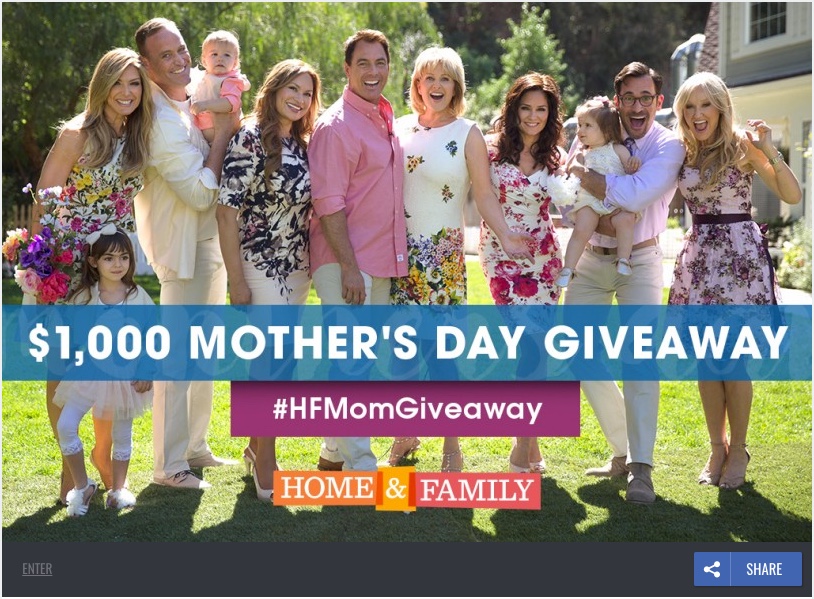 Got an idea to build a Photo Contest? Or a Video Contest? START NOW and get the most out of this year's Mother's Day campaign!


Idea 3. Dedications to Mum contest
There is another very effective type of contest for promotion for this special day. Writing-based contests can be used to prompt the public to offer dedications to Mum and to talk about the qualities of their mothers. Everyone is happy to talk about their mum, saying what it is that makes their mother unique, or thanking her publicly for her love and support. Organize a text-based contest to outline the qualities of mothers and you'll see how your followers and customers will be excited to participate. Offer a suitable prize such as a double gift for mother and child, and/or an activity that both can participate in.
Example 1: Murdoch Childrens Research Institute in Australia wanted to thank mothers for helping keeping kids healthy and safe by pampering them for Mother's Day by drawing the prize of a two night stay in a hotel, flight costs included. To enter the contest to give their mother the big prize, the children had to tell in 25 words or less why their mum or a special woman in their life deserved to be pampered.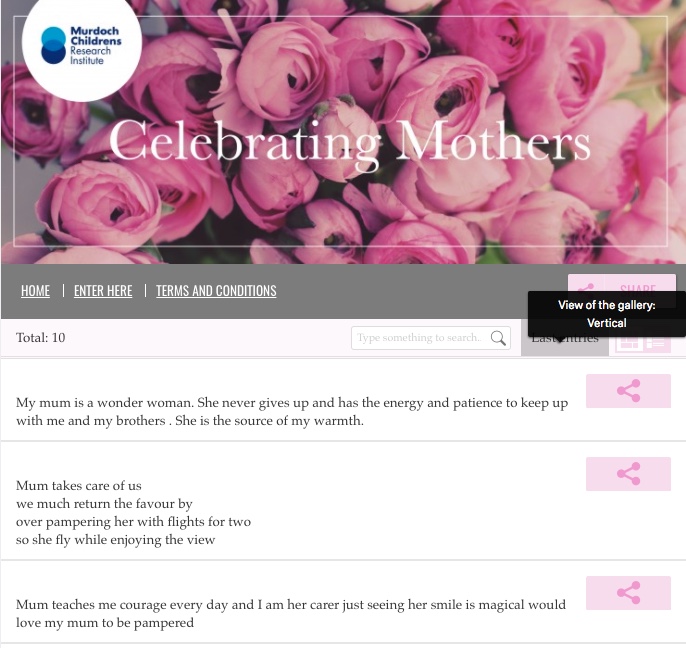 Example 2: Risata Wine organized a text-based contest for participants to tell why they could use some extra time with Mom. Four prizes were raffled among all participants; The grand prize (Massage and Gift Cards), the 1st prize (Gift Cards with less value), the 2nd prize (Gift Cards with less value) and 3rd prize (Wine Aerator and Risata Tumbler). The first three prizes also included the Wine Aerator to keep the prizes attached to the brand.
Idea 4. Gifts for your mother
If you have products of your brand or in your store that could be a perfect gift for mum on Mother's Day, don't hesitate to offer them as a prize in a sweepstakes or maybe a quiz. Reward them with discounts or small gifts if they register online or come to your store during the run up to Mother's Day.
Example: Cheerz made a small quiz with the theme 'mothers' for users to participate and opt for the prize: the perfect Mother's Day package: Mother's favorite memories in a Cheerz photo box and a Cooking Kit from KitchenTrotter to make her a special home-cooked meal.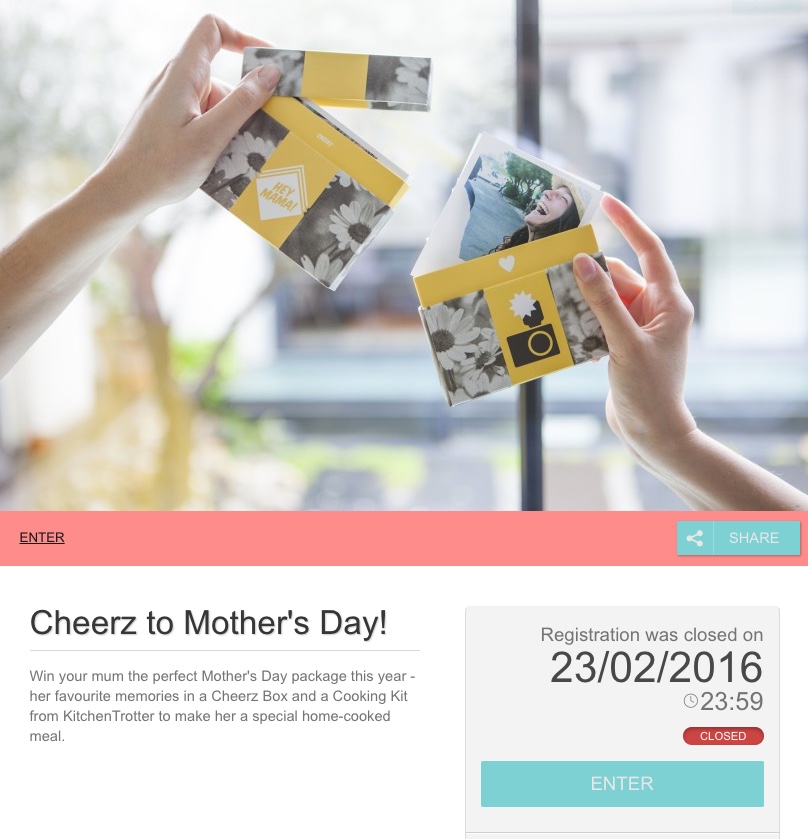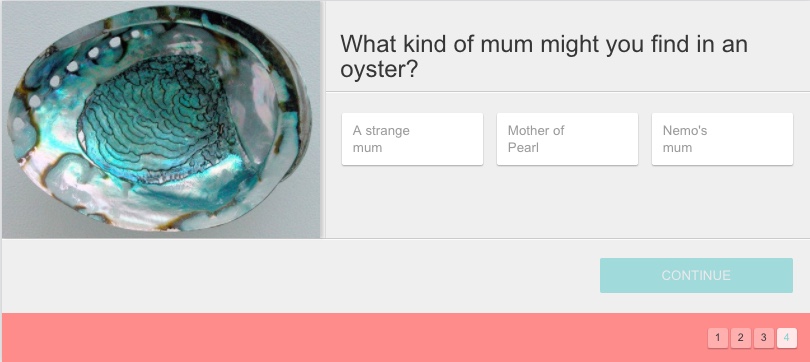 Ready to boost your sales on this date? CLICK HERE and build your promotion! You're 15 minutes away from a successful Mother's Day campaign!


Idea 5. Sweepstakes for mums
Simple things often work, especially if you offer an attractive prize to your objective audience.
Example: Everything Kitchens, a kitchenware and appliances supplier in the US, organized a giveaway of a KitchenAid Stand Mixer for Mother's Day with a simple Sweepstakes with registration but they combined it with a discount coupon on the Thank you page for all participants upon registration as a surprise since it wasn't announced in the sweepstakes.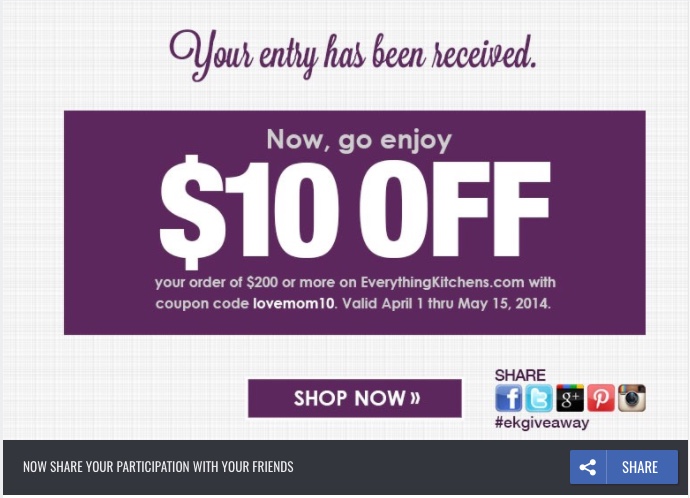 Are you ready to create your Mother's Day promotion? Click here to get started.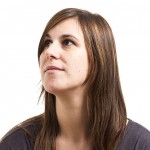 Silvia Marti Ferrer
Marketing and Customer care Easypromos' team