Posted in: Applications,Digital marketing,Ideas for your websiteLast update: 04/03/20
How do you say thanks on Mother's Day? It's the perfect time to let mums know how much we love and appreciate them. Try these ideas to strengthen your online community, get leads and user-generated content with Mother's Day promotions.

In this post, we'll focus on five fantastic ideas for Mother's Day promotions, based on real case studies from the Easypromos giveaway platform.
Don't forget to check out our Mother's Day campaign hub. Get free social media templates, product demos, and case studies!
1. Share Mother's day selfies, photos, and videos to collect user-generated content
Social media has become a key part of how we stay in touch and show our love for our families. So sharing Mother's Day photos is a natural next step!
One of the most popular Mother's Day promotions is a Photo Contest. Set up a theme, create an online gallery to show off the competition entries, and throw in a prize to incentivize your followers. Try to choose something that suits the day – and your brand.
For example, this beauty brand offered a mother-and-daughter treat. To take part, followers just had to share a selfie together with their moms. The winners would receive a luxury spa facial to celebrate Mother's Day.

Remember that you can collect photos from moms or their children. In this promotion from Pizza Hut, moms shared their favorite hand-made Mother's Day gifts.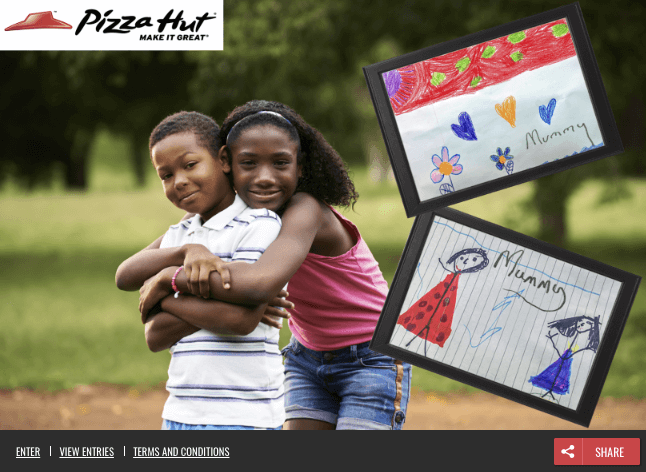 Just four entries were selected to win a Mother's Day dinner at their local Pizza Hut. But all of the photos were pretty darn cute!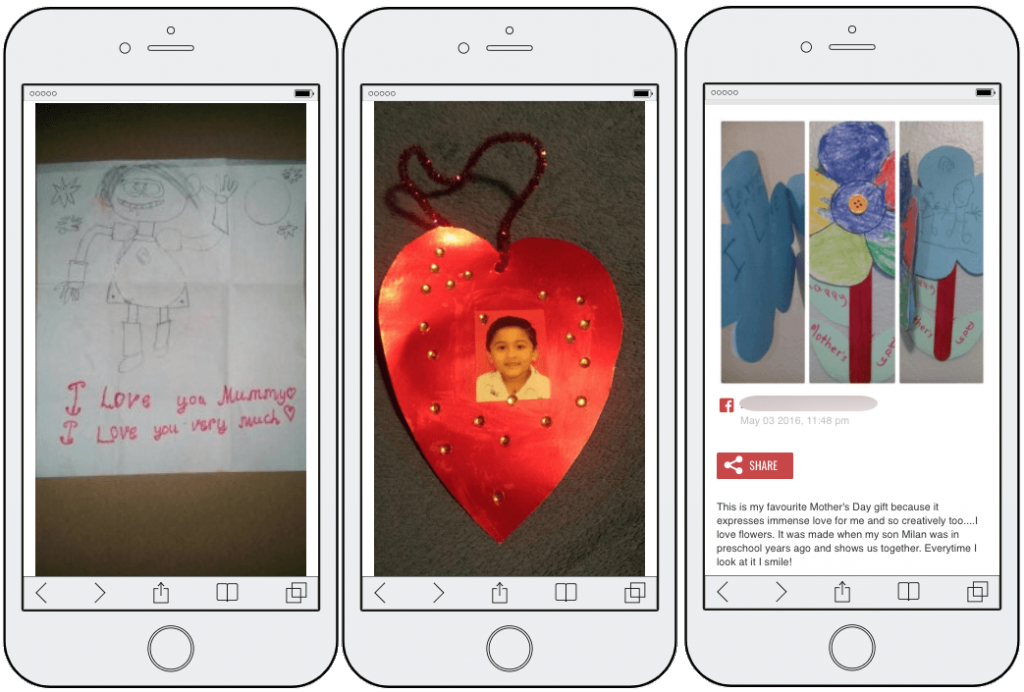 If your followers are especially creative and engaged, then you could challenge them to a Video Contest. Ask users to record a quick message for their mothers – or their children! – and then share the videos in your online gallery.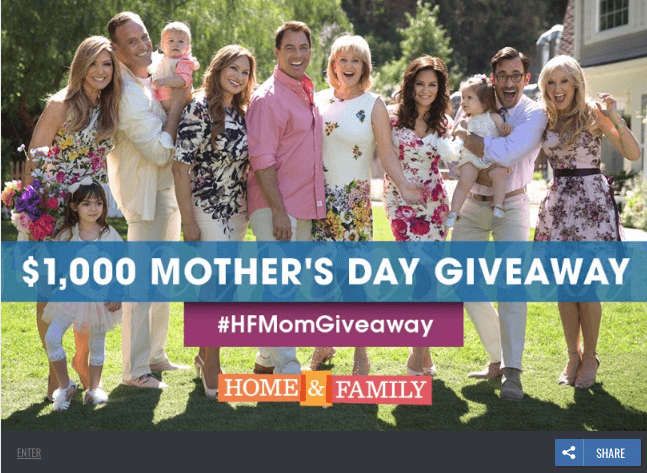 To learn more about Photo and Video Contests, try our Mother's Day demo. Then use the template to create your own competition!
Do you want to make your Mother's Day Photo Contest even more fun? You can use the Easypromos PhotoFun app to personalize pictures with frames and stickers. You can upload your customized stickers to expose your corporate image. Check out the Mother's Day PhotoFun DEMO.
2. Collect stories, memories and messages with your Mother's Day promotions
As we celebrate moms on Mother's Day, it's time to reflect on our relationships. The holiday brings up powerful emotions and memories for many people.
So another option for your Mother's Day promotions is a heartfelt Writing Contest. You can ask followers to write as much or as little as you like.
For example, in this quick contest for Risata wines, followers just had to explain what they had planned for Mother's Day. Three participants would win a $200 Lush gift card – perfect for Mother's Day treats.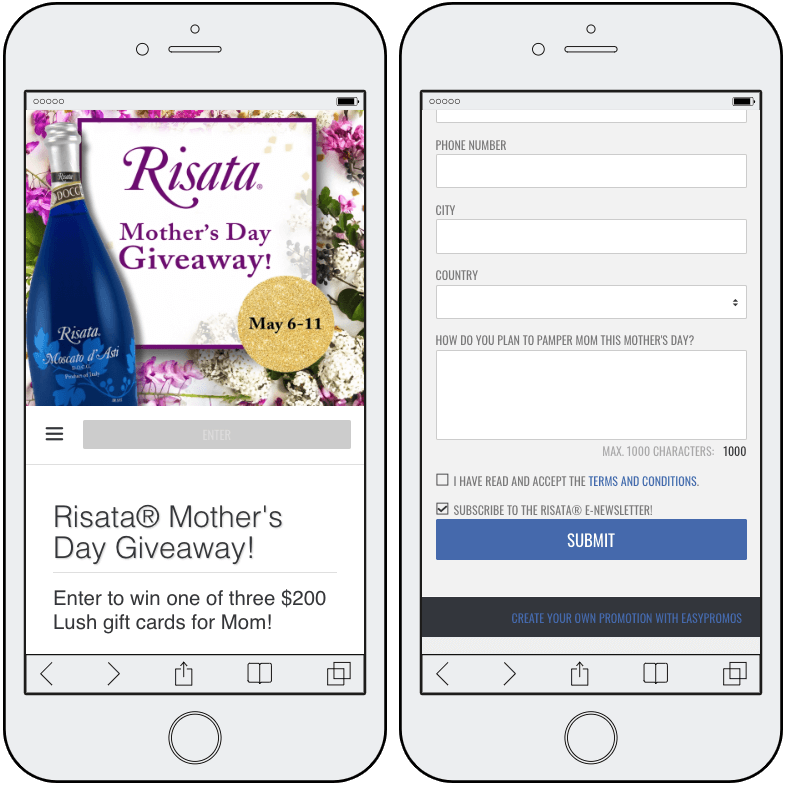 But this next contest offered a bigger challenge: participants had to write a short story about their mom. Because this contest required more effort, it had an even bigger prize. The winners would have an entire room of their house painted!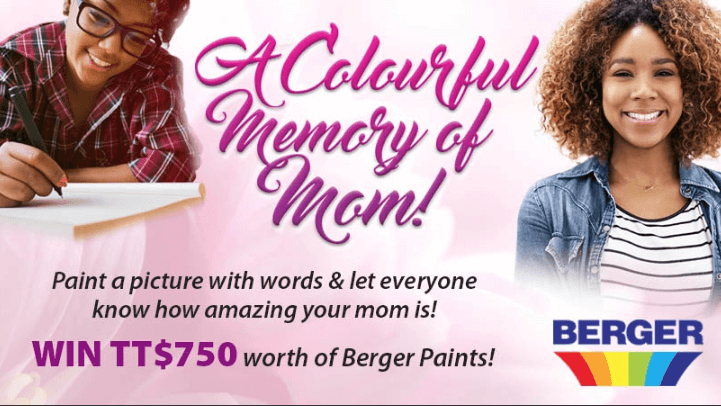 This is a perfect promotion to show you that any company can celebrate Mother's Day!
3. Gamify your Mother's Day campaign
Gamification is the most recent trend in digital marketing, and it can really help you accomplish a wide variety of different marketing objectives. Gamified promotions increase engagement and entertain customers, which leads to positive customer experience. Therefore, playable promotions tend to be very successful, and implementing them into your Mother's Day campaign could bring you some fantastic results.
Let's take a look at this Hidden Objects game that you use for this year's Mother's Day campaign. Users search for flowers hidden in the image, and ten fastest participants will be entered into a random prize draw for… a Mother's Day bouquet!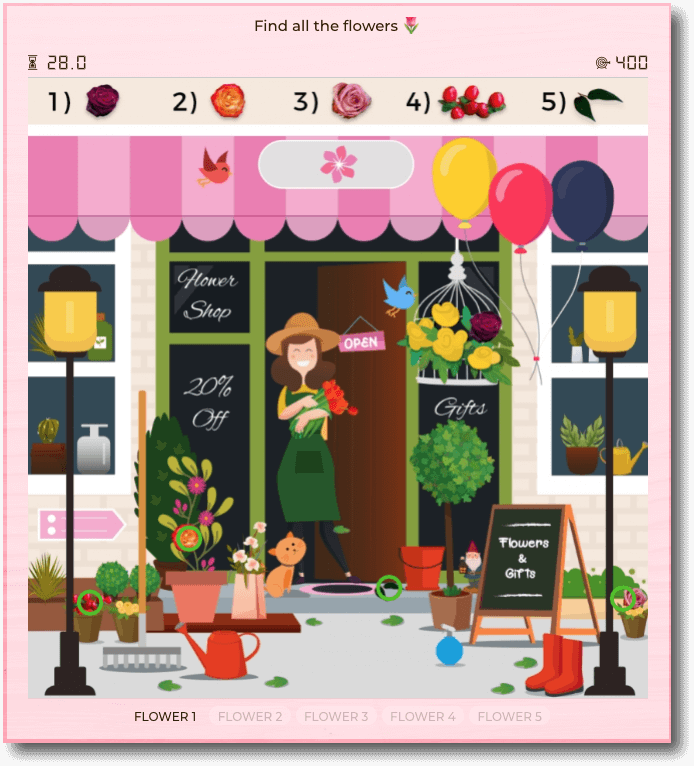 Once the participants overcome the challenge, they fill in the entry form in order to submit their entry. They get a chance to win, and the organizer expands their mailing list.
Are you considering gamifying your marketing strategy? Do you want to implement games into your Mother's Day campaign? Try our Mother's Day Hidden Objects DEMO to see what it is all about!
4. Offer exclusive rewards, giveaways, and Mother's Day promotions
So far, we've focused on skill-based contests. And they are certainly a fun way to collect leads and user-generated content!
But sometimes, you want something a bit simpler. If you want a contest that's really easy to join, then the answer is a giveaway with a registration form. People just fill in their contact details to join the prize draw – no effort required.
Then you can use those contact details to follow up on your sales leads. You can customize the form to get specifically useful information for your brand. Just like other Mother's Day promotions, make sure you offer a suitable incentive to motivate your followers.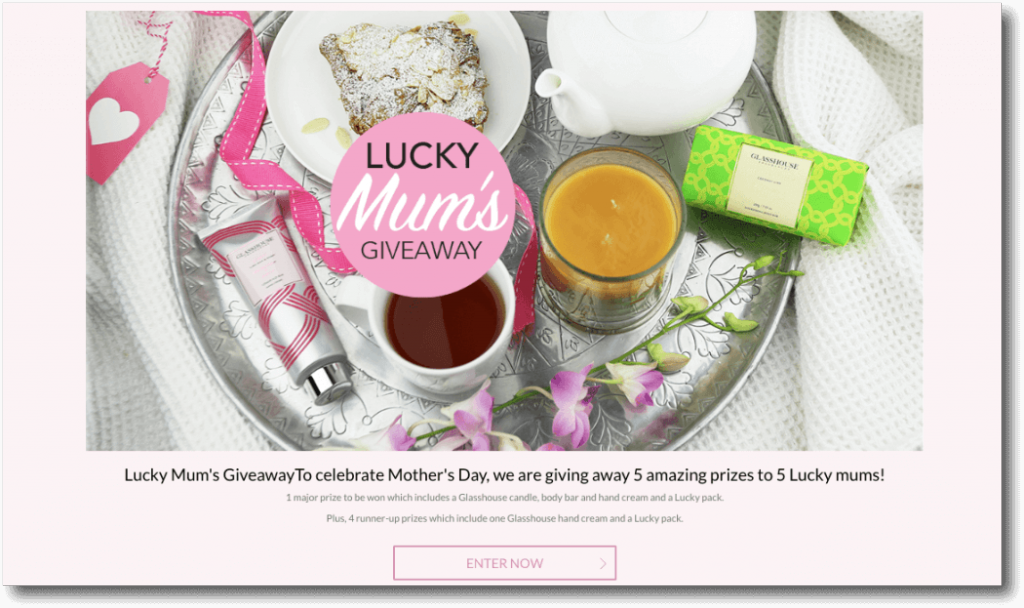 We like this prize bundle from an Australian food brand. They gave away five hampers of Mother's Day gifts among users who signed up. You could share products from your brand, or team up with other brands to share a goody bag with your followers.
5. Recruit families to your brand with Mother's Day promotions
Finally, let's take a look at one more contest type: Refer-a-Friend. Also known as a recruiters or recruitment contest, it's a classic giveaway – with a twist.
First, your followers sign up with their contact details. But then, to increase their chances or qualify for the prize draw, they have to recruit more people to the competition.
This is perfect for Mother's Day promotions. Share the contest, and ask your followers to recruit their moms to win. Or target your competition at moms, and encourage them to sign up their friends.
💕💐 Happy Mother's Day from Easypromos! 💐💕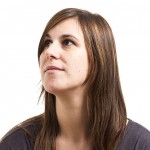 Silvia Marti Ferrer
Marketing and Customer care Easypromos' team
Publication date: 2015-04-15