Posted in: Applications for TwitterLast update: 31/08/21
In the last few years, some social media experts began to dismiss Twitter as a platform for online engagement. But recently, the social network has made a surprising comeback, with a focus on video and current affairs. Smart brands have realized that Twitter offers a unique format to communicate with users and build a clear brand identity. Here's how to maximize your reach and write a viral tweet.

If you're looking to build your Twitter audience, then a Twitter contest or giveaway is a great starting point. Offer a prize to encourage likes and followers, or build your content strategy with replies and retweets. In this post, we've shared our 10 top tips to write a viral tweet and get the attention your brand deserves online.

How to write a viral tweet for your Twitter giveaway
1. Stick to the character limit
Twitter is less strict than it used to be. Since late 2017, the platform has been rolling out 280-character tweets, instead of the old 140-character restriction.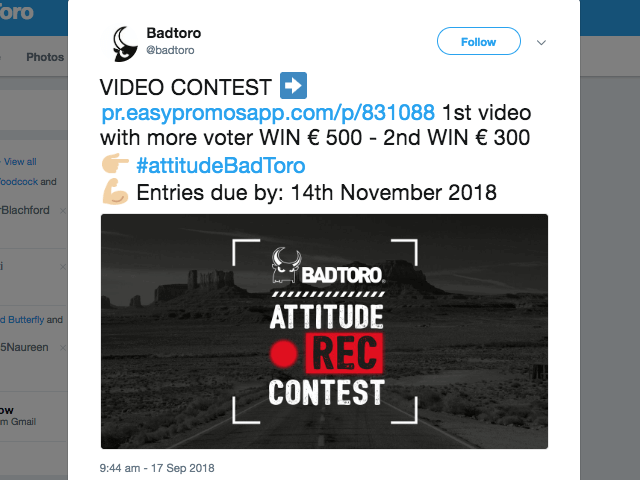 But that still doesn't mean that you need to use all 280 characters, every time. Keep it short and sweet: give your followers the vital details, and use photos, videos, or emoji to make the announcement pop.



2. Bring it to life with a photo, GIF or video
When it comes to photos, the statistics speak for themselves:
Tweets with images receive 18% more click throughs, 89% more likes, and 150% more retweets. – Brandwatch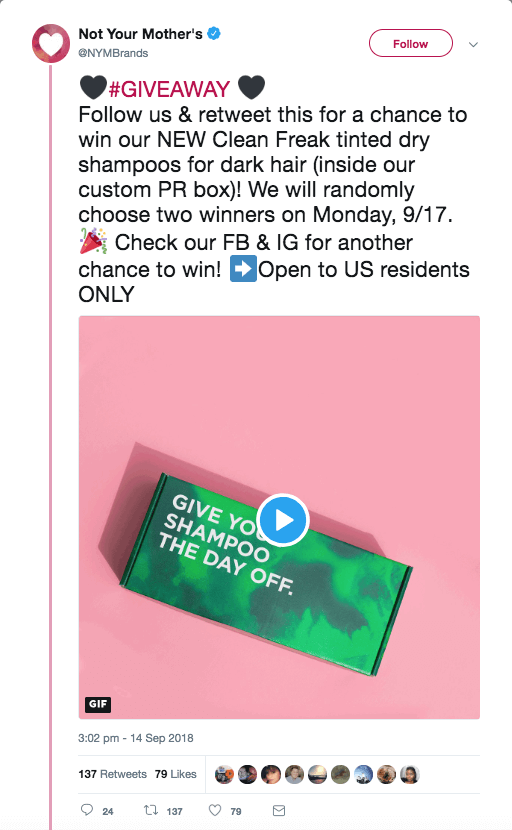 We've already talked about keeping it brief when you write a viral tweet. But the photo or video attachment is where you can let your creativity shine. Share up to four images to highlight your prize. Make sure they fit the recommended dimensions: 1024 x 512 pixels.



You can also upload a short video to illustrate the competition. Just like character limits, Twitter has become more generous with video length – so now you can post clips of up to 220 seconds. Remember that you can add text to photos and videos, if you're really struggling with the character limit!

3. Give a clear call to action
Sometimes we see giveaways where the brand has picked out a great prize, shared on social media, filled in the terms and conditions… but forgotten to tell their followers how to take part!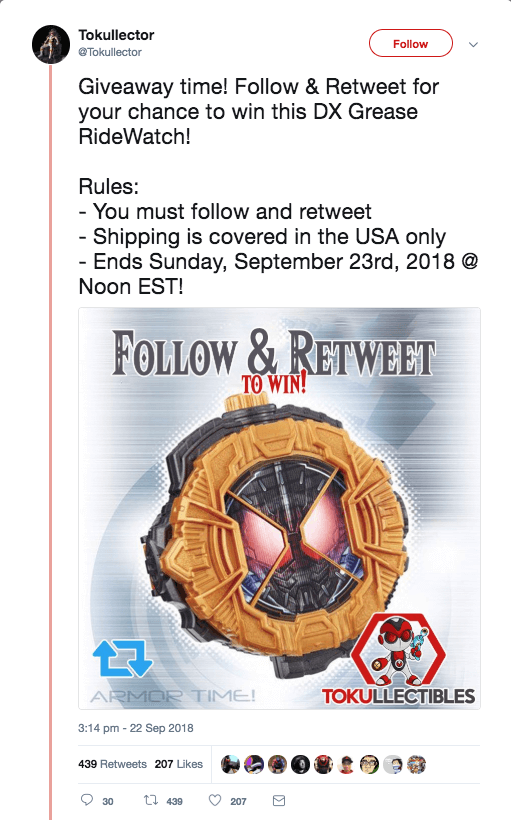 Include a clear call to action when you write a viral tweet. Keep the contest simple, and make sure it's in line with the platform rules. We like this example: instructions are written in the body of the tweet, and included in the image of the prize, too.



4. Check your terms and conditions
Not everyone realizes this, but there are rules for running promotions on social media. Every time you set up a giveaway, you should inform participants about the prize, how to take part, when the giveaway ends, who is organizing it, how to contact them, and much more!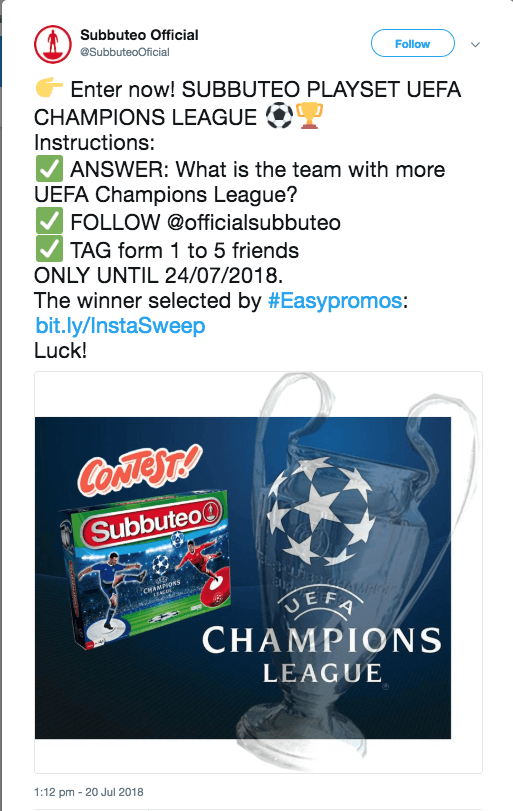 The easiest way to do this is to set up a microsite to display your terms and conditions. Then all you have to include in the tweet is a short link. Easypromos offers a free tool to write, host, and share your legal details.



5. Set a deadline
The dates of any competition should be included in your terms and conditions, of course. But it's worth stating them in the body of the tweet, too. Add a sense of urgency and competition to get your followers to participate.



We liked this example from DK Books. They followed up their original giveaway tweet with a last-minute reminder. Followers could join the promotion just in time – or, if they missed it, they'd be motivated to look out for future giveaways.

6. Write in the house style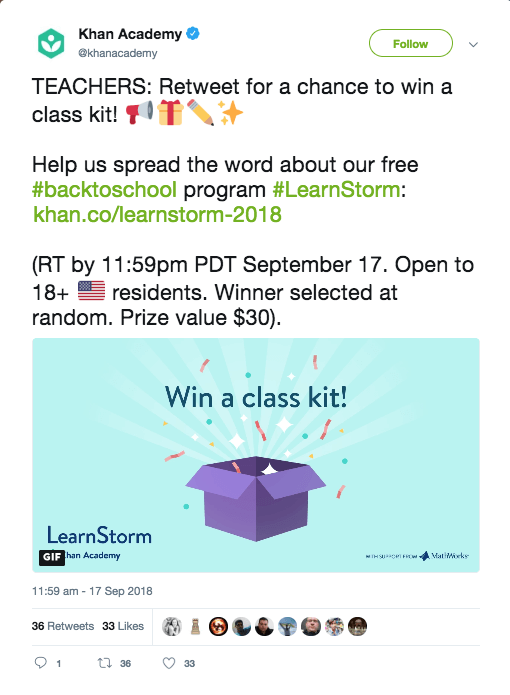 Every social network has developed its own distinctive voice. Show that you're at home on Twitter when you write a viral tweet. Get the tone right – and keep to the character limit – by using standard abbreviations, such as RT for retweet.




The Twitter house style tends toward deadpan humor. Keep an eye out for trends and jokes: some brands have found success by adapting memes and jokes for their own ad campaigns.
You can also illustrate your tweets with emoji. Those cute little pictures are a great way to share information or show a theme, without using up all your characters.

7. Throw in some hashtags
Twitter uses hashtags to categorize information and help users to find you. Without hashtags, your tweet will be virtually invisible!
There are two kinds of hashtags you should include in your giveaway: general and specific. Start with general hashtags. It's a good idea to advertize that you're running a #giveaway or a #contest. You can also mention the theme or prize with a hashtag.



Then pick out a specific, unique hashtag for your competition. Make sure it's not already in use on Twitter, or your contest will get lost in the noise! The best strategy is to combine your brand name with the contest title, as in the example above.

8. Mention some friends
Use the @ sign to tag profiles in your Tweet. Just like hashtags, this will help to make your contest more visible.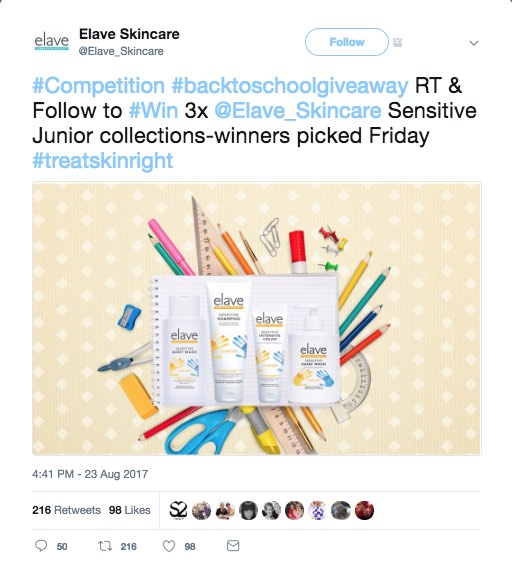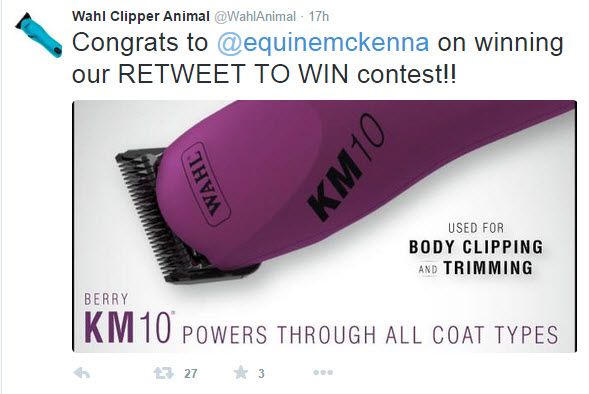 Even if you don't directly ask users to follow you, it's a good idea to mention your own profile when you write a viral tweet. Experience has taught us that many users will choose to follow you during a giveaway contest, even without being asked.



But it's equally important to mention others, too. If you run a co-branded or sponsored giveaway, then be sure to mention the brands or influencers involved. That way, they'll be able to measure engagement with the contest, and see the benefits of collaborating with you.



It's also a nice touch to mention the competition winners, as in the example above. Reinforce engagement and show that the giveaway has been organized fairly by publishing the results.

9. Follow up with replies and reminders
Running a Twitter giveaway is easy. All you need to do is publish the giveaway post, and then harvest the comments. But if you really want to maximize the benefits from your promotion, then you'll follow up on that original post.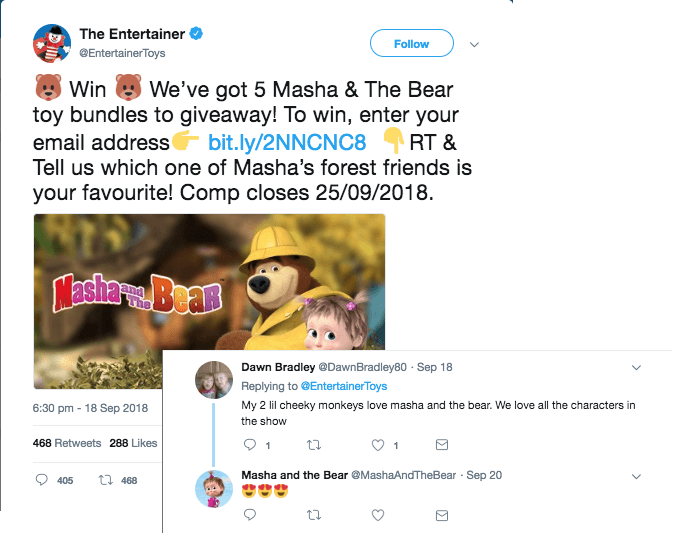 We've already seen how to send reminders and set deadlines for your contests, above. But you can also build engagement by responding to competition entries. Take a look at this cute case study from a toy company.



The brand asked followers to share their favorite character from the popular kids' TV show, Masha and the Bear. Open questions like this are a fantastic way to create high-quality interactions with your followers.
Then, in the comments, the TV show's own Twitter account started responding to the answers. Looks like this could have been a great opportunity for co-branding, too!

With the new multi-network giveaway tool, you can run a single giveaway from multiple profiles, multiple posts, and multiple social networks. Use it to take your co-branded promotions to the next level.
10. Check your work
Twitter still doesn't include an edit function for its tweets. So if you make a typo or get the details of the contest wrong, you won't be able to quickly adjust the text. And one of the unwritten laws of Twitter etiquette is not deleting tweets.
Save yourself time and trouble by checking all the details before you post. Look out for spelling and grammar errors. Get someone else to quickly read what you've written, to be completely confident.

Bookmark this post as a handy checklist for your giveaway posts. You can read our tutorial for Twitter giveaways, too.

Ready to tweet? Click here to create your Easypromos account and start drafting your promotions for free.
Publication date: 2015-07-23