Posted in: EventsLast update: 22/01/18
Valentine's Day is just around the corner. With consumers spending nearly $19 billion on Valentine's Day last year, up $2 billion from the previous year, it's clear that marketers should start considering their strategies now in order to benefit from this steadily increasing spending trajectory. Further, with the more and more consumers being comfortable shopping and purchasing using their smartphone, it's even more important to be ready to engage with your audience in a digital environment.

Below we offer a few ideas and strategies for engaging with followers and increasing brand awareness through a Valentine's Day contest or promotion on Facebook.
Give Your Audience a Valentine's – Facebook Timeline Sweepstakes
Valentine's Day isn't just for giving your sweetheart love and gifts. Recognizing all the important people in your life on Valentine's Day is actually growing in popularity. It is estimated that 59% of consumers give gifts to family members, 21.7% give to friends and 12.1% give to colleagues. A surprising 21.2% spend money on their pets in honor of the day.
Consider awarding your followers by running a Facebook Timeline Sweepstakes, where anyone who likes or comments on your post enter to win a Valentine's Day gift, whether it be a night out, or a promotion gift, for example a discount code to your store. The sweepstakes will promote sharing and also encourage others to follow your Facebook page for future promotions. See below an example of a Facebook Timeline Sweepstakes: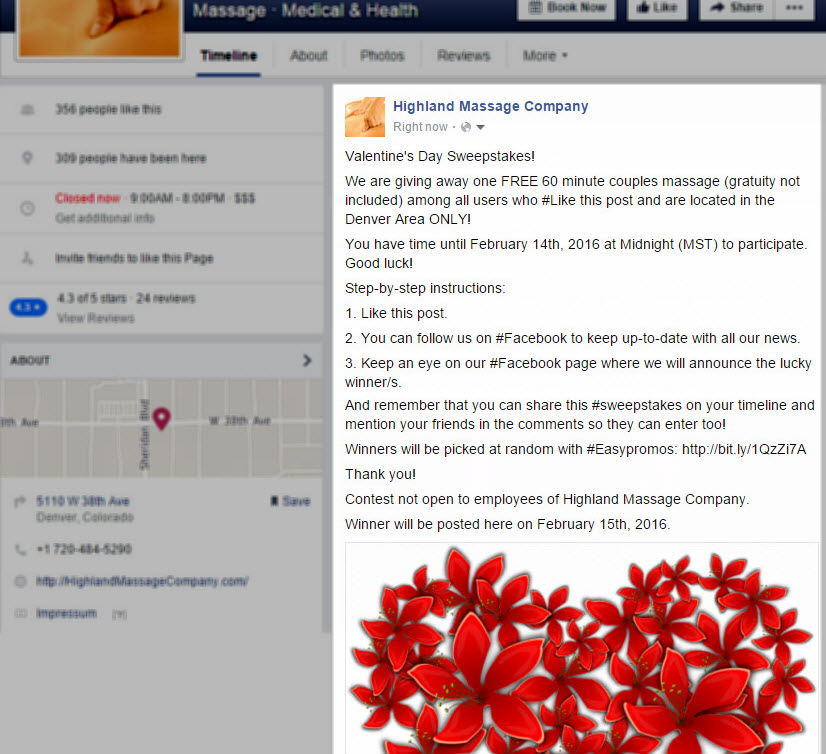 Quiz Your Followers About their Best Valentine's Day – Quizzes and Trivia
What's your idea of a perfect romantic evening? What would be your ideal Valentine's Day gift? Where would you like to spend Valentine's Day? What's the most romantic song ever? Put your fans' imagination to the test with a fun Valentine's Day quiz.
You could create a quick 4-5 question quiz in which your Facebook fans pick their favorite answers to find out more about their personality (romantic, fun-loving, etc.) Or you could ask them a series of questions that they must answer to discover what their ideal Valentine's Day would be like. To encourage more people to take part, run a sweepstakes and pick a winner among all those who have completed the test. If you want it to be even more exciting, make it so that only the participants who get a good result in the test can enter the sweepstakes.
Try this Valentine's Day quiz to see a real example
Learn more about question and answer quizzes
Tell the Most Romantic Love Story – Facebook Comments Contest
Do you remember the day you first met? How was your first holiday together? How did you propose to your partner? What's the most original compliment you've ever been paid? What's the secret to keeping love alive?
Valentine's Day is the perfect time to encourage fans to relive their most romantic memories. Encourage your followers to share their most special moments through comments on your Facebook Page. Allow them to vote on the most romantic love story, the most original pickup line, the sweetest declaration of love, the best advice for keeping love alive, and offer a prize such as a romantic dinner or couples spa session to encourage participation and sharing, and award the winner(s) with something romantic. To pick the winner, tie in a sweepstakes giveaway among all the posts.
Case study of the writing-based contest on the fanpage of a beauty brand
Creating New Memories – Photo contest
The romantic evening in your favorite city, that holiday you'll never forget, the day she said 'yes,' that morning you woke at dawn to watch the sunrise together, your sweetest ever kiss… Taking part in a photo contest is always a fun way to capture and create memories through photos. Organize a photo contest on your Facebook Page and encourage your fans to share their most romantic experiences during Valentine's Day.
Display your participants' photos with a tiled gallery layout, and embed and present the contest's photo gallery on any website, so that users can view the photos from your website, blog or online shop. To pick the winner, tie in a sweepstakes giveaway among all the participants.
View an online DEMO of a photo contest
Reward the Most Romantic Users with Promotional Codes
Incentivize sales and increase visits to your website with discount promotional codes for the next purchase. Take advantage of Valentine's Day to create this type of promotion and attract users by giving an incentive. You can for example give away promotional codes to all that register during Valentine's Day.
Do you want to see how this works? Try this DEMO now!
Visit our 'Box of Ideas' for Valentine's Day: all the ideas, case studies, demos to try the different types of promotions, templates for you to create your campaign faster etc.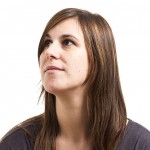 Silvia Marti Ferrer
Marketing and Customer care Easypromos' team