Posted in: EventsLast update: 20/02/20
Valentine's Day is just around the corner. And with US consumers spending more than $20 billion on Valentine's Day last year, it's an unmissable moment for brands. Find out how you can show some love to your online community on February 14th – with simple Valentine's Day giveaways on your favorite social media channels!

Valentine's Day might seem like another day designed by the capitalist world just to spend money. But nothing could be further from the truth! First Valentine's Day was celebrated in the year 496! So we're here today to make sure that you don't run out of creative campaign ideas for the upcoming Valentine's Day.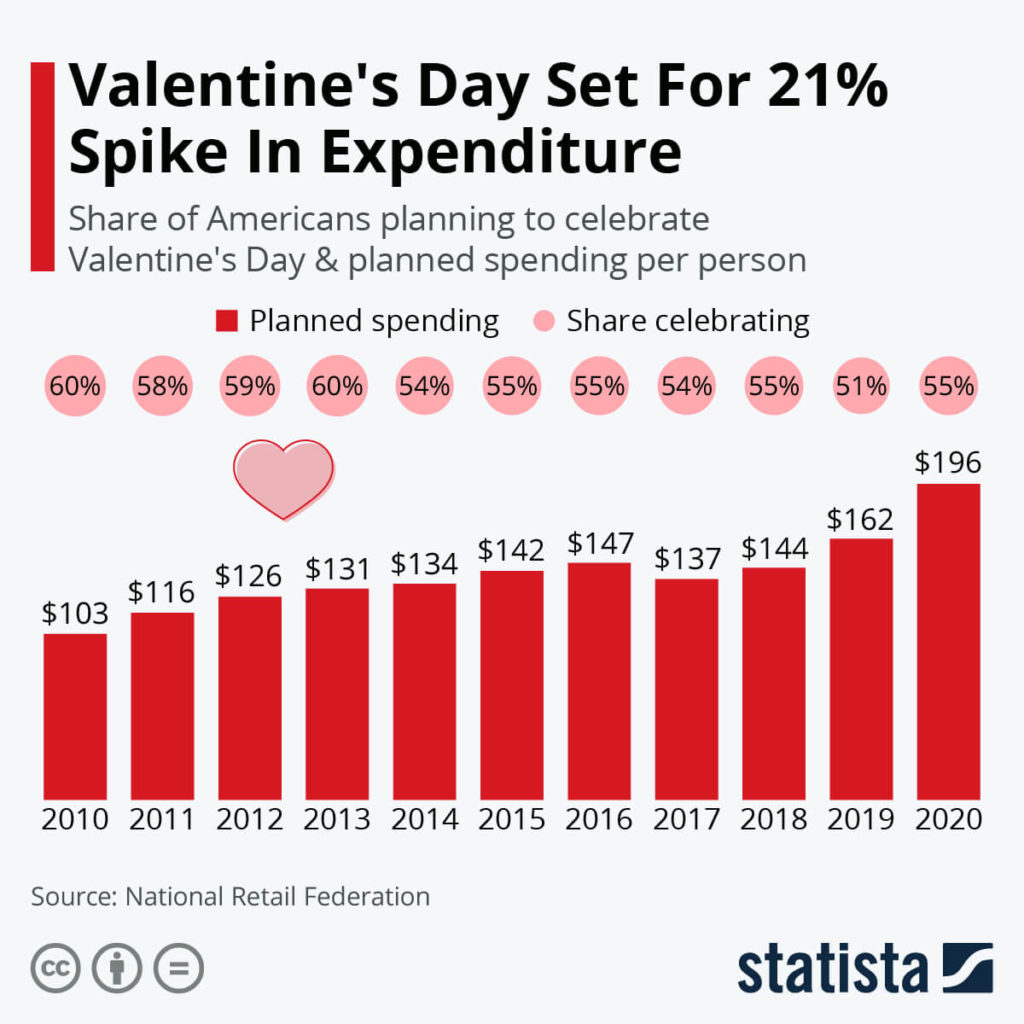 Social media giveaways are the key to maintain engagement, therefore today we will share with you a bunch of great examples of social media sweepstakes that will give your audience moonstruck eyes!
Grow your social media presence with Facebook Valentine's giveaways
One reason why Valentine's Day giveaways on Facebook are so popular? They're easy.
Easy to run, easy to take part, and easy to select a winner. All you have to do is publish an encouraging post announcing the giveaway and explaining all the details.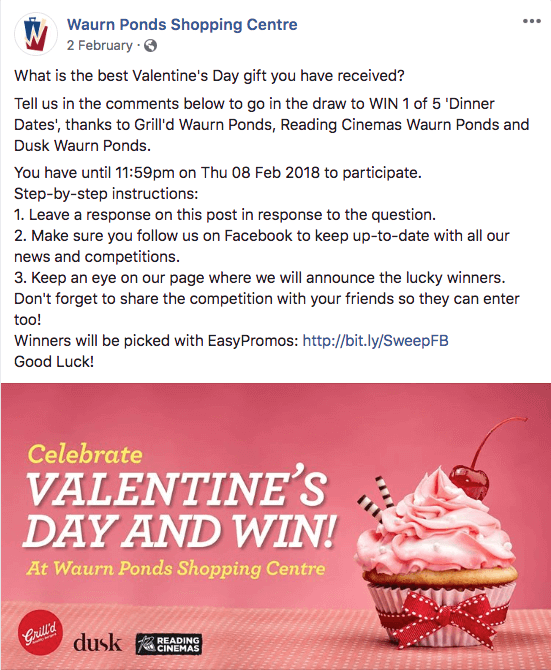 Here's an example from Waurn Ponds, a popular local shopping center and social hub in Australia. They decided to treat five couples to a Valentine's dinner date and cinema trip. All their followers had to do was comment on the post, and tell everyone the best Valentine's gift they had ever received. Open questions like this are great for boosting Facebook engagement – they quick-start conversations and get people to share with your brand, which leads to brand intimacy – an important emotional bond with your customers.
Yawgoo Valley wanted to give their audience something even bigger! In order the enter, the participants were asked to mention three of their friends in the comments – nothing more, nothing less. Two winners were to win two snow tubing tickets.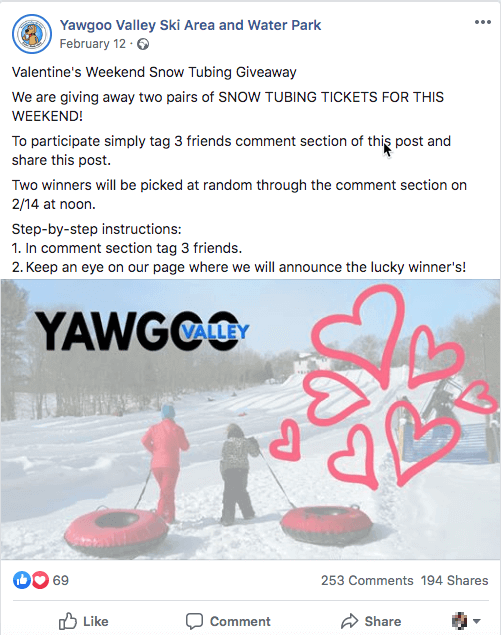 Valentine's Day social media giveaways are always a great way to entertain your audience and build loyalty. Comments giveaways attract engaged customers who automatically become your brand promoters by tagging their family and friends.
Once the giveaway is over, just use an app to collect all the comments and select a random winner.
Valentine's Day giveaway on Instagram
Of course, Valentine's Day is most popular with couples, this is why the majority of prizes aim at couples. Getaways, dinners, spa sessions for two… But Valentine's Day isn't just for sweethearts! And you cannot forget about this huge group of singles out there! So don't forget to target this great segment with your Valentine's Day Instagram Giveaways!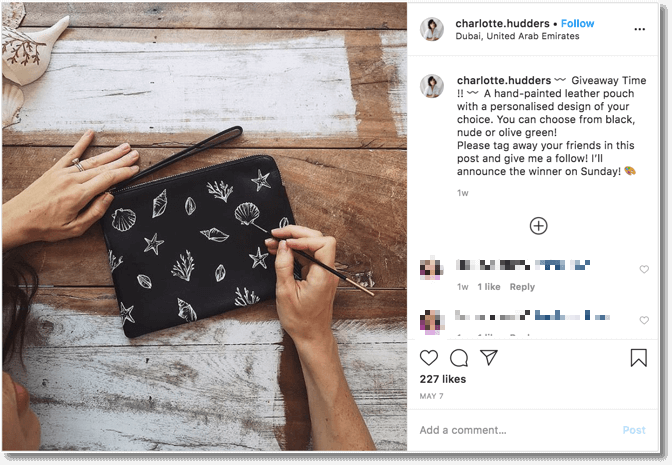 LaCroix Water is known for its great online promotions, and they didn't disappoint this time either! The brand was looking to reward 100 participants. They would receive t-shirts and merch hats! The giveaway was based on comments where people had to tag someone they love. Comments giveaways tend to go viral, as people tag their friends, who most of the time also join the giveaway, tagging someone new.
Chicco Chai went for the same giveaway structure! However, apart from tagging friends in comments, the participants were also asked to follow the accounts of two organizing brands.
Here, apart from incentivizing the followers, the brands also achieved some extra marketing objectives. They grew their online presence and also gained new followers, which leads to increased brand awareness.
YouTube Valentine's Day giveaways to increase brand awareness
When thinking about YouTube, it's quite possible that you don't think about giveaways at all. However, YouTube Giveaways are the thing! They're a great tool to create engagement and increase visibility for your channel.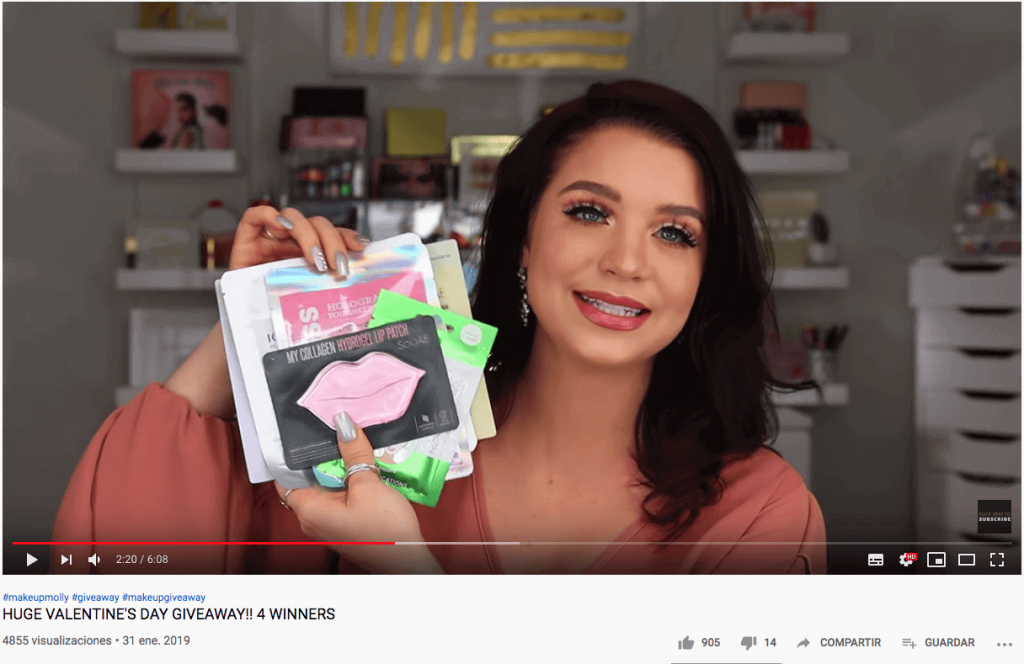 Use a Valentine's Day giveaway on YouTube to highlight your products, and explain what's so great about them. You can also share something special for the holiday. You could give away Valentine-themed decorations, or a special couples discount. Or if you're a makeup blogger like in the example above – your favorite makeup products!
Valentine's Day Twitter Giveaways to build online presence
It's quite obvious that the easier the giveaway is, the more participants there will be. So if your goal is to work on the online presence of your brand, then this is the right giveaway for you!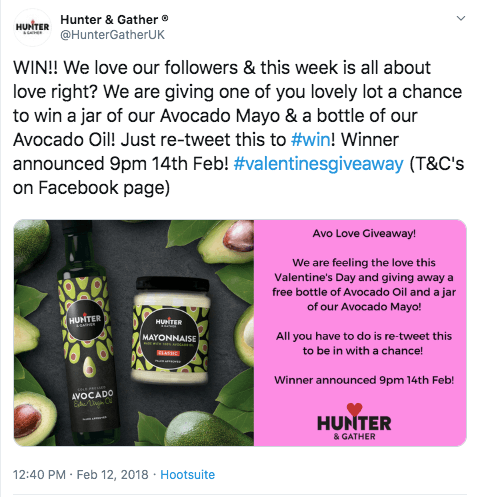 Hunter & Gather wanted to promote their products and work on their online presence. They asked their followers to retweet the promotion tweet for their chance to win and… that's it! Easy entry requirements made this Valentine's Day giveaway quite successful!
A gift… just because
One last thing: remember that every brand can celebrate Valentine's Day. Of course, if you work at a florist or a chocolate factory, then inspiration might come a little easier.
But with a fun competition dynamic and the right prize, anyone can run Valentine's Day social media giveaways.
Take this example, from a website which collects responses to surveys. It doesn't seem like a natural pick for Valentine's Day, right?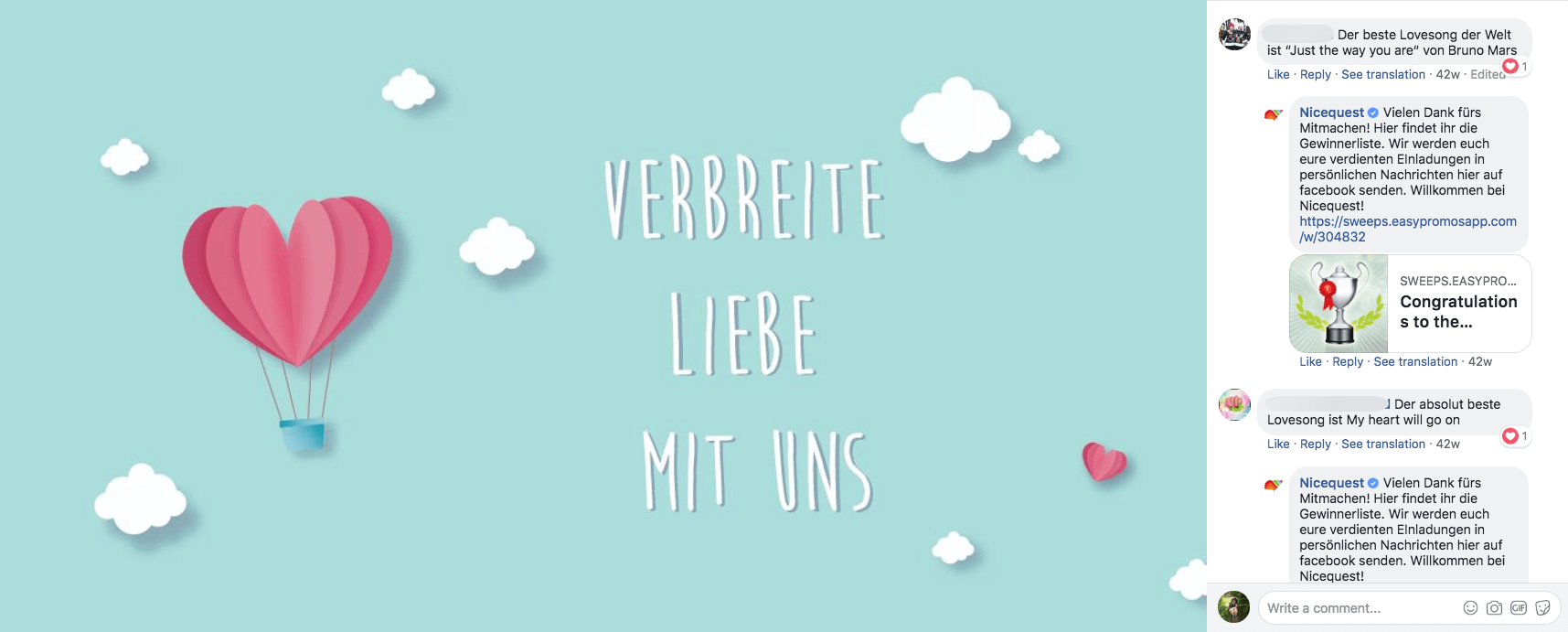 But the brand came up with the perfect contest. First, they asked followers to comment with their favorite love song – and the reason why. Then they chose five winners and shared a charming romantic prize: a pair of tickets for a Valentine's Day event, plus complimentary gifts.
If you can dream up an engaging question, and imagine an exciting prize, then your Valentine's Day social media giveaways are bound to be a success!
Are you ready to create your own Valentine's Day campaign? Save some time with our free templates! And in case of any questions don't hesitate to use our Live Chat Support!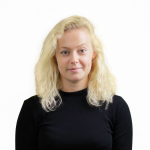 Kamila Palka
Easypromos marketing team
Publication date: 2016-01-22