Posted in: Digital marketingLast update: 27/03/18
For some time now we've been talking about Inbound Marketing on our blog, and about how you can use a tool like Easypromos to complement your inbound marketing strategy with surveys.

Today we'd like to focus on your brand's leads and how you can use surveys to strengthen your relationship with the leads while learning more about them. If you play your cards right, the information that you obtain could even help you convert those leads into customers. Would you like to find out how? Keep reading.
Firstly, what is a lead?
A lead is a potential client: an individual who has displayed interest in your brand or product and provided their contact details, normally by filling out a subscription form. It's a potential client who wishes to be kept up to date with the brand's activity, content, offers and promotions. And if the individual likes what they see, then the likelihood is that they will end up becoming a client.
Leads can be found at any stage of the sales funnel, and the further we can get them to go through the process, the closer they'll be to making their first purchase. We can break this down as follows:
Cold leads: they can be found in the first phase of the funnel – the TOFU (Top of the Funnel).
Warm leads: they can be found in the MOFU (Middle of the Funnel). They've shown interest in the brand content on more than one occasion and they might have requested information or contacted the brand to ask a question.
Qualified leads: these can be found in the BOFU (Bottom of the Funnel). They've advanced along the funnel and are now ready to make a purchase.
And what information does a brand have on its leads? A contact email? Information about their behavior? Or knowledge of whether they've opened the emails they've been sent, or of where they've shown interest by clicking on links. Learning more about your potential clients will help you to nurture them and encourage them to advance through the sales funnel.
This is where Lead Nurturing techniques can be used to achieve various objectives:
Identifying the users who are ready to make a purchase.
Working with contacts who are not yet ready with the aim of preparing them for the first purchase.
Recovering lost leads and giving them a second opportunity.
Surveys help to classify your contacts and identify at which stage of the sales funnel they are.
Click To Tweet
The primary technique of any Lead Nurturing strategy is, without a doubt, email marketing. By sending emails it's possible to segment, customize and automatize the campaigns so that more leads become customers. This could mean sending a welcome email when they register, giving away discount offers with the first purchase, and so on. The idea is to gather specific information about the lead, which is where surveys can come in very handy.
Surveys can also be useful in classifying brand contacts and identifying at which phase of the sales funnel they are. In other words, how close to – or far from – making a purchase they are. This is known as lead scoring and each brand must define its own classification criteria for those contacts.
Promote your Inbound Marketing strategy using surveys
Creating a survey can be a very useful way to complement your Inbound Marketing strategy, especially if you personalize the survey to fit your target profile and send it to a specific segment of leads.
With the information provided by participants you'll be able to complete the individual profiles of your contacts, obtaining more specific data about each individual. This, in turn, will help you to carry out more accurate segmentation.
Perhaps you haven't stopped to think about the potential usefulness of surveys as powerful magnets for attracting leads, but if you prepare the survey properly you can get a lot out of it. Surveys don't always get the credit they deserve as a valuable tool for complementing your Inbound Marketing strategies, but as long as the survey provides some value to the person who completes it, it can help you achieve your goals.
Here you have an example of a survey which helped the company to obtain leads and find out which kind of information were most important to users. In exchange, the company awarded participants with $5000 in Bell Lifestyle products.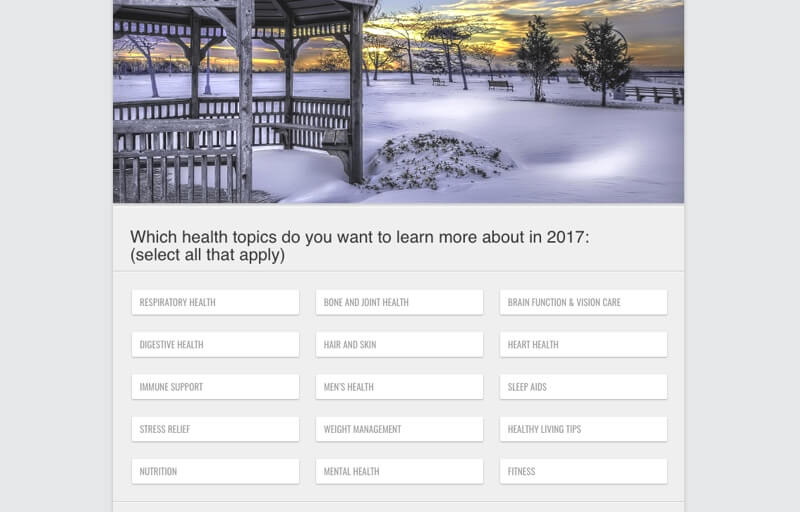 As you can see from the example above, the length and complexity of the survey should be in proportion to the incentive – the prize you are offering. If you're asking survey participants to dedicate a significant amount of time to the survey, or to supply very personal details, then the reward should be more substantial. This will ensure greater interest among users in completing the survey. And the more people take part, the more information you'll get to help you implement your strategy.
We've given you some tips on how to include surveys in your brand's Inbound Marketing strategy. The goal is for you to run more personalized and better-segmented campaigns to encourage your contacts to advance through the sales funnel. Now you have everything you need to succeed! Enter the Easypromos Dashboard and create a draft survey, with no obligation!
Publication date: 2017-03-03