Posted in: Applications,Applications for InstagramLast update: 27/12/21
Giveaways on Instagram are here to stay. The buzz and engagement they generate is irreplaceable by any other content. So what do you need to run a successful Instagram giveaway? Clear goals, timing, a good prize and a reliable Instagram giveaway app. Keep reading to learn more.

It's been known for quite a while now that Instagram has more than 1 billion monthly active users. Wow! This impressive number makes Instagram a very efficient tool in the marketing strategy of many brands. Random prize draws can help you reach your marketing goals, so in this blog post, we explain how to organize Instagram sweepstakes with an automatic Instagram giveaway app.
Which goals you can achieve with a giveaway on Instagram?
For many, the main goal on Instagram is to get more followers, as a high number of followers helps drive other marketing objectives. Brands often ask participants to follow their brand so that they can boost their following.
But apart from growing your audience, Instagram giveaways can help you achieve much more:
High-quality engagement: Instagram comment giveaways guarantee many… comments, that's right. But make sure they're high-quality comments! Ask open questions so that the participants of your Instagram giveaway get a chance to share their stories, opinions, and views.
Greater reach of your posts: Did you know that the Instagram algorithm gives priority to the posts with high engagement? Organize Instagram comment giveaways to be seen by more users. But remember: The only way to participate in Instagram giveaways is by commenting on the post, so you can take advantage and ask the users to comment on something relevant to your business.
Brand awareness: Instagram giveaways can help you boost brand visibility too. Ask participants to mention a few friends in the comments section. It will help your visibility as more Instagram users will be exposed to your brand.
Loyalty from your followers: Social media users love brands that share high-quality content. But they love brands that give back to their community even more. By hosting regular Instagram giveaways, you will be able to boost customer loyalty further.
How can I do a giveaway on Instagram?
The easiest way to do an Instagram giveaway is to run comment-based sweepstakes where you use an Instagram giveaway app to pick a random winner from among all the users who have commented on your Instagram sweepstakes post.
You create the post just like any other post on Instagram but keep a few things in mind:
The image should catch the attention of your target audience and showcase the prize you are going to raffle.
Be clear about the instructions for participation and the time frame.
Clearly state the participation dates and share terms and conditions.
Need help creating your Instagram giveaway post? Head to our blog post to find out how to create your Instagram giveaway post.
Another way to use our Instagram giveaway generator is to run hashtag sweepstakes where you can pick a winner from all the users who post with your contest hashtag during a specific period of time. You can also ask that they follow your profile as a requirement to enter the prize draw. Find out more on how to do a giveaway on Instagram among all the photos or videos with your brand hashtag.
How to pick a winner on Instagram?
Do you already have a post with comments and now you need to pick a winner? First, you need to create your free account and then you can create the Instagram sweepstakes and select the post. Watch the video below to see how easy it is to choose a winner of your Instagram giveaway.
Our random comment picker for Instagram will import all the comments on the post and let you determine how many winners and alternate winners you want to pick.
You can also apply the following exclusions:
Minimum number of mentions
Entries registered after the date
Blacklisted users
Previous winners
And more
Finally, you run the sweepstakes app to select the winners of your Instagram giveaway. Remember, your first Instagram giveaway with Easypromos is free!
In order to be able to carry out comments-based sweepstakes on Instagram, you need to have an Instagram business profile. It also gives you many advantages both in regards to managing your profile in general but also in regards to running giveaways. A business profile lets you import all the comments on a post without limit.
How to publish your Instagram winners
Now you have the winners of your Instagram giveaway, what's next? Once you've carried out the sweepstakes, the Easypromos Instagram giveaway app gives you two URLs:
One for the winners page that you can customize to fit your brand image and that you can use to publish the winners. You can, for example, use it in the Bio of your Instagram profile.
One with the Certificate of Validity that you can also publish to give more transparency to your Instagram giveaway.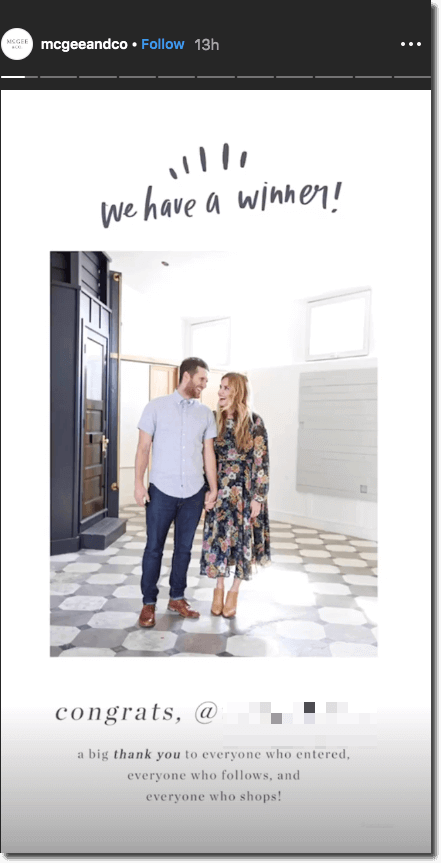 Remember to contact the winners, show transparency in all actions and stay in touch with all users, also the ones that haven't won, so that they keep following you and come back for more.
Are you ready to post your Instagram giveaway post or do you already have a post with comments and you want to pick the winner? In case of questions or doubts, you can Live Chat with us!
Publication date: 2017-11-30