Posted in: Applications,Applications for InstagramLast update: 19/03/21
Instagram is the fastest growing social network. It now has more users than Twitter and is catching up to Facebook. The power that Instagram gives images and videos makes this application an extremely useful tool for visual marketing. It is now an important advertising platform for businesses. So, it's of no surprise at all to us that marketers are increasingly devising exclusive sweepstakes and contests for Instagram, as well as discount coupon giveaways. Giving away promotional codes and vouchers to users can be of great benefit to your business. For this reason, we thought it would be a good idea to give you some tips for carrying out this strategy successfully. Read on!

Why give away discount codes on Instagram?
As you know, discount coupons provide visibility to your brand, increase sales, generate leads and boost traffic to your website. Given Instagram's potential, it's already an ideal channel for distributing codes or coupons. But why else should you use this application?
It will help consolidate your Instagram profile and boost engagement.
Relatively little competition. Although it is growing very quickly, you won't find as much competition as you would in Facebook, making it slightly easier for you to stand out from the crowd.
A highly active social network where companies want to be. Given that they often share pictures of products they consume and tag brands, Instagrammers can become your allies.
Beat the algorithm. Instagram displays the posts that generate most interactions in the feeds of followers. One good way of grabbing users' attention and generating interaction with a post is to publish a discount coupon alongside a text or question.
You can be featured in the Explore Tab of other users. To appear in Instagram's Explore Tab, you need to generate quality content and encourage interactions. In this way you'll have a better chance of being featured in the Explore Tab of your target audience. Giving away discount coupons on Instagram can help you double, or even triple, your community of followers and gain relevance.
Now you know the benefits of giving away discount coupons on Instagram let's look at how you can go about distributing them in the most attractive way possible.
The most common ways of sharing discount coupons on Instagram
There are a variety of methods of distributing vouchers in Instagram. Some are quite traditional, others are more original:
If you'd like to distribute a coupon on a specific date or holiday (World Book Day, Valentine's Day, Mother's Day…) design your coupon image and link it to the event. Add a text to the thematic image, indicating the value of the coupon and the code for redeeming it in the online store. The code could also appear in the description of the photo, but it's important that the discount is clearly presented in the image itself. Be concise and direct: "Free shipping!", "2×1", "-15%". Use the description to add validity and terms of use. If you want to attract customers to your store, encourage them to come and present the coupon at the checkout when making their purchase.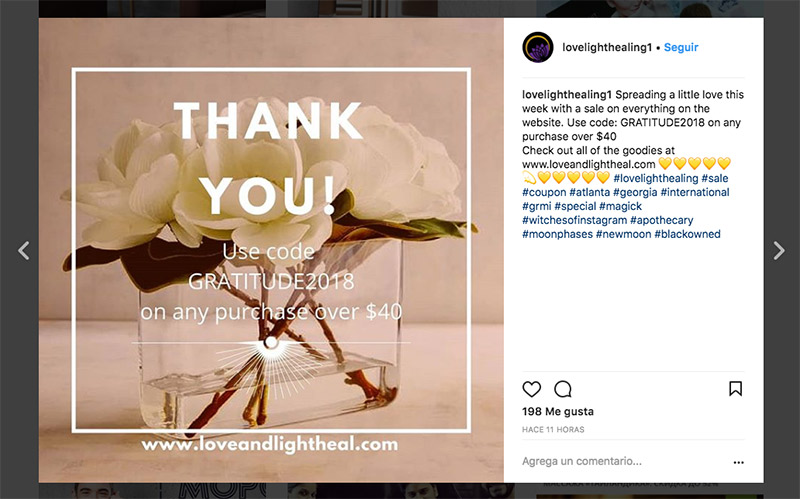 Stand out from the crowd by inserting a promotional code as a GIF. Having a moving image instead of a static one will make your discount coupons more original. Use the animated image to play with your brand's symbolism and add a code that's not too long and that can be captured quickly.
If you have the resources, make a video about your discount coupons. The success of your campaign will depend on how creative you are. Involve your brand representatives or employees, have them give information about the discount and encourage viewers to visit the webpage where they'll be able to download the coupon or redeem the code. The conversion rate may be lower, as fewer people watch the videos, but it will be worth it.
If your discount coupon is only valid for 24 hours or if you want to display it in a really original way you could use Instagram Stories. This method of generating content is being used more and more frequently by companies.
Pay Instagram and have your coupon displayed as an ad on users' feeds. It will appear in the feed of users who have shown interest in your brand. It will also be displayed to users who share interests with your followers.
How to give away discount coupons on Instagram and obtain quality leads
Now that we've looked at the most common ways of giving away coupons on Instagram, how about taking a step further and looking for a way to share coupons while boosting your database?
To obtain high quality leads we recommend you announce your coupons on Instagram – using some of the techniques from the previous point – but then ask users to go to your website or promotion landing to sign up for their discount or prize. For example, use an image to ask: "Would you like a 10% discount in our store?" and add a link in your biography that leads straight to a registration form where users can download a discount coupon in exchange for their information. Our Coupon codes app will help you design your campaign, configure the form with the fields of your choice and edit the voucher simply and effectively. In this way you'll be able to attract high quality traffic and obtain the contact data of future clients. You'll also be able to give away coupons with unique codes for each participant or create coupons with QR to be validated at point of sale, etc.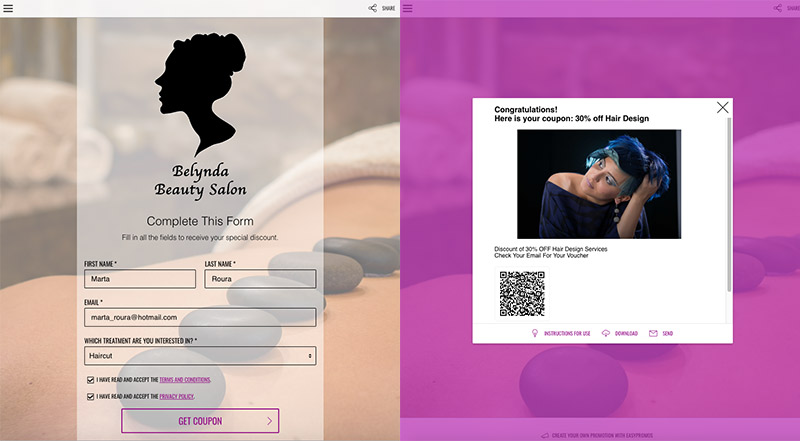 Combine coupons with sweepstakes and contests
Once you've chosen how to distribute discount coupons on Instagram, decide which hashtag you want to use to viralize the vouchers. Effective use of hashtags is a vital part of increasing your visibility. Giving away discount coupons on Instagram can be even more successful if you also increase your activity on this social network by running contests and sweepstakes. The contest or sweepstakes prize could be a coupon redeemable for a prize or discount.
What about you? Will you boost your brand's reputation by making the most of these tips for giving away discount coupons on Instagram?
Publication date: 2018-05-17