Posted in: Ideas for your websiteLast update: 16/07/20
Parents and kids are getting ready for a new school year, shopping around for school supplies and back to school essentials. Try these 6 Back to School promotion ideas to run an A+ marketing and sales campaign.

Back to School shopping is big business. In 2018 customers spent a huge 82.8 billion dollars, according to the National Retail Federation. Although customers are still spending plenty of money, they're keen to find special offers, sales, and Back to School discount coupons.
But what's in it for you? As well as providing a short-term sales boost, you can use coupons to collect customer data. It is also a great product promotion strategy and way to connect and engage with your audience. That includes priceless intel such as contact details, shopping habits, tastes, preferences, and more.
Are you looking for engaging ideas for your Back to School campaign? Discover our ready-made Back to School promotion templates and save up to 70% of production time! Social media giveaways, contests, mini-games, quizzes and coupon campaigns… You name it – we have it all!
And you can make it fun at the same time! Read on to find out how, with these 6 Back to School promotion ideas.
How to distribute coupons and promotional codes
Before we dive into the fun part (designing your promotions), let's talk about how coupons work.
Creating coupons is as easy as using the Easypromos platform. If you want to validate individual promotional codes for each user, then all you have to do is upload the list of codes. It really is that simple.
When it comes to giving coupons and codes away, you can choose the format. You can offer coupons as an instant download when users sign up, or send them via email. And you can choose whether to share codes in alphanumeric, barcode or QR code format.
1. Boost sales with a coupon campaign
Have you ever come across a promotion where all you need to do to receive a discount is share your contact details? For sure! And we all have given in at least once!
The Back to School shopping season is when your customers are looking out for deals and special offers. Here's an example of a simple Coupon campaign that any brand could launch. Simply ask your social media followers to fill in a registration form in order to obtain a discount.
This way you will boost your sales, drive traffic to your website and footfall to your store, and also expand your mailing list for future marketing purposes.
You can try our Back to School Distribute Coupon Codes DEMO to replicate the real user experience.
2. Gamify your Back to School campaign
Online users respond extremely positively to playable promotions, as they provide entertainment and a quick escape from reality. By incentivizing participation you automatically attract more potential participants. And if you're launching your Back to School campaign to boost sales then you might really like this promotion idea.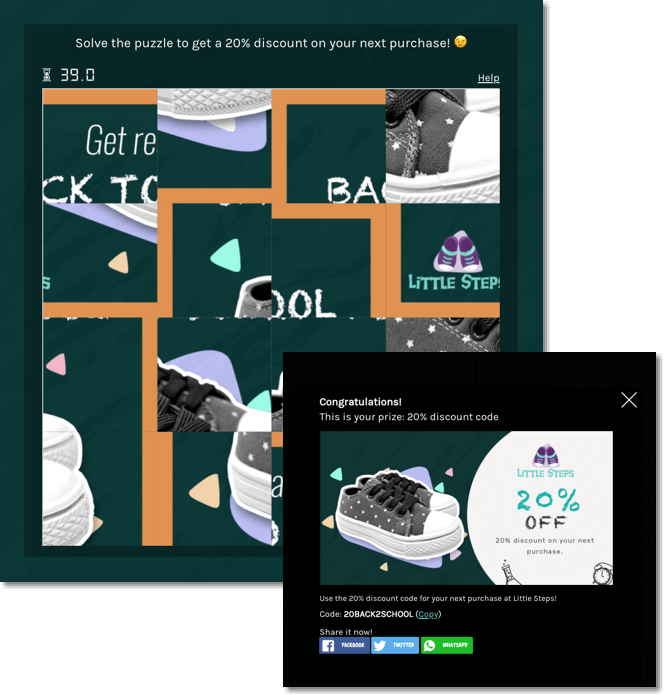 Here's an example of a branded Puzzle game that can be launched by ANY brand as part of their Back to School campaign. Simply customize the game with your logo and branding colors to reinforce brand awareness. Ask users to rearrange the puzzle pieces and reward all registered participants with a discount code! It'll improve brand recall and boost your sales.
Make sure to try our Puzzle DEMO, and if you like this Back to School promotion idea use our ready-made template to launch your own game.
3. Sign up loyal customers with a giveaway
Sharing Back to School discount coupons with shoppers is a great way to make them loyal to your brand. They'll feel valued, appreciated, and understood.
There are direct advantages for your marketing strategy, too. You can use discount coupons as a powerful motivation for customers to share information or try specific products. For example, you can ask customers to fill out a registration form with personal details, and reward them with discount coupons or prizes in return.
You can collect, process, and store that information, legally and securely, with the Easypromos giveaway app.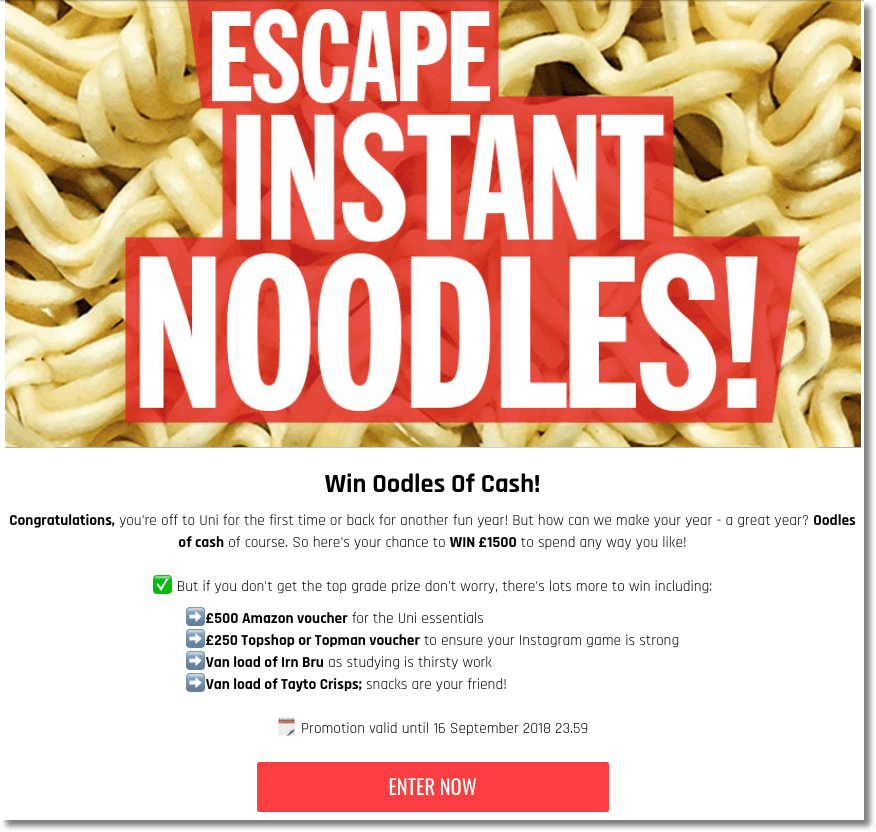 Here's an example, aimed at university and college students heading back to school. This brand offered Back to School discount coupons for some classic student essentials, including energy drinks, potato chips, and online shopping. All the students had to do was fill in their personal details, with the option to receive email newsletters. Apart from expanding their mailing list, the organizer reinforced their brand awareness and tapped into customers' loyalty. It was a win-win!
Do you like this Back to School promotion idea? Play the Back to School Entry Form Giveaway DEMO to replicate the user experience, or create your own promotion using our ready-made template.
4. Survey your customers to help plan your campaign
If collecting info from your followers sounds useful, then try a Survey promotion to get even more details. You can ask targeted questions about how your customers shop, what products they prefer, how they feel about your brand, and more.
By offering Back to School discount coupons, you'll incentivize more customers to take part. And the more responses to your survey, the more useful it is!
For this type of promotion, we've picked an unusual example. Here's a survey that was run by a school itself!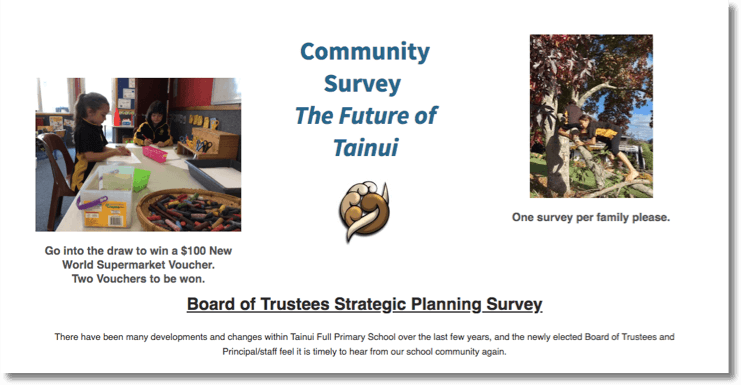 While the School Board prepared for the new school year, they wanted to know more about students' and parents' opinions. They asked families to fill in the survey together because the focus was on learning how to help the community. And the prize? Two generous $100 vouchers for groceries.
Launching a Survey as part of your Back to School campaign is a great idea if you're looking to conduct market research. The participants will be more likely to share their views and opinions if they receive a coupon that'll help them save money during the Back to School shopping season.
It's easy to validate coupons in-store and online with the Easypromos Validation Portal. Create unique promotional codes and assign them to individual customers.
5. Challenge your followers to a pop quiz
Set up a Knowledge Quiz to test your customers' expertise in school subjects or your brand.
This is also a great opportunity to educate customers about your brand, and collect customer details. Reward correct answers with Back to School discount coupons.
You could offer participation prizes, or different coupons based on how users answer. You could even carry out a grand prize draw among users who get all the answers correct.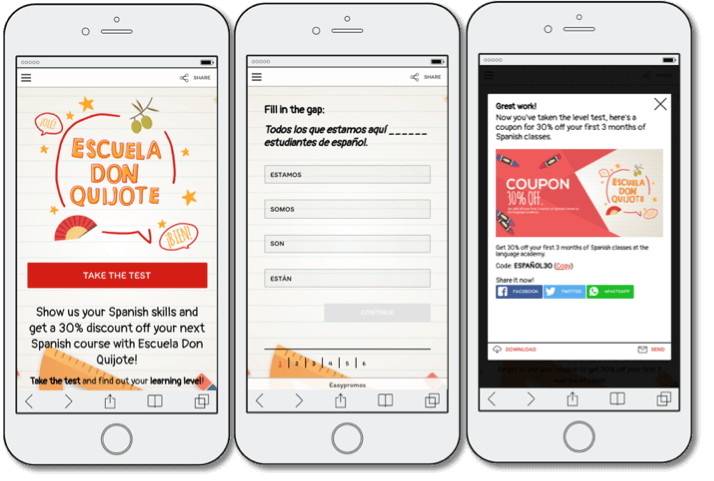 In the example above, you can see how to launch a Spanish Knowledge Quiz. Participants tested their Spanish skills and after registering their contact details they obtained a 30% discount code on Spanish classes in a private language school.
It's time for your own Back to School quiz! Try your luck with our Back to School Knowledge Quiz DEMO and test how to use it for your brand.
6. Create memories with first-day-of-school photos
If you're on social media, you've probably seen parents sharing cute photos of their kids on the first day of school. Those tiny uniforms! Those enormous backpacks!
You can tap into that user behavior to run Back to School promotions, too.
With the PhotoFun app, you give people the tools to create postcards and photo memories at the start of a new school year. Users just upload a photo, then decorate it with cute school-themed frames and stickers in the virtual photobooth: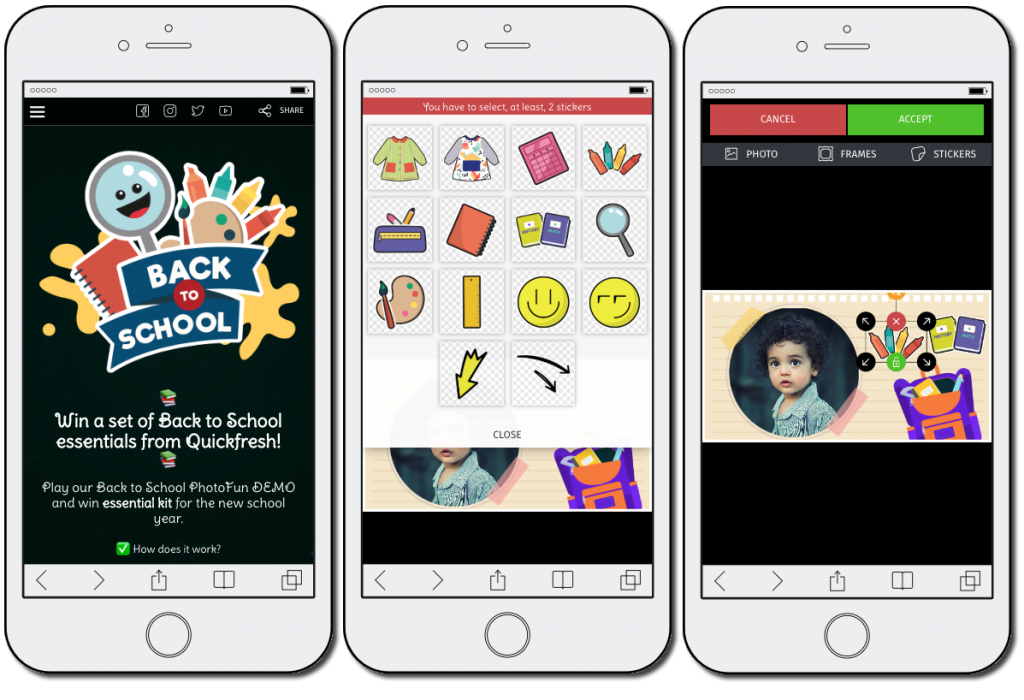 Then you can offer a coupon reward for every photo creation, or ask people to vote for a favorite to receive a grand prize. Apart from collecting user-generated content you also generate new leads and strengthen customer relationships.
This app has to be seen to be believed. Give a go to our Back to School PhotoFun DEMO and created your own branded promotion.
Class is over – time to try these promotions out for yourself! Remember, it's free to set up an Easypromos account and start drafting your promotions. We can't wait to see all the fun and creative ways you'll share your Back to School discount coupons. If you need extra inspiration or resources for your Back to School campaign, then make sure to visit our Back to School hub. In case of doubts or questions don't hesitate to Chat with us!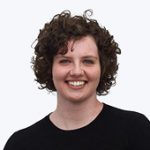 Corinna Keefe
Content marketer at Easypromos
Publication date: 2018-08-22