Posted in: Ideas for your websiteLast update: 04/08/22
Oktoberfest is one of the most popular folk festivals in the world. Each year, hundreds of thousands of visitors flock to the original Oktoberfest in Munich. And since other cities around the world also run local celebrations, it's a great opportunity to run an Oktoberfest giveaway on social media – wherever you are.

Let's take a look at the history of this Bavarian beer party, and how it can help your brand's online strategy. Read on for real-life examples of Oktoberfest giveaways on social media and interactive contests – we hope you can get inspired enough to launch your own Oktoberfest campaign!
What is Oktoberfest?
The citizens of Munich have celebrated Oktoberfest since 1810 when they filled the fields around the city with horse races, games and beer stands to celebrate a royal wedding. And over the following two hundred years, the festival has grown steadily. Today, upwards of 7 million liters of beer are tapped every year at Oktoberfest!
Other cities around the world have decided to join in the fun. Now you can visit smaller, local versions of the Oktoberfest. But every festival maintains the same key elements: beer, a friendly atmosphere, and fun rides and games. In 2021, the official dates of Oktoberfest are from September 18th to October 3rd. The official Oktoberfest event might be canceled, but it shouldn't stop you from online celebrations! Get ready because we're about to show you how to organize Oktoberbest giveaways and online promotions!
Why you should run Oktoberfest giveaways on social media
Social media giveaways are a tried and tested tool for digital marketing. Here are just a few of the benefits on offer:
More followers. Running a giveaway attracts attention to your social media profile, and encourages your existing followers to share with friends.
More engagement. Asking followers to comment will boost your engagement stats on social media and therefore improve your visibility.
Better reputation. When you set up a giveaway with a good prize, your brand gains a reputation for being generous. Make sure you run a contest that's free, fair, and fun. This is a chance to build trust and project a positive image for your brand.
But there are even more benefits, specifically, for Oktoberfest giveaways. It's easy to make a connection between your brand and the festival: think food, drink, travel, games, family, and friends.
And don't be put off by some tourists' exclusive focus on the beer, if that doesn't suit your brand image! With its carnival rides and traditional snacks, Oktoberfest is family-friendly. We're sure you can find a positive link between your brand's products and the fun of the fair.
Get started with your campaign by using out customizable ready-made social media giveaway templates for Oktoberbest. Download yours and launch an Oktoberbest sweepstakes in no-time!
Take a look at these real examples to get some ideas for your own Oktoberfest giveaways.
Oktoberfest giveaway ideas for Facebook
A giveaway based on Facebook comments is a classic way to engage your followers. Create a post announcing your Oktoberfest giveaway, then ask your followers to comment with an idea, opinion, or answer to a question. We like the example below, where the brand asked their followers to comment with GIFs or emojis that remind them of Oktoberfest.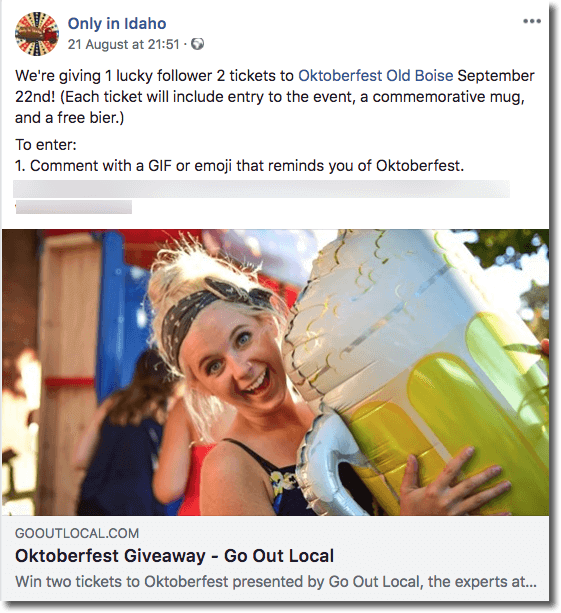 Each participant had a chance to win two tickets to the local Oktoberbest event, which included entry to the event, a commemorative mug, and free beer.
Oktoberfest giveaway ideas for Instagram
Instagram is now one of the most popular social networks for giveaways. That's because it's intensely visual and fast-moving. You can show off images of your prize and keep up the excitement with Instagram Stories. Plus, your Instagram audience is already tuned in to Oktoberfest events. In 2017, Oktoberfest was one of the most Instagrammed tourist attractions in Europe!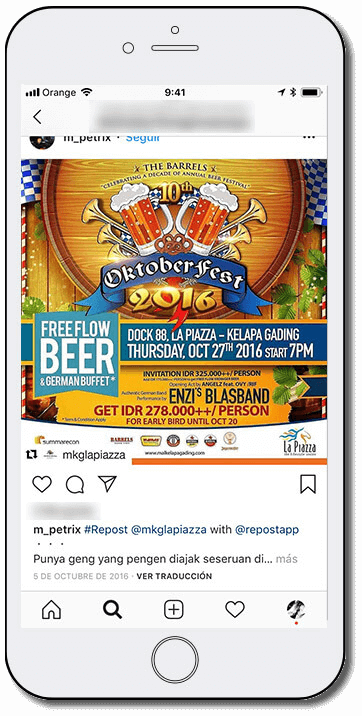 How do you set up an Oktoberfest Instagram giveaway? Well, you have two options. You can run a comments giveaway, just like on Facebook. Create a post, then harvest the comments and choose a winner. In the example above, followers had the chance to win an evening of beer and traditional German food. All they had to do was comment for a chance to win.
Would you like to further boost engagement with your Oktoberfest giveaway? Make sure you ask open questions so that your followers can answer with more than just one-word answers. Open-ended questions encourage real conversations!
Instagram Oktoberfest Photo Contests
If you have a community of active followers who love to share and post, then give them a challenge! Choose an Oktoberfest hashtag for your promotion, and ask followers to post their own photos on the theme. In the example below, a high-end watch brand asked their followers to share photos of themselves enjoying a drink. And the prize? A trip to the Munich Oktoberfest for two lucky friends!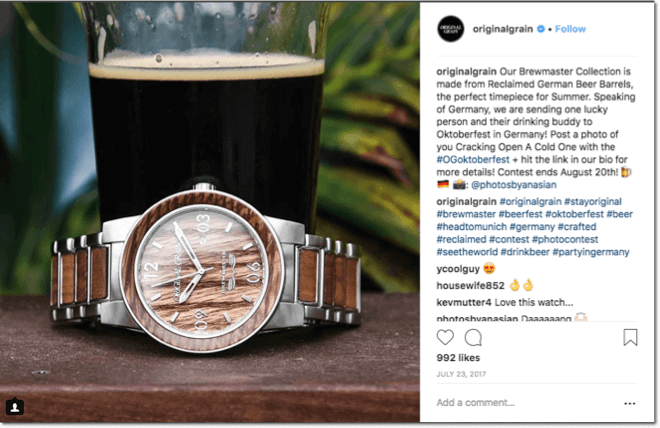 Use the Mention + Hashtag application to collect all entries.
Use this advanced app to collect comments and media from followers on Twitter, Instagram, or both. When users post with your brand name and hashtag, the app automatically adds their entries to a public gallery.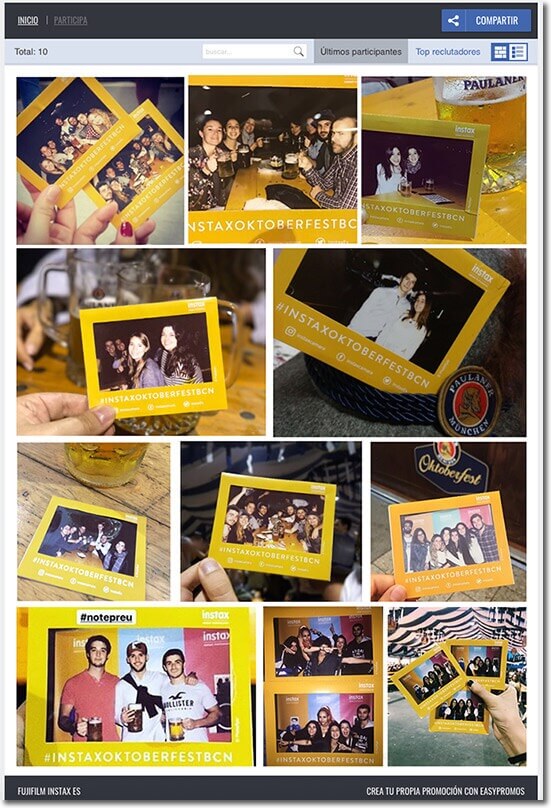 Here's a fantastic example of how to boost engagement, on- and off-line, with Oktoberfest giveaways. This brand ran an Oktoberfest event in Barcelona. Fans who came to the party could have professional photos taken. Next, the brand asked their followers to post photos of their photo souvenirs from the event! They collected comments and photos from the event, and finally chose a winner of the prize.
Oktoberfest giveaway ideas for Twitter
A Twitter giveaway offers even more possibilities. You can ask followers to reply to a post – the Twitter version of a comment. Or you can ask them to retweet your posts, or share a photo with a Mention + Hashtag of your brand. You can even run an exclusive prize draw for followers only.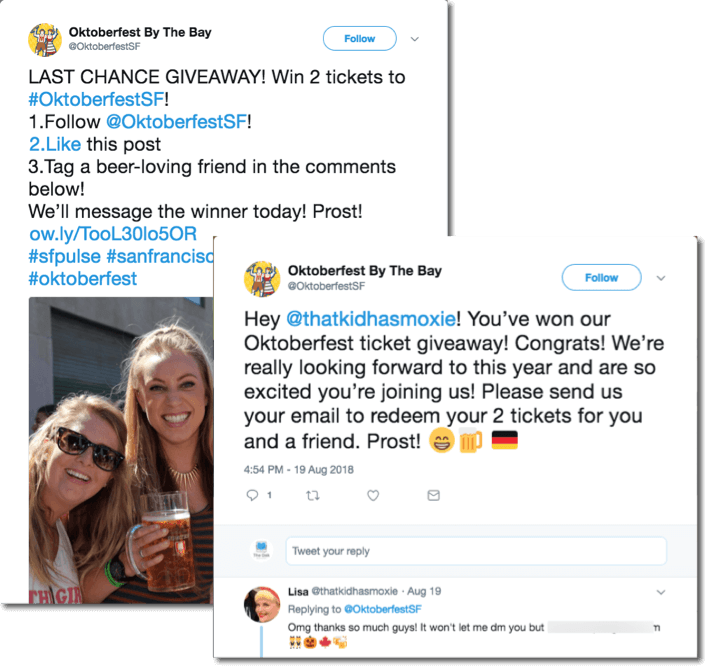 In this example, the brand decided to make the most of their options. They asked followers to follow, like, and reply to their Oktoberfest posts. And they maximized engagement by announcing the winner on Twitter, too. This is a great way to get more high-quality interactions from your followers.
Top tips for Oktoberfest giveaways
We hope these examples have given you some inspiration for your Oktoberfest giveaways. But before you dive in, here's a few extra tips to make sure that your promotion is a viral success:
Follow the festival in real time. These days, Oktoberfest lasts for more than a week. And that's more than a week full of opportunities for you to engage with your audience. Share updates, announce prizes, and keep your followers talking.
Share interesting info. What gets attention on social media these days? Useful, interesting content. Share trivia about Oktoberfest with your followers, or take the opportunity to educate them about your brand.
Make your design pop. Your promotion should match both your branding and the Oktoberfest theme. With the Easypromos editor, you can customize your campaigns for a smart, on-brand look. With our latest update, you even have emoji support! ?
Make Oktoberfest an annual event. Yes, we know it's already been going for two hundred years. But now's the time to make it a regular event for your brand! Followers love recurring events. Make Oktoberfest giveaways a tradition for your social media community.
Pick an exciting, relevant prize. Just like your design, the prize should match your brand or the holiday theme. And ideally, it will match both! Remember that social media followers like social prizes that they can share with friends, too.
Ready to party? Get started today! Remember, it's free to create your Easypromos account and start drafting promotions.
Interactive promotions for Oktoberfest: branded Puzzle game
Let's be honest, Oktoberfest is all about… beer! So why don't you incorporate gamification into your marketing campaign and take a chance to entertain and engage your online community? One way to do it is by launching an interactive Puzzle game.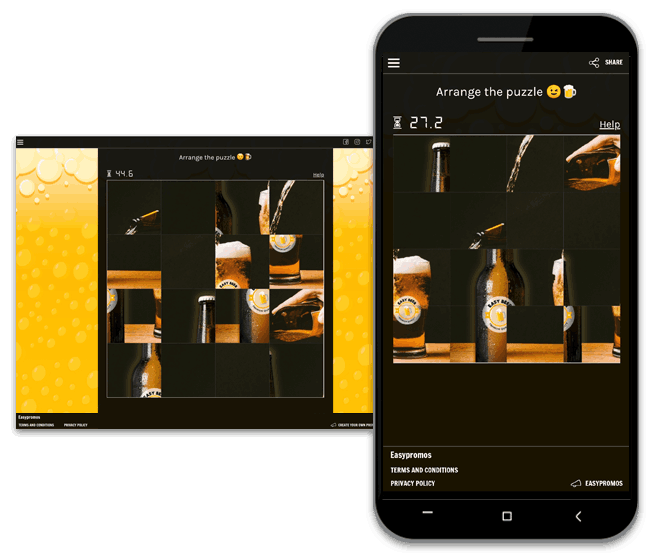 Simply upload an Oktoberfest-themed image and leave it to the app to cut it into puzzle pieces. Then ask your audience to rebuild the Puzzle as quickly as possible and give away attractive prizes! You can:
award all registered users with a discount code or coupon
give a prize to the fastest player
organize a random prize draw among all registered players
run a random prize draw for the fastest ten participants
You can choose the option that best suits your needs but keep in mind a very important point: incentivize participation. It is the best way to attract more participants and boost brand awareness and engagement.
Do you like the beer Puzzle? Why don't you give a go to our Oktoberfest Puzzle DEMO? If you like it, you can use our ready-made template to launch your own promotion!
Do you still have some questions or doubts? Don't worry, as our Support Team is always ready to assist and inspire!
Publication date: 2018-08-24