Posted in: EventsLast update: 09/08/19
World Animal Day is coming up on October 4th. It's time to celebrate our best friends! Whether you run an animal charity or pet brand, or just have customers who love the natural world, we've got plenty of ideas for your World Animal Day promotion. Get a head start with our free resources and templates.

World Animal Day was created to raise awareness of animal welfare. Many animals share their lives with humans, offering help, labour, resources, love, and companionship. Unfortunately, they are not always treated well in return. This October 4th, take the opportunity to appreciate pets, celebrate how much they enrich our lives, and campaign for animal welfare with a World Animal Day promotion.
How to run a World Animal Day promotion
Everyone loves animals. Almost all of us had a pet when we were young, and can share happy memories of the times we've spent with our favorite creatures. And everyone can participate in World Animal Day, too.
Get involved with:
Your brand or organization. Animal charities, non-profits, and brands will naturally take the lead with a World Animal Day promotion. Raise awareness of your cause, or run a promotion of your products and services to celebrate the day.
Your online audience. Even if your brand doesn't work with animals, we bet your customers are animal fans! Ask them to share photos, stories and videos of their pets. You'll boost engagement online, and show your brand's fluffy side.
Co-branding and sponsoring. If you're still struggling to make a connection, then think about teaming up with a charity or brand. Sponsor an animal shelter, offer pet food discounts, get involved in an event… the possibilities are endless!
Each and every one of us can make a difference for animals.
When it comes to online engagement, your goal is to build a relationship with your community. The best way to achieve this – and get the most out of social media algorithms – is through spontaneous, original interactions.
Encourage your followers to talk to you and share their photos, videos, or music. Tap into memories of childhood pets, and your customers' empathy for mistreated animals. Finally, don't miss the opportunity to educate them about animal welfare, the work you do, and the products and services you offer. Take a look at the suggestions below to design your World Animal Day promotion.
Ideas for your World Animal Day promotion
Share cute photos and funny stories on social media
The first place to start is on your social networks. Think carefully about your audience on Facebook, Instagram, Twitter, and YouTube. Giveaways are really popular on all these networks. You can run a quick contest, and advertize the prize with photos and videos.
Here's a cute example from a pet grooming business. Participants had the chance to win a full grooming service for their dogs: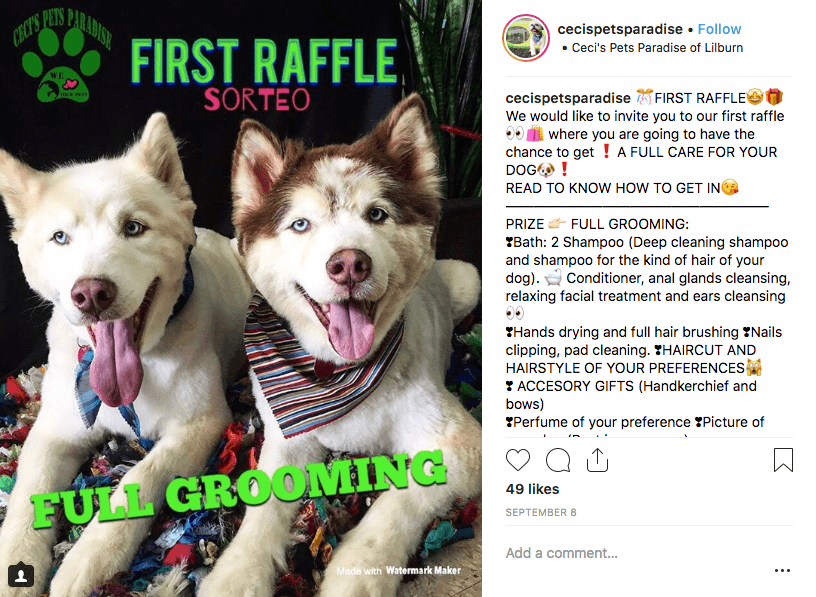 Each social network has different rules, but we usually recommend a giveaway based on comments. Ask your followers to share stories, tips, tricks, and opinions with you. Then you simply import the comments to your Easypromos account, and randomly pick a winner of the competition.
Want to connect your online communities? Can't be bothered to create a separate contest for each social network? Use the Multi-Network giveaway app to run a single giveaway across Facebook, Twitter, Instagram, and YouTube.
Collect pictures and votes in a photo contest
Another popular option is to collect images in a photo contest. You can display all the adorable entries in a public gallery. You can even invite your followers to vote for the top photos. In many cases, voting can double engagement with your World Animal Day promotion.
Here's an example we love from Ottawa County administration. They wanted to celebrate pets – and keep them safe. So the county ran a photo contest for local dogs. However, only licensed dogs could participate. When users clicked on the contest, the app encouraged them to check their pets' licensing status, and quickly renew their documents if necessary.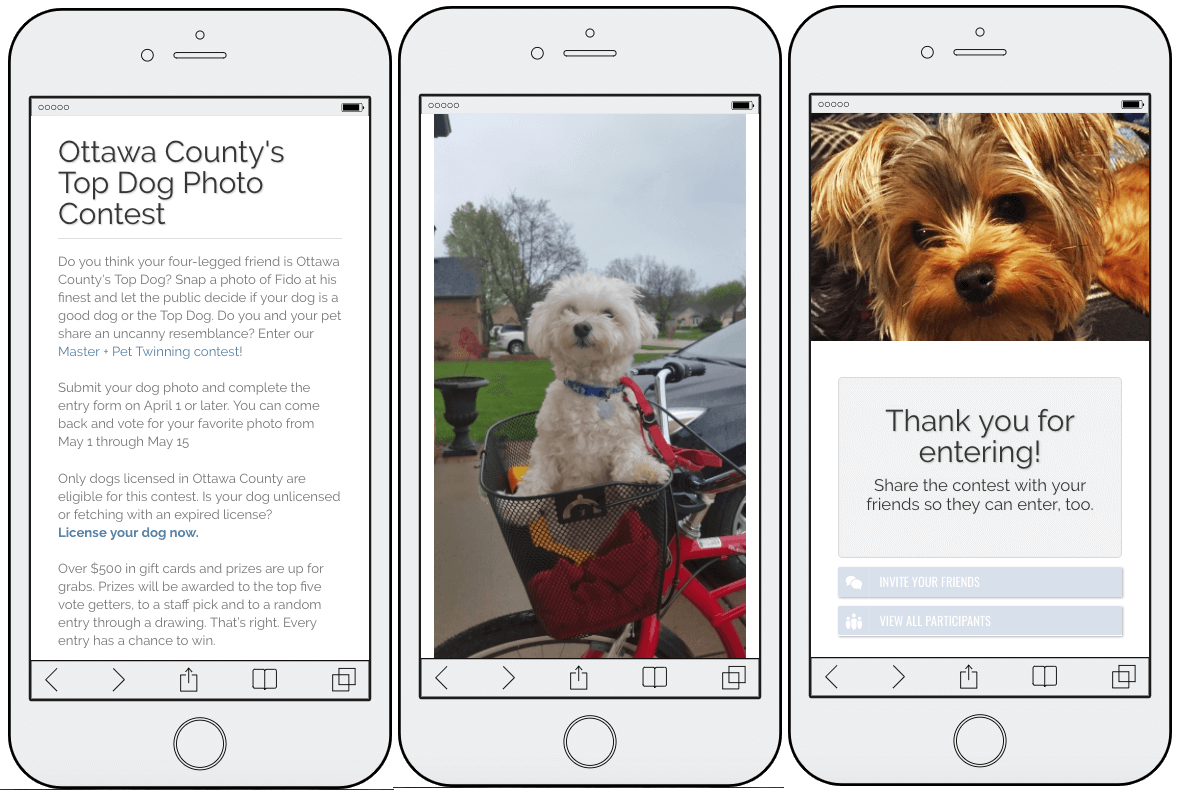 As an incentive, the county offered over $500 in gift cards. They awarded the prizes in several different ways: by voting, by a jury, and through a final grand prize draw. Offering a range of prizes – especially versatile prizes, such as gift cards – is extremely popular with online users.
If your followers are especially creative or media-savvy, then you can try a video contest too.
Ask your followers to pick a favorite
We know, we know – it's impossible to pick favorites when all the candidates are so cute! But Pick a Favorite contests are very popular online, and a great way to boost engagement with your brand.
Take a look at this example from a federation of animal rescue centers in New York. Every year, they release a calendar as part of their fundraising strategy. So they ran a contest where users could vote for their favorite calendar cover.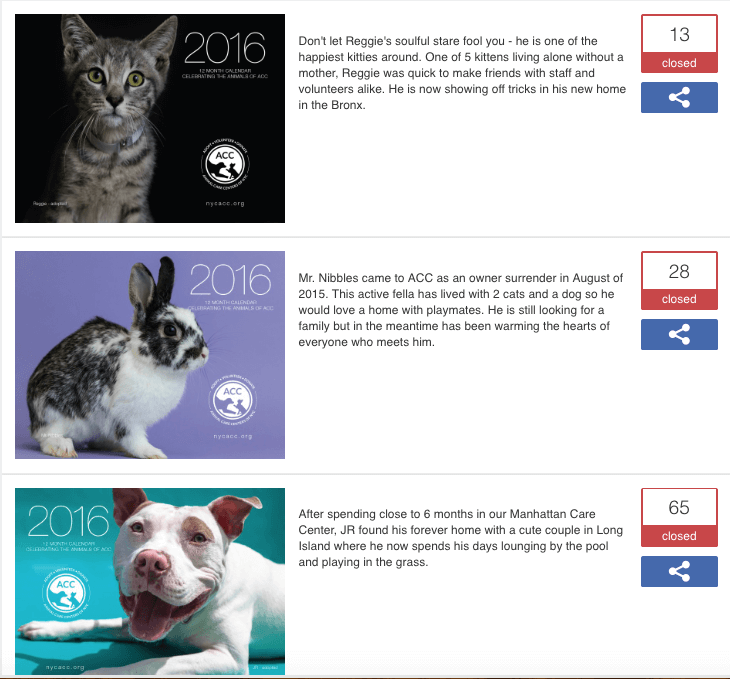 They used the Easypromos gallery design to share the calendar cover photos, as well as each animal's adoption story. The promotion was extremely effective. Online engagement increased, the fundraising calendar got more publicity, and voters were inspired by the tales of rescue and adoption.
If you run a special campaign or event for World Animal Day, then make sure you check out the official website. Add your event to an interactive map, and write an article about your World Animal Day promotion once it's finished.
Challenge your customers with a quiz
Promotions aren't just about prizes and publicity. Online quizzes are a powerful tool to educate and inform your followers. We were really impressed by this campaign from PDSA, the UK's leading vet charity.
They wanted to raise awareness about cat flu. The goal was to educate pet owners about symptoms, treatments, and vaccinations for this damaging disease. So they designed a quick, four-question quiz.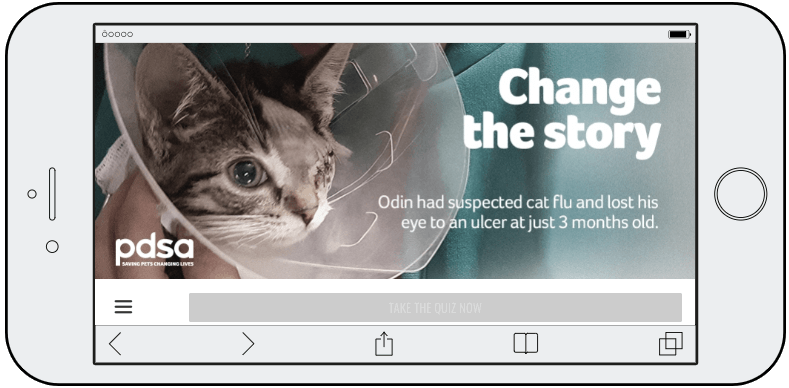 As you can see, they kept the questions simple. When users chose their answer, they'd see a pop-up which explained the correct answer, plus some important tips for taking care of their pets.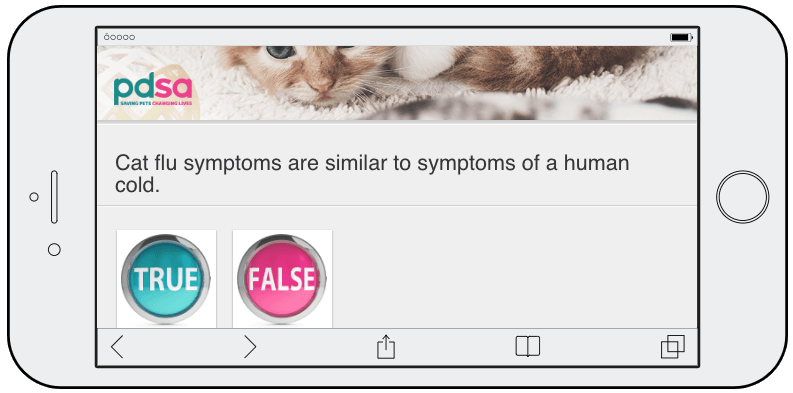 At the same time, PDSA also ran a quiz to raise awareness about parvovirus for dogs. This had a similar goal, but they could target a different sector of their audience: dog owners.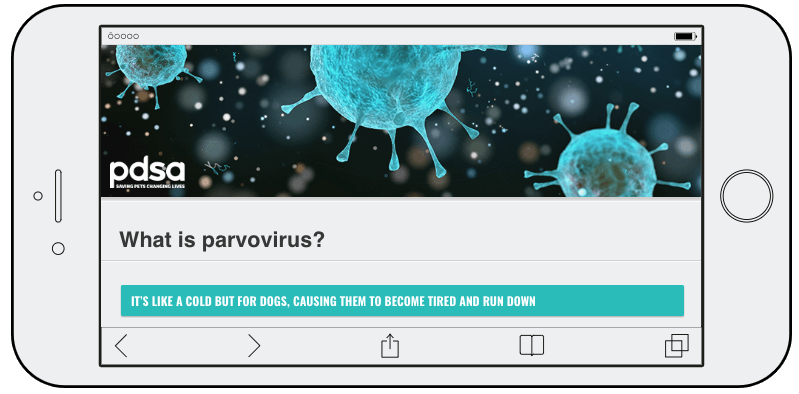 Quizzes should be informative, but still easy to read. Be sure to use lots of photos and colours, like these examples from PDSA. You can dress up your promotions with emoji, too.
Create your own World Animal Day promotion
With all these ideas and inspiration, you're ready to run your own World Animal Day promotion! It's free to create an Easypromos account and start drafting your promotions. And you can get a head start with our ready-made templates for Instagram and Facebook giveaways. Just visit our resources page and search for "World Animal Day".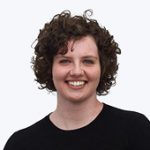 Corinna Keefe
Content marketer at Easypromos
Publication date: 2018-09-21