Posted in: Ideas for your websiteLast update: 01/06/20
Autumn is here: the "season of mists and mellow fruitfulness". Cozy blankets, afternoon walks through crunchy leaves, and everything pumpkin-spiced is back on the menu. We've collected promotions which celebrate every aspect of the fall.

What's your favorite thing about fall? Although everyone loves summer, there is something special about the autumnal shift of seasons. As the weather changes and we start to think about the holidays, it's a season full of new opportunities for marketers. So welcome autumn, and get your customers' attention, with these fall giveaway ideas.
Some marketers dismiss fall as the lull between the Back to School rush and the fun of Halloween. But in fact, fall offers two exciting opportunities:
Getting ready for the holidays. More than half of consumers start planning their holiday shopping at the start of October. So offer promotions, discounts, and deals to lock in their purchasing decisions now.
Getting in touch with customers. So often, we build marketing campaigns around large-scale events or holidays. But in fall, you have time to target promotions for your followers' individual, personal interests, and hobbies.
In this post, we'll look at five areas of special interest: popular fall activities and traditions that relate to specific retail industries like fashion, food, and home décor. For each one, we've shared our recommendations for fall promotions, and real examples to give you inspiration.
Fall Giveaway Idea #1: Renovate and redecorate your home this fall
When the weather gets colder, our natural instincts drive us inside. We want comfortable seats, warm blankets, and cozy furnishings. And many consumers like to change up their home décor with fall-themed interior design.
Kick off your autumn campaign by responding to what your customers need. When it comes to design and décor, they are often looking for expert advice. Take a look at this stylish promotion below, which helped consumers find ideas for their renovation projects.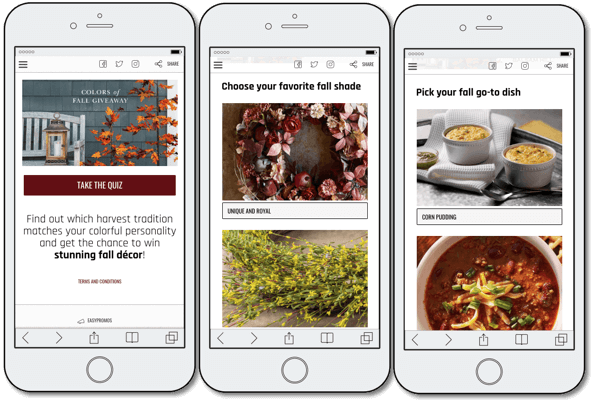 Users just had to answer five quick questions about their tastes: favorite fall recipes, colours, and family activities. At the end of the Knowledge Quiz, they received custom recommendations for their design projects. And everyone had the chance to win some free home decorations and accessories as part of the fall promotion.
Looking for creative fall giveaway ideas? Learn how to build a Product Recommender with Easypromos. You can promote your product while sharing exclusive autumn discounts and coupons with your customers!
Fall Giveaway Idea #2: Give away gardening tools for autumn
Another popular autumn activity is gardening. It's an important time of year for enthusiasts: collecting the fall harvest, and preparing the land for winter. Big-ticket gardening items are also great for holiday gifts. So be ready to help customers who are looking for the perfect present… with some well-timed fall promotions.
When you're targeting customers with a special interest, such as farming or gardening, it's a good opportunity to collect leads. One of our most favorite fall giveaway ideas is running a simple promotion with email registration. Ask users to sign up with their name and contact details to take part.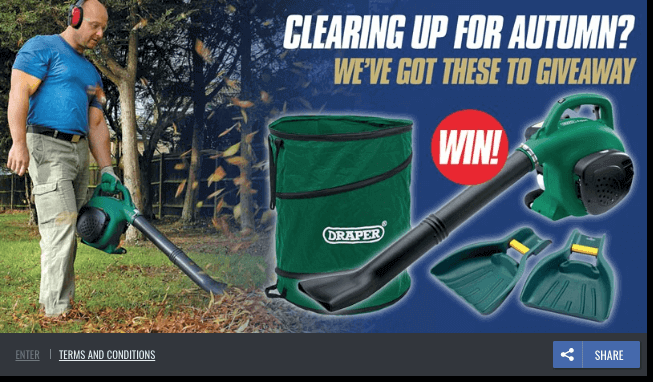 In this example, everyone who signed up had the chance to win a bundle of tools and accessories. Registering an email address is easy and quick, so people are more likely to convert. And you can use those contact details to share more fall promotions, offers, and updates in future.
"Bundles" are some of the most popular fall giveaway ideas. Share a hamper full of gifts, or run a giveaway with a range of prizes for different winners. Give the winners a surprise, or allow them to choose their favorite reward.
Fall Giveaway Idea #3: Update your wardrobe and accessories for fall
Clothing brands, fashion stores, and retail malls usually see their sales increase when the temperature falls. Consumers are excited to try new fashions and update their style after the summer. It's a great time to capture leads and incentivize sales in-store with autumn promotions.
Here's an example of an easy Instagram giveaway. This jewellery and accessories brand ran a fall giveaway for their followers. They asked Instagram users to comment on the giveaway post. Then, in exchange, they had the chance to win a beautiful pair of earrings.
Fall giveaways on Facebook, Twitter, Instagram or YouTube are a great way to increase your presence and engagement online. If you want to increase followers and interaction, then run a giveaway to see your social media numbers improve.
Get a head start with our fall giveaway ideas and templates. Click for free giveaway templates on Facebook and Instagram!
Think carefully about what your marketing objectives are. For example, if you want sales leads rather than online attention, then a web form is more useful than a social media giveaway. Facebook and Instagram are great for engagement and brand recognition, but you don't get as much data in return for your efforts.
Here's another fashion fall giveaway, this time from a luxury knitwear brand. They asked users to sign up with their contact details. Participants could win a luxury sweater in autumn colors – and the brand could boost sales and encourage customer loyalty with email marketing.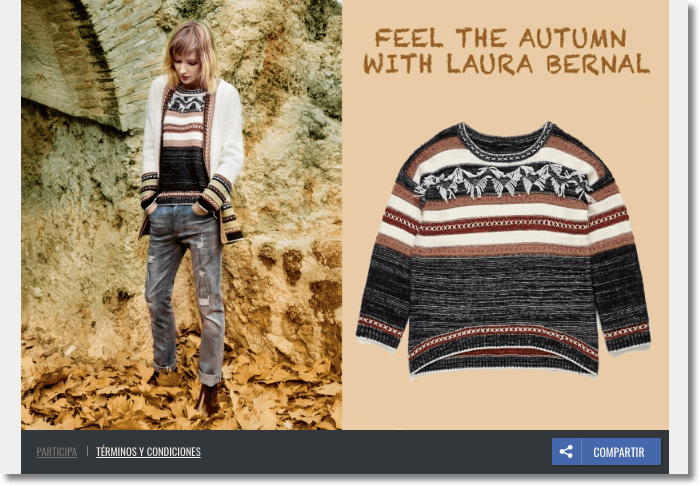 When the weather gets really grim, customers choose online shopping over stores. Create promotions that bridge the online-offline gap, or target separate campaigns for virtual and in-store customers.
Fall Giveaway Idea #4: Enjoy fall recipes and autumn treats
What's the most popular content on the internet? If we had to hazard a guess… then food and recipes are definitely in the top 10. People love to share seasonal cooking tips, family recipes, and delicious treats with their friends and followers online.
And of course, autumn brings a whole new season of tastes, flavors, and ingredients. It's time to cook warming stews, luxurious hot drinks (including the notorious pumpkin spice latte), and tasty traditional recipes.
Here are some great fall giveaway ideas from a TV food channel. They offered a bundle of gifts for making fall casseroles and crockpot soups. In exchange, they collected email addresses from their TV viewers – setting up a new way to reach customers with fall promotions.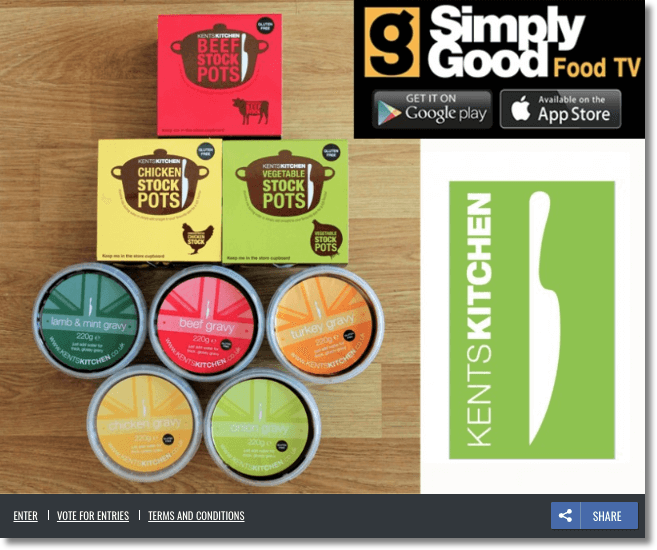 Run a Writing Contest to collect users' favorite recipes. Ask them to post their kitchen triumphs in a Photo Contest. Then other users can vote for their favorites, too!
Fall Giveaway Idea #5: Get outdoors this autumn with activities and experiences
In our humble opinion, fall is the best time of year to get outdoors. The scenery is beautiful, with red, yellow and orange autumnal leaves. And it's the perfect weather to enjoy sports and hobbies outside – neither too cold, nor too hot. Let's call it Goldilocks season.
Share your love of autumn with your followers and customers. Run a fall giveaway which gets in touch with their active, creative side.
Need ideas? Let's take a look at some examples.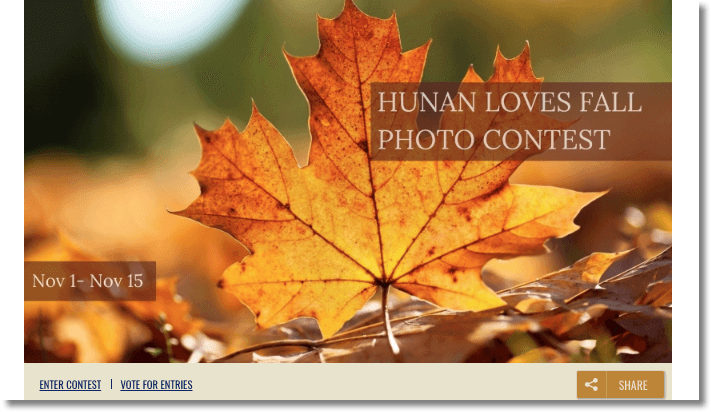 With the dazzling colours of autumn, and a changing landscape, this is the perfect moment for a photo contest. In the example above, the city of Hunan ran a contest to share images of the city and its surroundings. They published the photos in a public gallery, where people could share and vote for their favorite pictures.
Another option is to offer your followers a fun fall experience. Sponsor a local event, or offer coupons for autumn attractions.
In this example, a local transport company ran a fall giveaway for a family day out. This was a great way to connect with the community, and show that the brand was family-friendly.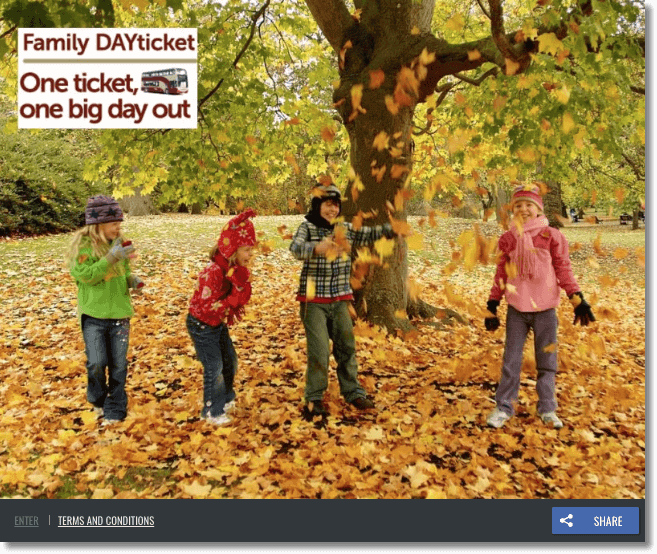 To learn more about how coupons can promote your brand and increase sales, click here.
The seasons are changing fast – make sure you don't miss out! Create your account and start planning autumn promotions in minutes. And in case of any doubts don't hesitate to Chat with us!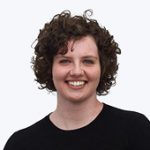 Corinna Keefe
Content marketer at Easypromos
Publication date: 2018-10-03