Posted in: Digital marketingLast update: 01/08/22
If you're a blogger, vlogger, or influencer, then you know how important engagement is. But did you know that one of the most powerful ways to increase engagement is to host a social media giveaway? Here's how to get more followers, comments, and email sign-ups than ever before.

Why you should host a social media giveaway
Giveaways have been gaining traction over the past few years. It seems like every account on Instagram is running contests! But online promotions are more than just a trend. There are serious reasons to host a social media giveaway. Here are just a few of the ways that social media contests help to develop your brand.
Raise brand awareness. Contests and competitions are a great way to get your name out there. While people are replying, tagging, and sharing the news, they'll share your brand with all their friends.
Increase followers. Giveaways don't just get more page views; they also provide people with a reason to follow you. Run regular contests to keep people engaged.
Increase authentic engagement. We're not talking about spam contests with "like, share, follow" – we're talking about real relationships with your followers. Use contests to start conversations, share user-generated content, and turn fans into friends.
Reward loyal followers. As well as attracting new followers, you want to stay in touch with your long-term supporters. Run exclusive giveaways and share special contests to show that you value people.
Drive traffic to your blog, website, or sponsors. Use contest apps and links to help users break out of the social network. Run giveaways with sponsors and co-branding partnerships to increase your reach even more.
According to influencer marketing agency The Shelf, the three most popular types of influencer marketing campaigns are brand awareness, traffic and sales, and user-generated content. Social media giveaways can help with all those campaigns.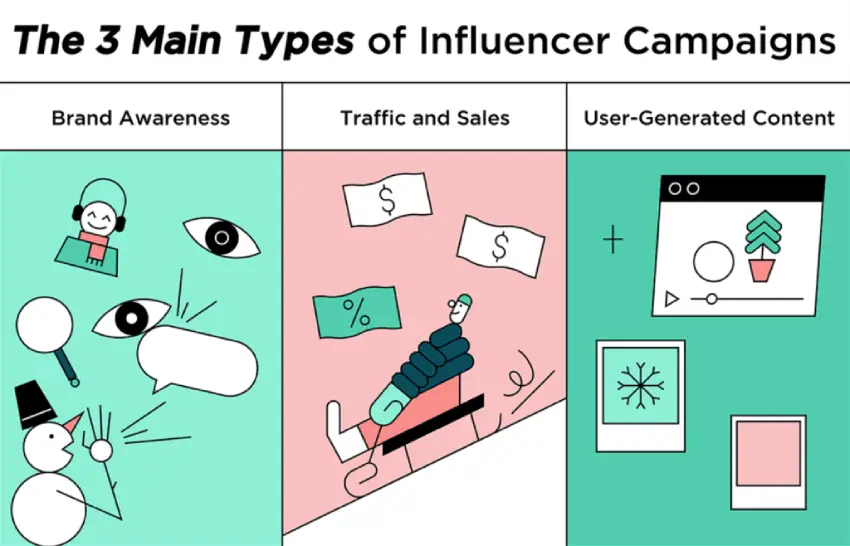 Most popular social media giveaways
1. Boost visibility with Instagram giveaways
Let's talk about Instagram. It's the most popular social network for influencers and lifestyle bloggers, with a young, affluent audience. Because Instagram is designed for photo and video content, it's a great place to show off prizes and project your brand.
If you are new to online contests, then start with a simple Instagram comments contest. Ask a question that will start a real conversation with your followers, and encourage people to tag their friends. (We recommend a limit of 3 tags so that Instagram doesn't flag your account for spam.)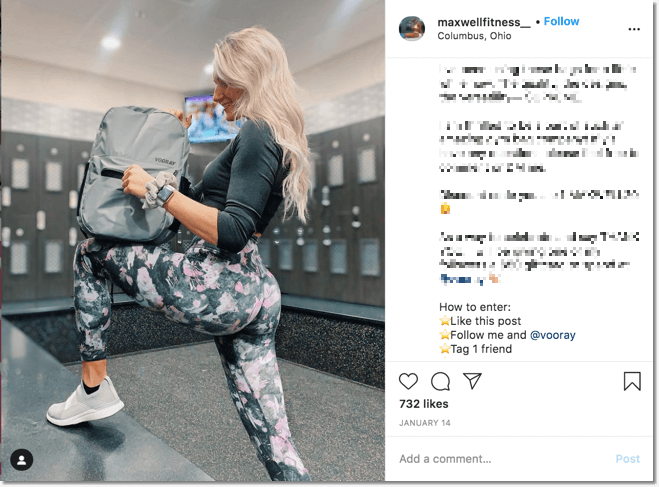 Make sure to showcase the prize and explain the entry requirements. And don't forget that open-ended questions work best for boosting engagement!
You can only organize Instagram giveaways based on posts. But you can use Stories to announce giveaways, count down to deadlines, and live stream the moment when you pick a winner!
2. Facebook comments contest
Facebook continues to dominate the world of social media. And depending on your brand, interests, and target demographic, it may well be a key part of your social media presence.
For example, Facebook is especially popular with Millenials and young parents – so if your brand speaks to those groups, then you need to be on the social network.
Facebook does have strict rules about how you manage your profile and engagement levels. To get the best results, you should be posting original content, and building a real relationship with people. Begging for likes, shares, and follows will damage your engagement rates – and you run the risk of a Facebook ban.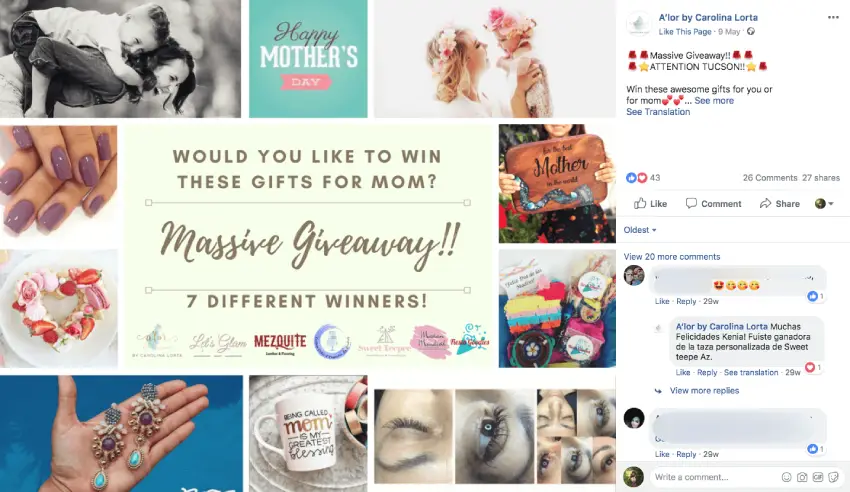 But you can still run giveaways, and you can still work with sponsors.
All you have to do is start an authentic conversation with your followers. In the example above, artisanal jewellery maker Caroline Lorta used Mother's Day as a chance to talk to her followers.
The best method for a Facebook giveaway is by collecting comments. Think about what you could ask for Mother's Day: What makes your mom special? What's your funniest memory with mom? Why do you think your mom deserves this prize? People love to share stories, ideas, and feedback from their own experiences. You'll be amazed by how many responses you get!
3. Competitions on Twitter
Twitter might not have such a big audience as Facebook or Instagram – but once you find your niche, it's a powerful social network. Use Twitter to connect with colleagues and contemporaries. It's especially valuable if you have connections to the worlds of gaming, publishing, or business.
Twitter is also a great option for online contests, because it's more flexible than any other social network. You can run Twitter contests based on follows, retweets, and replies, or collect user-generated content with a Mention + Hashtag contest.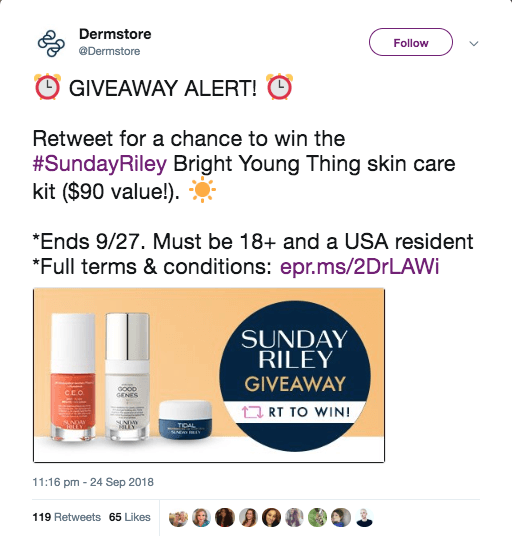 Be ready to double down on engagement by responding actively to everyone who takes part. Welcome new followers, like retweets, and carry on a conversation with replies.
You can combine Instagram and Twitter in a single Mention + Hashtag contest. Collect photos or comments from your followers, cross-promote the contest, and choose a single winner.
4. Host a social media giveaway across all your channels
Of course, it's highly unlikely that you are limited to just one social network. In order to be successful online, you need to have a broad-spectrum presence. Depending on your interests and aims, you probably post on a range of different social networks. You're ready to go wherever your audience leads.
So with that said, it can be very time-consuming to host a social media giveaway if you have multiple accounts. And we've heard from brands and bloggers that their followers sometimes complain if giveaways are only available on one social network, or have different rules for each channel.
Here's the solution: a Multi-Network Giveaway. Use an app which can host a social media giveaway that combines multiple networks, multiple posts, and even multiple profiles. You can even include promoted posts, or a mix of languages if you have an international presence.
5. Get more readers for your newsletter
Social media is a great place to find new followers – but as you probably know, nothing beats email lists for long-term loyalty. When you add real people to your mailing list, and reward them with regular, exciting content, you make a truly powerful connection.
The question is, how do you encourage people to take that step from social media to email?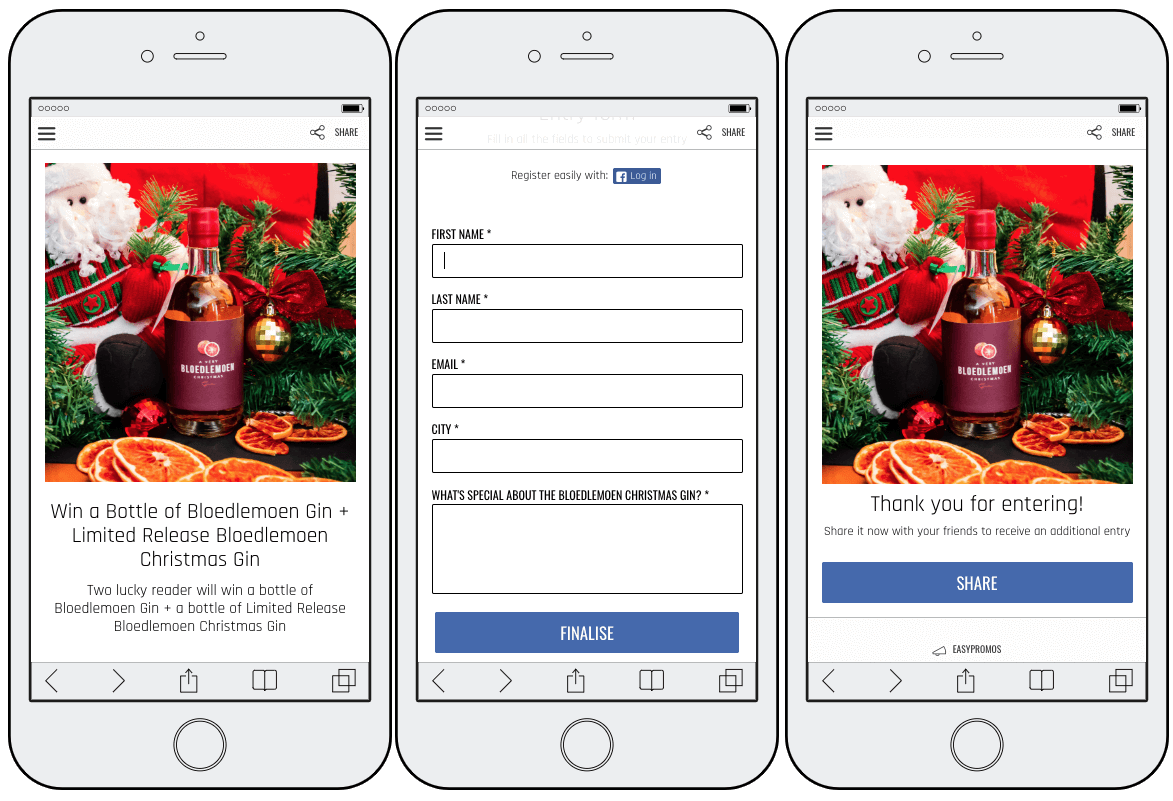 It's simple: offer an incentive. You could share gifts, experiences, exclusive content, or even discounts for partner brands. Just ask people to fill in a form with their name and contact details.
6. Reward comments on your blog
Although it's easy to think of blogs in a separate category, they are a form of social media in themselves. Think about it – you're sharing content with a network of followers online, just like Instagram or YouTube.
So you should have just the same goals for engagement on your blog, as you do on social media. And you can use the same tools and strategies for increasing engagement, too. Here's how to host a social media giveaway for blog readers.
All you need is a list of names. You could take this from your blog dashboard, or collect a list of usernames from the comments on a specific post. Then just upload the list and pick the winner from a list of names with Easypromos tool. It couldn't be easier!
Our support team is always ready to discuss your ideas and inspiration to host a social media giveaway. Get in touch with us!
Publication date: 2018-12-07