Posted in: ApplicationsLast update: 28/03/19
PhotoFun: it's right there in the name. We created our latest product to add some extra fun to your photo contests. But there's a lot more to it than emoji stickers and cute frames! Read on for 10 gamification ideas that will challenge, amuse, and entertain your followers.

There are hundreds of different reasons to run a photo contest: to collect user-generated content, capture leads, raise brand awareness, and many more. In this post, we'll share some of our favorite ideas to get the most out of PhotoFun – and whatever your marketing objectives, we're sure you'll find some inspiration.
In every PhotoFun contest which you create, you can collect contact details and consent. Use our library of stickers and frames – or choose the White Label option to upload your own, custom graphics and branding. To maximize sharing, you can choose between Post, Story or Square photo formats. And for the final touch, you can publish the contest with your own domain name.
1. Pick your favorite
Here's a fun way to survey your customers, or offer targeted rewards. Create custom frames and stickers to highlight a range of your products. Then let your followers pick their favorites to decorate their photos.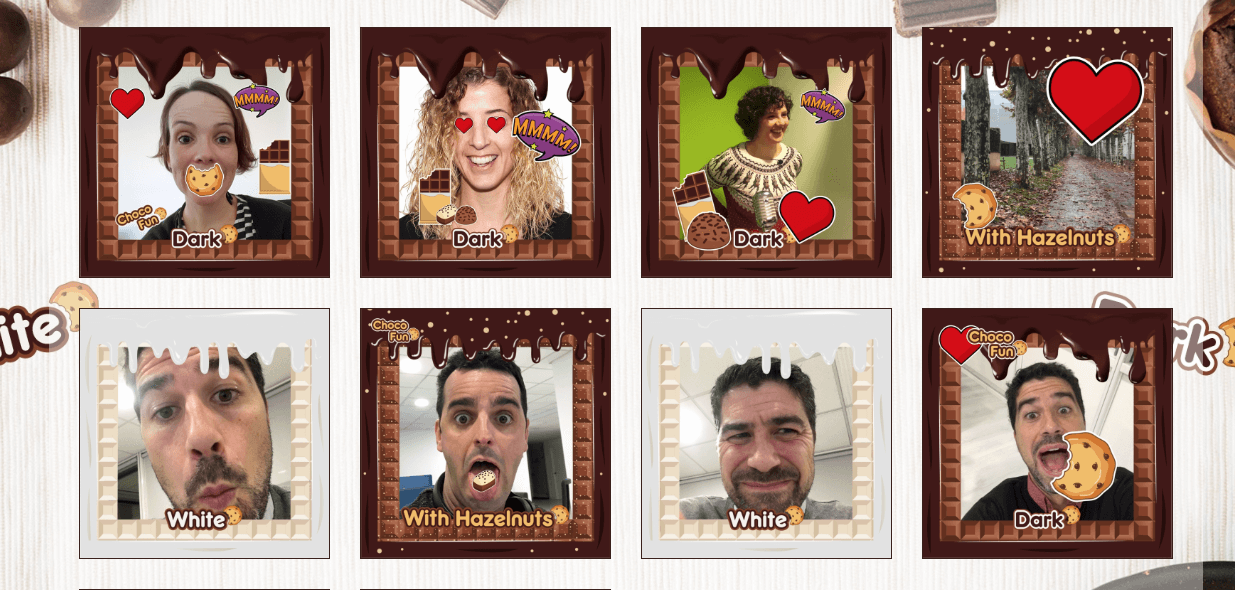 When you close the contest, you can filter participants by the frames and stickers they chose. So in the example above, you could share different discounts with your followers, based on whether they chose white, dark, or hazelnut chocolate. See for yourself with the ChocoFun demo!
2. Share a memory
Photo contests are always popular with customers. We see a very high rate of engagement, and not just from the photos themselves. People love to share their entries, vote, comment, and explain the story behind each image.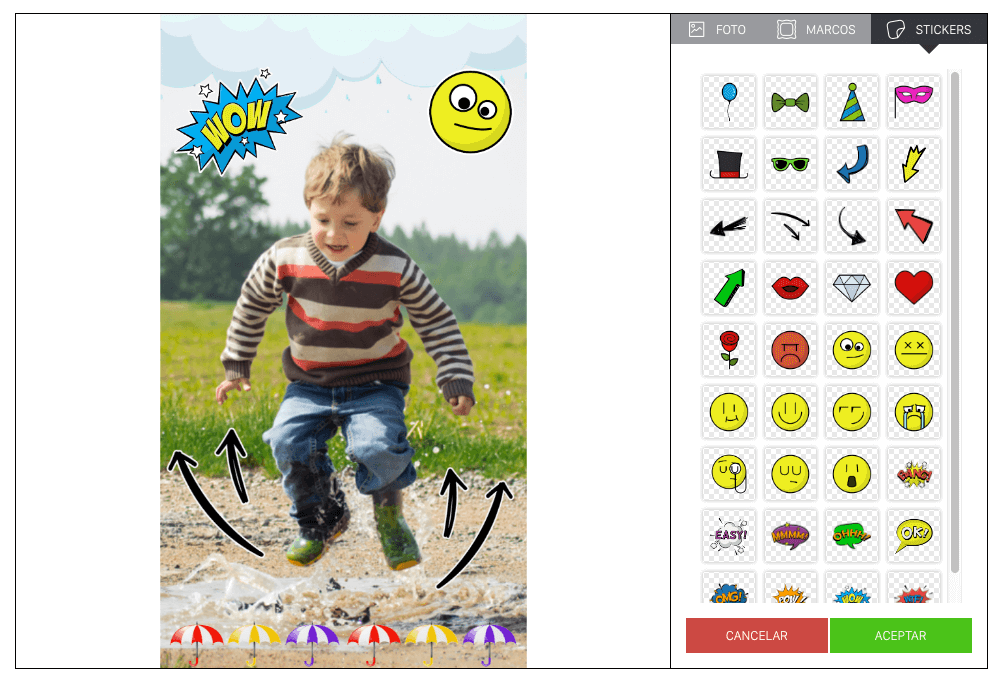 So you can tap into that powerful emotional connection. Invite people to share photos, and decorate them with frames and stickers that perfectly describe the moment. It's yet another way to interact with the images – and increase engagement with your marketing campaign.
3. Your brand, everywhere
This type of photo contest has been popular with big brands, hotels and department stores for a long time. They used to set up a photobooth with their logo, and invite customers to take pictures in store. Then, when people shared their photos online, they would enter the photo contest for the chance to win a prize.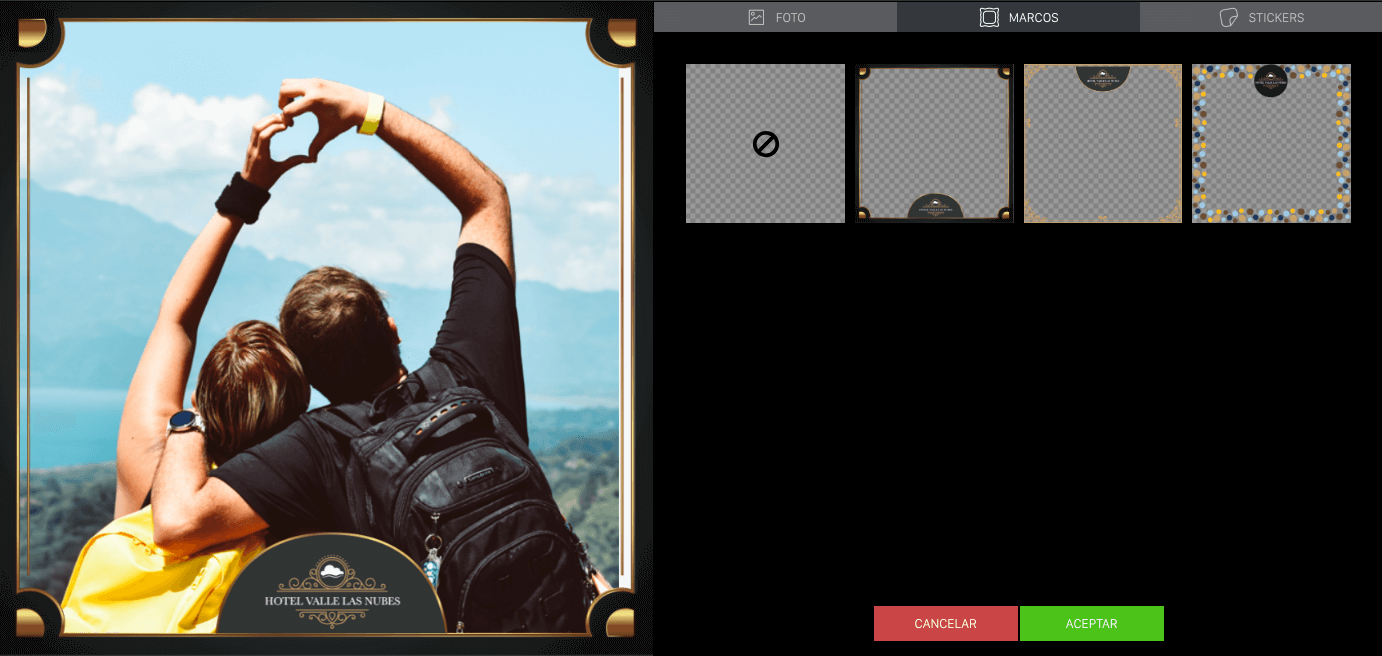 With PhotoFun, it's even easier. People can share any photo they want – they just have to decorate it with your custom frames, stickers, and logo. This is a fantastic way to get your name out there on social media, and create a viral buzz. Try our demo from the Hotel Valle de las Nubes.
4. Set the scene
Here's another cute and creative idea, ideal for seasonal events and holiday campaigns.
Instead of asking people to upload a photo, you can create a set of default backgrounds. Then your followers just have to fill in the scene with their choice of stickers.In this example, we've created a charming Nativity scene for the Christmas holidays. But there are many more possibilities! Ask people to build their dream house, design a holiday resort, help decorate your brand HQ, and more. You can design and download your Nativity scene here.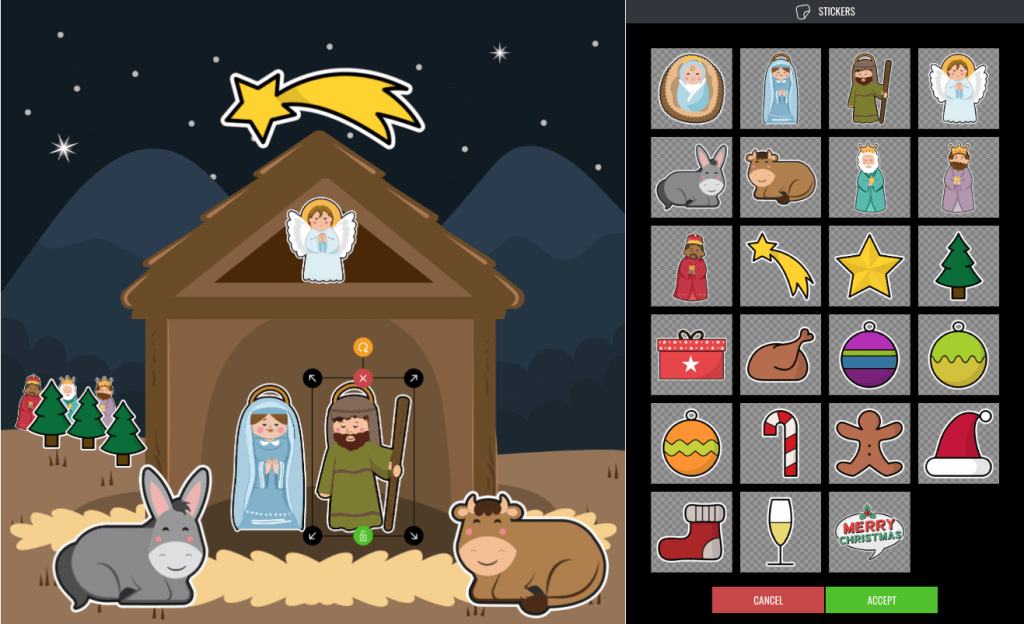 5. Design your dream product
Next up, a twist on the idea above.
Ask your customers to create their ideal product, using your custom background, frames and stickers. They could choose the product colors, create a new recipe, or personalize a product just for them.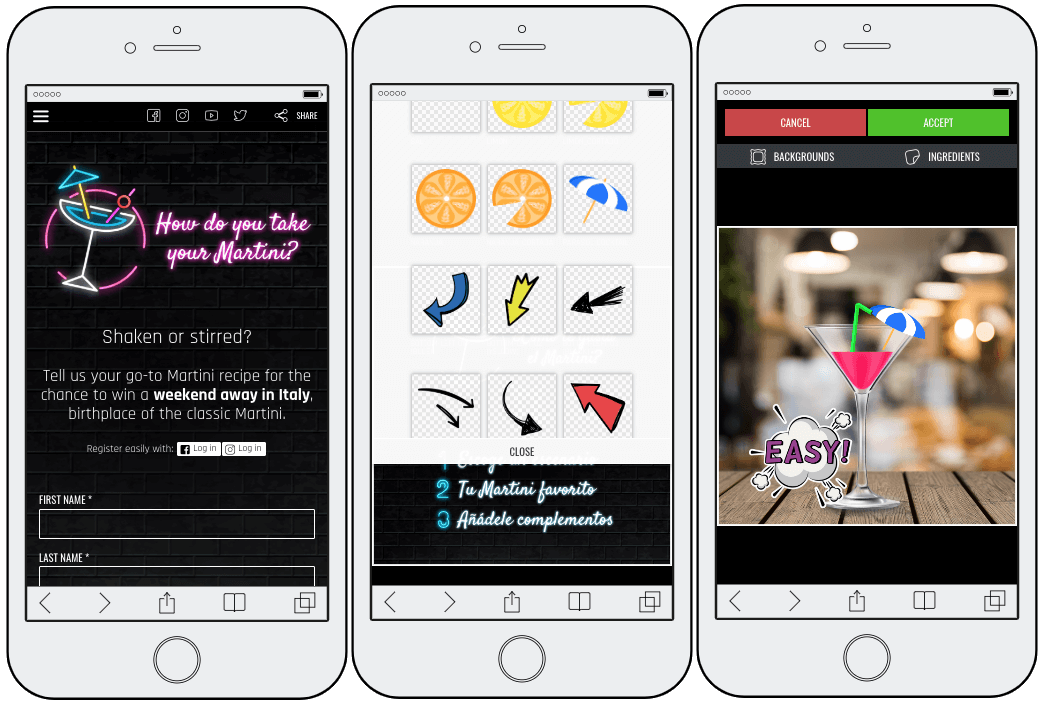 6. Spot the difference
If your focus is on entertaining people, then try a quick game.
In this example, we decided to test out a classic Spot the Difference game.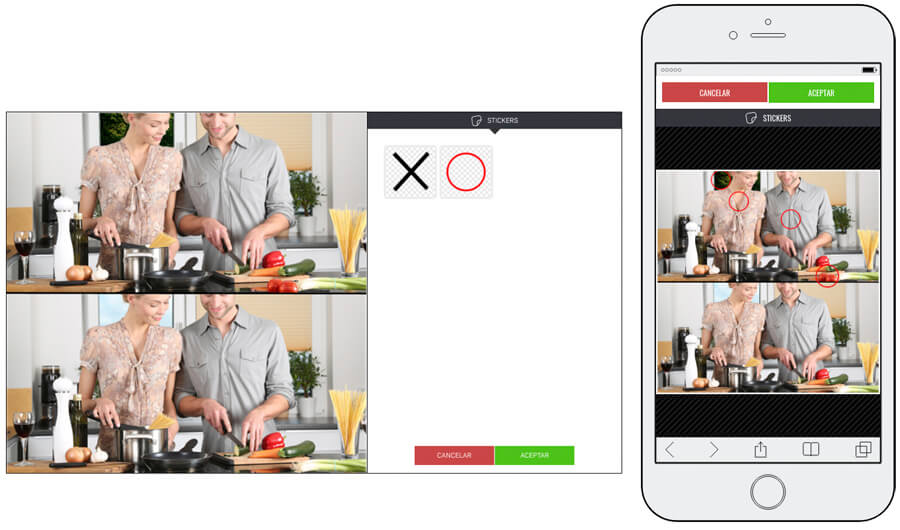 Upload a background that shows the two images side by side. Then people just use the stickers to mark the differences between each photo.
Remember, you can filter the competition entries by how many stickers people use. So, if there are 7 differences in the photo, you can make sure that only people who found all 7 differences will enter the prize draw.
7. Solve the puzzle
Here's a real challenge, for people who find Spot the Difference too easy. If you want to really test your audience, or you know that they have specialist knowledge, then you can set a harder puzzle.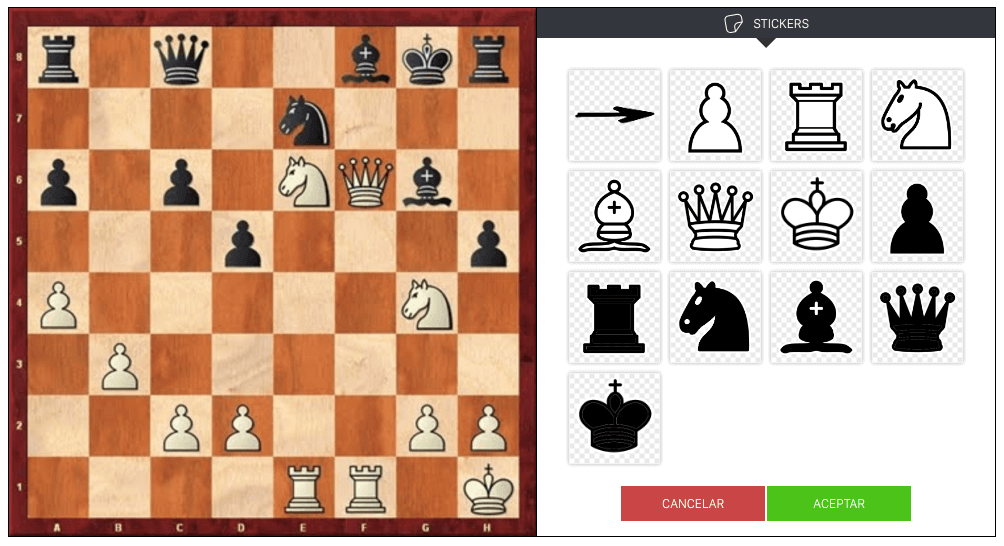 Here's a classic chess problem, ready for users to solve by placing the right stickers on the board. Let us know if you find the solution – we're stumped!
8. Meet the stars
The perfect contest for this age of influencers. Give your followers the chance to share the screen with their favorite celebrity.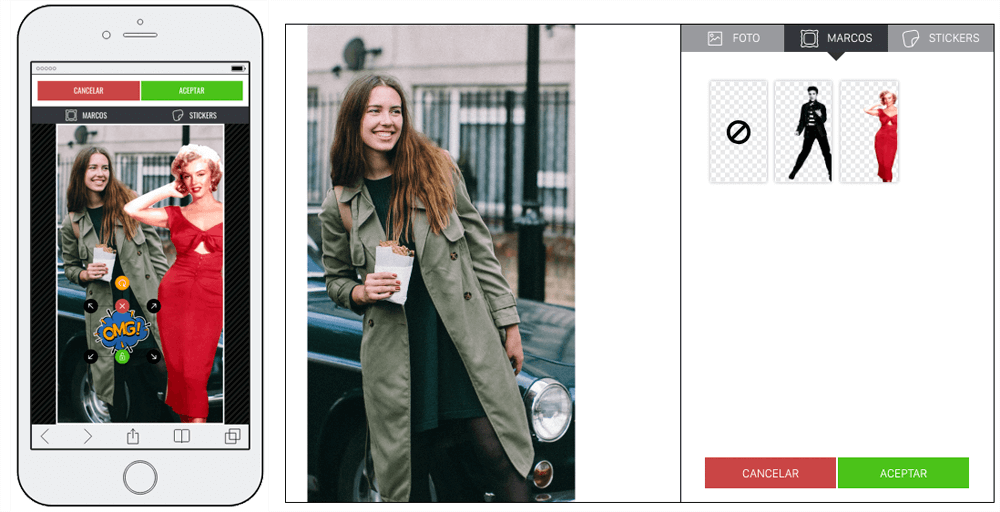 All they have to do is upload a photo or selfie, and add the sticker of their favorite star. Instant fame!
9. Try on a new outfit
We know that online shopping is more popular than ever – especially for clothes, shoes, and accessories. Here's an easy way to let your customers try their new looks. Who needs augmented reality?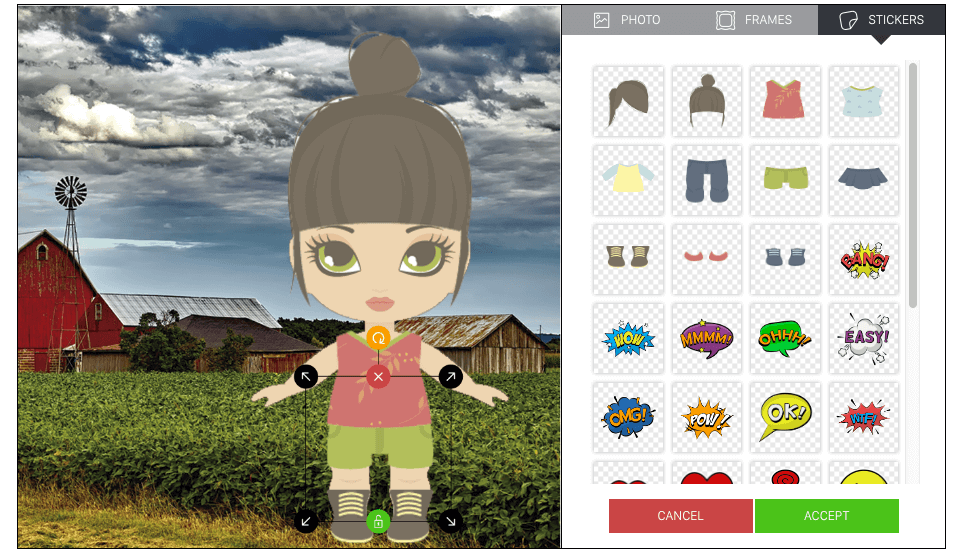 This also makes a cute and classic game for kids. You could create fairytale scenes, dress up as superheroes, try out new toys, or recreate a favorite film or book.
It can be a game for grownups, too. Try creating a virtual photobooth with fun accessories.
10. Put yourself in the picture
And finally, one of our favorite ideas.
Upload a variety of scenes, outfits, or costumes, and ask your followers to fill in the gap!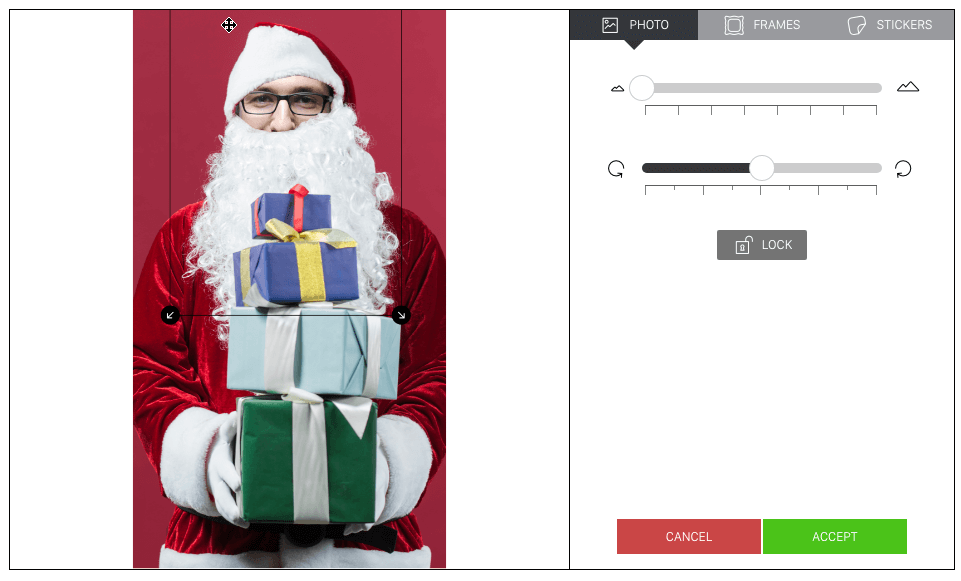 You can have a lot of fun with this idea. Use your imagination! You could test out Halloween disguises, dress up as celebrities, or even try some new candidates for a brand mascot. Add your logo to the image so that when the game goes viral, your brand does too.
Let's wrap this up with a Christmas gift. Click here to create your own Christmas card with PhotoFun – a festive present from Easypromos, for you to share with friends and family.
Ready, get set, go!
Now it's your turn. Start by creating an account here, or chat with us about your barn-stormingly original ideas.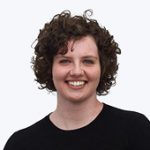 Corinna Keefe
English copywriter at Easypromos marketing team